See prices tailored to you, select a variant and enter your postcode!
2023 Mitsubishi Pajero Sport
See prices tailored to you, select a variant and enter your postcode
About the Mitsubishi Pajero Sport
The Mitsubishi Pajero Sport receives some new colours and minor specification updates for 2023, as well as slight price increases.
All 2023 models are between $500 and $1000 more expensive than before, though tyre pressure monitoring has become standard fit on GLS, Exceed and GSR models.
The updated range enters production in February 2023, with dealership arrivals set for April.
Impulse Blue joins the colour palette for GLS and Exceed variants, while the flagship GSR gains a Terra Rossa exterior finish paired with a black roof.
Otherwise, the Pajero Sport is unchanged. As it's based on the current Triton and a next-generation ute has been spied testing, the Pajero Sport is likely towards the end of its life cycle.
Summary
Our expert's shortest summary
Hit
Off-road ability
Solid value for money
Refined for a body-on-frame SUV
Miss
Third row for kids only
Not as composed on road as Prado/Everest
Cabin not quite as large as rivals'
Video Review
Mitsubishi Pajero Sport Video Review
Skip to chapter
Intro
Exterior
Interior
Infotainment
Safety Tech
Practicality
On the Road
Performance tests
Off the Road
Verdict
2023 Mitsubishi Pajero Sport/Montero (inc. 0-100 & off-road) review
There's a new top-specification version of the 2023 Mitsubishi Pajero Sport called the GSR in Australia! It's been a while since we've driven the Pajero Sport, so it's time to get behind the wheel and give it a crack. Paul Maric takes the 2023 Mitsubishi Pajero Sport on- and off-road.
Mitsubishi Pajero Sport Photo Gallery
CarExpert High Resolution Photos of the Mitsubishi Pajero Sport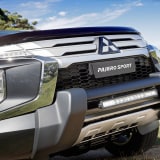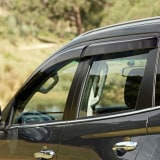 Compare
See Mitsubishi Pajero Sport comparisons against similarly sized vehicles
Mitsubishi Pajero Sport
vs
Isuzu
MU-X
Ford
Everest
Toyota
LandCruiser Prado
Toyota
Fortuner
LDV
D90
GWM
Tank 300
Subaru
Outback
SsangYong
Rexton
CLICK HERE TO SEE MORE MODELS...
Current Deals
What is the price of a Mitsubishi Pajero Sport?
Available Deals for the GSR
Deal Overview
Bonus Towing Pack Includes Tow Bar Kit And Electronic Brake Controller At RRP And Includes Fitment
ABN Holders Only
Deal Pricing
Manufacturer listed price
Advertised Driveaway Price
Free accessories or options
Vehicle Specs
Reviews
Our expert's reviews of the Mitsubishi Pajero Sport
News
All the latest Mitsubishi Pajero Sport news
Mitsubishi Pajero Sport Range Guide
Which variant of the Mitsubishi Pajero Sport range is best for you?
The base GLX comes with the following standard features:
Five seats
8.0-inch touchscreen infotainment system
Wired Apple CarPlay and Android Auto
Electronic parking brake
Adaptive cruise control
Keyless entry and start
Leather-wrapped steering wheel and shifter
LED headlights, fog lights and daytime running lights
Climate control air-conditioning
Power-folding exterior mirrors
Four-speaker sound system
DAB digital radio
4WD models also include paddle shifters.
The GLS gains the following standard features:
Seven seats
Automatic headlights
Rain-sensing wipers
Privacy glass
Power tailgate
Dual-zone climate control
Six-speaker sound system
The Exceed gains:
Blind-spot monitoring
Rear cross-traffic alert
Surround-view camera
Front parking sensors
Heated front seats
Power front seats
Smartphone app connectivity
Eight-speaker sound system
8.0-inch instrument cluster display
The GSR also includes:
Black-finish 18-inch alloy wheels
Black roof, bumper and headlight garnishes, rear spoiler and grille
Price & Specs
See comprehensive price and specification details for the Mitsubishi Pajero Sport
Interior
Photos and Images of the Mitsubishi Pajero Sport Interior
The build quality is good, and the materials such as the dash trims and seat leather are hard-wearing without feeling cheap and nasty. There are some padded touch-points and contrasting silvery trims and stitching that enliven things nicely.
The steering wheel is nicely trimmed, with easy-to-learn button controls and massive, quality paddle shifters (4x4 models only) situated behind.
The most impressive change from the Triton is the 8.0-inch digital instrument cluster, available only on the Exceed. The Pajero Sport GLX and GLS use a carryover instrument cluster from the Triton.
There's one annoying quirk you'll notice up front, however: the indicators. Well, perhaps you mightn't have noticed before but now you will.
The noise they make is irritating, and they sound like a metronome.
The 8.0-inch touchscreen infotainment system features Android Auto, Apple CarPlay and satellite navigation.
Unfortunately, it's the same dated navigation system found in other Mitsubishi products. 
That means the map is always massively zoomed out when you open the app and doesn't automatically rotate in the correct direction as Google Maps or many factory navigation units will.
The maps also have poor contrast at night – everything is grey on grey.
The front seats are plush yet supportive and remain comfortable over long distances. Likewise the second row, where there's also plenty of legroom.
The Pajero Sport's ute origins are evident as the cabin is narrower than a typical crossover at this price point. 
The third row is the most disappointing part of the Pajero Sport's interior.
To get back there, you need to pull the lever on either side of the second-row seats. They then fold 60:40 up against the front row seatbacks.
Next, you need to awkwardly clamber back into the third row. There's no graceful way to do this.
For such a boxy, upright SUV, you'd expect third row headroom to be pretty good.
The Pajero Sport is a tight squeeze in terms of both third row legroom and headroom for adults – the seats are clearly designed for use by smaller passengers, and feel dinky.
Exterior
Photos and Images of the Mitsubishi Pajero Sport Exterior
The Mitsubishi Pajero Sport received a mid-life update in 2019 that brought a refreshed front fascia and reworked tail lights, among other changes.
Mitsubishi has tried its best to disguise the ute-based underpinnings with its Pajero Sport but they are still evident from some angles.
Regardless of the facelift, the Pajero Sport's styling is seen as polarising.
There are LED headlights that are standard across the range, including LED daytime running lights and fog lights.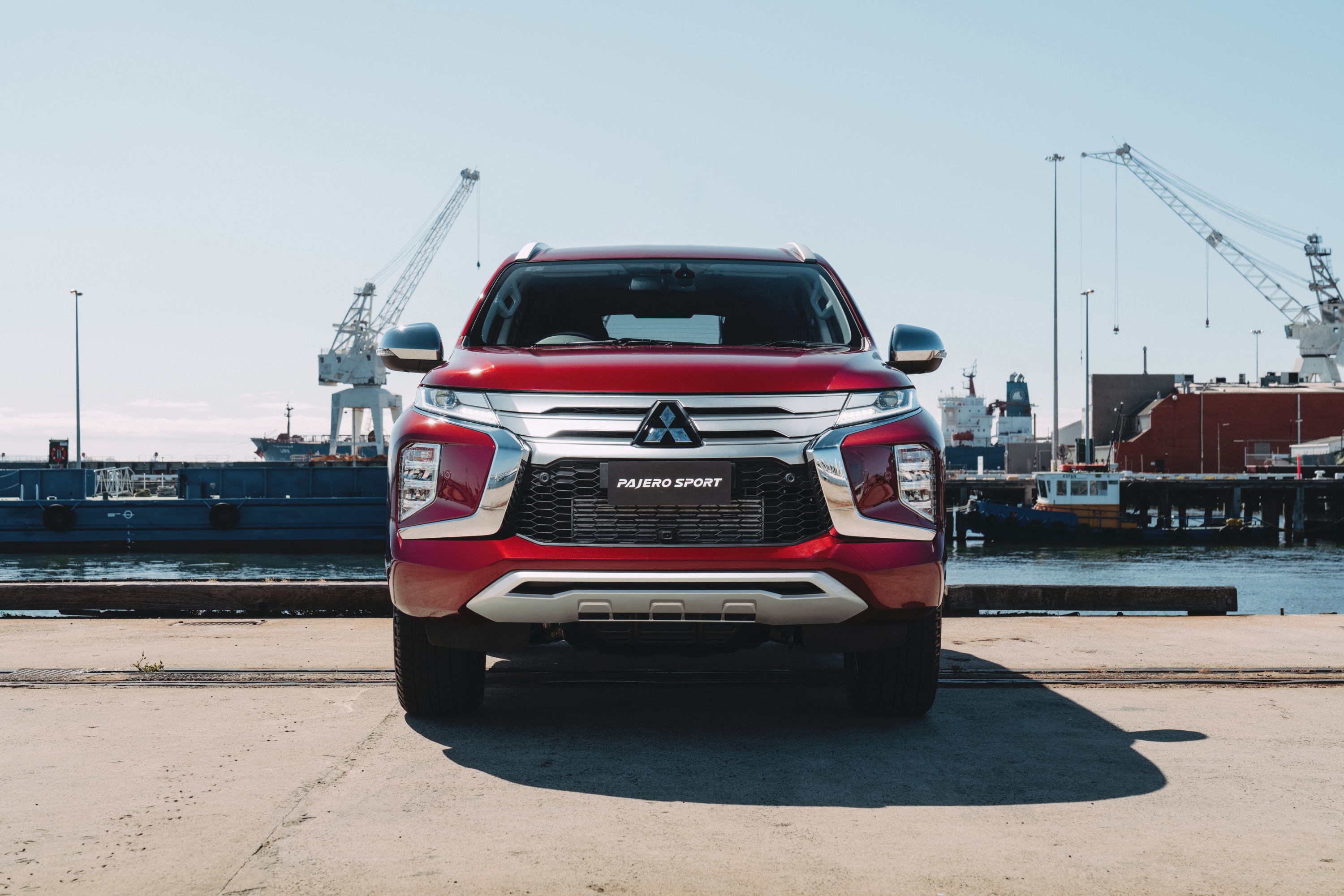 One sticking point for people seems to be the tall taillights. The overly vertical tail lights aren't the best stylistic choice for a ute-based SUV as they accentuate its tall, narrow appearance.
Like an Everest or Fortuner, the Pajero Sport would look vastly better with a wider body and track but, alas, that's not in the cards.
New for the 2022 model year, the top-of-the-range GSR receives an exterior black pack. There's black-finish 18-inch alloy wheels, as well as a black roof, bumper and headlights garnishes, rear spoiler and grille.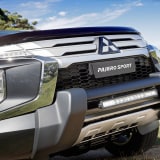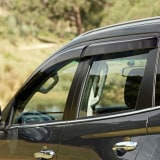 Mitsubishi Pajero Sport Colours
What colours are available for the Mitsubishi Pajero Sport?
White is the standard colour, with all other shades costing $740 with the exception of White Diamond, a $940 option.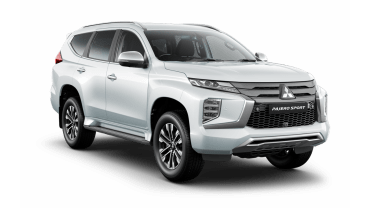 The optional shades are:
Sterling Silver metallic
Graphite Grey metallic
Black Mica pearlescent
Dark Blue pearlescent
Terra Rossa pearlescent
White Diamond prestige
The GSR is available only in White Diamond or Black Mica, while the base GLX isn't available in White Diamond, Black Mica or Dark Blue.
Cost of Ownership
What is the running, servicing and ownership costs of buying a Mitsubishi Pajero Sport?
Mitsubishi hasn't announced any changes to service pricing for 2023. The following prices currently apply to MY20, MY21 and MY22 Pajero Sports.
Service 1: $399
Service 2: $399
Service 3: $499
Service 4: $699
Service 5: $499
Service 6: $699
Service 7: $499
Service 8: $999
Service 9: $599
Service 10: $699
How it Drives
Our expert take on Mitsubishi Pajero Sport drivability?
All 2023 Mitsubishi Pajero Sport models use a 2.4-litre turbo-diesel four-cylinder engine producing 133kW of power and 430Nm of torque, mated to an eight-speed automatic transmission.
Mitsubishi's Super-Select II four-wheel drive system features a full-time four-wheel drive mode as well as selectable low- and high-range gearing and a locking rear differential.
The GLX and GLS are offered with a choice of rear- or four-wheel drive.
Though it shares its underpinnings with the Triton, the Pajero Sport does a credible job in concealing its ute origins.
Take, for example, the ride quality. It's vastly superior to the Triton, banishing the jiggly, unsettled feeling of the Triton.
Much of the credit goes to the three-link, coil-spring rear suspension, replacing the leaf springs of the Triton.
There's still some impact harshness over sharp ruts but it's fairly compliant for an SUV with a live rear axle.
Noise suppression is also far superior to the Triton, particularly on the highway. Where the Triton's engine clatters, the Pajero Sport's is hushed.
There's the typical turbo-diesel soundtrack as you punch it from a stop but it never crosses the line into becoming raucous. 
It doesn't cross the line into becoming particularly fast, either, but there's adequate power to motivate this large SUV. The eight-speed automatic transmission also feels well-matched to the turbo-diesel four. 
To drive the Pajero Sport, however, is to understand there are still compromises being made.
While it feels dramatically improved over a Triton, it's no match for a Hyundai Santa Fe dynamically. 
The car-based crossover will run rings around the big Mitsubishi.
While the Pajero Sport isn't a match for crossovers on the road, it can go farther off road.
Perhaps the most notable feature of the Pajero Sport is the Super-Select II 4×4 system in four-wheel drive models.
The default 2H is rear-wheel drive, and there's the usual 4-High mode with locked centre diff to fix front-to-rear torque flow, and 4-Low that activates the transfer case. But there's also a 4H permanent AWD setting with open diff that can be used on normal roads, particularly when wet, snowy or gravelly, without you having to fret over transmission wind-up like older-school part-time setups.
There's an additional rear diff lock to apportion rear-axle torque effectively to stave-off free-wheeling when the surfaces are super uneven, and various surface-specific switchable modes that adjust the throttle take-up and stability control lassitude.
Mitsubishi cites a maximum braked-trailer tow rating of 3.1 tonnes (for 4x4 models), but we'd err on the side of caution with that figure. For a caravan, boat, or 2.2-tonne horse float it'll do the trick.
There's a trailer stability assist function built into the stability control, which does a good job stabilising you in crosswinds or over uneven surfaces. You'd be doing well to get turned inside-out or jackknife. Grab a brake controller and tow kit and you're set for the family getaways.
Mitsubishi Pajero Sport Safety Rating
ANCAP Safety Rating Australia
The Mitsubishi Pajero Sport has a five-star rating from ANCAP with a 2015 date-stamp, with the rating based on that of the mechanically related Triton ute.
This rating was based on a frontal offset score of 15.22 out of 16 and a side impact score of 16 out of 16. Whiplash and pedestrian protection were rated Good and Acceptable, respectively.
All 2022 Mitsubishi Pajero Sport models come standard with the following safety features:
Autonomous emergency braking
Adaptive cruise control
Front, front-side and curtain airbags
Driver's knee airbag
Reversing camera with rear parking sensors
Blind-spot monitoring, a surround-view camera and rear cross-traffic alert are standard in the Pajero Sport Exceed and GSR.
Mitsubishi Pajero Sport Lifecycle
How old is the current generation and when will there be a new or updated Mitsubishi Pajero Sport?
The current generation Mitsubishi Pajero Sport was launched in December 2015 and is currently 88 percent through its lifecycle. The last update was a technology change that was launched in February 2023 with the next model expected in 2025.
Mitsubishi Pajero Sport Options
Options list for the Mitsubishi Pajero Sport
The $2250 Deluxe Package available on the GLS adds:
Surround-view camera
Leather upholstery
Power front seats
Mitsubishi Pajero Sport Warranty
What is the warranty period and kilometre limit for the Mitsubishi Pajero Sport?
The 2023 Mitsubishi Pajero Sport requires servicing every 12 months or 15,000km, whichever comes first.
Mitsubishi's standard warranty covers five years or 100,000km, but so long as you return to one of its dealerships at each service this extends to 10 years or 200,000km.
Servicing at dealerships also lets you take advantage of Mitsubishi's 10 years of capped-price servicing.
Mitsubishi Pajero Sport Stock Availability
Is the Mitsubishi Pajero Sport available to buy now and what are stock levels and how long are wait times?
The Mitsubishi Pajero Sport should be available either in stock or within 1-2 months of order. Unlike some other cars in market, the Pajero Sport is not under extreme pressure of chip shortages or other market conditions.
Mitsubishi Pajero Sport Infotainment
What infotainment do you get within the range?
All models come with an 8.0-inch touchscreen infotainment system that supports wired Apple CarPlay and Android Auto - missing out on wireless capabilities.
Stepping up to the higher spec Exceed and GSR will also see you get an 8.0-inch instrument cluster display.
Mitsubishi Pajero Sport Boot Space
How much luggage or cargo capacity and boot space is there in the Mitsubishi Pajero Sport?
The Pajero Sport's luggage space with the seats all in place is 131L in seven-seat models and 502L in the base GLX, increasing to 1575L with all rear seats folded.
Mitsubishi Pajero Sport Fuel Economy
How much fuel does the Mitsubishi Pajero Sport use and what are its emissions?
All 2022 Mitsubishi Pajero Sport models use 8.0L/100km on the ADR combined city and highway cycle and have a 68L fuel tank.
The 2023 MITSUBISHI PAJERO SPORT is Combined (8.0) and E10 Compatible (-).
Mitsubishi Pajero Sport Dimensions
The dimensions of the Mitsubishi Pajero Sport
The 2023 Mitsubishi Pajero Sport measures 4825mm long, 1835mm tall and 1815mm wide on a 2800mm wheelbase.
Unbraked towing capacity is 750kg and braked towing capacity is 3100kg (3000kg in 4×2 variants), while maximum towball load is 310kg (300kg in 4×2 variants).
The Pajero Sport's approach angle is 30 degrees, its departure angle 24.2 degrees, and its ramp breakover angle 23.1 degrees.
It has 218mm of ground clearance and a fording depth of 700mm.
The 2023 MITSUBISHI PAJERO SPORT measures 4825mm long, 1815mm wide and 1835mm tall, with a 2800mm tall wheelbase.
The 2023 MITSUBISHI PAJERO SPORT has a braked towing capacity from 3000kg to 3100kg depending on the variant and an unbraked towing capacity of 750kg.
Mitsubishi Pajero Sport Market Fit
Where does it fit in the competitor segment?
The Mitsubishi Pajero Sport is categorised as a Large SUV and has a price range of $44,940 to $62,440. There are currently 10 other options in the Large SUV segment, those that fit within a similar price range include:
Mitsubishi Pajero Sport Sales Data
How well has the Mitsubishi Pajero Sport been selling?
In 2021, Mitsubishi sold a total of 6804 Pajero Sport models.
Over the same time period it was outsold by the likes of the Toyota LandCruiser Prado (21,299 sales), Isuzu MU-X (10,618 sales) and the Ford Everest (8359 sales). It did outsell the Toyota Fortuner (3822 sales).
Mitsubishi Pajero Sport Reliability
What's the track record say?
Given the vehicle has been around now for a number of years, CarExpert cannot find any known, systematic reliability concerns for the Pajero Sport range. Most issues we are aware of are minor and localised to a particular car and most often fixed under its 5-year warranty (often extended to 7-years via promotion).
Should you buy the Mitsubishi Pajero Sport
Is this the right car for you? Our experts buy or not guide.
The Pajero Sport may be based on the Triton ute but this isn't simply a ute with a shell on the back.
Mitsubishi has comprehensively refined the Pajero Sport's on-road behaviour.
You will, however, feel a difference between this and a car-based crossover SUV like a Santa Fe. Quite simply, you need to evaluate whether you actually need the superior towing and off-road capability the Pajero Sport provides.
If you're never going to bother taking your SUV off the road, the Pajero Sport isn't the ideal SUV for you due to its rather cumbersome handling.
It's also let down by a third row that simply isn't as comfortable as one might expect from an SUV this size.
The handsome interior could also do with some upgraded materials to truly differentiate it from the Triton.
Nevertheless, if you plan on doing a healthy mix of both on-road and off-road driving, the Pajero Sport represents terrific value.
Competitor Analysis
What other cars should you look at?
The Mitsubishi Pajero Sport's most obvious competitors are the ute-based Ford Everest, Isuzu MU-X and Toyota Fortuner.
Both the Everest and MU-X now offer a maximum of 3500kg braked towing capacity, whereas the Fortuner and Pajero Sport (4x4 models) still only offer a maximum of 3100kg braked towing capacity.
It also competes against the ever-popular Toyota LandCruiser Prado, which is both larger, heavier and much more expensive than the Pajero Sport.
The Pajero Sport is also cross-shopped with seven-seat SUVs like the Ssangyong Rexton, LDV D90, Kia Sorento, Hyundai Santa Fe, and Mazda CX-9.
Mitsubishi Pajero Sport Interesting Facts
Did you know?
The Mitsubishi Pajero Sport is known as the Shogun Sport in the UK market and it's available as a commercial vehicle with the second and third rows of seating removed.
Frequently Asked Questions