See prices tailored to you, select a variant and enter your postcode!
2023 Ford Everest
See prices tailored to you, select a variant and enter your postcode
About the Ford Everest
The seven-seat Ford Everest is on hand to offer all the same off-road capability as the Ranger in a body with space for seven.
As with the Ranger on which it is based, it packs a tougher new look on the outside and its interior is brimming with the sort of technology that would once have been unimaginable in a car with commercial roots.
There's V6 turbo-diesel power now for people who want more grunt, and a refined take on the existing 2.0-litre Bi-Turbo diesel for those who don't.
Ford is casting the net wide with the new Everest. At the bottom end of the range, it needs to take on more budget-oriented body-on-frame four-wheel drives like the Mitsubishi Pajero Sport.
Mid-range models are aimed at the ever-popular Isuzu MU-X, while the range-topping Platinum lines up neatly with the popular but ageing Toyota LandCruiser Prado.
That's no small ask. Is the Everest up to the task, or does it have a mountain to climb?
Summary
Our expert's shortest summary
Hit
Impressive interior technology
Ultra-polished drive range-wide
Available V6 power elevates the car
Miss
It's expensive range-wide
Platinum's ride on 21-inch wheels
Long waits for new orders
Video Review
Ford Everest Video Review
Skip to chapter
Intro
Exterior
Interior
Infotainment
Safety
Practicality
On the road
0-100
Off the road
Verdict
2023 Ford Everest bi-turbo (inc. 0-100) on/off-road review
We've driven the big daddy V6 Ford Everest/Endeavour, but what is the more affordable four-cylinder bi-turbo diesel like? Paul Maric gets behind the wheel for a detailed on and off-road review to see if it's any good.
Ford Everest Photo Gallery
CarExpert High Resolution Photos of the Ford Everest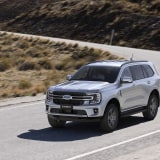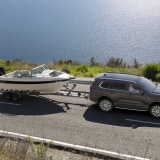 Compare
See Ford Everest comparisons against similarly sized vehicles
Reviews
Our expert's reviews of the Ford Everest
News
All the latest Ford Everest news
Ford Everest Range Guide
Which variant of the Ford Everest range is best for you?
Ford Everest Ambiente
As with the outgoing model, the Everest range opens with the Ambiente. It's available with a choice of rear- or four-wheel drive, and is exclusively powered by a familiar 2.0-litre Bi-Turbo four-cylinder diesel.
Standard equipment includes:
Leather-wrapped E-shifter (4×4 models only)
8.0-inch digital instrument cluster
10.1-inch Sync 4A touchscreen infotainment system
Wireless Apple CarPlay and Android Auto
Wireless phone charging
Embedded modem with FordPass app connectivity
Electric park brake LED headlights
Cloth upholstery
Ford Everest Trend
The next rung up is the Trend, which also offers a choice of rear- or four-wheel drive with the standard 2.0-litre Bi-Turbo diesel.
It upgrades to the larger 12-inch touchscreen and receives USB charging outlets across all three rows. Four-wheel drive models also receive an off-road information screen.
Heated and ventilated front seats are optional on all Trend variants, while four-wheel drive models can also be specified with a surround-view camera and zone lighting.
The Trend also appears to receive leather upholstery and 18-inch alloy wheels.
Ford Everest Sport
The Sport becomes a full-time member of the Everest range, as with the related Ranger ute.
It's also the most affordable Everest to offer the new 3.0-litre turbo-diesel V6, and is available exclusively with four-wheel drive.
There are larger 20-inch alloy wheels with a black finish to match the black exterior accents, including the mirror caps, door handles and grille bars. Heated and ventilated front seats are standard, while zone lighting and a surround-view camera are optional.
Ford Everest Platinum
While the erstwhile flagship Titanium will continue to be offered overseas, Ford Australia is skipping it.
At the top of the Everest range is the new Platinum, available exclusively with four-wheel drive and the new 3.0-litre turbo-diesel V6. Externally, it's distinguished by its unique chrome grille with 'Platinum' badging across the top, as well as 21-inch alloy wheels with machined accents and matrix LED headlights.
Additional standard equipment over the Sport includes:
Quilted leather upholstery
Second-row heated seats
Heated steering wheel 10-way power front seats with driver memory
Panoramic roof Power-folding 50:50 third row
12.4-inch digital instrument cluster
Ambient lighting
Surround-view camera
Matrix LED headlights
Semi-autonomous parking assist Zone lighting
Interior
Photos and Images of the Ford Everest Interior
Inside, the Platinum exclusively offers quilted leather upholstery, ambient lighting and a panoramic sunroof. All models feature a Sync 4A infotainment system with wireless Android Auto and Apple CarPlay.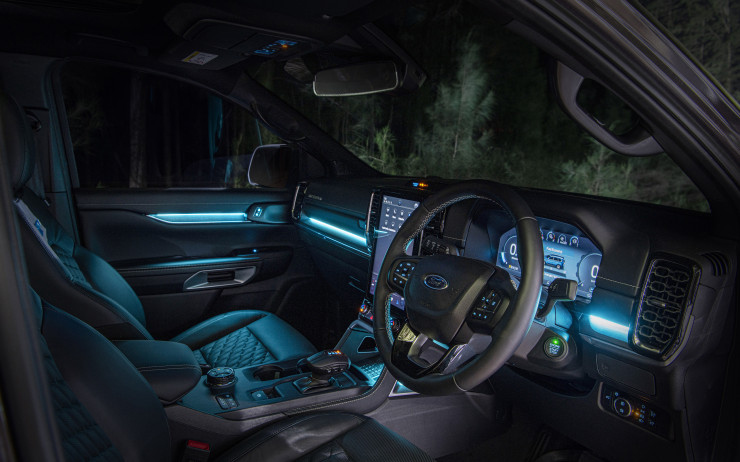 All bar the Ambiente use a 12-inch portrait-oriented touchscreen infotainment system, with the base model using a 10.1-inch.
All Everest models have been "significantly upgraded from a soft trim perspective", according to Wolff. Ford says it's worked to make the Everest more comfortable for longer journeys, with engineers also looking at the mirrors, door seals and even brakes to make the cabin quieter.
The company says it's maximised the packaging for the largely identical external footprint, with more elbow, leg and shoulder room for those in the front and back. It also says the Platinum with its panoramic roof has more headroom than the old Titanium, which also featured a panoramic roof.
The sliding second row split/folds 60:40, with the third row featuring a 50/50 split. Both rows have been designed to fold flat. Ford has increased the size of the rear window and changed the angle of the rear glass to provide third-row occupants with more light. The third row also has more shoulder room and functional storage, while Ford says it's also easier to get in and out of. Platinum models also feature power-folding capability for this row.
There's an underfloor storage area, while Ford has installed a small lip for the load area, which it calls an 'apple catcher', to prevent items from rolling out when you open the tailgate. Ford says female customers were included in the development process. "I think the interior is a clear area of evidence in terms of the customer feedback from our female customers," said T6 program manager Pritika Maharaj.
"Things like design lighting, the IP, the [dash-mounted, pop-out] cupholders in the instrument panel, there's lots of features that I think are very much in response to what female customers have asked and said is important to them."
Exterior
Photos and Images of the Ford Everest Exterior
From the firewall forward, the Everest is identifiable as being Ranger-based, while its wider stance and more angular bodywork and detailing give it a more purposeful look.
"Everest is, and always will be a super cable vehicle… but probably the previous generation, particularly the exterior didn't really deliver on the promise of the capability of the sort of chassis that's underneath," said Max Wolff, designer director for Ford in China and the International Market Group (IMG).
The bluff front end with its C-clamp lighting signatures arguably works well with the boxier body of the new car, with Ford employing a stronger shoulder line while also squaring off the rear end to improve luggage space.
The Platinum exclusively offers matrix LED headlights with speed-dependent lighting and both static and dynamic bending capability. The top-spec Everest is also differentiated by a unique grille, black roof, and 21-inch alloy wheels, but the changes aren't limited to the exterior.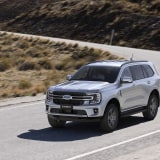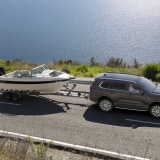 Ownership Suitability
Who is the Ford Everest good for?
The new Ford Everest follows closely in the footsteps of the related Ranger.
It's a polished take on the ute-based SUV formula, with a range that covers a lot of ground.
Regardless of which model you choose, it's a refined way to carry up to seven people, with class-leading infotainment and plenty of space for kids and their stuff.
Ford Everest Colours
What colours are available for the Ford Everest?
The 2023 Ford Everest is available in the following exterior paint colours:
Shadow Black
Aluminium
Arctic White
Meteor Grey
Sedona Orange
Equinox Bronze
Blue Lightning (Sport only)
All paint colours except for Arctic White are prestige paint colours and cost an additional $700.
Cost of Ownership
What is the running, servicing and ownership costs of buying a Ford Everest?
The first five services are priced at $329 under the Blue Oval's capped-price service program.
How it Drives
Our expert take on Ford Everest drivability?
The last Everest did a good job hiding its ute-based origins, but the new one is a step (or two) better again.
Ford has added extra sound deadening under the body, and tweaked the ladder frame relative to the Ranger to reflect the fact this is a less-rugged, more family-oriented vehicle. Of course, it also has a different wheelbase to the Ranger, and rides on a coil-sprung rear suspension with a Watt's Link instead of leaf springs.
Ride quality is impressive across the range. At lower speeds, you don't feel small, high-frequency bumps shuddering through the frame like you often do in ute-based four-wheel drives, and at high speeds it feels impressively tied-down.
Although it's not quite on par with a monocoque crossover for refinement, the truck-like nature that has traditionally characterised off-road capable family haulers has been buried under layers of cotton wool here.
The new Ford Everest is available with two turbo-diesel engines. The entry-level option is a 2.0-litre Bi-Turbo four-cylinder, mated with either rear-wheel drive or full-time-capable four-wheel drive.
It's offered on the Ambiente and Trend, and is shared with the closely-related Ranger ute. Compared to the equivalent engine in the last Everest, it features new injectors, cooling fans, a new engine cover, new seals, and a host of calibration changes.
Peak power is 154kW, and peak torque is 500Nm. It's mated to a 10-speed automatic transmission as standard, and drive is sent to all four wheels through a full-time four-wheel drive system – except in 4×2 models, which are rear-wheel drive.
Standard on the Sport and Platinum is a 3.0-litre V6 turbo-diesel engine, producing 184kW and 600Nm. It's also mated to a 10-speed automatic transmission, with drive sent exclusively through a full-time four-wheel drive system.
The Everest glided through our off-road course. It has 226mm of ground clearance in Sport trim, with a wading depth of 800mm.
Approach, departure and breakover angles are 30.2, 25 and 21.9 degrees, respectively, and there's a locking rear differential for rougher stuff. Also standard is a well-calibrated hill descent control.
Ford Everest Safety Rating
ANCAP Safety Rating Australia
The Ford Everest earned a five-star rating on the back of an 86 per cent score for adult occupant protection, a 93 per cent score for child occupant protection, a 74 per cent score for vulnerable road user protection, and an 86 per cent safety assist score.
The five-star rating applies to the whole Everest range, and is based on tests carried out on the closely related Ford Ranger ute. For owners of cars built before August 20, 2022, that rating only applies once a software update has been installed by a dealer.
The 2023 Ford Everest comes with the following standard safety equipment:
Nine airbags
Autonomous emergency braking (AEB)
Reverse AEB
Post-impact braking
Lane-keep assist
Lane departure warning
Driver attention alert
Blind-spot monitoring
Reverse camera
Front and rear parking sensors
Ford Everest Lifecycle
How old is the current generation and when will there be a new or updated Ford Everest?
The current generation Ford Everest was launched in September 2022 and is currently 19 percent through its lifecycle. The last update was a technology change that was launched in November 2023 with the next model expected in 2029.
Ford Everest Options
Options list for the Ford Everest
The Ambiente 18-inch Alloy Wheel Pack for 4×4 models costs $1100 and adds:
18-inch alloy wheels
All-terrain tyres
Alloy spare wheel
The Trend 18-inch All-Terrain Tyre Pack for 4×4 models costs $500 and adds:
The Sport 18-inch Alloy Wheel Pack is a non-costs option and adds:
18-inch black alloy wheels
All-terrain tyres
The Platinum 18-inch Alloy Wheel Pack is a non-cost option and adds:
18-inch alloy wheels
All-terrain tyres
The Touring Pack available on the Trend 4×4 and Sport costs $2300 and adds:
Black stand-off roof rails (NEW)
Surround-view camera
Zone lighting
Tow bar with integrated brake controller
Blind-spot monitoring with trailer coverage
The Tow Pack available on all models costs $1700 and adds:
Tow bar with integrated brake controller
Blind-spot monitoring with trailer coverage
The Third Row Seat Pack available on the Ambiente costs $950 and adds:
The Premium Seat Pack available on the Trend costs $900 and adds:
Heated and cooled front seats
10-way power driver seat with memory
Eight-way front power passenger seat
Ford also has a partnership with ARB to sell off-road accessories as well.
Ford Everest Warranty
What is the warranty period and kilometre limit for the Ford Everest?
The Everest is backed by a five-year, unlimited-kilometre warranty like the wider Ford range.
Maintenance is required every 12 months or 15,000 kilometres.
Ford Everest Infotainment
What infotainment do you get within the range?
Although not everyone will love the upright design and utilitarian plastics, the Everest runs the same class-leading infotainment setup as its ute sibling across the range. The base Ambiente features a 10-inch vertical display, while the Trend and up get a 12-inch display running the latest Sync 4 software.
The software looks and feels very modern, and Ford has retained some physical buttons for frequently-used climate functions, so it's easy to fiddle with the temperature on the move.
The menu structure is logical, and the sheer amount of screen real estate means key information isn't buried. It's possible to have your mapping, radio preferences, and climate information on display all at once, for example.
Wireless Apple CarPlay connected flawlessly for us, although it drains the battery rapidly with no wireless charger.
A bit more processing power still wouldn't go astray though; the screen sometimes lags when you're hopping between functions.
Most of the range shares its digital instrument cluster with the Ranger. It's a simple, effective unit, but it's not quite as flashy as the 12.4-inch unit standard in the Platinum.
Although it still won't show you maps, it allows a greater range of displays and features more polished graphics than the rest of the range.
8.0-inch digital instrument cluster
10.1 or 12.4-inch Sync 4A touchscreen infotainment system
Wireless Apple CarPlay and Android Auto
Wireless phone charging
Embedded modem with FordPass app connectivity
Ford Everest Boot Space
How much luggage or cargo capacity and boot space is there in the Ford Everest?
Behind the third row, there's 259L of cargo space, expanding to 898L with it folded and 1823L with the second row folded. With all three rows up, you can fit either two duffel bags or perhaps one suitcase, depending on its size.
Ford Everest Fuel Economy
How much fuel does the Ford Everest use and what are its emissions?
Ambiente 4×2: 7.1 litres per 100km
Ambiente 4×4: 7.2 litres per 100km
Trend 4×2: 7.1 litres per 100km
Trend 4×4: 7.2 litres per 100km
Sport 4×4: 8.5 litres per 100km
Platinum 4×4: 8.5 litres per 100km
The whole range features an 80L fuel tank, although aftermarket specialist ARB offers a long-range unit as well.
As with the Ranger, Ford has also left space under the bonnet for a second battery to power aftermarket accessories.
Ford Everest Dimensions
The dimensions of the Ford Everest
The new Ford Everest is 4914mm long, 2207mm wide, and up to 1842mm tall, with a 2900mm wheelbase.
The Blue Oval has confirmed the maximum braked towing capacity for the entire Everest range, including 4×2 variants, is 3500kg.
Maximum payload is up to 741kg, gross vehicle mass (GVM) is up to 3150kg, and gross combined mass (GCM) is 6250kg across the entire range.
In vehicles fitted with Ford's factory tow bar, there's a trailer coverage system that allows you to set the length of the trailer you're towing. It supports trailers varying from 2.4 metres to 10 metres long.
This system takes the length of the trailer intro account and adjusts the sensitivity of the blind-spot assist.
The optional Tow Pack also includes an integrated brake controller.
All Everest models have a Tow/Haul drive model that optimises gear shifts to maintain the best power delivery and engine braking, as well as reducing shift 'busyness' when towing.
Should you buy the Ford Everest
Is this the right car for you? Our experts buy or not guide.
You could argue the base Ambiente is all the Everest anyone needs, which shows how solid the foundations are.
Although the Sport offers a compelling blend of luxuries and value, the Platinum is the model that delivers on Ford's promise to take the Everest into a space it hasn't previously occupied.
It's easily the most polished four-wheel drive of its kind; one which should make a few folks at Toyota very nervous.
Competitor Analysis
What other cars should you look at?
Ford Everest Interesting Facts
Did you know?
Unlike the Ranger, the four-wheel drive versions of the Everest feature a full-time four-wheel drive system with a two-speed electromechanical transfer case featuring 2H, 4H and 4L modes, plus a 4A mode for high-traction surfaces like paved roads.
This 4A mode when selected can continuously distribute power between the front and rear axles for "optimum performance in all on-road conditions". Essentially, it behaves like an all-wheel drive car in 4A.
There's also an electronic locking rear differential on four-wheel drive models that can be activated through the infotainment touchscreen.
All 4×4 variants of the Everest also receive an 'e-shifter' gear selector instead of a traditional mechanical gear selector.
Depending on the Everest variant, there are a variety of drive modes that change the vehicle's throttle response, gearshifts, traction control and ABS. These include the following:
Normal
Eco
Tow/Haul
Slippery
Mud/Ruts
Sand
Standard on all 4×4 models besides the entry-level Ambiente is an 'Off-Road Screen' (ORS) that's able to display the following information:
Driveline and electronic diff lock indication
Steering angle
Vehicle pitch and roll angles
Off-road features button
Variants from previous years