2022 Ford Everest
| | |
| --- | --- |
| Price | $50,090 - $73,190 |
| Fuel Efficiency | 6.9 - 8.5 / 100km |
| ANCAP Rating | 5-star |
| Warranty | 5 years |
About the Everest
When the redesigned new Ford Everest arrives later in 2022 it will offer more technology, capability, a new turbo-diesel V6, and a new Platinum flagship.
It continues to be the SUV counterpart to the Ranger, which means it's based on the redesigned ute due here mid-year and therefore uses a heavily updated version of the existing T6 platform.
Pricing and specific launch timing have yet to be released, though the Everest will be launched after the Ranger. We expect a launch sometime in the third quarter of 2022.
Video Review
Everest Video Review
2022/2023 Ford Everest
Detailed walkaround review of the NEW Everest!
The all-new 2022 Ford Everest is finally here! Paul Maric takes you on a detailed walkaround of Ford's new seven-seat SUV ahead of the official launch later this year. Let us know if you have any questions!
Photo Gallery
CarExpert High Resolution Photos of the Ford Everest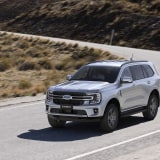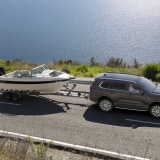 Everest Price
What is the price of a Ford Everest?
Pricing for the new Ford Everest is yet to be released, however we do suspect it will see a moderate to noticeable increase over the current car.
Reviews
Our expert's reviews of the Ford Everest
News
All the latest Everest news
Range Guide
Which variant of the Ford Everest range is best for you?
Ford Everest Ambiente
As with the outgoing model, the Everest range opens with the Ambiente. It's available with a choice of rear- or four-wheel drive, and is exclusively powered by a familiar 2.0-litre Bi-Turbo four-cylinder diesel.
Standard equipment includes:
Leather-wrapped E-shifter (4×4 models only)
8.0-inch digital instrument cluster
10.1-inch Sync 4A touchscreen infotainment system
Wireless Apple CarPlay and Android Auto
Wireless phone charging
Embedded modem with FordPass app connectivity
Electric park brake LED headlights
Cloth upholstery
Ford Everest Trend
The next rung up is the Trend, which also offers a choice of rear- or four-wheel drive with the standard 2.0-litre Bi-Turbo diesel.
It upgrades to the larger 12-inch touchscreen and receives USB charging outlets across all three rows. Four-wheel drive models also receive an off-road information screen.
Heated and ventilated front seats are optional on all Trend variants, while four-wheel drive models can also be specified with a surround-view camera and zone lighting.
The Trend also appears to receive leather upholstery and 18-inch alloy wheels.
Ford Everest Sport
The Sport becomes a full-time member of the Everest range, as with the related Ranger ute.
It's also the most affordable Everest to offer the new 3.0-litre turbo-diesel V6, and is available exclusively with four-wheel drive.
There are larger 20-inch alloy wheels with a black finish to match the black exterior accents, including the mirror caps, door handles and grille bars. Heated and ventilated front seats are standard, while zone lighting and a surround-view camera are optional.
Ford Everest Platinum
While the erstwhile flagship Titanium will continue to be offered overseas, Ford Australia is skipping it.
At the top of the Everest range is the new Platinum, available exclusively with four-wheel drive and the new 3.0-litre turbo-diesel V6. Externally, it's distinguished by its unique chrome grille with 'Platinum' badging across the top, as well as 21-inch alloy wheels with machined accents and matrix LED headlights.
Additional standard equipment over the Sport includes:
Quilted leather upholstery
Second-row heated seats
Heated steering wheel 10-way power front seats with driver memory
Panoramic roof Power-folding 50:50 third row
12.4-inch digital instrument cluster
Ambient lighting
Surround-view camera
Matrix LED headlights
Semi-autonomous parking assist Zone lighting
Interior
Photos and Images of the Ford Everest Interior
Inside, the Platinum exclusively offers quilted leather upholstery, ambient lighting and a panoramic sunroof. All models feature a Sync 4A infotainment system with wireless Android Auto and Apple CarPlay.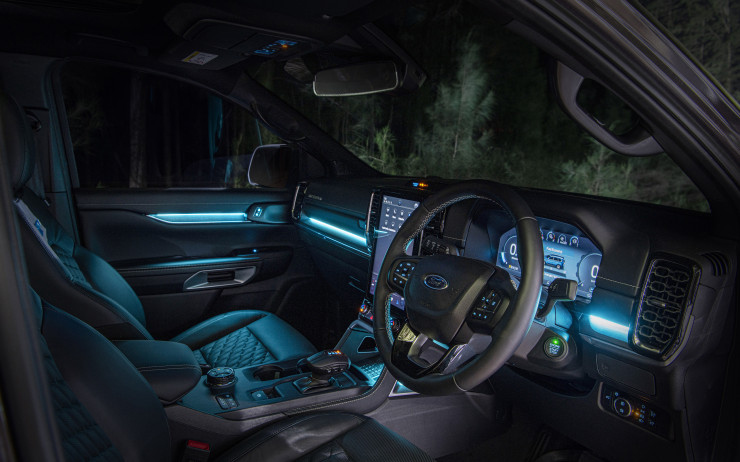 All bar the Ambiente use a 12-inch portrait-oriented touchscreen infotainment system, with the base model using a 10.1-inch.
All Everest models have been "significantly upgraded from a soft trim perspective", according to Wolff. Ford says it's worked to make the Everest more comfortable for longer journeys, with engineers also looking at the mirrors, door seals and even brakes to make the cabin quieter.
The company says it's maximised the packaging for the largely identical external footprint, with more elbow, leg and shoulder room for those in the front and back. It also says the Platinum with its panoramic roof has more headroom than the old Titanium, which also featured a panoramic roof.
The sliding second row split/folds 60:40, with the third row featuring a 50/50 split. Both rows have been designed to fold flat. Ford has increased the size of the rear window and changed the angle of the rear glass to provide third-row occupants with more light. The third row also has more shoulder room and functional storage, while Ford says it's also easier to get in and out of. Platinum models also feature power-folding capability for this row.
There's an underfloor storage area, while Ford has installed a small lip for the load area, which it calls an 'apple catcher', to prevent items from rolling out when you open the tailgate. Ford says female customers were included in the development process. "I think the interior is a clear area of evidence in terms of the customer feedback from our female customers," said T6 program manager Pritika Maharaj.
"Things like design lighting, the IP, the [dash-mounted, pop-out] cupholders in the instrument panel, there's lots of features that I think are very much in response to what female customers have asked and said is important to them."
Exterior
Photos and Images of the Ford Everest Exterior
From the firewall forward, the Everest is identifiable as being Ranger-based, while its wider stance and more angular bodywork and detailing give it a more purposeful look.
"Everest is, and always will be a super cable vehicle… but probably the previous generation, particularly the exterior didn't really deliver on the promise of the capability of the sort of chassis that's underneath," said Max Wolff, designer director for Ford in China and the International Market Group (IMG).
The bluff front end with its C-clamp lighting signatures arguably works well with the boxier body of the new car, with Ford employing a stronger shoulder line while also squaring off the rear end to improve luggage space.
The Platinum exclusively offers matrix LED headlights with speed-dependent lighting and both static and dynamic bending capability. The top-spec Everest is also differentiated by a unique grille, black roof, and 21-inch alloy wheels, but the changes aren't limited to the exterior.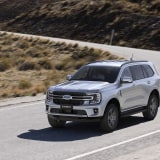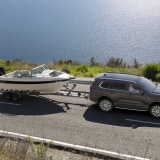 How it Drives
Our expert take on Ford Everest drivability?
We are yet to get behind the wheel of the new Ford Everest but we do know some interesting facts about the upcoming SUV.
As with the redesigned Ranger upon which it's based, the new Everest gets the option of a 3.0-litre turbo-diesel V6 formerly used in the F-150 pickup truck.
The outgoing model's 2.0-litre bi-turbo diesel four-cylinder will continue, but the 3.2-litre turbo-diesel five-cylinder is dead. Both the 2.0-litre and 3.0-litre turbo-diesels are mated exclusively with a 10-speed automatic transmission.
Outputs haven't been confirmed for the new Everest, however the outgoing model produces 157kW of power and 500Nm when equipped with the 2.0-litre bi-turbo, while the 3.0-litre V6 produced 190kW and 597Nm in the F-150.
Overall, Ford has kept the Everest largely the same length but increased the wheelbase by 50mm over the previous model. Track is also up by 50mm, while width is the same and height is up only fractionally.
The Everest essentially uses the same front section as the Ranger, allowing it to use the same engines and steering, though as before there's a unique rear.
The new Everest continues to use Watt's link suspension with coil springs.
"It's the same concept of suspension we have on today's vehicles, but just tweaked to make the ride comfort better for occupants," said Foston.
"Everest was always well regarded for its plush ride on- and off-road, but the track increase allowed our dynamics team to create a greater connection between vehicle and driver, with a more controlled 'fun to drive' ride around town and on the highway," said Foston.
The company says the car's wider track has given the Everest better on-road control before, as well as better off-road articulation.
All variants are offered with a permanent four-wheel drive system using an electronically controlled on-demand two-speed electromechanical transfer case with selectable off-road modes.
Ford says the approach angle is "much better", though the departure angle is "about the same". Running clearance is slightly better, while maximum wading depth is 800mm.
All models feature two functional tow hooks up front, while there's underbody protection to shield components like the steering system, engine sump and transfer case.
The Everest's roof can now support static loads of up to 350kg and dynamic loads of up to 100kg, with the Platinum featuring unique stand-off roof rails.
Safety Rating
ANCAP Safety Rating Australia
The Everest's list of safety equipment has been bolstered, though Ford hasn't outlined whether the suite will be available across the range. In the outgoing car, features like blind-spot monitoring and rear cross-traffic alert were restricted to the top-spec Titanium. What we do know is that the Everest will include:
AEB with pedestrian detection and junction assist
Adaptive cruise control with stop/go
Lane-keep assist with road-edge detection
Lane centring
Blind-spot monitoring
Rear cross-traffic assist
Nine airbags, including curtain airbags for all three rows
The blind-spot monitoring system also includes trailer coverage when you specify the optional Tow Pack and create a profile for your trailer in the infotainment system. It supports trailers up to 2.4m wide and 10m long.
This package also includes a trailer brake controller, trailer light check function and connection checklist, and a dedicated towing drive mode.
The autonomous emergency braking system includes pedestrian detection and now includes junction assist, applying the brakes if it detects you're about to collide with oncoming traffic while turning.
The adaptive cruise control system features stop/go and lane-centring, and works in conjunction with traffic sign recognition. The lane-keep assist now includes road-edge detection, designed for rural road driving at speeds between 65km/h and 110km/h, while evasive steer assist uses the radar and front camera to detect vehicles ahead and provide steering support to the driver if an imminent collision is detected.
The existing car's blind-spot monitoring and rear cross-traffic alert features have also been upgraded. Ford's reverse brake assist feature works at speeds of between 2-12km/h and will apply the brakes if it detects you're about to reverse into a vehicle, cyclist or pedestrian.
The blind-spot system includes trailer coverage when you specify the optional Tow Pack and create a profile for your trailer in the infotainment system. It supports trailers up to 2.4m wide and 10m long.
There are nine airbags in total, with a new centre airbag between the front occupants to prevent them from colliding with each other in a side impact. Curtain airbags continue to cover all three rows, while there are dual front knee airbags.
Everest Lifecycle
How old is the current generation and when will there be a new or updated Ford Everest?
The new Ford Everest will launch in the later part of 2022, potentially as a 2023 Ford Everest, meaning it will start a new lifecycle that will see it maintain the same setup for at least 3-4 years before a major facelift that will see its generation out till around 2030-2031 before an all new car is released.
Everest Infotainment
What infotainment do you get within the range?
The new Everest will carry over the technology from the upcoming Ford Ranger. That includes
8.0-inch digital instrument cluster
10.1 or 12.4-inch Sync 4A touchscreen infotainment system
Wireless Apple CarPlay and Android Auto
Wireless phone charging
Embedded modem with FordPass app connectivity
We will know more about the technology and infotainment system of the new Ford Everest as it gets closer to launch.
Everest Dimensions
The dimensions of the Ford Everest
Full specification, size and dimensions of the new Ford Everest are yet to be released.
Competitor Analysis
What other cars should you look at?
Variants from previous years