Urban family SUVs have their place, but plenty of people want the practicality served with off-road chops and towing ability.
The most popular choice is Toyota's Prado. But there's plenty of demand for smaller or more affordable offerings too, led by the Ford Everest, Isuzu MU-X, Toyota Fortuner, and the car we're testing here – Mitsubishi's Pajero Sport.
Like all of those aforementioned, the Pajero Sport shares its starting platform with a ute, in this case the Triton. But the absence of the need for a one-tonne payload over the rear axle (the payload is 670kg all up) allows more road-friendly suspension.
If you're after a seven-seater that can tow your caravan or boat, or a family wagon that can venture off the beaten path, the Mitsubishi deserves a look. Especially given the updates launched in early 2020 that toughened up the frontal design, shortened the drooping tail lights, and added features.
How does the Mitsubishi Pajero Sport fare vs its competitors?
View a detailed breakdown of the Mitsubishi Pajero Sport against similarly sized vehicles.
Mitsubishi
Pajero Sport
How much does the 2020 Mitsubishi Pajero Sport GLS cost?
The Mitsubishi Pajero Sport range kicks off at $45,990 drive-away for the GLX five-seater, climbing to $52,490 for the GLS with five seats, and $53,990 with seven seats as tested here. The range-topping Exceed is $59,990.
These prices are all drive-away as per Mitsubishi's website, and at the time of writing were augmented by $1500 worth of accessories chucked in for free, and an extended seven-year warranty.
For context, the $53,990 price tag for our mid-range tester compares to $60,990 drive-away for a mid-range Ford Everest Trend, $50,990 drive-away for a mid-level Isuzu MU-X LS-U, and $51,990 for a mid-range Fortuner GXL (soon to be replaced by an updated model).
So while the Mitsubishi Pajero Sport GLS isn't the standout bargain that the GLX looks to be, it remains pretty well positioned in the market.
What do you get?
Exterior features include 18-inch alloy wheels shod with Toyo Open Country rubber, a full-sized alloy spare, chrome-finish door handles, rear privacy glass, roof rails, side steps, auto-levelling and dusk-sensing headlights with LED low- and high beam, LED daytime running lights and fog lights, LED brake lights, rear parking sensors, and rain-sensing windscreen wipers.
Other features include a proximity key fob with button start, a powered tailgate, three 12V inputs, a single 220V AC power plug point, two rear-seat USB points, two-zone climate control with rear vents and dust/pollen filters, leather-wrapped wheel and gear shifter, carpet floors, and leather-trimmed seats with driver's power adjustment.
Tech stuff includes an 8.0-inch touchscreen with Apple CarPlay and Android Auto phone mirroring, Bluetooth phone and media streaming, digital radio, AM/FM receiver, two USBs, one HDMI input, six speakers, and a reversing camera.
The flagship Exceed offers a suitably compelling list of optional extras that you're sure to covet, but the $6000 hike seems steep.
These extras include a large LCD digital instrument cluster, factory satellite navigation, front parking sensors, a 360-degree camera, eight speakers, and integration with a Mitsubishi smartphone app that lets you remotely open the tailgate, check the car's health, and find your car if you've parked it somewhere forgettable. This also syncs up with an Apple Watch.
Moreover, the Exceed also gets some active safety features over and above the GLS that I'll detail next.
Is the Mitsubishi Pajero Sport safe?
All Pajero Sport models come with seven airbags including dual fronts, a driver's knee airbag, front-side airbags, and full-length head-height curtain airbags.
All grades come with forward collision alert and autonomous emergency braking, while parents should know that there are two ISOFIX child-seat anchors and three top-tether anchor points.
The GLS grade adds to this adaptive cruise control over the existing speed limiter/passive cruise functions, which is particularly handy for long drives.
But only the Exceed gets further tech such as blind-spot monitoring, lane-departure alert, rear cross-traffic alert, and ultrasonic misacceleration mitigation, which is best explained here.
Independent crash-tester ANCAP awarded the Mitsubishi Pajero Sport five stars against its 2015 criteria, with a score of 36.22 out of 37. You can read the full report here. It's hard to fault the passive safety, but we'd prefer those driver-assist features be available on more variants.
What is the Mitsubishi Pajero Sport GLS like on the inside?
The build quality is good, and the materials such as the dash trims and seat leather are hard-wearing without feeling cheap and nasty. There are some padded touch-points and contrasting silvery trims and stitching that enliven things nicely.
The steering wheel is nicely trimmed, with easy-to-learn button controls and massive, quality paddle shifters situated behind. Pointless no doubt, but nice. That climate control interface, with cheap plastic dials and red digital font, looks naff though.
More importantly, there's both rake and telescopic column adjustment, so people with all manner of proportions can get comfortable. Storage options include six cupholders, bottle holders in each door, a roof-mounted sunglasses cubby, and a centre console.
The centre touchscreen is best used to mirror your smartphone's mapping, podcast and streaming services, though some might rue the lack of factory sat-nav. The camera has decent resolution.
As the picture above shows, there's sufficient room in the middle row for two normally-sized adults, although the seats are perched up high to facilitate third-row toe room, meaning taller occupants are pressed for headroom. Amenities include grab handles overhead and on the B-pillar, overhead vents, and USBs.
The third seating row is pretty tight, and the raked side window makes outboard visibility pretty bad. I'd say they're best reserved for occasional use – maybe your kid has a couple of friends who need a lift to footy training. ANCAP says the airbags cover all three rows at head level.
You can actually buy the Pajero Sport GLS with five seats and save $1500, which is worth considering unless you really need them. Moreover, should you opt for this setup the cargo space behind the second row (VDA to the top of the seat back) grows from a decent 502 litres to a whopping 673L.
Facelift
First impressions
The updated frontal design is more upright than before, and suits the shape better
If you're using all seven seats there's a small 131L storage area as pictured, while you can also fold both back rows flat and free up tons more space. The width between the wheel arches is 1000mmm, while the area is 1370mm across at its widest point.
What's under the bonnet?
The same 2.4-litre turbo-diesel engine as the Triton, good for 133kW of power at 3500rpm and 430Nm of torque at 2500rpm.
It's mated as standard to an eight-speed automatic transmission with enormous Lancer Evo-style paddle shifters affixed to the steering column, and the proprietary Super-Select II 4×4 system. We'll discuss that in the next bit.
Mitsubishi cites excellent combined-cycle fuel consumption of 8.0 litres per 100km which, given the modest 68L tank, promises 800km-plus of range with careful driving. Urban commuting, heavy throttling, off-roading, or towing will blow that figure out.
How does the Mitsubishi Pajero Sport drive?
To put the 133kW/430Nm outputs into context, the (soon-to-be-updated) 2.8-litre Fortuner and Prado have 130kW/450Nm for now, the Isuzu MU-X's 3.0-litre makes 130kW/430Nm, and the 2.0-litre twin-turbo Everest has 157kW/500Nm.
But at 2.1 tonnes at the kerb, the Mitsu is the lightest the bunch, albeit only just lighter than the Fortuner and MU-X. It's more than 200kg lither than the bigger and pricier Prado and Everest though.
All this is to illustrate that for most purposes there's plenty of grunt to overtake easily or lug you up hills, and the eight forward ratios means the engine is rarely stressed or raucous. In fact, for a ute-based diesel 4×4 the Pajero Sport is fairly quiet and free of harsh vibrations (comparatively speaking). That's good for urban buyers.
Mitsubishi cites a maximum braked-trailer tow rating of 3.1 tonnes, but we'd err on the side of caution with that figure. For a caravan, boat, or 2.2-tonne horse float it'll do the trick. I've towed the latter before, and the drivetrain is fine, though the 45mm narrower body and shorter wheelbase meant it didn't feel quite as stable as the Isuzu. Grey nomads take note.
There's a trailer stability assist function built into the stability control, which does a good job stabilising you in crosswinds or over uneven surfaces. You're be doing well to get turned inside-out or jackknife. Grab a brake controller and tow kit and you're set for the family getaways.
The hydraulic-assisted steering is well-weighted, neither too heavy and cumbersome nor too video-game-like, with consistent feel through the turn. And the 11.2m turning circle is small.
Other mechanicals include ventilated disc brakes at both ends, double wishbone front suspension with coils and a stabiliser bar, and a coil-sprung rear axle with three linkages at each wheel (not five as per the norm) and stabiliser bar to keep body wallowing in check on the straight-ahead.
It's not the last word in suppleness, and an Aussie-engineered Everest blasts over corrugated gravel tracks and pockmarked B-roads more effortlessly, but the Mitsubishi Pajero Sport feels light and agile for the class (again, it's all relative), tight in the body, and not too jarring over low speed nasties.
Perhaps the most notable feature of the Pajero Sport is the Super-Select II 4×4 system, detailed more extensively in the video review posted at the top of this review.
The default 2H is rear-wheel drive, and there's the usual 4-High mode with locked centre diff to fix front-to-rear torque flow, and 4-Low that activates the transfer case. But there's also a 4H permanent AWD setting with open diff that can be used on normal roads, particularly when wet, snowy or gravelly, without you having to fret over transmission wind-up like older-school part-time setups.
There's an additional rear diff lock to apportion rear-axle torque effectively to stave-off free-wheeling when the surfaces are super uneven, and various surface-specific switchable modes that adjust the throttle take-up and stability control lassitude. Fording depth is 700mm max, and clearance 218mm.
How much does the Mitsubishi Pajero Sport cost to run?
The standard Mitsubishi Motors Australia factory warranty across most models is five years or 100,000km (whichever comes first). But at the time of writing at least, MMC was offering a seven-year/150,000km warranty plus four years roadside assist so long as you use dealer servicing.
The MY2020 capped-price servicing plan caps each of the first three services at $299 per visit, at intervals of 12 months and 15,000km.
So you should expect to pay $897 over the first three years or 45,000km, plus potentially extra for some consumables if they 'go', like brake pads, wiper blades, or wheel alignment. It's the same story with most brands.
For what it's worth, I know a few close friends and family with new Mitsubishis who've had good experiences with their local dealers. So if you're not getting it too, then find the next-closest Mitsubishi retail site and try that.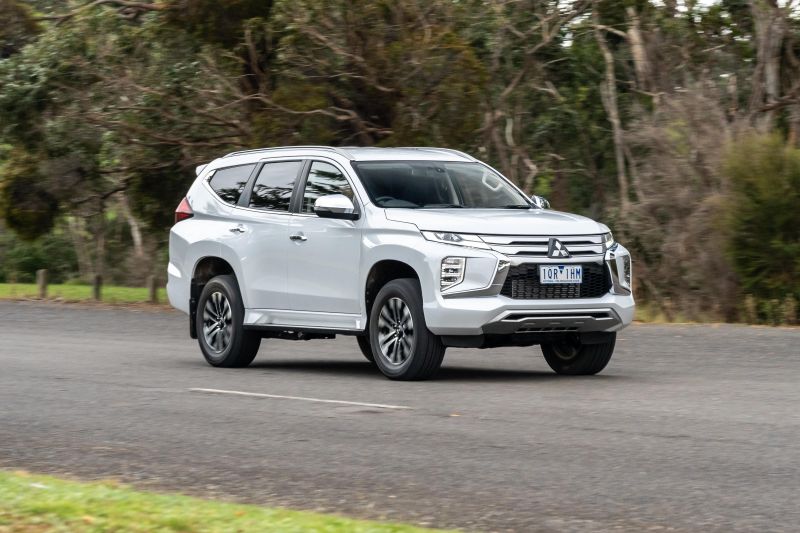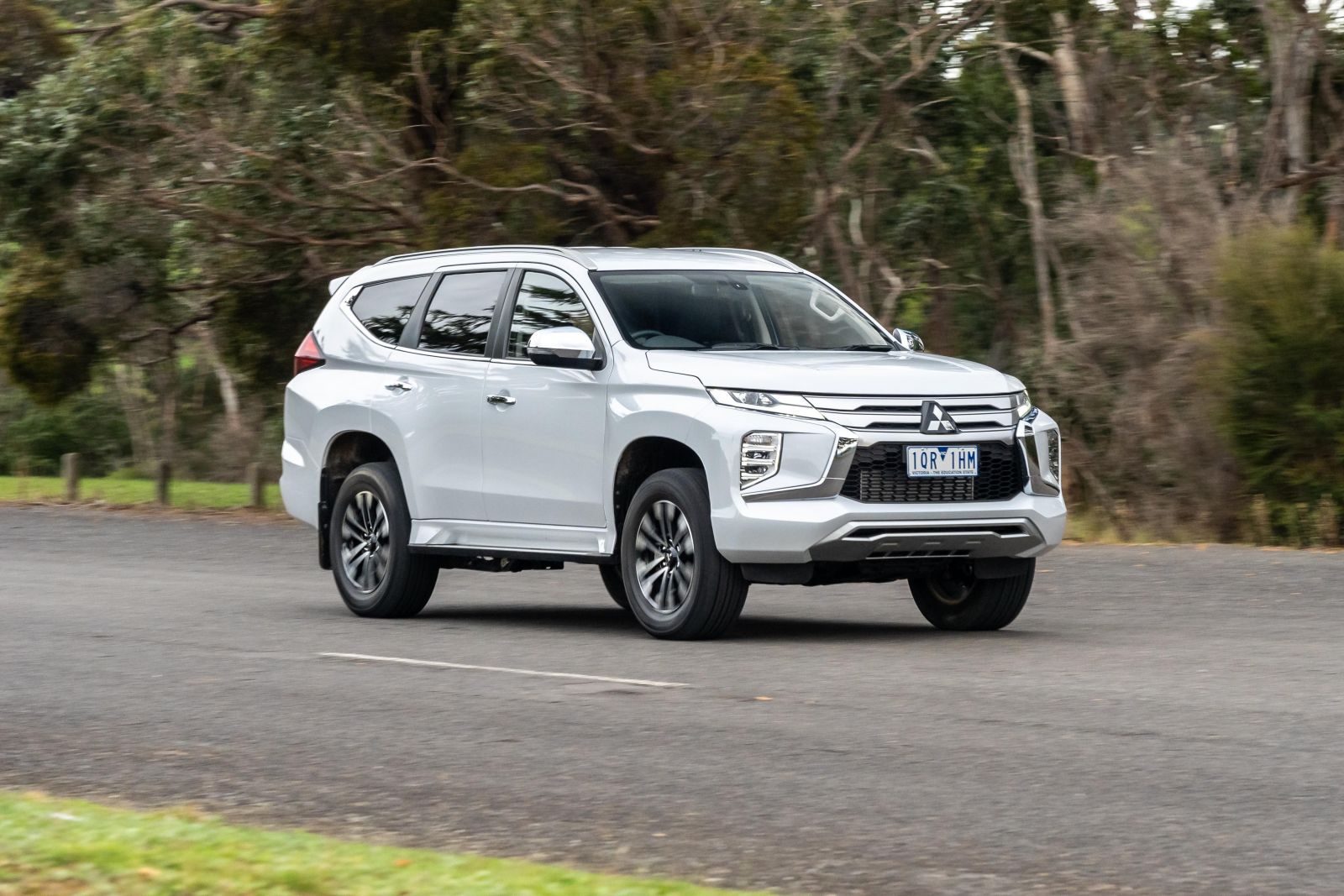 CarExpert's take on the Mitsubishi Pajero Sport GLS
The Mitsubishi Pajero Sport is not quite the relative bargain it once was, because its price crept up by $1000 (list) when the MY20 update lobbed, while its competitors went the other way: the Isuzu MU-X because it's getting long in the tooth, and the Toyota Fortuner because it wasn't selling.
But it's far more refined and modern inside than the Isuzu, and its off-road system is cleverer, though I'd rather do long-haul towing in the MU-X. The Fortuner is due for a major overhaul soon, detailed here, but in the meantime the Mitsi wins that battle.
As ever, it's not as capacious or as good at cushioning you from Aussie country road as the Ford Everest or Toyota Prado, but it's significantly more affordable and has earned its position as a genuine competitor to this lauded pair.
I'd be hunting a deal on the Exceed personally, but if you're looking for a family 4×4 that can tow and take you along some muddy trails, without scrimping on the modernity, I'd happily recommend you go kick the tyres.