See prices tailored to you, select a variant and enter your postcode!
2023 Mazda CX-9
See prices tailored to you, select a variant and enter your postcode
About the Mazda CX-9
The 2023 Mazda CX-9 is Mazda's largest and most expensive SUV. Currently in its second generation, the Mazda CX-9 competes with the likes of the Hyundai Palisade, Kia Sorento, and Toyota Kluger in the mainstream large SUV segment.
Seven seats are standard, with a six-seat layout available in the range-topping Azami LE. All models are powered by a 2.5-litre turbocharged four-cylinder petrol engine mated to a six-speed automatic transmission.
Front- and all-wheel drive are offered, as well as a range of model variants.
Summary
Our expert's shortest summary
Hit
Plush, unique interior
Impressive highway refinement
Smooth petrol engine
Miss
Thick, vision-obscuring A-pillars
Clumsy phone mirroring
AWD pricier and thirstier than FWD version
Video Review
Mazda CX-9 Video Review
Skip to chapter
Intro
Exterior
Interior
Infotainment
Safety Tech
Practicality
On the road
Verdict
2021 Mazda CX-9 LE review
6 seat luxury version! The luxxest sub $80k SUV in 2021?
This Mazda has captain's seats in the second row! They recline electrically and have both heating and cooling. The 2021 Mazda CX-9 Azami LE has stepped it up a notch with a super luxury take on the family hauler. It also comes with a new and larger infotainment system. Paul Maric tests out the updated Mazda CX-9 to see if it's any good.
Mazda CX-9 Photo Gallery
CarExpert High Resolution Photos of the Mazda CX-9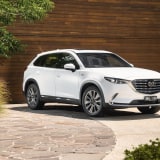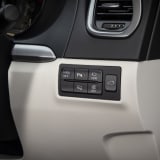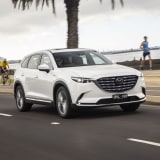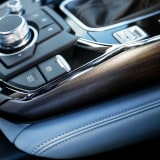 Compare
See Mazda CX-9 comparisons against similarly sized vehicles
Reviews
Our expert's reviews of the Mazda CX-9
News
All the latest Mazda CX-9 news
Mazda CX-9 Range Guide
Which variant of the Mazda CX-9 range is best for you?
CX-9 Sport highlights:
7.0-inch MZD Connect touchscreen
Satellite navigation
Apple CarPlay + Android Auto (wired)
18-inch alloy wheels with 255/60 tyres
Automatic LED headlights
Rain-sensing wipers
Power-folding side mirrors
Head-up display
Three-zone climate control
Six-speaker sound system
DAB+ digital radio
Push-button start
Automatic high-beam
Adaptive cruise control with stop/go
Reversing camera with rear parking sensors
Tilt-and-telescoping steering column
Off-road traction assist (AWD models only)
CX-9 Touring adds:
9.0-inch MZD Connect touchscreen
Paddle shifters
LED fog lights
Leather upholstery (black)
Keyless entry
Front parking sensors
Heated front seats
Eight-way power driver's seat
Six-way power passenger's seat
Rear centre armrest with storage and USB ports
One-touch tilt and slide switch for second row
CX-9 GT adds:
10.25-inch Mazda Connect infotainment
Qi wireless smartphone charger
20-inch alloy wheels with 255/55 tyres
Hands-free power tailgate
Power tilt-and-slide sunroof
Leather seats (black, natural stone or beige)
12-speaker 294W Bose sound system
10-way power driver's seat with memory
Heated second row seats (outboard only)
Third-row USB ports
CX-9 GT SP adds:
Leather seats (burgundy)
Red interior highlights
Dark gunmetal grille
Black mirror caps
Black 20-inch alloy wheels
CX-9 Azami adds:
Adaptive LED headlights
Windscreen de-icer
7.0-inch driver's supervision display
Heated steering wheel
Frameless rear-view mirror
Ventilated front seats
Surround-view camera
Real wood trim
LED centre console ambient lighting
Quilted Nappa leather upholstery (brown or white)
CX-9 Azami LE adds:
2+2+2 seat configuration
Power-adjustable, heated/ventilated second-row captain's chairs
Second-row centre console
Price & Specs
See comprehensive price and specification details for the Mazda CX-9
Interior
Photos and Images of the Mazda CX-9 Interior
While not the most modern cabin in what's a fast-moving segment, the CX-9 design blends classic vibes with a reasonably contemporary look that has aged gracefully over the past few years.
Where it really shines is in the decent variety of tactile and good-looking materials – such as the GT SP's burgundy leather or the quilted Nappa leather options in the Azami and Azami LE.
The front seats are comfy and cosy, offering a huge degree of fully-electric adjustment. If there's one markdown in general ergonomics, it's that the door armrests and console lid are set quite high, demanding the driver's seat be raised higher than expected to allow elbow clearance for those of us with long arms. No biggie.
You do feel as if you sink into the cabin rather than sit propped upright, but the soft-touch surfaces, much of which benefits from racy stitching in the GT SP, helps make the effect pleasing and welcoming.
As we've noted in CX-9 reviews past, it's a sound approach to a design that incorporates neat premium frills clearly inspired by pricier European influences, such as the split centre console, and there's ample stowage around the front row that's properly-sized for adult needs.
Like its CX-8 sibling, the CX-9 does suffer from incredibly thick A-pillars that can, and do obscure your line of sight through corners. Outward visibility is quite good, rather than outstanding, which is the nature of a design that, on the plus side, brings a sense of surety being wrapped in a lot of metal, glass and rubber.
In typical Mazda fashion, the control layout is logical and intuitive, save for having to run USB cables into the console bin and across the transmission selector if you wish to tether your phone, which inevitably ends up in the console bin itself.
Somewhat annoying is the high-grade 10.25-inch infotainment system, which unlike the touchscreen design of the 9.0-inch system used lower down the range, features a display screen only with dedicated rotary dial and button control on the centre console rather than offering touch inputs.
The problem? Porting a touchscreen format used for Apple CarPlay into remote control is clumsy and distracting, particularly when attempting to switch between app functionality quickly – Spotify track selection to Apple Maps zooming, say – when offering a touchscreen alternative is far quicker and frankly safer including when on the move – where Mazda insists on locking out access even on its touchscreens.
Content, when you do access it, is great. The sound quality of the audio is excellent, the camera view is nice and crisp, and there's neat simplicity to Mazda's more contemporary operating system, even if it offers small stumbles (such as strange complexity of swapping between FM and DAB+ sources).
Row two roominess ranges from excellent to decent depending on where you adjust the sliding mechanism, and at the most rearward position it's amply comfortable for taller adults. The seat base is set reasonably high, which is great for small kids' outward visibility, and the tilting seatback allows a generous degree of tuneable comfort.
Speaking of which, the CX-9 brings plenty of creature comforts to those in the back, including the dedicated climate controls, plenty of device power, retractable sun blinds and brilliantly bright LED overhead lighting.
The one-touch access to row three, which tilts and slides the rear 60:40-split second-row pew, is as handy as it is suitably upmarket. It does put the narrower access kerb-side, though the annoyance is only minor.
Room 'out back' is decent enough and fairly typical of segment: spacious enough for kids and shorter adults at a pinch, but nothing like a proper MPV. The USB outlets are a handy inclusion though the lack of ventilation can make it a stuffier place to sit the further forward in the cabin.
The 230 litres of boot space as a seven-seater doesn't look much on (virtual) paper, but there's decent depth and length at the base and it only gets tight if you're loading in bulky objects. Drop the third row and there's generous 810 litres to work with, which is larger some of the competitive set. Converted to a two-seater, the load space is huge and offers a reasonably flat floor, too.
Exterior
Photos and Images of the Mazda CX-9 Exterior
External styling across the CX-9 range is pretty consistent bar some minor details depending on the model you get.
Sport and Touring versions get smaller 18-inch alloys while the GT and up score 20-inch rims. Azami versions get a classier multi-spoke design over the GT and GT SP's five-arm look.
GT SP, Azami and Azami LE grades get a different front grille insert to lower versions, and the flagship Azami versions are the only CX-9 models to get LED daytime running lights as opposed to the halogen units used further down in the range.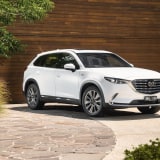 Ownership Suitability
Who is the Mazda CX-9 good for?
The seven-seater SUV is best suited to families with five or more passengers. The third-row seats may not be ideal for large adults but they will certainly do the job for small children.
Although Mazda may not be a luxury brand, the interior fit and finish of the higher spec variants certainly competes with the likes of Audi and BMW for interior quality and refinement.
Mazda CX-9 Colours
What colours are available for the Mazda CX-9?
For the 2022 model year, the CX-9 is available in the following finishes:
Machine Grey metallic*
Polymetal Grey metallic*
Soul Red Crystal metallic*
Snowflake White Pearl mica
Sonic Silver metallic
Titanium Flash mica
Deep Crystal Blue mica
Jet Black mica
*Premium finishes cost $495
Cost of Ownership
What is the running, servicing and ownership costs of buying a Mazda CX-9?
The Mazda CX-9 requires servicing every 12 months or 10,000km, whichever comes first.
The first five services are cost the following:
12 months or 10,000km: $378
24 months or 20,000km: $424
36 months or 30,000km: $378
48 months or 40,000km: $424
60 months or 50,000km: $378
How it Drives
Our expert take on Mazda CX-9 drivability?
In short, the CX-9 drives wonderfully. With its polished powertrain and accomplished ride, the big Mazda hits it out of the ballpark in what are arguably the two most important areas.
No perceivable turbo lag, impressive response, ample torque on board to rarely demand raising its pulse above 2000-2500rpm during urban driving, the 2.5L unit is a gem of an engine, proof positive that Mazda should invest more in spread turbocharging further throughout its range.
It's an excellent six-speed automatic, too, that might appear slim in its ratio count compared with some competition offering up to eight speeds, but doesn't really suffer because of it mostly because the engine it's paired with is gutsy enough down low and, being petrol, has a high rpm ceiling if you ever feel the need to use it – and you rarely do.
It's a quiet powertrain, too, but lean into it and there's pleasingly raspy note and it's even a touch sporty. There's a choice of drive modes but, realistically, there's enough pep in the reserves that there's not much cause to go fiddling with the mode selector.
Premium, as in genuinely premium? You bet. Some big dollar Euro SUVs could benefit with the sort of classy refinement the Mazda offers at a mainstream budget.
It's the very same story with the ride quality. Sure, it sits on large 20-inch wheels with a lot of mass those passive dampers need to contend with across bumps and lumps, but thanks to the deft tuning – aided no doubt by the thick 50-series tyres – the ride compliance is, as we've noted in reviews past, beautiful.
The suspension filters out the small road imperfections with ease, absorbs big hits gently, settling nicely and quickly in the wash-up. This is the sort of deft execution you expect from more thoroughbred adaptive damping and, on balance, the Mazda rides better than the fancier air-sprung designs common in much more upmarket offerings, many of which lack the natural and assertive body control the Mazda enjoys. Yes, it's that good.
The CX-9 backs up its powertrain and suspension finery with excellent resistance to extraneous noise, with very little rumble from those broad 255mm tyres and a proper sense of bank vault surety between the cabin, the road and the environment. It can dial up a level of serenity that's seriously impressive, the sort of ambience comfort you'd expect from bona-fide luxury motoring.
Between its manners on the move and the welcoming cabin space, the CX-9 makes for a superb open-road tourer and long hauler, the sort of machine that really has your back across the tyranny of distance. Thus tasked, the adaptive cruise works well and the active assistance systems aren't too intrusive and bothersome.
It really does very little, if anything, poorly in the driving or passenger-ing experience, certifying itself as Mazda's flagship in dignified execution moreso than anywhere else.
Like its CX-8 sibling, the larger CX-9 is a little tough to judge when parking, not for lack of visibility but just because it's quite a large unit.
Otherwise gripes are very minor – the aforementioned A-pillar thickness that robs a bit of forward vision, a reversing camera with static rather than adaptive guidelines, and the lack of digital speed in the instrument cluster, though this last bit is countered logically with the speed readout in the head-up display.
It's a class act. And a certifiably premium one at that.
Mazda CX-9 Safety Rating
ANCAP Safety Rating Australia
All versions of the CX-9 wear a five-star ANCAP safety rating based on tests conducted in 2016.
The CX-9 was assessed against older crash testing criteria, and scored a total of 35.87 points out of a possible 37. It also received Good ratings for whiplash and pedestrian protection.
Standard safety equipment includes:
6 airbags (dual front, front side, side curtain)
AEB with pedestrian detection (4-80km/h)
AEB in reverse (2-8km/h)
Forward collision warning
Lane departure warning
Lane-keep assist
Auto high-beam
Adaptive cruise control with stop/go
Blind-spot monitoring
Rear cross-traffic alert
Driver attention alert
Traffic sign recognition
Mazda CX-9 Lifecycle
How old is the current generation and when will there be a new or updated Mazda CX-9?
The second-generation Mazda CX-9 was first presented at the 2015 Los Angeles motor show, before launching across various markets including Australia in 2016.
As is typical of Mazda, the CX-9 has been subject to yearly running changes to keep it fresh throughout its life.
Mazda has gone on record saying the current CX-8 and CX-9 will stay on sale while it introduces newer high-end models including the already-revealed CX-60 – as well as the upcoming CX-70, CX-80 and CX-90 – though it's believed the CX-8 and CX-9 will blend into the CX-80 and CX-90 as their lifecycles come to an end.
Mazda CX-9 Options
Options list for the Mazda CX-9
Other than exterior colour and interior upholstery choices (depending on variant), Mazda doesn't offer any cost options on the CX-9.
CX-9 GT models get the choice of Black or Natural Stone leather, while Azami and Azami LE variants can be had with Walnut Brown or Pure White quilted Nappa leather.
Mazda CX-9 Warranty
What is the warranty period and kilometre limit for the Mazda CX-9?
The Mazda CX-9 has a five-year, unlimited-kilometre warranty.
Mazda CX-9 Stock Availability
Is the Mazda CX-9 available to buy now and what are stock levels and how long are wait times?
Unlike a slew of other manufacturers, Mazda Australia has gone on record stating our region's high sales volume relative to the rest of the world means our market gets priority production, shortening wait times and minimising specification adjustments.
In February 2022, Mazda's local managing director, Vinesh Bhindi, told CarExpert customers are experiencing average wait times of 3-4 weeks for new vehicles if they weren't already in stock.
Mazda CX-9 Infotainment
What infotainment do you get within the range?
The base model CX-9 Sport comes with a 7-inch touchscreen infotainment system that supports only Wired Apple CarPlay and Android Auto using a six-speaker sound system with DAB+ digital radio and built in Satellite navigation and a Head-up display.
Move up to the 2023 Mazda CX-9 GT and you'll get the larger 10.25-inch infotainment system with a Wireless phone charger and a far superior 12-speaker Bose sound system as well as USB ports in the third row.
The top-spec Azami adds a 7.0-inch information display in the instrument cluster in addition to a surround-view camera.
Mazda CX-9 Boot Space
How much luggage or cargo capacity and boot space is there in the Mazda CX-9?
The Mazda CX-9's boot quotes 230L with all three rows up, and 810L when the third row is folded down.
Mazda CX-9 Fuel Economy
How much fuel does the Mazda CX-9 use and what are its emissions?
The front-wheel drive Mazda CX-9 uses 8.4L/100km on the ADR combined city and highway cycle, while all-wheel drive models are rated at 9.0L/100km.
It will run on 91 RON regular unleaded.
Depending on the variant, view the 2023 MAZDA CX-9 fuel usage below.
All Highway, City, and Combined figures below are litres per 100km
| Variant | Series | Style | Fuel Type | Highway | City | Combined | E10? |
| --- | --- | --- | --- | --- | --- | --- | --- |
| SPORT (FWD) | CX9M | 4D WAGON | UNLEADED PETROL | - | - | 8.4 | Yes |
| SPORT (AWD) | CX9M | 4D WAGON | UNLEADED PETROL | - | - | 8.8 | Yes |
| TOURING (FWD) | CX9M | 4D WAGON | UNLEADED PETROL | - | - | 8.4 | Yes |
| TOURING (AWD) | CX9M | 4D WAGON | UNLEADED PETROL | - | - | 8.8 | Yes |
| GT (FWD) | CX9M | 4D WAGON | UNLEADED PETROL | - | - | 8.4 | Yes |
| GT SP (FWD) | CX9M | 4D WAGON | UNLEADED PETROL | - | - | 8.4 | Yes |
| AZAMI (FWD) | CX9M | 4D WAGON | UNLEADED PETROL | - | - | 8.4 | Yes |
| GT (AWD) | CX9M | 4D WAGON | UNLEADED PETROL | - | - | 8.8 | Yes |
| GT SP (AWD) | CX9M | 4D WAGON | UNLEADED PETROL | - | - | 8.8 | Yes |
| AZAMI (AWD) | CX9M | 4D WAGON | UNLEADED PETROL | - | - | 8.8 | Yes |
| AZAMI (AWD) LE | CX9M | 4D WAGON | UNLEADED PETROL | - | - | 8.8 | Yes |
Mazda CX-9 Dimensions
The dimensions of the Mazda CX-9
The Mazda CX-9 measures 5075mm long, 1747mm tall, 1969mm wide, and has a 2930mm wheelbase.
The base front-wheel drive CX-9 weighs 1878kg. Adding all-wheel drive adds another 72kg, bringing the total to 1950kg.
The 2023 MAZDA CX-9 measures 5075mm long, 1969mm wide and 1747mm tall, with a 2930mm tall wheelbase.
The 2023 MAZDA CX-9 has a braked towing capacity of 2000kg and an unbraked towing capacity of 750kg.
Mazda CX-9 Market Fit
Where does it fit in the competitor segment?
The Mazda CX-9 is categorised as a Large SUV and has a price range of $47,600 to $74,400. There are currently 10 other options in the Large SUV segment, those that fit within a similar price range include:
Mazda CX-9 Sales Data
How well has the Mazda CX-9 been selling?
The CX-9 has been a popular seller for some time, and in 2021 it returned 6630 registrations – down 1.7 per cent on the year prior.
It was ahead of the Hyundai Palisade (3720) and Santa Fe (5048), as well as the Kia Sorento (5126), but behind the top-selling Toyota Kluger (9320).
Should you buy the Mazda CX-9
Is this the right car for you? Our experts buy or not guide.
Even several years on from launch, the Mazda CX-9 remains one of our top picks in the Large SUV segment.
While it's a little more old-school in terms of its design, the Mazda offers one of the nicest cabins this side of the premium marques, as well as more than enough space and practicality for a growing family.
The GT and GT SP are arguably the best value in terms of price and spec, and we'd recommend going for an AWD model given the 2.5L turbo petrol engine makes a diesel-like 420Nm.
Competitor Analysis
What other cars should you look at?
Mazda's been pushing upmarket of late, and the current-generation CX-9 was one of the earliest examples of this strategy.
Since its launch in 2016, the CX-9 has gone for a premium look and feel both in terms of design and quality, despite its US-market focus. If anything, the cabin design and quality is more in line with what you'd expect from Lexus, especially at the higher end of the range.
This is most apparent compared to rivals like the Toyota Kluger, which are more utilitarian in presentation even in the higher grades, and the CX-9's turbocharged four-cylinder powertrain is a unique selling point where most rivals offer naturally-aspirated V6 petrols and four-cylinder turbo-diesels.
Now in the latter stages of its lifecycle, the Mazda CX-9 is less techy and future-inspired than newer offerings like the Hyundai Santa Fe and Kia Sorento, while offering more space and a more upmarket cabin. The new Kluger is similarly-sized and offers a fuel-efficient hybrid option, but is arguably less plush in the cabin and doesn't necessarily make any other ground-breaking developments despite its young age.
Finally, the eight-seat Hyundai Palisade presents as a logical cross shop given its size and upmarket aspirations, but despite its freshness within the Australian marketplace it's nearly due for a mid-life update itself.
Mazda CX-9 Interesting Facts
Did you know?
The word 'Azami', used for flagship version of the CX-9, is Japanese for 'greatest' or thistle flower, and is a common girl's name in the country.
Frequently Asked Questions