2022 Toyota LandCruiser
| | |
| --- | --- |
| Price | $89,990 - $138,790 |
| Fuel Efficiency | 8.9 / 100km |
| ANCAP Rating | 5-star |
| Warranty | 5 years |
About the LandCruiser
The Toyota LandCruiser 300 needs no introduction. The all-new off-roader was revealed in 2021, and ditches the long-running V8 turbodiesel engine in favour of a smaller, more powerful new V6.
Summary
Our expert's shortest summary
Hit
Impressive twin-turbo V6 diesel
Much improved interior
Blend of on-road comfort and off-road ability
Miss
Toyota interior technology is still a sticking point
10,000km service intervals
It's more expensive in 2022
Video Review
LandCruiser Video Review
Skip to chapter
Intro
Exterior
Interior
Infotainment
Safety Tech
Practicality
On Road
0-100 km/h
Off Road
Verdict
2022 Toyota LandCruiser on/off-road detailed review (inc. 0-100)
300 Series Land Cruiser is here!
Finally! Been waiting for ages to drive this. It's the all-new 2022 Toyota LandCruiser and this one right here is the Toyota LandCruiser VX, which is the mid-specification model. Paul Maric checks out Toyota's all-new big 300 Series off-road SUV to see whether it's any good and better than the 200 Series Land Cruiser.
Photo Gallery
CarExpert High Resolution Photos of the Toyota LandCruiser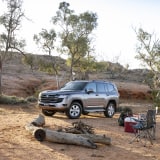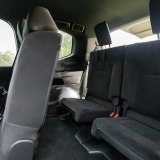 LandCruiser Price
What is the price of a Toyota LandCruiser?
2022 Toyota LandCruiser GX: $89,990
2022 Toyota LandCruiser GXL: $101,790
2022 Toyota LandCruiser VX: $113,990
2022 Toyota LandCruiser Sahara: $131,190
2022 Toyota LandCruiser GR Sport: $137,790
2022 Toyota LandCruiser Sahara ZX: $138,790
All prices exclude on-road costs.
Reviews
Our expert's reviews of the Toyota LandCruiser
News
All the latest LandCruiser news
Range Guide
Which variant of the Toyota LandCruiser range is best for you?
Standard on the base LandCruiser GX is:
Five-seat interior
Single-piece tailgate
LED headlights
Keyless entry and start
Dual-zone climate control
9.0-inch infotainment system with Apple CarPlay and Android Auto
Nine-speaker stereo
4.2-inch trip computer display
Reversing camera
One-touch windows for all doors
Six cupholders
Moving to the GXL brings:
Seven-seat interior
18-inch alloy wheels
Rear cross-traffic alert
Blind-spot monitoring
Wireless phone charging
Auto-dimming rear-view mirror
Multi-terrain select off-road modes
Jumping to the VX adds:
Seven-seat interior
12.3-inch infotainment touchscreen
7.0-inch trip computer display
10-speaker stereo
Eight cupholders
Remote power windows
Power-adjustable steering wheel
Heated and ventilated front seats
The Sahara brings:
Seven-seat interior
14-speaker JBL sound system
Head-up display
Heated steering wheel
Easy-access ventilation controls for rear passengers
Heated second-row seats
Power-folding third-row seats
The GR Sport features:
Five-seat interior
Black 18-inch alloy wheels
Black wheel arches, side steps, door handles, mirrors, window trim
Unpainted front and rear bumpers
Black or red-and-black interior trim
Front and rear differential locks
Electronic Kinetic Dynamic Suspension System (e-KDSS)
Adaptive variable suspension, adaptive high-beam, carbon trim
The range-topping Sahara ZX has:
Five-seat interior
20-inch alloy wheels
Unique front bumper, body-colour wheel arch mouldings
Illuminated tread plates
Rear mudguards
Chrome grille, rear bumper trim
Heated/ventilated first and second-row seats
Carbon trim
Hands-free tailgate
Limited-slip rear differential
Variants
What are the variants of the Toyota LandCruiser?
Variant Name
LC300 GX (4x4)
Transmission
10 SP AUTOMATED MANUAL
Cylinders
twin-turbocharged six-cylinder
FULL SPECS
Interior
Photos and Images of the Toyota LandCruiser Interior
Although it's still identifiably a LandCruiser, the cabin of the 300 Series has taken a big step forward from that of its predecessor.
What hasn't changed, though, is the fact you could happily spend hours behind the wheel of the LandCruiser. The driver and passenger sit in well-stuffed armchairs trimmed in what feels like quality leather, and there's enough support to prevent your bum going numb on long highway runs.
The seats are well bolstered, but also have enough space for burly tradies or grey nomads who've been in a good paddock to not feel like they're squeezed in. The heating and cooling are both welcome, as is the fact you can flick them into automatic and let them decide what the correct setting is based on your climate control.
Facing the driver is a pleasingly chunky leather-wrapped steering wheel, along with analogue dials flanking a pretty basic colour trip computer. It's able to show off-road data, your speed, or fuel economy information, but it's not far removed from the setup on offer in a Corolla or Camry, which is disappointing given the price.
The idea of a 12.3-inch central touchscreen display is a good one, and shows Toyota is aware it needs to offer better infotainment than was on offer in the last LandCruiser. It's a shame, then, the infotainment software on offer is just a windowed version of the same system you get in every other Toyota, with a customisable sliding panel filling up the screen next to it.
It's a functional system, but we've complained about its slightly sluggish responses and average graphics in our recent RAV4 and Kluger reviews, so it sticks out like a sore thumb in the LandCruiser.
Smartphone mirroring is wired, although you get a cheap-looking factory navigation system for when there's no phone reception.
We know there's a better system out there – the significantly cheaper RAV4 Prime gets a new infotainment setup in the USA, as does the Tacoma truck. It's time for Toyota to roll it out more broadly, because it's being left behind by its mainstream rivals, let alone the luxury brands with which LandCruiser is priced in line with.
On the plus side, the new dashboard blends a chunky design with decent tactility. It's also logically laid-out and easy to use, even if you've got big hands or bad eyesight. Toyota has hidden the differential lock buttons down by the driver's left knee, though, rather than grouping all the off-road controls in one place on the dash.
There's a cool box beneath the central armrest with space for a pair of water bottles, and the door pockets are massive. The wireless phone charger on the transmission tunnel is far more usable than the tacked-on pad in the LC200, too.
The second row is a mixed bag. With dual USB-C charge points, a fold-down central armrest, air vents, and a separate climate control pod back there, the kids are going to be comfortable on long road trips. The upright profile and massive windows mean the view out is panoramic, too.
Headroom is excellent and legroom is decent behind tall front passengers, but the floor feels quite high. That means long-legged rear passengers are left feeling like their knees are around their ears, and makes it hard to stretch out on long trips. There's a significant hump in the centre too, which means the middle seat is best left for small kids.
There's no third row in the GR Sport, so being able to slide the second row further back would add to its usefulness and allow owners to take full advantage of the space on offer in what's a massive car.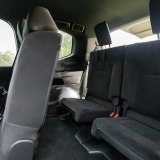 Exterior
Photos and Images of the Toyota LandCruiser Exterior
The Toyota LandCruiser 300 has a range of exterior trims depending on how much you're willing to pay. Lower-end models have a simple look, with steel wheels, while the GR Sport has Dakar-inspired finish.
Range-topping Sahara ZX models feature less off-road capable bumpers, and more chrome.
LandCruiser Colours
What colours are available for the Toyota LandCruiser?
The LandCruiser is available in:
Glacier White
Ebony
Crystal Pearl
Arctic White
Silver Pearl
Graphite
Merlot Red
Eclipse Black
Saturn Blue
Dusty Bronze
Cost of Ownership
What is the running, servicing and ownership costs of buying a Toyota LandCruiser?
Toyota Service Advantage covers capped-price servicing for the first 10 services at a cost of $375 each. Intervals are every six months or 10,000km, whichever comes first.
Owners will be able to extend their warranty on the engine and driveline to seven years by sticking to the service schedule.
How it Drives
Our expert take on Toyota LandCruiser drivability?
Power in the 2022 Toyota LandCruiser 300 Series comes exclusively from a 3.3-litre twin-turbo V6 diesel engine making 227kW of power and 700Nm of torque, the latter of which is on tap between 1600 and 2600rpm.
The standard transmission is a 10-speed automatic, and full-time four-wheel drive with a centre differential lock is standard. The GR Sport gains front and rear differential locks, along with its e-Kinetic Dynamic Suspension System (e-KDSS) and adaptive variable suspension.
The GR Sport is recognisable as a LandCruiser when you fire it up. The view over the heavily scalloped bonnet makes you feel like the king of the road, and it's still a big brute to thread through city streets.
It's a more refined brute than before, though. The engine fires quietly and settles into a smooth idle, and the steering feels lighter and quicker than in the LC200 at low speeds.
A lot of people were worried about the switch from a V8 to the twin-turbo V6 engine used in the new LandCruiser. On first impression, the new engine covers for its smaller displacement with smooth low-down responses and impressive punch on the move.
Some small-displacement turbocharged engines have a moment of lag, before surging forward when the revs hit a certain mark and the boost kicks in. The engine in the LC300 feels linear on constant throttle inputs, giving you back exactly what you ask for rather than lurching forward as the turbochargers kick in.
That makes it easier to manage in traffic, and a better companion when you need to precisely dole out the engine's torque on tight off-road trails.
Put your foot down and, once the 10-speed automatic has sorted itself out, the GR Sport gets a move on. It feels fast off the mark given its size and weight, and offers plenty of punch for highway overtaking. The transmission is smart enough to hang in the peak torque band between 1600 and 2600rpm, and there's enough gears to make sure you're never far from that band.
It'll take a long time to know if the new engine is reliable as its predecessor, but anyone worried about how it performs should breathe easy.
One of the calling cards of the GR Sport is its electronic Kinetic Dynamic Suspension System (that's e-KDSS to you and me), which can independently lock and unlock the front and rear stabiliser bars. In conjunction with the car's adaptive dampers, the system is designed to deliver a combination of mogul-crushing wheel articulation and more car-like on-road dynamics.
There is a definite difference between the drive modes, although that's down to the adaptive dampers. In Comfort the car feels like a bit of a barge, floating along and letting the body make one, two, three movements over highway crests and dips. Flicking through Normal, Sport, and Sport Plus gradually tightens up the body control.
Although the new LC300 feels less boat-like than the LC200, with better ride compliance and better body control, the e-KDSS feels quite subtle in its operation compared to the active anti-roll bars you can now get in Volkswagen Group products.
Check out our video for a representation of the difference, but our team noted the LandCruiser VX without adaptive dampers but no e-KDSS rolled less than the more expensive and (supposedly) more sophisticated GR Sport in the corners.
With a locking centre differential, locking front and rear differentials, low-range, and a staggering array of electric assists to help take you further off the beaten path, the GR Sport is one of the most capable cars we've tested at the Werribee four-wheel drive park.
It waltzed up the log climb, and offered Ram TRX-rivalling levels of wheel articulation through the offset moguls.
When you're done getting dirty, the LandCruiser turns into a comfortable, quiet highway cruiser. There's hardly any wind or road noise in the cabin at 100km/h on average Australian roads, and the engine sits just above idle.
Unlike its predecessor, the LC300 also has a relatively up-to-date suite of active driver assists. It will maintain a gap to the car in front, and now has a system that will actively steer keep you in your lane – but its lane-keeping assist is still brake-based, rather than steering you back into the lane as you drift.
Safety Rating
ANCAP Safety Rating Australia
The 2022 Toyota LandCruiser 300 hasn't been crash tested by ANCAP or Euro NCAP.
The whole range will feature the following active safety features:
Autonomous emergency braking with pedestrian detection (day/night) and cyclists (day)
Adaptive cruise control
Lane-departure warning with brake to steer
Traffic sign recognition
GXL and above gain blind-spot monitoring and rear cross-traffic alert, with lane-trace assist featured in the VX and up.
LandCruiser Lifecycle
How old is the current generation and when will there be a new or updated Toyota LandCruiser?
The LandCruiser 300 is brand new, having only hit local showrooms in 2021. Given the last model lived for more than 10 years, we're expecting this car to stick around well into the 2030s.
A hybrid option is expected to join the range in the coming years, however.
LandCruiser Options
Options list for the Toyota LandCruiser
There aren't any options on the LandCruiser, although Toyota does offer a big range of factory accessories.
LandCruiser Warranty
What is the warranty period and kilometre limit for the Toyota LandCruiser?
The LandCruiser will be backed by a five-year, unlimited-kilometre warranty when it arrives in Australia, with seven-year coverage on the powertrain.
LandCruiser Stock Availability
Is the Toyota LandCruiser available to buy now and what are stock levels and how long are wait times?
The LandCruiser has been crippled by supply shortages, with wait times blowing out to around nine months.
LandCruiser Infotainment
What infotainment do you get within the range?
The base model GX and GXL come with a 9.0-inch infotainment system with Apple CarPlay and Android Auto pumping through a Nine-speaker stereo alongside a 4.2-inch trip computer display.
Stepping up to the VX and above gets you 12.3-inch infotainment touchscreen, a 7.0-inch trip computer display and a 10-speaker stereo system.
The Sahara benefits from a 14-speaker JBL sound system
LandCruiser Boot Space
How much luggage or cargo capacity and boot space is there in the Toyota LandCruiser?
Claimed boot space is 1153 litres with the second row in place, expanding to a cavernous 2502 litres with them folded and tumbled forward. Although you don't get sixth and seventh seats, the rear air vents and cupholders carry over.
You'll be grateful for the powered tailgate, given how large it is. You need plenty of space behind you to open it, but once it's raised the opening is van-like.
LandCruiser Fuel Economy
How much fuel does the Toyota LandCruiser use and what are its emissions?
Combined fuel economy for the 2022 Toyota LandCruiser 300 Series is8.9L/100kmon the combined cycle.
The car drinks diesel, and holds 110 litres of fuel split across an 80L main tank and 30L sub-tank.
The 2022 TOYOTA LANDCRUISER is Combined (8.9) and E10 Compatible (-).
LandCruiser Dimensions
The dimensions of the Toyota LandCruiser
The LandCruiser GX, GXL, VX, and Sahara measure 4980mm long. The Sahara ZX is 5015mm long, and the GR Sport is 4995mm long.
The GX is 2000mm wide with a snorkel. The GXL, VX, Sahara, and ZX are 1980mm wide and the GR Sport is 1990mm wide.
The whole range is 1950mm tall, and rides on a 2850mm wheelbase.
Ground clearance is 235mm across the range, while all models except the ZX have a 32-degree approach angle. The ZX drops that to 24 degrees.
Depending on the variant, the 2022 TOYOTA LANDCRUISER measures as below.
| Variant | Series | Style | Length (mm) | Width (mm) | Height (mm) | Wheelbase (mm) |
| --- | --- | --- | --- | --- | --- | --- |
| LC300 GX (4x4) | FJA300R | 4D WAGON | 4980 | 2000 | 1950 | 2850 |
| LC300 GXL (4x4) | FJA300R | 4D WAGON | 4980 | 1980 | 1950 | 2850 |
| LC300 VX (4x4) | FJA300R | 4D WAGON | 4980 | 1980 | 1950 | 2850 |
| LC300 SAHARA (4x4) | FJA300R | 4D WAGON | 4980 | 1980 | 1950 | 2850 |
| LC300 GR-S (4x4) | FJA300R | 4D WAGON | 4995 | 1990 | 1950 | 2850 |
| LC300 SAHARA ZX (4x4) | FJA300R | 4D WAGON | 5015 | 1980 | 1950 | 2850 |
The 2022 TOYOTA LANDCRUISER has a braked towing capacity of 3500kg and an unbraked towing capacity of 7500kg.
LandCruiser Market Fit
Where does it fit in the competitor segment?
The Toyota LandCruiser is categorised as an Upper Large SUV and has a price range of $89,990 to $138,790.
LandCruiser Sales Data
How well has the Toyota LandCruiser been selling?
The LandCruiser outsold its nearest competitor, the Nissan Patrol, comfortably in 2021. It's worth noting, however, the Toyota's sales figure includes the LandCruiser 70 wagon.
Toyota sold 14,356 examples in 2021.
Should you buy the LandCruiser
Is this the right car for you? Our experts buy or not guide.
Toyota has done an incredible job of modernising the LandCruiser without undermining what has made it so popular.
It still feels like it'll take you around Australia without breaking a sweat, and it's still the least pretentious luxurious, comfortable four-wheel drive money can buy. Sure, you could get a BMW or Range Rover, but they say something very different about you to the LandCruiser.
The biggest sticking point is the price. There's no question the off-road technology and strength of the LandCruiser name are both worth close to $140,000, but the range shares a huge chunk of its infotainment with a $30,000 economy hatch, and there's more luxurious options to be had elsewhere in the same price range.
Competitor Analysis
What other cars should you look at?
The LandCruiser goes head-to-head with the Nissan Patrol most closely on paper. The Patrol lacks much of the car's modern interior technology, and doesn't feature a diesel engine option, but it's much cheaper than the Toyota.
Toyota LandCruiser Interesting Facts
Did you know?
The LandCruiser 300 is the first car to be built on a body-on-frame version of the latest Toyota global platform.
Frequently Asked Questions
The Toyota LandCruiser is built in Japan and is then shipped to Australia.
The Toyota LandCruiser has a braked towing capacity of 3500kg and an unbraked towing capacity of 7500kg.
Toyota suggested that owners service their Toyota LandCruiser every 6 months or 10,000km, whichever comes first.
The Toyota LandCruiser has a five star ANCAP safety rating out of five.
The Toyota LandCruiser uses Diesel.
The Toyota LandCruiser has 4 doors.
The Toyota LandCruiser had a 5 year, unlimited km warranty.