The Toyota LandCruiser has become an Australian icon in the outback. If you don't spot a 200 Series LandCruiser, you're likely to come across the more basic 70 Series hauling a load or towing something to somewhere even more remote.
That's why it's a little comical when you see a 200 Series LandCruiser doing the school run with kids on board. It's the equivalent of chopping a tomato with a guillotine.
But the rationale for some is their 200 Series LandCruiser will be a daily driver from Monday to Friday, before being loaded to the hilt with belongings and a caravan for a holiday trek across the Nullarbor.
A new 300 Series LandCruiser is just around the corner, and is expected to bring with it a six-cylinder hybrid powertrain and a six-cylinder diesel. It's expected to signal the end of the V8 entirely for the platform.
We wanted to have one final spin in the 2020 Toyota LandCruiser Sahara before the curtain is drawn on a model that has been around for 12 years.
How much does the Toyota LandCruiser Sahara cost?
The Toyota LandCruiser Sahara remains the most expensive Toyota passenger car on sale today, with an asking price of $124,396 before on-road costs.
The Toyota LandCruiser range starts from $80,996 before on-roads for the fleet-oriented LandCruiser GX.
There are nine colours to choose from, with all but solid white and black costing an additional $600.
Toyota no longer offers a naturally-aspirated petrol V8 engine with the LandCruiser. Instead the entire range comes powered by an turbocharged V8 diesel.
What do you get?
Being the top specification LandCruiser model, the Sahara is packed with equipment.
Outside you'll find 18-inch alloy wheels, bi-LED headlights with washers and LED daytime running lights, automatic windscreen wipers, automatic headlights with automatic high-beam dipping, side steps, radar cruise control, chrome highlights, roof rails, a sunroof, proximity entry and start, LED tail lights, front and rear parking sensors, a 360-degree camera, and a power tailgate.
Charging
Wireless phone charging
While wireless phone charging may be an extremely useful feature, the LandCruiser's is hard to use with the phone often sliding out due to the small charging space.
Inside you'll find leather seats with electric adjustment for driver and front passenger, heated and cooled seats for first row, quad-zone automatic climate control, wireless phone charging, AM/FM/DAB+ radio with a nine-speaker sound system, entertainment screens for second-row passengers, inbuilt satellite navigation, seven seats, powered steering column adjustment, and a refrigerated centre console.
There are no additional options to choose from, outside of metallic paint colours.
Is the Toyota LandCruiser safe?
The Toyota LandCruiser was first crash tested by ANCAP tested in 2012. Despite being such an old crash test rating, it carries over for this model.
During testing it scored a five-star rating, scoring 13.09 out of 16 for the frontal offset crash score and 33.09 out of 37 for the overall crash test rating.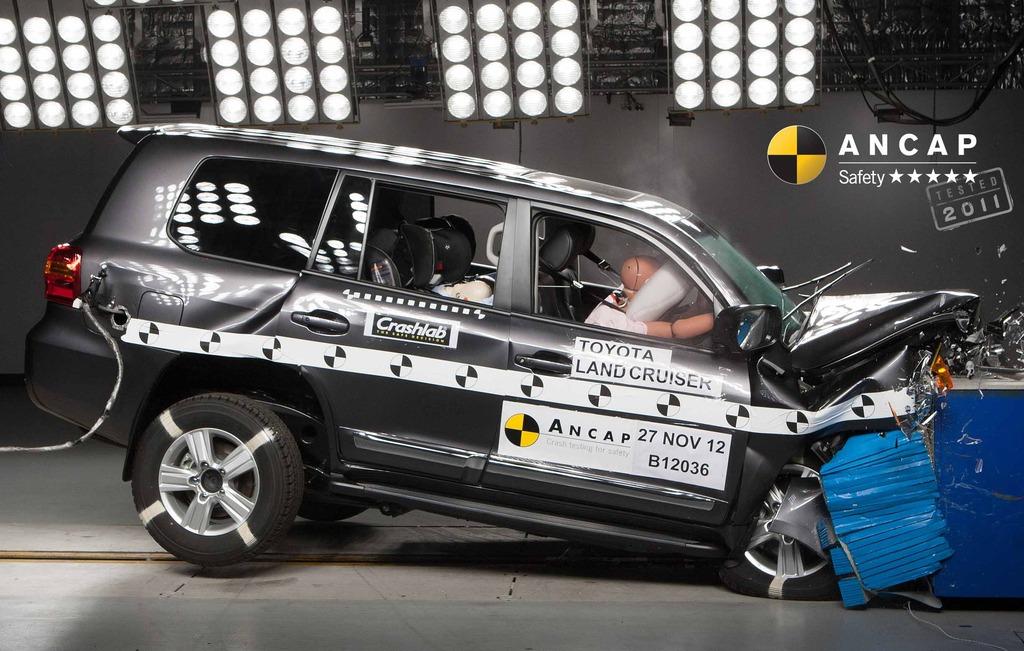 The LandCruiser Sahara now comes with autonomous emergency braking that detects pedestrians, along with radar cruise control and rear cross traffic alert.
A hydraulic steering system prevents the LandCruiser from offering lane-keeping assist, instead it only has lane-departure warning as standard.
You can read more about the LandCruiser's crash test score at the ANCAP website.
What is the Toyota LandCruiser Sahara like on the inside?
Once you open the driver's door it doesn't take long to realise how dated the interior is.
The half woodgrain steering wheel screams late nineties, while the litany of buttons on the centre stack and tunnel is reminiscent of the 'more is better' approach of the same era.
Put those points to one side and everything feels solid and sturdy. Toyota builds the LandCruiser to make sure it lives up to its reputation of durability through the toughest conditions, and sitting inside the cabin it doesn't take long to realise it has stuck with traditional, simple switchgear to make sure that target is achieved.
Sitting atop the dashboard is a 9.0-inch infotainment system that may look impressive, but is starting to feel very dated. Moving through the menus can be slow and glitchy at times, and Apple CarPlay or Android Auto smartphone mirroring are lacking.
It does come with AM/FM and DAB+ digital radio, along with an auxiliary input and CD player. There's also a voice recognition system for making calls and entering navigation destinations – but it doesn't work overly well, often not understanding commands.
While there is a wireless phone charger hidden behind a door on the centre console, it's virtually impossible to use while driving in and around the city. It's not big enough to hold a standard phone with the door closed, and as a result the phone slides out when you accelerate. It looks like an afterthought to keep the LandCruiser feeling modern.
A small display between the speedometer and tachometer offers trip computer information along with more detail on the selected four-wheel drive modes. Alongside the speedometer and tachometer are analogue gauges for battery voltage, fuel levels, engine coolant temperature and engine oil temperature.
The centre console features a refrigerated container for keeping drinks cool. It's a great feature and keeps bottles of water feeling icy on the move.
Surprisingly, there isn't a huge amount of legroom in the second row. Despite the LandCruiser's size an adult will sit with their knees quite close to the front seatbacks as they get comfortable. That's coupled with limited toe room beneath the front seats.
The rear of the centre console houses climate controls for the third and fourth climate zones, along with volume controls for the entertainment system headphones and seat heating controls for the two outboard seats.
There are two ISOFIX points on the two outboard seats, but no top tether or ISOFIX points for the third row.
Cargo capacity for the boot comes in at 1276 litres with the second row in place (no figure is offered for the volume behind the third row, or the volume with second row folded). The number in this instance is somewhat irrelevant given the third row folds towards the sides of the cargo space.
That makes the boot fairly narrow, while its depth is affected by the second row folding above the floor height. Getting in and out of the third row is hard work for adults, with limited knee- and toe room. Realistically it's a child-only zone.
Overall the interior is spacious, but a bit disappointing in terms of execution. The relative lack of room in the second and third rows is compounded by complex folding mechanisms for entry to the third row, along with reduced cargo space due to how the third row is stored
What's under the bonnet?
As mentioned earlier, the 200 Series range now exclusively uses a turbocharged V8 diesel engine. The 4.5-litre twin-turbocharged diesel V8 engine produces 200kW of power and 650Nm of torque.
By today's standards it's quite a way off what modern six-cylinder European diesel engines are producing, but it's safe to assume it's under-stressed in the extreme to offer extended durability.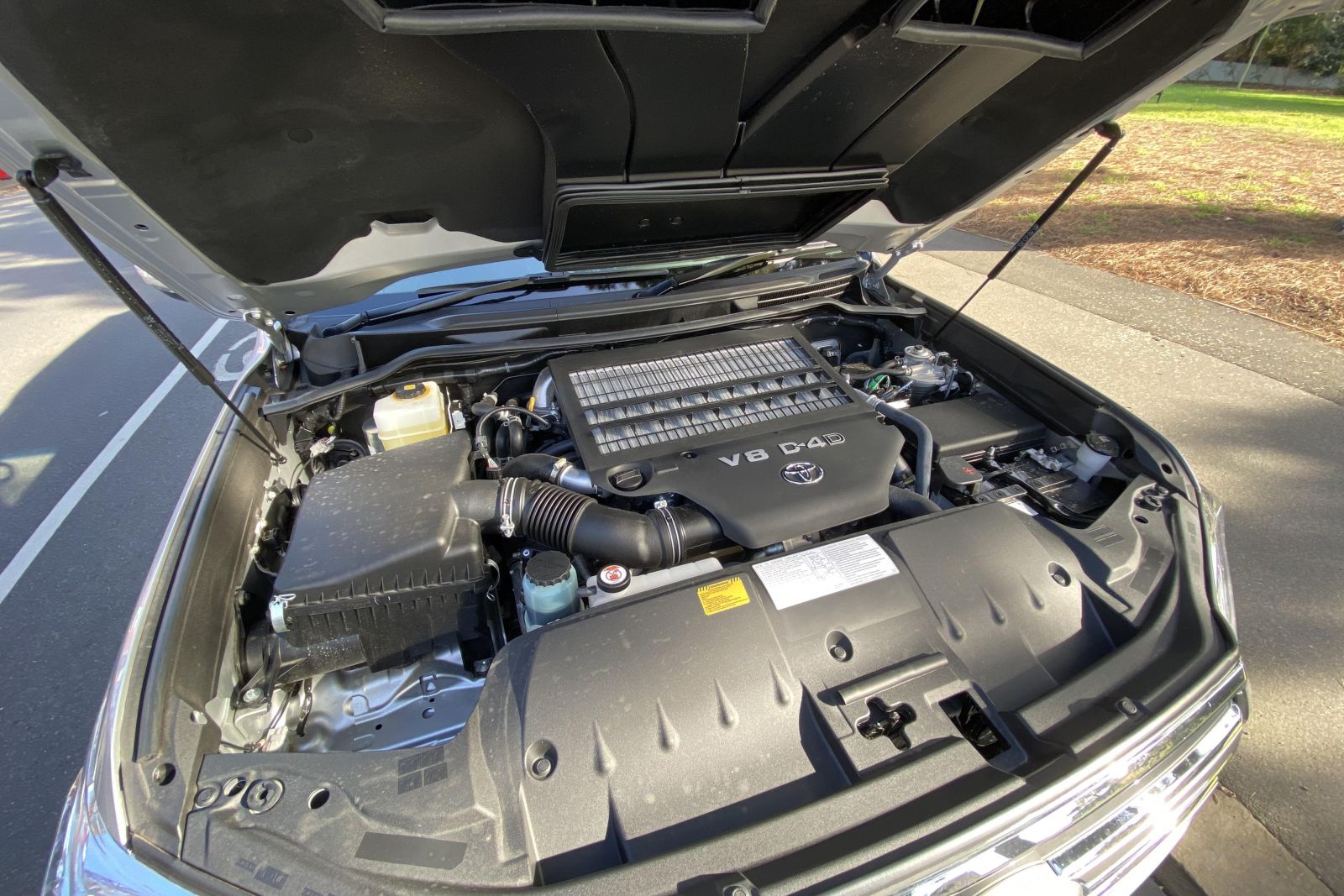 Drive is sent to the road through a permanent all-wheel drive system and a six-speed automatic transmission with manually selectable gears through the gear shifter.
Toyota claims an average fuel economy of 9.5 litres of fuel per 100km but on test we achieved closer to 12L/100km, which is partly due to the hefty 2740kg kerb weight.
Despite that, the LandCruiser uses a primary and sub fuel tank (93L and 45L) to offer 138 litres of total storage. That means a maximum driving range of just over 1500km.
How does the Toyota LandCruiser Sahara drive?
Despite its size, the LandCruiser is fairly easy to drive. All of your inputs take time to translate, as the turbochargers spool to deliver torque or you wind on more steering lock to navigate bends. It's all a gradual and slow process.
Feel through the steering is almost non-existent, especially around centre where there is play before any noticeable change in direction from the car. Through corners you won't feel a great deal either thanks to the softly-sprung suspension and chubby 60-profile tyres on 18-inch alloy wheels.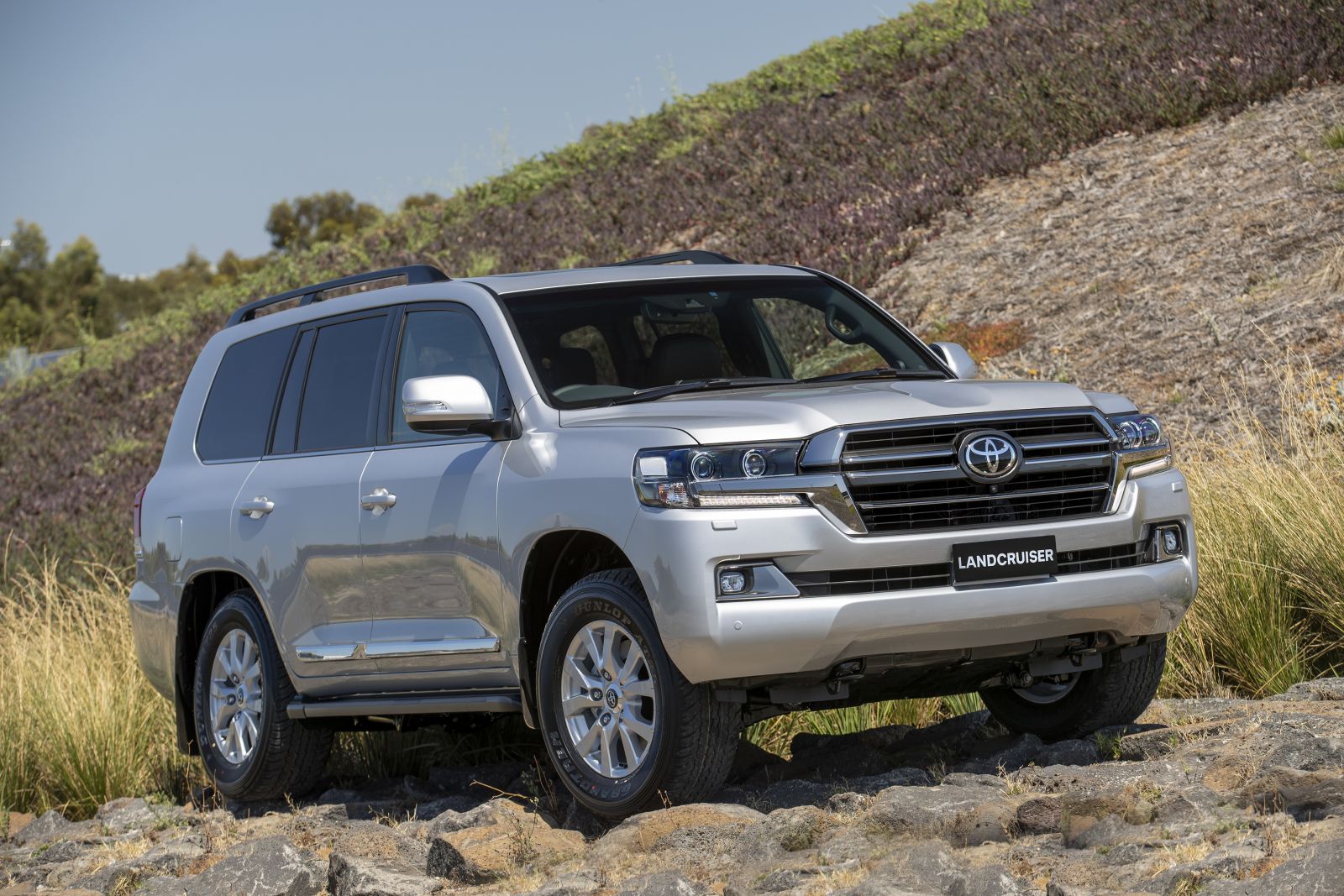 It's very much built for highway cruising, where it can well and truly swallow up the miles. Out on the road you'll notice the air conditioner doing a stellar job of cooling the cabin, even with a full complement of passengers.
When you do need to get stuck into it leaving a set of lights it can feel spritely once the turbochargers spool. You won't be keeping up with sports cars from off the mark, but you also won't be left behind huffing away to try and keep up with traffic.
The diesel engine makes light work of the 3500kg braked towing capacity. The peak 650Nm of torque is available from 1600rpm through to 2600rpm, which is where it'll sit on highways, or when climbing longer grades on the open road.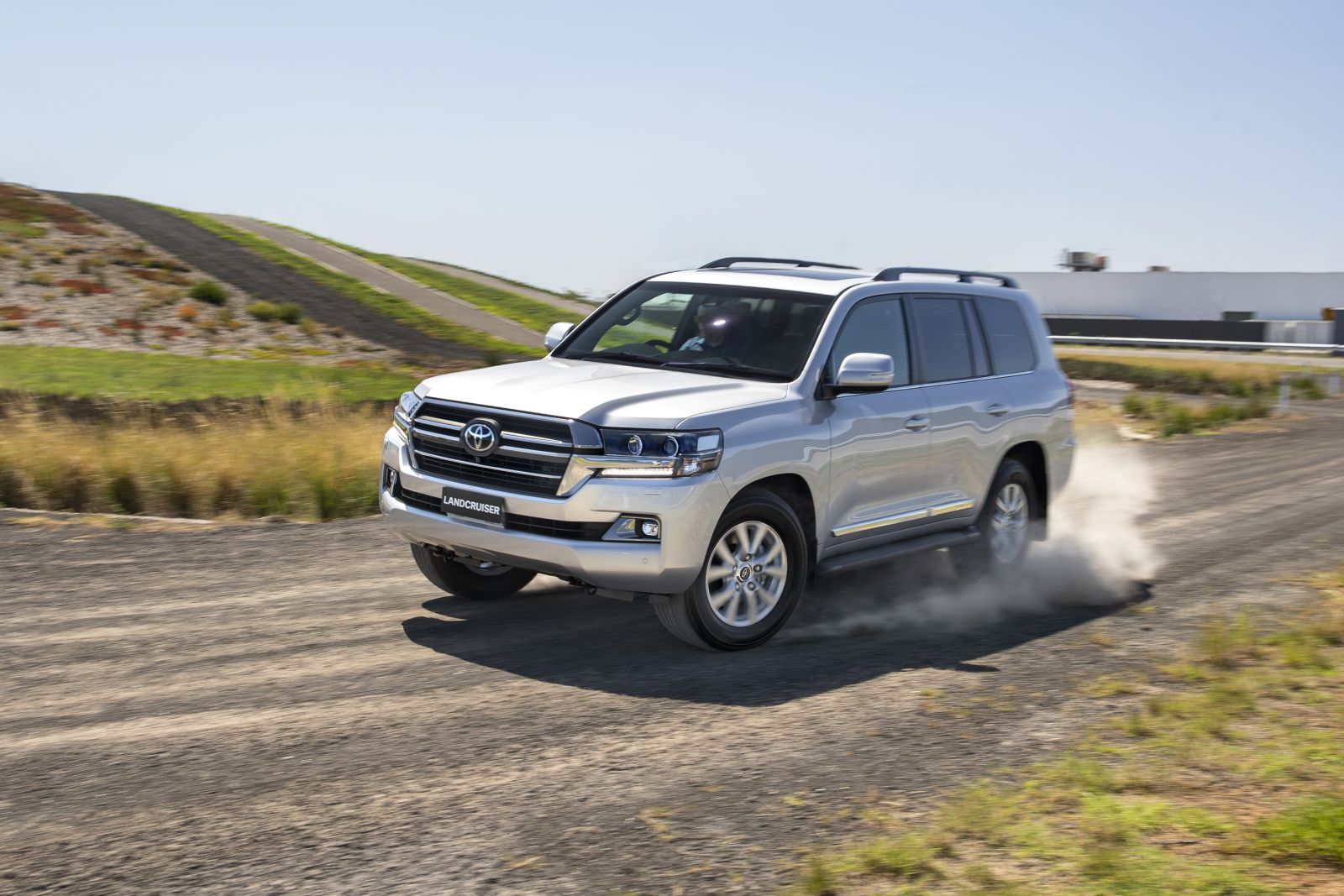 There's no escaping the near-3000kg kerb weight though. You really feel it when doing low-speed things like parking, or when navigating tight turns.
Visibility out of the cabin is good with big windows and big wing mirrors to keep track of traffic around you. There's a blind-spot monitor built into the wing mirrors, too.
While the LandCruiser can do the urban craw, it's off the beaten path that it's most at home. In addition to the permanent all-wheel drive system, the driver can lock the centre differential to split torque 50/50 between the front and rear axles.
Crawl control offers the ability to navigate terrain at five different speed levels while the vehicle manages throttle and braking at each individual wheel, leaving the driver to manage steering. There's another handy function called Off-Road Turn Assist, which pulses the brakes to help the car turn in a tighter radius.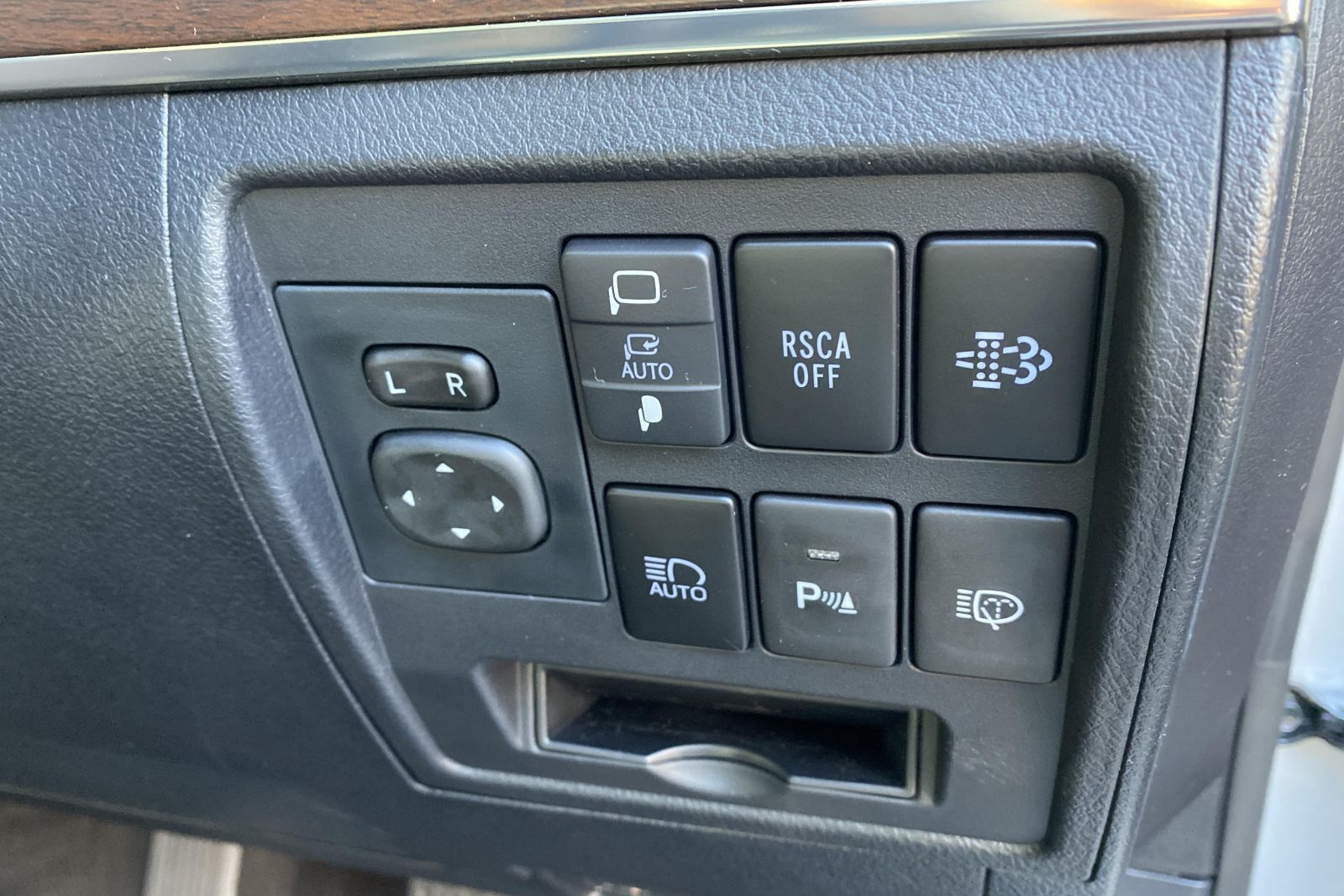 This technology only works on unsealed surfaces like mud, sand, or gravel given the low level of friction in comparison to bitumen.
In addition to Crawl Control and Off-Road Turn Assist, the LandCruiser comes with hill-descent control and a low-range transfer case.
In terms of suspension, the LandCruiser Sahara features a four-link coil-sprung rear end with Panhard rod, and also uses an advanced Australian-developed suspension system called KDSS (Kinetic Dynamic Suspension System).
KDSS employs hydraulically-controlled anti-roll stabiliser bars that work to limit body roll when driving on-road, but conversely allow the stabiliser bars to loosen when driving off-road to offer additional suspension articulation, which increases traction.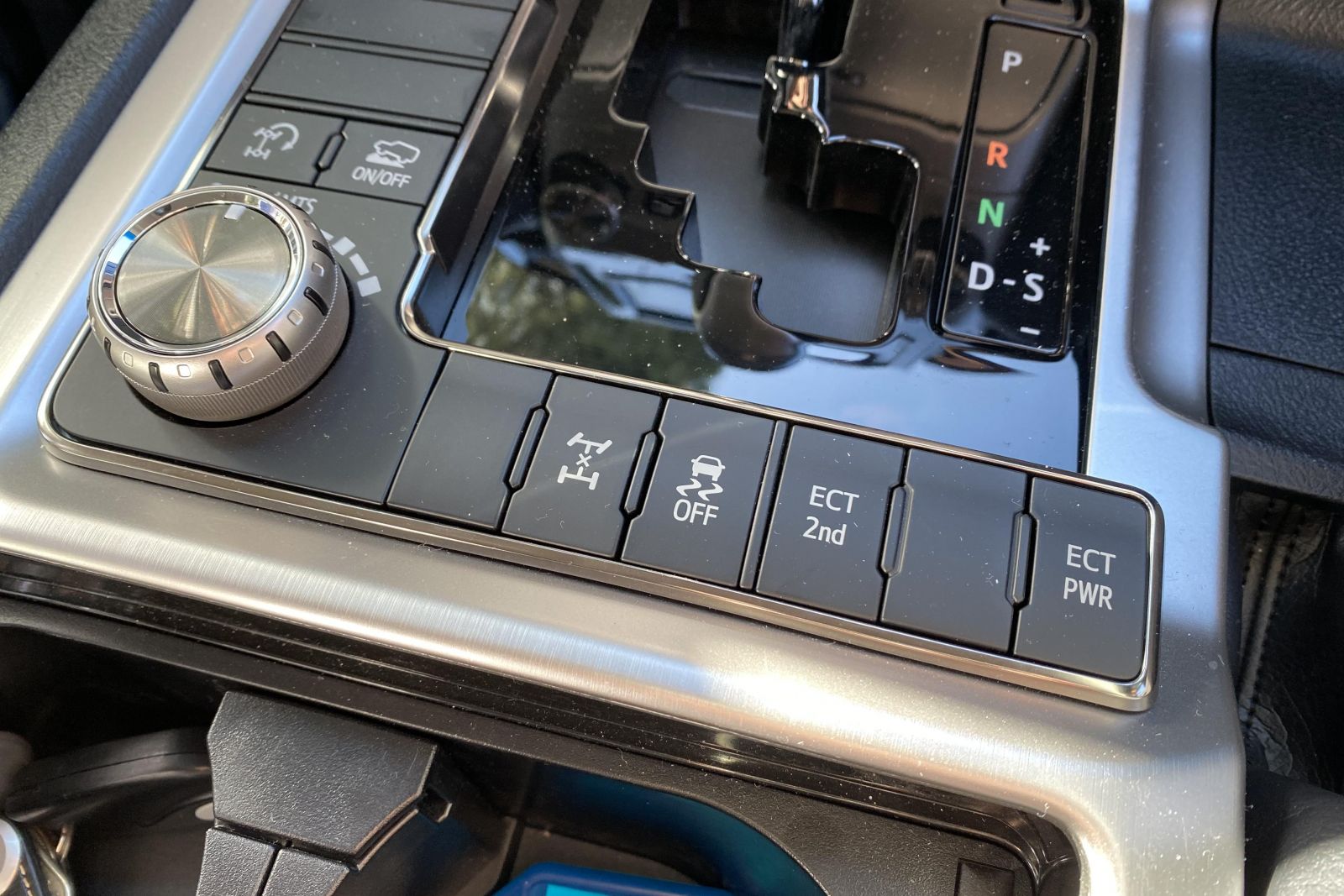 We didn't test the LandCruiser off-road as part of this test, but have driven it off-road extensively in the past and can attest to its incredible abilities when the tarmac ends.
There's a diesel particulate filter that operates automatically, but can be additionally triggered using a manual burn switch on the control cluster.
How much does the Toyota LandCruiser Sahara cost to run?
Toyota sells the LandCruiser Sahara with a five-year, unlimited-kilometre warranty.
Maintenance occurs every six months or 10,000km, with capped-price servicing available.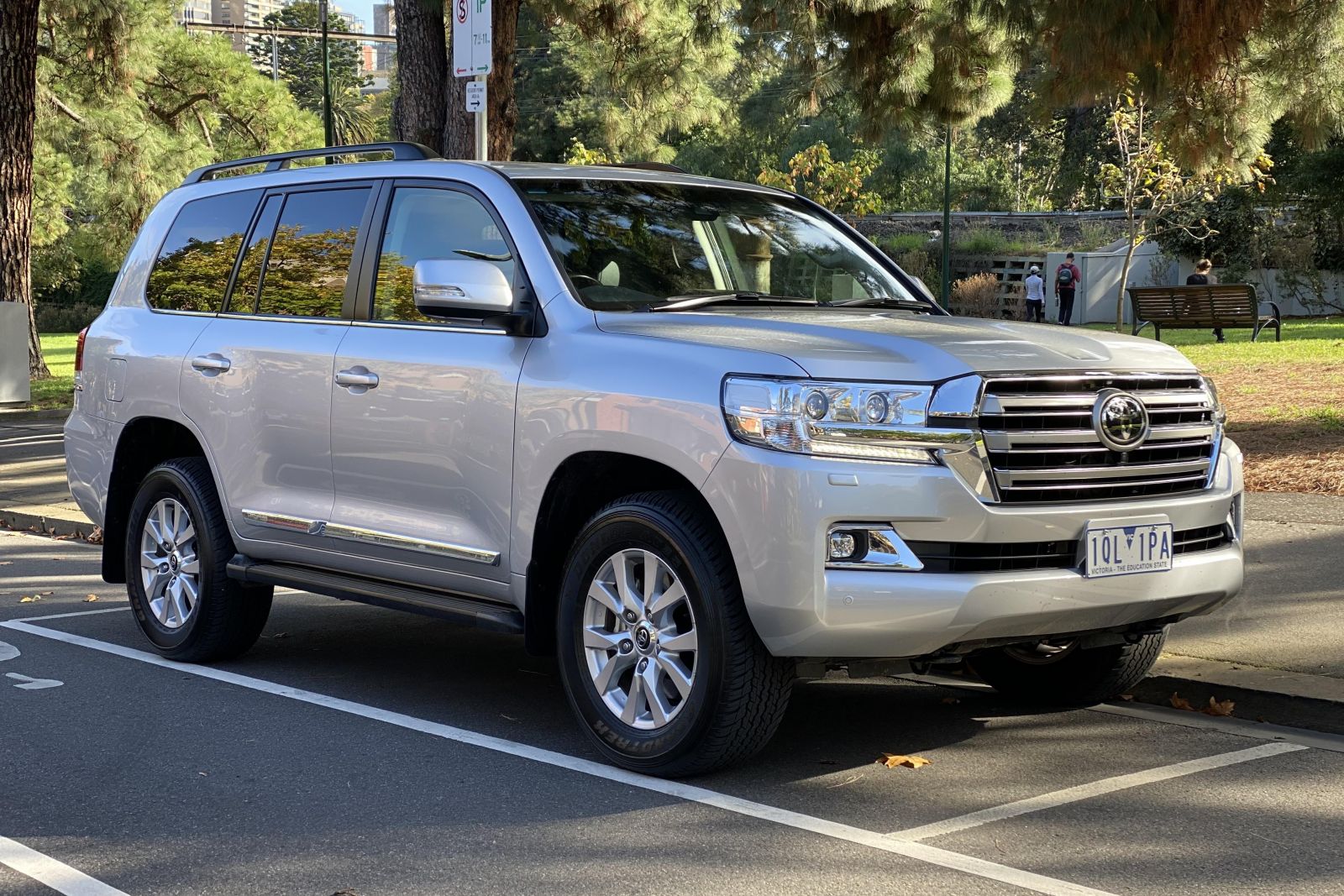 Over a five-year period, servicing costs $5008.78 over a five-year period, or an average of $500.80 per six monthly/10,000km service interval.
CarExpert's take on the Toyota LandCruiser Sahara
While the Toyota LandCruiser remains the undisputed king of big SUVs off-road, it's well and truly starting to show its age.
12 years on from its original release it's starting to feel dated, with the rest of the pack leaving it behind in terms of modern technology.
But having said that, you'd be hard-pressed to find a better or more dependable vehicle to complete the long trek across or around Australia.
The 300 Series LandCruiser is just around the corner and is likely to build on the reputation garnered by the V8 LandCruiser to deliver a newer, better package capable of lasting another 10 years or more.