The Mahindra Pik-up, known as the Scorpio Getaway outside of Australia, is a ute manufactured in India by Mahindra & Mahindra, an automotive manufacturer that not many have heard of but has been around since 1945.
Mahindra as a carmaker is part of the bigger conglomerate of the same name, which also happens to own the likes of Pininfarina (Italy's most famous design house), Ssangyong Motors, and Peugeot motorcycles. 
For decades, Mahindra was best known for its farming products. The brand actually makes more tractors than any other company and the Pik-up, while obviously not a tractor, has the same agricultural feel.
This ute is designed for people who will actually make use of its capabilities rather than a city-going tradie ute that spends the majority of its life in suburbia.
The Mahindra Pik-up in this current generation has been around since 2007 and, having driven an original example more than a decade ago, it was an interesting experience to jump back into this update for the 2020 model year – mainly because there's been some changes, but the car has largely stayed the same for over a decade.
The major changes to the 2020 Mahindra Pik-up are a front grille with new headlights and daytime running lights (LED) plus a new infotainment system that now incorporates Android Auto.
How much does the Mahindra Pik-up S10+ cost?
The Mahindra Pik-up we have on test is the top-spec S10+ dual-cab which is $32,990 drive-away with a factory tub. However, with the options fitted – $3800 galvanised steel, colour-coded tray, and the $710 factory wide side steps – the total drive-away price was $37,500.
The rest of the range includes the single-cab Pik-up in 4×2 S6+ specification with a standard-base GPA tray from $23,990 drive-away. Add four-wheel drive and that goes up to $27,990 drive-away.
In addition, if you want what Mahindra calls the Pastoral Pack with a steel bull bar, brush rails, snorkel, tow bar, vinyl floor, canvas seat cover and bash plate, you you will be paying $35,990 drive-away.
What do you get?
The Pik-up is built on a ladder-frame chassis with a one-tonne-payload and a 2.5-tonne braked-towing capacity. It has a kerb weight of between 2015kg (dual-cab 4WD) and 1755kg (single-cab 2WD), and measures 5195mm long, 1915mm high (1860mm single cab), and 1820mm wide.
Standard across the range are Bluetooth, cruise control, an Eaton diff lock (4×4), a BorgWarner sourced low-range transmission, and completely sealed wheel bearings on the rear axle
Going from the S6+ to the S10+ adds a new 7.0-inch touchscreen with satellite navigation. It also houses a reversing camera. There are ISOFIX child seat anchor points and air vents in the rear.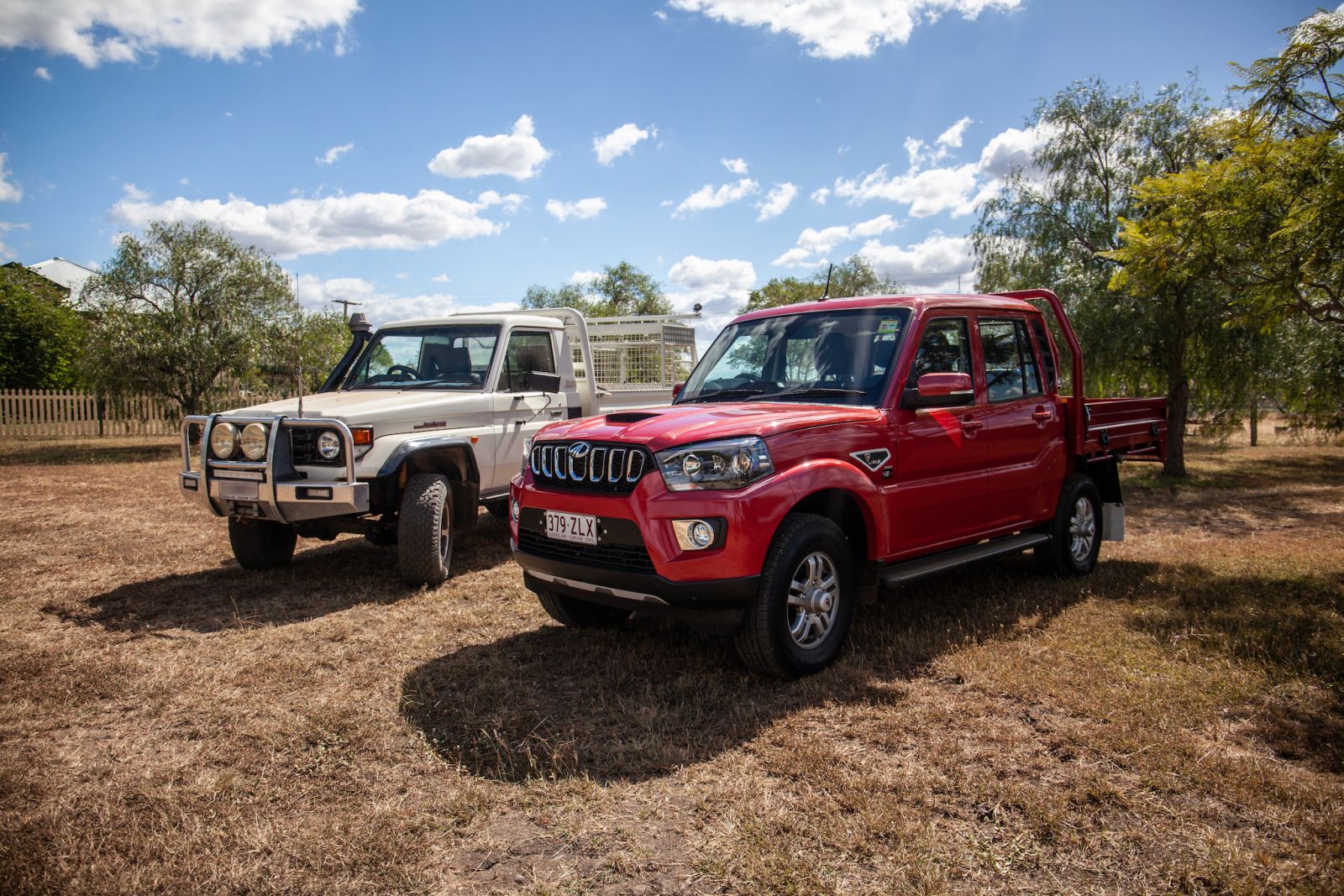 Is the Mahindra Pik-up S10+ safe?
The Mahindra Pik-up was tested in 2016 and received a three-star ANCAP safety rating. It scored the maximum amount for a side-impact test by default, as ANCAP does not side-impact test large vehicles as it expects them to perform well.
Nonetheless, it managed just 6.6 out of 16 for the frontal offset crash test, with ANCAP noting that the Pik-up's passenger compartment "held its shape reasonably well, except for footwell and firewall intrusion". In addition, ANCAP notes protection from serious leg injury was poor for the driver, and chest protection was marginal for the driver and passenger.
Certainly from a crash-testing perspective, the Pik-up lags behind nearly all other utes – even those relatively close in price, such as the Mitsubishi Triton, which earned a five-star rating when it was tested in 2019 and scored 15.22 out of 16 for the frontal offset test.
Farmer's best friend
Right at home
This is a ute destined to be a work horse rather than a suburban ute.
What is the Mahindra Pik-up S10+ like on the inside?
The Pik-up is not what you'd call a modern ute when it comes to interior fit and finish. 
Unlike more established competitors in the segment such as the Ford Ranger and Toyota HiLux, which strive to be as car-like as possible while also maintaining their rugged capabilities, the Mahindra Pik-up is not ashamed of being a farmer's friend.
While the interior is relatively basic and full of hard plastics, there are some things that are a little hard to miss. For example, the door handle plastic and the lock switch button has a fair few sharp edges that we found are good enough to give you a paper cut (keep in mind our city-bred soft hands). 
Ultimately it's not a big deal. If you grab it at the correct angle it's not noticeable, but it's a simple thing to get right.
In every car we test at CarExpert, we do a Bluetooth test where we call someone and test the sound quality of the inbuilt microphone and speaker. For the Pik-up we were expecting ordinary results, but found it to be one of the better systems of late, with clarity both for the other party listening and for the driver.
The overall cabin ambience is very old-fashioned, but does the job. We found the front seats comfortable and supportive, like a Range Rover from the '80s. The commanding position of the driver's seat allows for a great deal of visibility over the bonnet. 
A fascinating feature of the Pik-up is the square bottle holders. You know, for circular bottles, coffee cups and the like. We are not sure if the McCafés in Delhi serve square lattes, but it posed a few challenges. It's a real-life example of the saying "square peg in a round hole". 
We actually like the Pik-up's infotainment system. It's pretty high resolution, the map system works fast, and it has support for Android Auto. We would have preferred Apple CarPlay support as well – and we're told it's coming sooner rather than later – but given the unit is double-din sized, you can always replace it.
Like a good farming machine, there are plenty of rubber bits that come out that can be cleaned easily. The whole interior almost doesn't look right when its clean.
What's under the bonnet?
Mahindra makes use of a 2.2-litre four-cylinder mHAWK common rail (Bosch) turbo-diesel engine to power its Pik-up. 
The diesel powertrain pumps out 103kW of power (3750 rpm) and 320Nm of torque (1500-2800 rpm). That all goes through a six-speed manual transmission, with no automatic option. 
Mahindra claims a fuel economy figure of 8.8L/100km, but for most that figure will likely be higher when they're carrying weight or towing. With an 80L tank though, the Pik-up can cover some ground between fuel stops.
How does the Mahindra Pik-up S10+ drive?
Like a farmer's ute. It's similar in nature to the Toyota LandCruiser 70 Series ute – which in dual-cab and fully fitted-out configuration can cost well over $100,000. 
It's a little floaty without much in the back, but even loaded-up it's not the sort of thing you want to be driving long distances on the highway. The cruise control finds it difficult to maintain speed and over-accelerates up hills, with no braking function.
We found the diesel motor to be a little noisy, but its power and torque delivery comes gradually rather than in one big wave. From all that we can find and have heard, the powertrain of the Mahindra is known to be pretty reliable, and this engine has been around for a very long time to prove that. 
The transmission is easy to use with a light clutch and basic gear selection. It's not an easy car to stall. In fact one of the easiest manual cars we have tested. It does, however, have a dog-leg reverse gear that, if you're not paying attention, can be engaged accidentally. 
Behind the wheel, the Pik-up drives nothing like a modern-day Ranger or Hilux. In many ways it's not meant to.  
Its roughly 210mm ground clearance is more than sufficient for what most owners require, and despite its size the Pik-up has 6.7m turning circle radius that makes it easier to manoeuvre than it might look. 
We drove the car around Brisbane, to a farm, and engaged in a bit of basic off-roading, and it never felt inadequate or lacking anything in particular. 
How much does the Mahindra Pik-up S10+ cost to run?
The Mahindra Pik-Up comes with capped-price servicing for the first four years or 55,000km. It needs its first inspection at 5,000km (or three months) which is free.
From there, the first service is at 10,000km or 12 months for $499 and it then goes up in 15,000km or 12-month intervals with the cost at $499 (25,000km/24months), $799 (40,000km/36 months), and $499 (55,000km/48 months).
Mahindra offers a five-year, 100,000km warranty with five-year roadside assistances.
CarExpert's take on the Mahindra Pik-up S10+
This really is a farmer's ute. We recommend buying one of these if you are after a Toyota LandCruiser ute but don't want to spend significantly more. 
It offers a good warranty and servicing is reasonable. Nonetheless, it doesn't have much in terms of modern safety features ,and the interior fit and finish does leave a little to the imagination.
The Pik-up, especially in a cheaper flavour than this top-spec, is ideal for a new workhorse that can be beaten, bashed, and expected to never complain. It could certainly be a little more affordable, given how cheap Mitsubishi is selling its Triton, but we feel there are deals to be done.
It's a very simple vehicle mechanically and given it has now found itself across plenty of applications (Fraser Island council, numerous big cattle farms in QLD) with success, there's no harm in test driving one. 
We are looking to head to Fraser Island soon and chat to the local council that has begun a trial with numerous Pik-ups to see if it should replace its LandCruisers with Mahindras.