Every eighth new passenger car or SUV sold in Australia during July was a petrol-electric hybrid, thanks in large part to Toyota's dominance.
Industry VFACTS data compiled for the month of July shows 6797 hybrid-electric (HEV) and plug-in hybrid (PHEV) cars were sold out of a 54,709 subtotal. That's equal to 12.4 per cent share.
Remarkably, the sales of diesel-powered passenger vehicles and SUVs totalled 6497 for July, meaning hybrid cars outsold diesels in all bar the light- and heavy commercial markets.
Year-to-date (YTD), there have been 30,787 HEV and PHEV cars and SUVs sold out of the 380,109 total, equal to 8.1 per cent share. This compares to 55,044 diesels, showing July was a bit of an outlier. For now.
These figures are nevertheless massively up on 2019's cumulative tallies. The passenger and SUV market share of HEV/PHEV cars last year was 5.0 per cent for July and 3.4 per cent YTD.
HEVs are parallel hybrids, where the drive motor's battery is charged by recaptured brake and kinetic energy, while PHEVs have larger batteries, longer electric ranges before the petrol engine/generator kicks in, and can be charged from a wall point or fast-charger.
Both are 'hybrids' since both use combustion engines and electric motors.
It was Toyota that led the way here, thanks in large part to an influx of stock. The RAV4 SUV was the top-selling vehicle in the country, with 4309 units finding homes. From this, 80 per cent (about 3450) were hybrid models.
In fact, Toyota told us almost 40 per cent to its July sales were HEV, equal to around 6200 cars from its 15,508 total. Remember, that's 6200 from the total of 6797 cars. Toyota sells hybrid versions of the Corolla, Camry, C-HR, RAV4, and will soon lob HEV versions of the Yaris and Kluger.
Once the promised hybrid HiLux and LandCruiser variations arrive in next-generation forms, it's safe to guess this market share will become less of a monthly outlier, and more the norm.
Toyota's luxury arm Lexus offers hybrid drive in the UX, NX, and RX SUVs, plus the CT, IS, ES, GS, LC, and LS passenger cars. Subaru also sells 'Boxer' hybrid versions of the XV and Forester SUVs.
The PHEV market is getting more crowded, though sales are still low. In the passenger race you have the Hyundai Ioniq, BMW 330e, 530e, 745e and i8, Mercedes-Benz C300e and E300e, Volvo S60 and V60 T8, and Porsche Panamera E-Hybrid.
In the SUV space there's the top-selling Mitsubishi Outlander PHEV, plus niche offerings such as the Mini Countryman Hybrid, Mercedes-Benz GLC 300e, Volvo XC40 Recharge, and XC60 and XC90 T8 models, the Range Rover Sport PHEV, BMW X5 xDrive45e, and Porsche Cayenne E-Hybrid.
The Ford Escape PHEV is imminent to challenge the Outlander PHEV, and a new Mitsubishi Eclipse Cross PHEV is due in the fourth quarter.
As we reported recently, Australia's peak body for carmakers, the Federal Chamber of Automotive Industries (FCAI), announced an "industry-led" C02 standard, designed to publicise the degree to which each car manufacturer is cutting its average emissions out to 2030. 
This is a voluntary code created by the car brands themselves. It's not legislation that financially punishes manufacturers who fail to meet dynamic emissions targets, like those enforced by the European Union.
With greater certainty about emissions targets, carmakers are hoping they will be able to get their hands on the latest plug-in hybrid and pure-electric vehicles, expanding the pool of options for Australian buyers.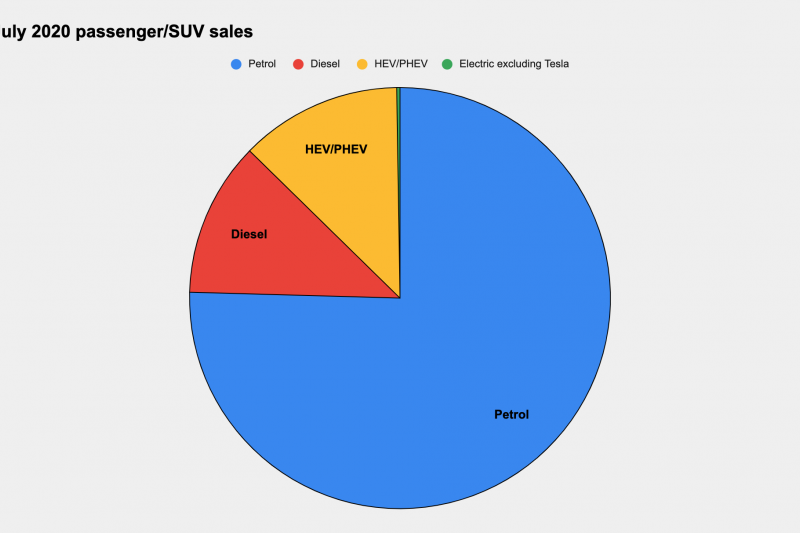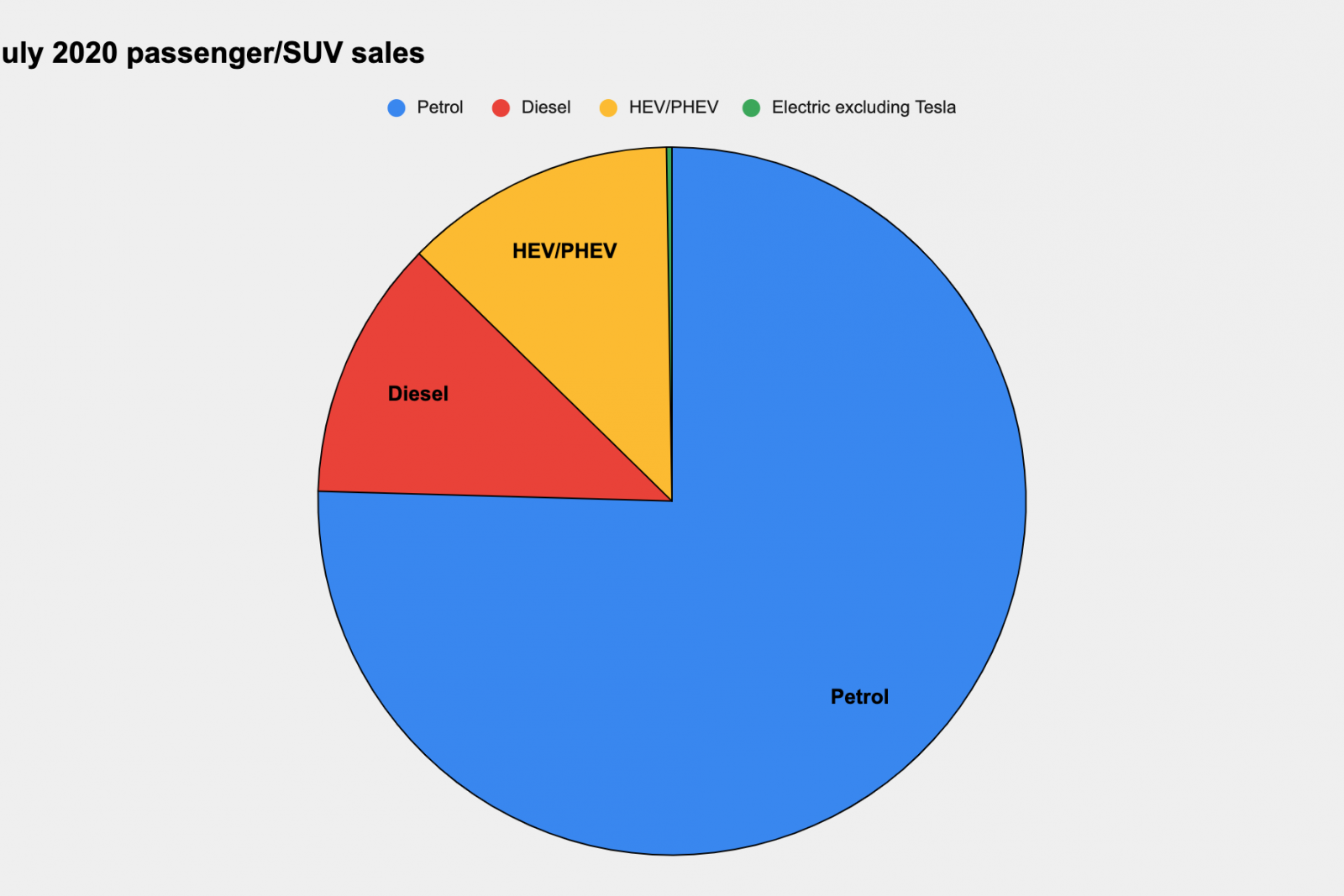 Sales by fuel type
Passenger vehicles
| Fuel | July 2020 | July 2019 |
| --- | --- | --- |
| Petrol | 15,236 | 22,727 |
| Diesel | 510 | 595 |
| Hybrid | 2307 | 1914 |
| PHEV | 21 | 16 |
| EV excluding Tesla* | 75 | 134 |
SUVs
| Fuel | July 2020 | July 2019 |
| --- | --- | --- |
| Petrol | 26,041 | 27,843 |
| Diesel | 5987 | 8731 |
| Hybrid | 4358 | 1179 |
| PHEV | 111 | 47 |
| EV excluding Tesla* | 63 | 94 |
*Tesla does not disclose local sales data
If you have any questions – perhaps you want to know how your car did – ask in the comments and a member of the CarExpert team will respond.
MORE: July sales
MORE: Jan-Jun sales
MORE: June sales
MORE: May sales
MORE: April sales