The Lexus ES300h has never been an exciting pick in the luxury segment. The current, seventh-generation ES was first shown 2018 and, while it looks a hell of lot better than before, it still remains a conservative choice in a segment crowded with luxury and fun.
Since its introduction in 1989, the ES has been the go-to choice for those looking for a more luxurious take on the Toyota Camry. The first five generations of the car were directly based on the Camry architecture, but since the sixth generation that has changed to use the slightly larger Toyota Avalon platform.
As it stands, the Lexus ES300h is a front-wheel drive large sedan that found just 561 local buyers in 2019. It's a niche product if ever there was one, and it's fair to say a fair few of those purchases would have been for limousine or other private chauffeur services.
All of which undersells the ES300h, because it's actually a very decent car.
How much does the Lexus ES300h cost?
Our test vehicle was the entry ES300h Luxury, which costs $60,488 before on-road costs. Options on our car were limited to $1500 for the Sonic Quartz paint. The main option on the Luxury variant is the Enhancement Pack, which will set you back an additional $8387.
The Lexus ES300h can also be had in F Sport guise for $69,755 before on-roads ($73,755 with Enhancement Pack) or as the ES Sport Luxury, which comes with pretty much everything for $75,488 before on-road costs.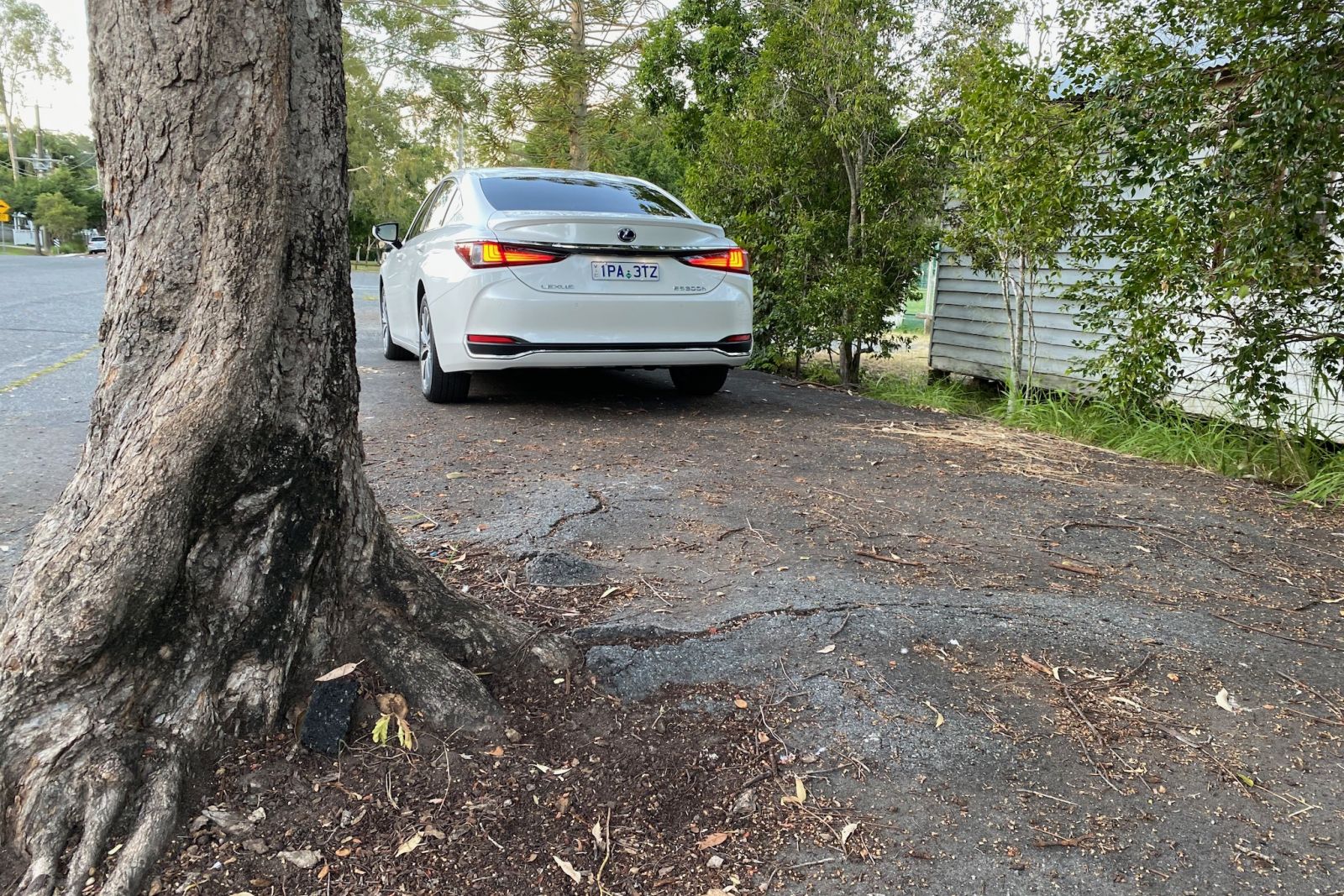 What do you get?
As is the case with Lexus models in general, you get a lot for your money. The brand fights its way into the luxury segment against the three big Germans by offering more for less.
The absolute base spec gets a boost, with the 2020 update now adding front parking sensors as well as Apple CarPlay and Android Auto compatibility – the latter of which can be retroactively added to any seventh-generation ES.
Standard equipment includes a 12.3-inch centre display with built in satellite navigation, wireless phone charging, a coloured head-up display, a sunroof, powered and heated front seats, bi-LED headlamps (with cornering lamps), 17-inch alloy wheels, and a rear view mirror.
WORTH IT
A lot of car for your money
Hard to find another car this size that comes with so much standard
If you pay for the Enhancement Pack the ES will also feature a surround-view camera, blind-spot monitoring, rear cross-traffic alert, and a parking support brake system that applies the brakes to avoid a collision with a person or object ahead of the vehicle, or an object behind the vehicle if the wrong pedal is pressed.
We feel this really should be standard on the base model given the price of the vehicle. We also believe safety should not be an optional extra in any car, let alone a Lexus.
Apart from that, the Enhancement Pack also gains wooden ornamentation on the steering wheel, instrument panel and door trims, bigger 18-inch alloy wheels, more premium leather-accented seats, cooled front seats, 14-way power adjustable driver seat (11 on the standard car) with four-way lumbar adjustment, and an electric rear sunshade.
Stepping up to the Lexus ES300h F Sport gets you a sportier look thanks to the F-Sport mesh grille, and most of the chrome has been replaced with black across the front and rear bumper. There's also triple-beam LED headlights with adaptive high beam. It's rounded out with 19-inch alloy wheels and unique badges.
On the more technical side – and the main reason to spend an extra $9000 for the F-Sport – is the inclusion of adaptive suspension with five driving modes including Eco, Normal, Sport S, Sport S+ and Custom. The ability to change the suspension settings undoubtedly adds an extra layer of character to the ES if the time comes to have some fun.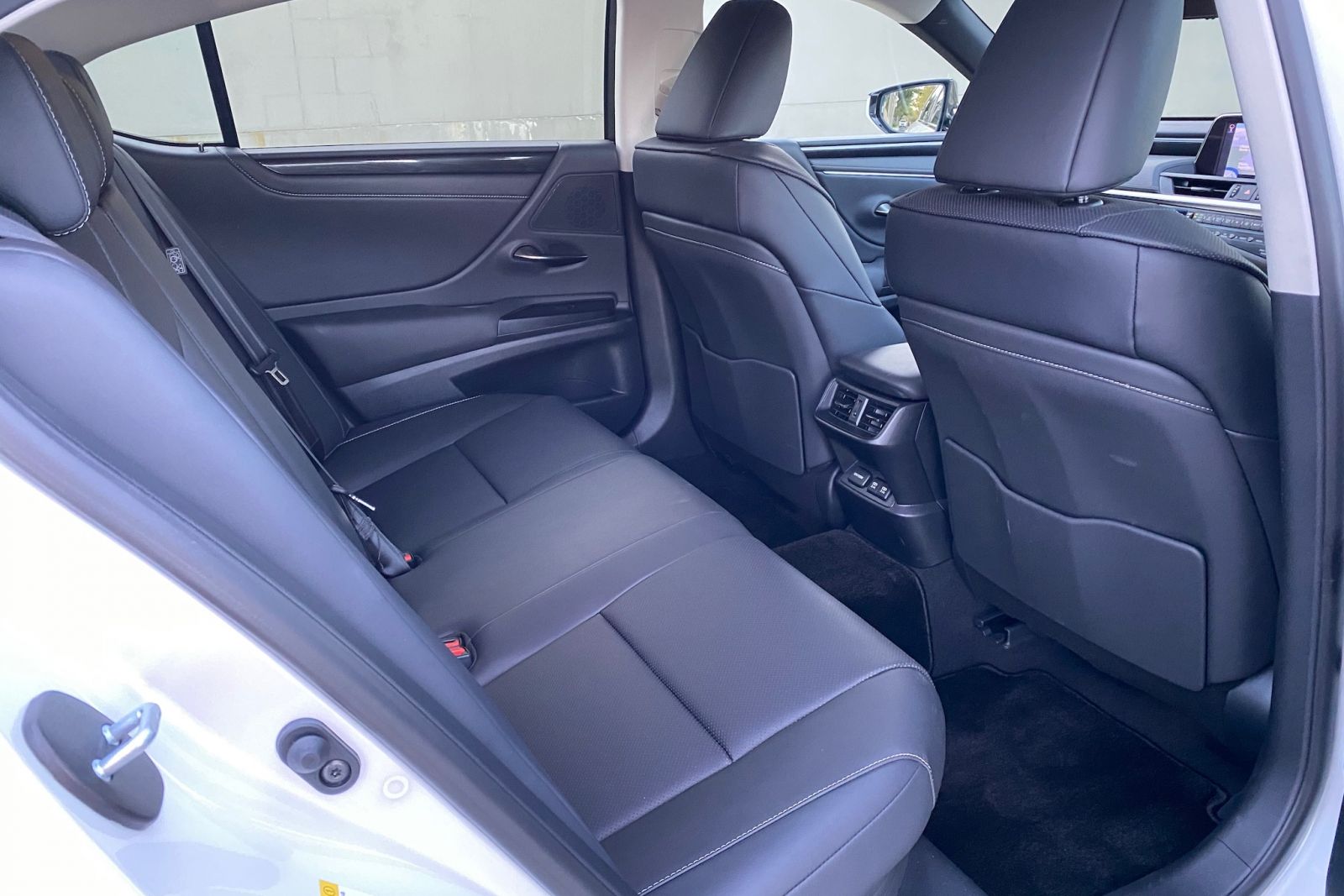 As with the Luxury, you can equip F Sport models with the Enhancement Pack. In this instance it brings the price up by $4000 and adds a 17-speaker Mark Levinson audio system, a heated steering wheel, and a powered boot with a kick sensor. Worth it for the audio system alone.
At the very top of the tree is the Sports Luxury, which from $75,488 before on-road costs gets pretty much everything mentioned already plus semi-aniline leather-accented seats, tri-zone climate control, rear door sunshades, and heated rear seats with power recline function.
You do miss out on the F-Sports larger wheels and adaptive suspension.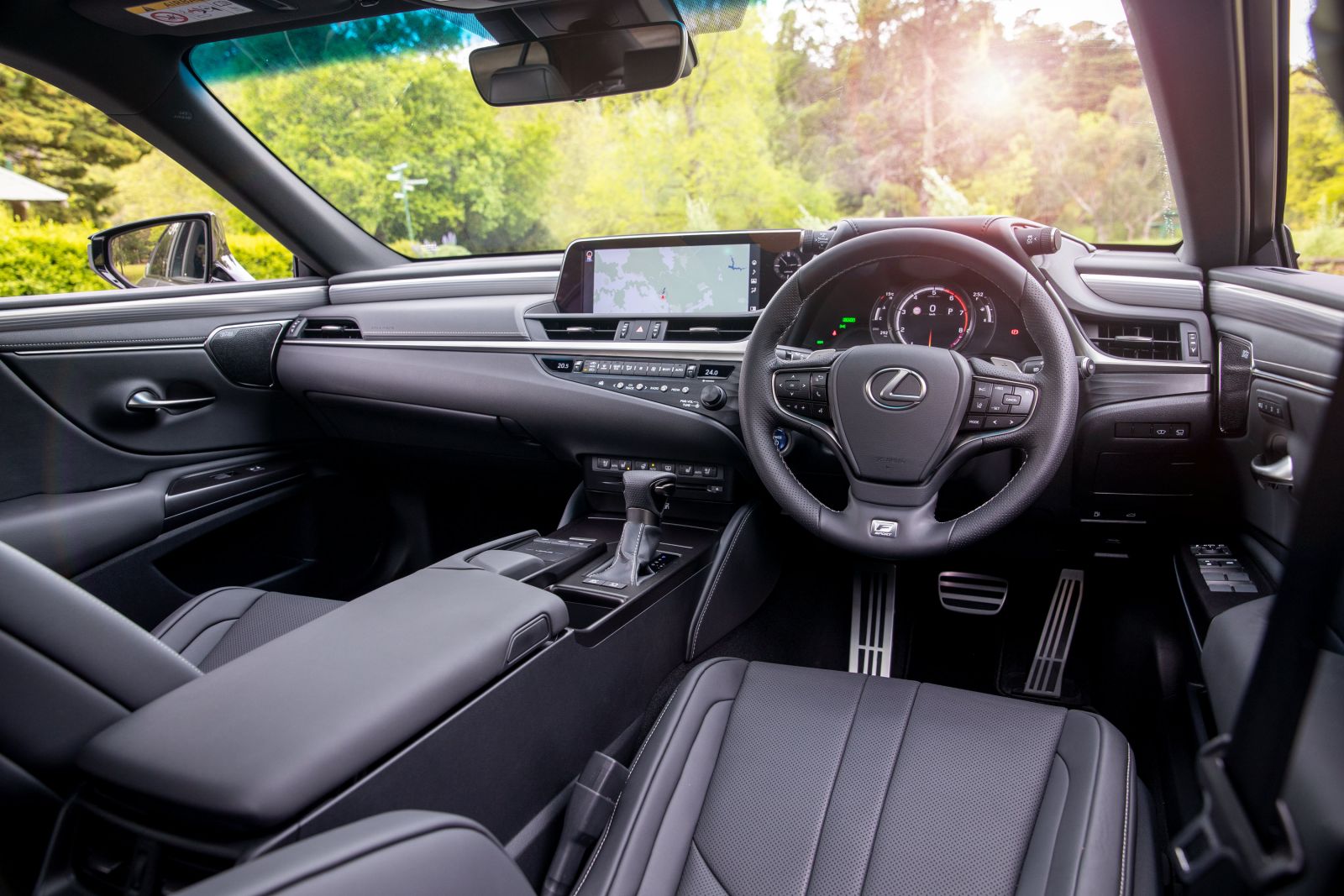 Is the Lexus ES300h safe?
All ES models come with 10 airbags, a rear-view camera, and the Lexus Safety System+ with autonomous emergency braking with pedestrian detection (front), as well as adaptive cruise control and lane keeping assist.
The aforementioned blind-spot monitoring, rear cross-traffic alert, and parking support system remain an option with the Enhancement Pack for all models barring the Sports Luxury. It received a five-star ANCAP safety rating in 2018, and would likely receive the same score today if equipped with the enhancement pack.
What is the Lexus ES300h like on the inside?
This might have only come out in 2018, but if you compare it to higher-end Lexus cars such as the LS and LC500, it's a different world. It feels old. Even compared to the cheaper NX and UX, the ES seems to lack the modernity and sophistication of some of its showroom mates.
Even so, there are still a hell of lot of things in here for your money. The ES300h is spacious, with very comfortable seats both front and rear.
There is so much knee room, tall passengers can really enjoy the back seat even with another tall passenger in the front – although the sloping roofline eats into headroom. It has a long wheelbase, which gives it extra room missing from cars such as the BMW 5 Series and Audi A6.
Being front-wheel drive also helps, freeing up space usually occupied by a driveline in rear- and all-wheel drive rivals.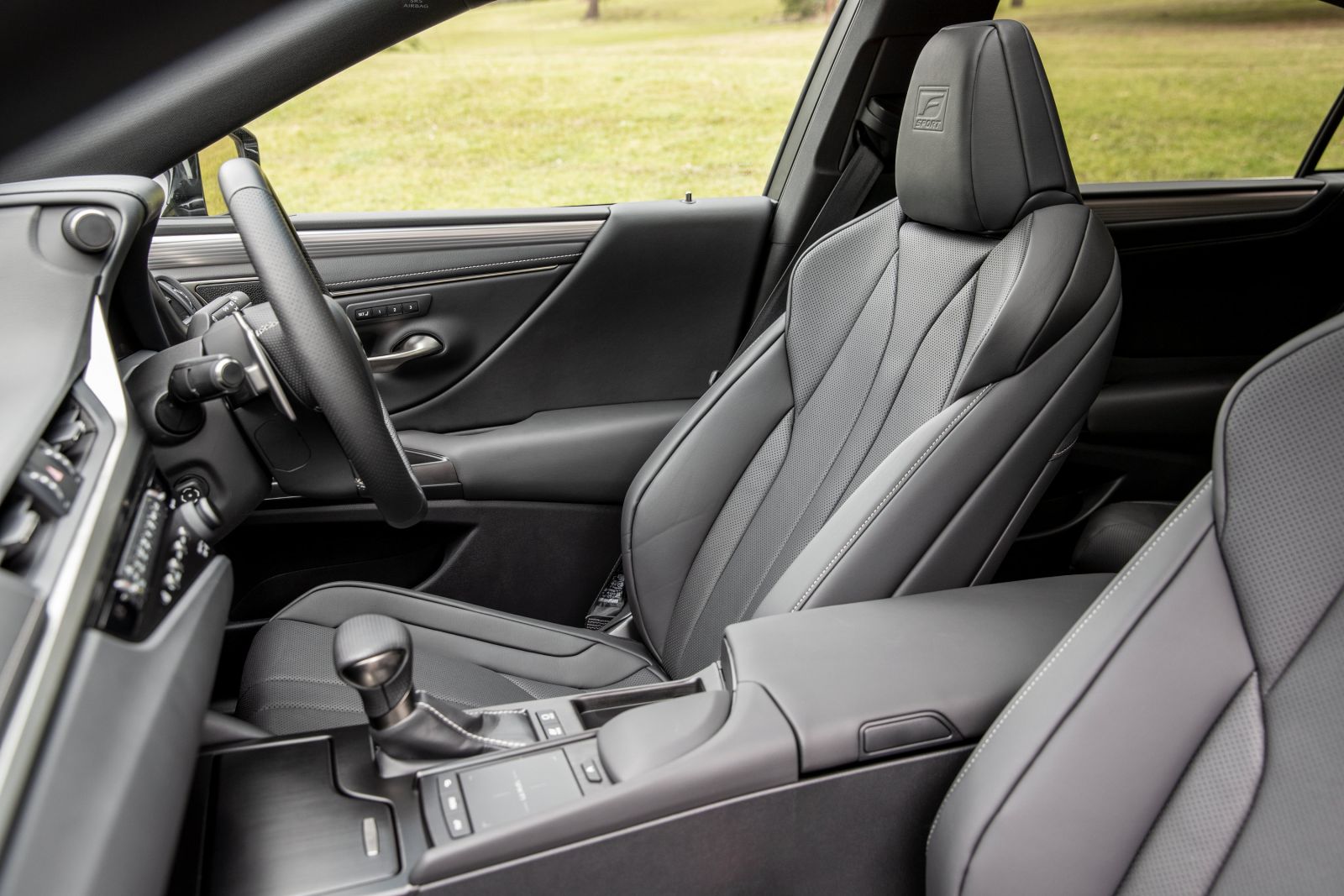 Getting in and out of the Lexus ES is easy, thanks to the huge doors that really allow for a lot of entry room. There is a lot of storage inside the cabin as well, with a fold-down armrest between the rear seats providing two cup holders, not to mention a centre console bin that's hinged to allow opening from both sides.
Those rear doors open wide for easy exit and entry. You get 454 litres (VDA) of cargo capacity, which will fit pretty much any giant suitcase and then some.
On a general level, we really liked the cabin ambience with high quality materials throughout. Simple things like the brushed aluminium door handles add a sense of luxury to the occasion each time you open the door.
It looks a hell of a lot better if you end up going with red seats. Lexus knows how to do leather well, and there is not a single surface inside the ES300h that feels flimsy or cheap – it just lacks colour and contrast.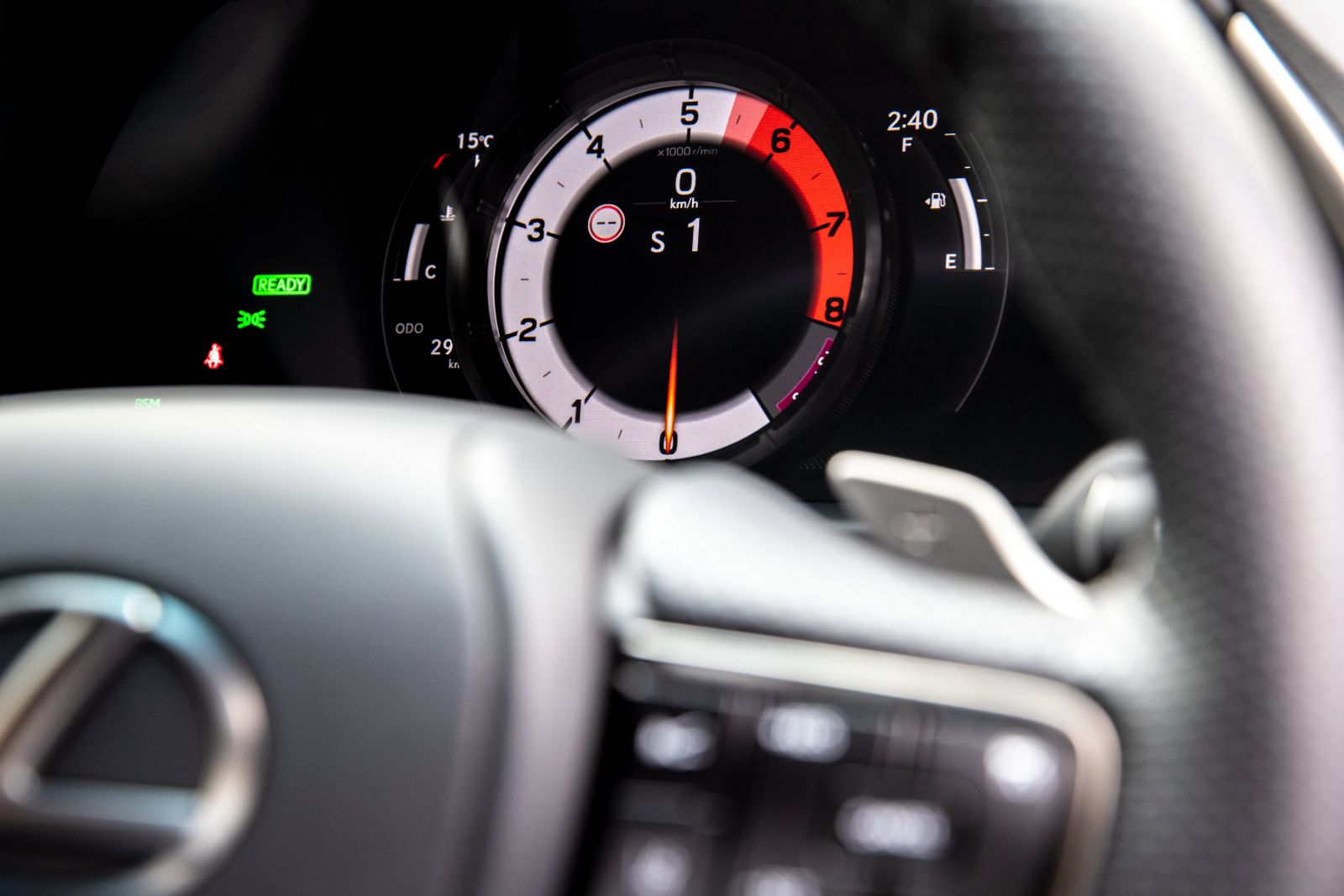 Perhaps the worst part of the ES300h's interior is the infotainment system, which can really only be described as rather poor.
Thankfully it has CarPlay so you can simply plug in your iPhone lean on Apple's competent user interface. When you don't, the ES has what is probably the worst infotainment system in a current-generation luxury car. It works, but the interface, screens, and layout are more Discman than iPhone.
Further to that, the reversing camera is insanely low resolution and we cannot understand any reason for that given the car only came out two years ago. It's even more confusing when you consider how nice the head-up display is.
All in all though, the interior of the ES300h is a big drawcard. There's a lot of room, and it's wrapped in a lot of luxuries for the money. If Lexus could just overhaul its entire infotainment system, it would be great.
What's under the bonnet?
Given the H in 300h, this Lexus is a hybrid. But it's not exactly a groundbreaking system. Under the bonnet is a 2.5-litre Atkinson cycle four-cylinder petrol engine combined with an electric motor to produce 160kW of power.
It's sufficient for the needs of most Lexus ES300h buyers, but it's not what you'd call sporty.
The petrol engine itself only makes 131kW and 221Nm of torque, which is then aided by the additional 88kW and 202Nm of the electric motor. You can't really add those numbers together for total, as each produces peak output at a different point.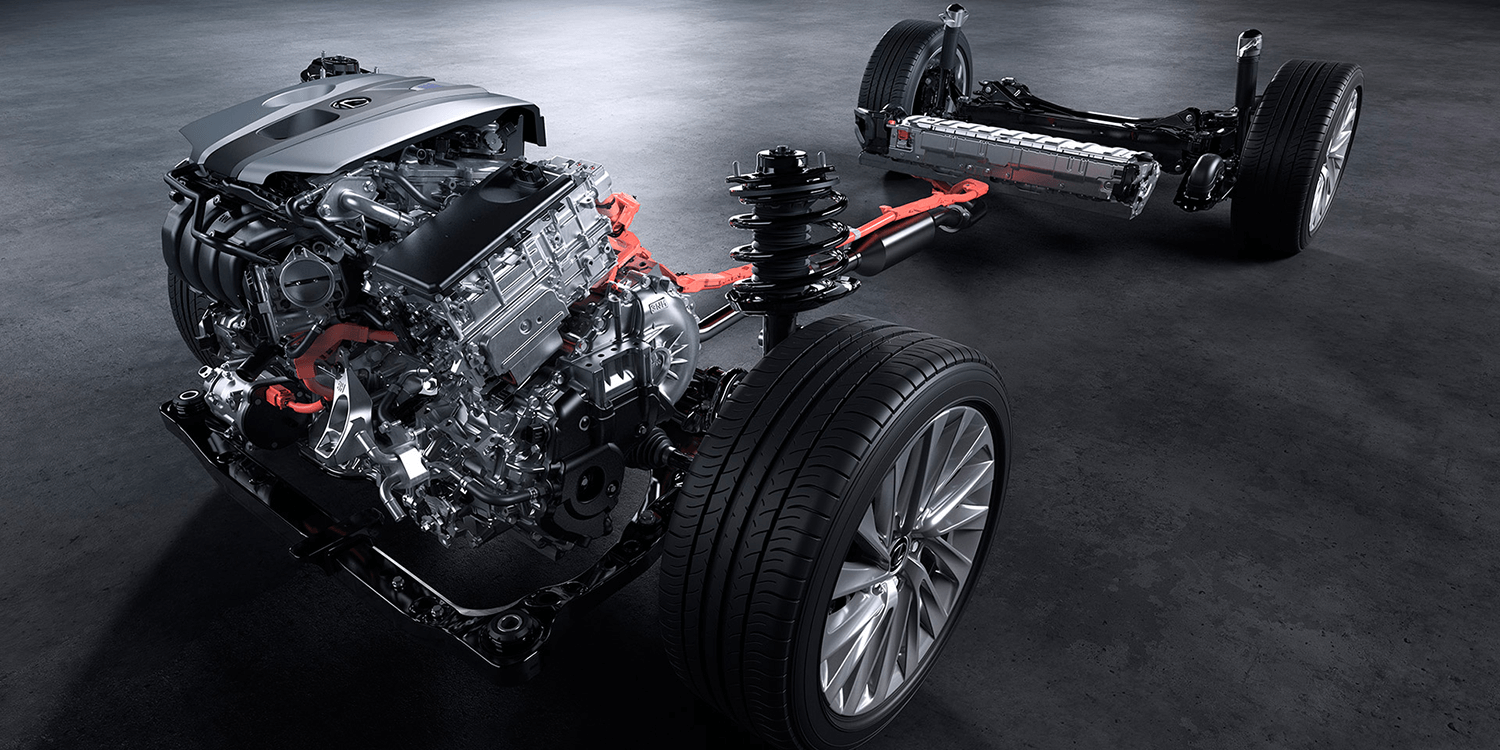 The hybrid system makes do with a 244.8V nickel-metal hydride battery, which is very much old tech compared to most hybrid and electric vehicles today making use of lithium-ion.
Even the new Toyota Corolla hybrid has a more advanced battery system than the ES300h. Even so, during our week long test our fuel economy was 4.8L/100km, which for a sedan this large is incredibly impressive.
Admittedly, most of that was city driving. We suspect once you get on the highway and the hybrid system becomes more of a weight issue than an assistance, that figure will be in the mid 5.0s, which is still very commendable.
How does the Lexus ES 300h drive?
Surprisingly well. You'd expect a front-wheel drive, long-wheelbase sedan based on a Toyota to be boring and dynamically challenged but frankly, the ES300h is so smooth and competent you really have to push beyond its design parameters to find dynamic issues.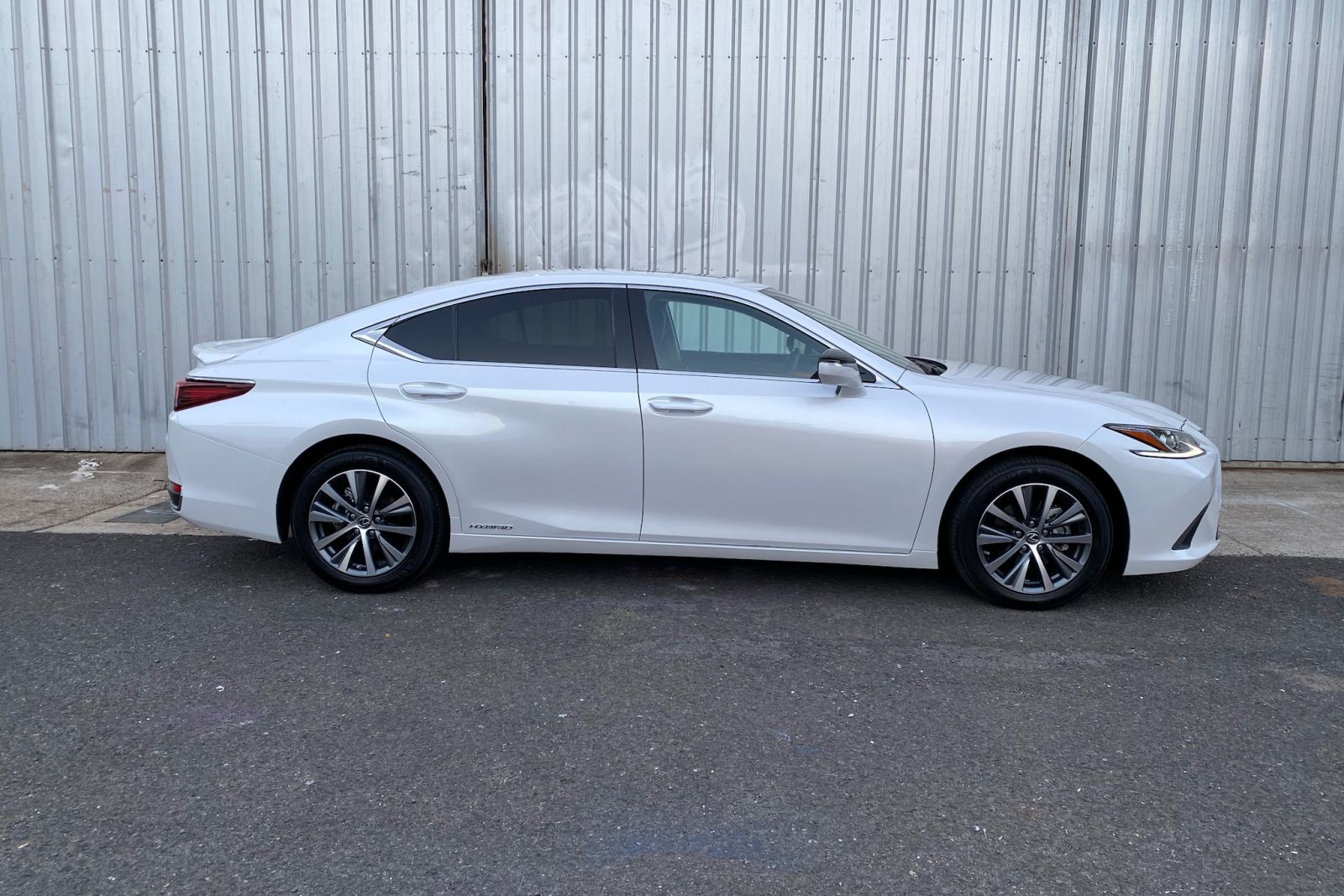 Our test car didn't have the adaptive suspension, but even without it the ES performs well over bumps and settles nicely.
It's an extremely comfortable car to drive daily, and would be great for long distance commutes or peak hour traffic. On the other hand, we also didn't find any noticeable dynamic compromises with the Lexus performing well in twisty roads at reasonable speeds.
It's not sports car, but it tightens up enough to help you forget you're in a large sedan.
The active safety systems such as adaptive cruise control do leave a little bit to be desired, and feel a generation or two behind what's on offer from the likes of Audi, Mercedes-Benz and BMW.
At least the cabin is stupendously quiet and feels very refined.
How much does the Lexus ES 300h cost to run?
Service intervals are every 12 months or 15,000km and average around $495.00 each with a three-year running cost total of $1,485.00. Lexus offers a four-year warranty which is now below standard compared to Mercedes-Benz at five years. Although BMW and Audi are still at three years.
WANT OR NEED
Great but not aspirational
The Lexus ES 300h is the sort of car you buy with your head not your heart
CarExpert's take on the Lexus ES300h
The Lexus ES300h is a hard car to fall in love with. It's ideal if you intend to do a lot of kilometres and don't want an SUV.
It's a limo at the end of the day, and it does that job well with huge amount of space in the back seat and a big boot.
Nonetheless, for the money, it's not a bad pick if you really want a big sedan and are not all that heavy into your in-car technology.