The Volvo XC40 aims to be different in a world of same-same SUVs. Not only in design, but in terms of packaging – and now, drivetrain offering.
Volvo now offers a plug-in hybrid version of every SUV it sells, with a fully-electric version of the compact XC40 soon to follow.
What you're looking at here is the (deep breath) 2020 Volvo XC40 Recharge Plug-In Hybrid T5 R-Design (phew). It's new to the Australian market and paves the way for the full electric XC40 Recharge, which is due to arrive locally by mid-2021.
The XC40 Recharge PHEV is also a little different to Volvo's other plug-in hybrid models, it isn't positioned as a sporty pinnacle to the range. Instead, it focuses on efficiency under the guise of an R-Design shell.
How does the Volvo XC40 fare vs its competitors?
View a detailed breakdown of the Volvo XC40 against similarly sized vehicles.
How much does the Volvo XC40 Recharge cost?
The entire Volvo XC40 range kicks off from $46,990 before on-road costs for the XC40 T4 Momentum.
Volvo's XC40 Recharge PHEV will be the most expensive XC40 on sale in Australia until the electric version arrives. Priced from $64,990 before on-road costs, it costs $8000 more than its nearest internal-combustion cousin, which is the XC40 T5 R-Design.
There are seven colours to choose from. Solid black is free of charge, while all metallic and pearl colours are an additional $1150.
There's not a mountain of optional extras to choose from. The most obvious packages are a comfort package ($900) that adds a heated steering wheel and front seats, a lifestyle package ($3000) that adds a premium harman/kardon sound system, panoramic sunroof, and privacy glass, and a technology pack ($1900) with a 360-degree camera, semi-automatic parking and adaptive dampers.
What do you get?
There's a high level of standard equipment included in the Volvo XC40 R-Design.
On the outside you'll find 20-inch alloy wheels, a black roof, wing mirrors and roof rails, adaptive LED headlights with LED daytime running lights, LED tail lights, an automatic tailgate with foot operation, front and rear parking sensors, and the port for charging located at the front on the passenger side.
Inside the cabin you'll find leather seats with Alcantara inserts, wireless phone charging, a 9.0-inch portrait infotainment system with wired Apple CarPlay and Android Auto, a TFT display ahead of the driver in place of analogue gauges, radar cruise control, eight-speaker stereo, a reverse-view camera, electric seat adjustment for driver and passenger, and proximity key entry and start.
Is the Volvo XC40 safe?
The Volvo XC40 scored a five-star ANCAP safety rating when it was first tested in 2018.
When tested, the XC40 received an excellent adult occupant safety rating of 97 per cent, a 84 per cent child occupant protection rating, a 71 per cent vulnerable road user safety rating, and a 78 per cent safety assist rating.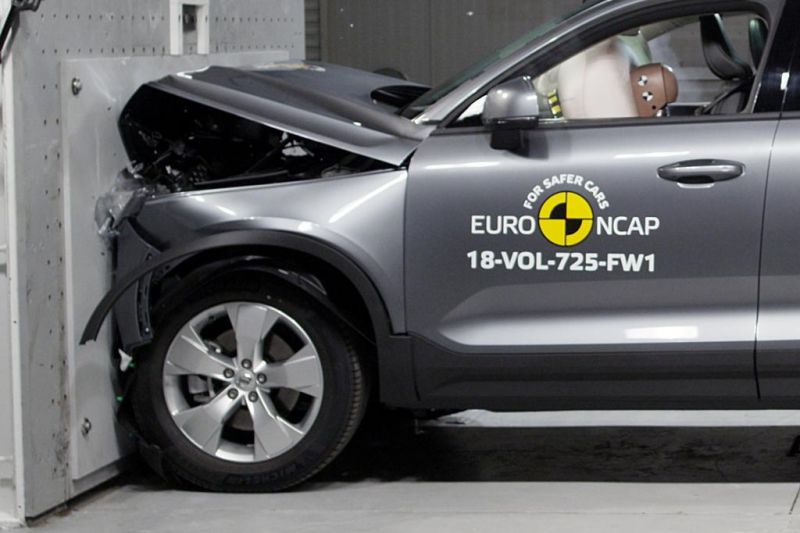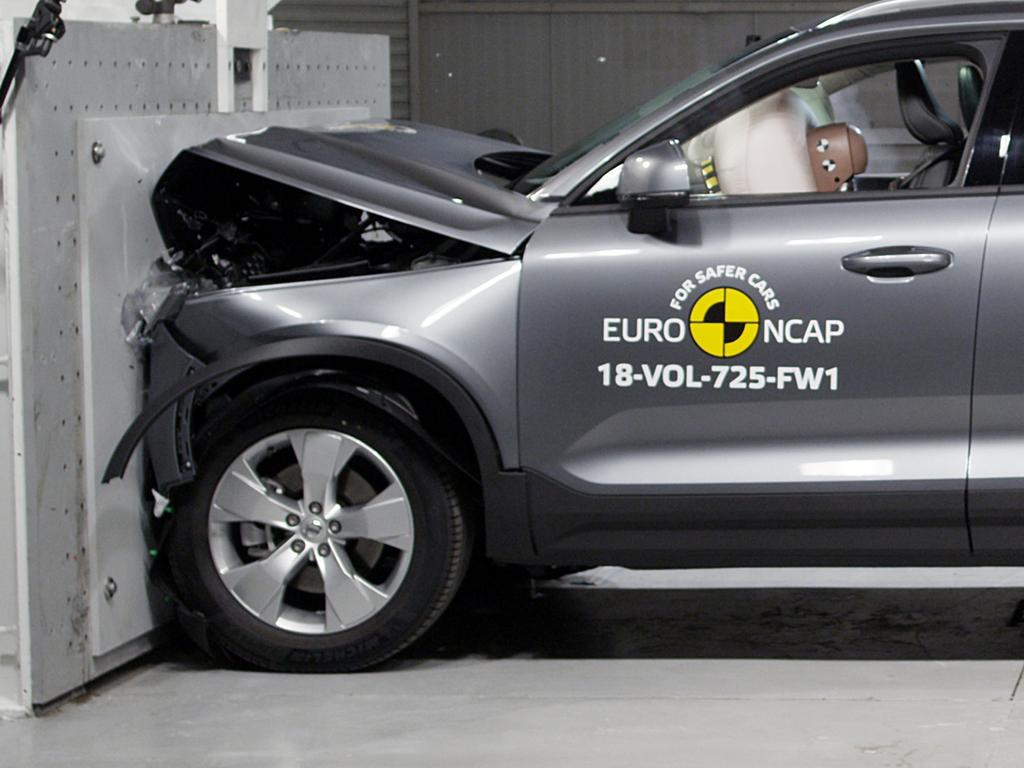 Being a Volvo, the XC40 is loaded with standard safety equipment, including low- and high-speed autonomous emergency braking (AEB) with vulnerable road user detection, lane-keeping assist, lane departure warning, blind spot monitoring, along with front, side, head and driver's knee airbags.
You can read more details about Volvo XC40 crash test results on the ANCAP website.
What is the Volvo XC40 Recharge like on the inside?
You'll struggle to find another compact SUV that feels this solid and well built inside. We were surprised by the quality of fit and finish, and the thought put into materials throughout the cabin.
For example, the door bins and centre tunnel surrounds are carpeted to cut down on rattly plastics. The dashboard surrounds are all soft to the touch, while the door panels and dashboard fascia feature texted aluminium inserts that feel rough to the touch.
There's even a crazy bright orange carpet option – but steer clear of that if you value your eyes!
The seats are comfortable and have plenty of adjustability, including a manually-retractable under-thigh cushion extension. Beneath the driver's seat is a sliding cubby hole that hides valuables away from prying eyes.
Leg- and headroom in the second row is very good, despite the Volvo XC40 appearing to be a smaller SUV on the outside. I normally have my seat a long way back and was able to sit behind with with ample knee-, toe- and headroom, even with the optional panoramic sunroof.
There's a centre armrest with two cup holders, ISOFIX points for the outboard seats, and carpeted door bins built into each door.
Cargo capacity comes in at 460 litres with the second row in place and expands to 1336 litres when lowered. Beneath the cargo floor you'll find a space saver spare tyre. The plug-in hybrid drivetrain's battery pack doesn't rob the boot of cargo capacity (more on this below).
Storage inside the door bins is huge, but the XC40 is slightly let down by limited storage in the centre console and glove box.
Volvo's 9.0-inch portrait infotainment system is getting a little long in the tooth, but still remains fairly easy to use. Smartphone mirroring is built into one smaller portion of the screen, rather than a larger portrait integration.
The only thing we aren't a fan of with this infotainment system is the integrated temperature controls. They can be quite fiddly to use while driving compared to physical buttons, and require taking your eyes off the road briefly to adjust temperature or fan speed.
What's under the bonnet?
Being a plug-in hybrid vehicle the Volvo XC40 Recharge PHEV is driven by two drivetrains: an internal combustion engine, and an electric motor.
The internal combustion engine is a 1.5-litre three-cylinder turbocharged petrol engine producing 135kW of power and 265Nm of torque, mated to a seven-speed dual-clutch transmission.
The electric component of the package is an electric motor making 61kW of power and 160Nm of torque, which combines with the internal combustion engine for a total power output of 195kW. Combined fuel economy comes in at 2.0 litres of fuel per 100km.
Torque is exclusively sent to the front wheels, with no all-wheel drive option for the XC40 Recharge PHEV.
Despite packing a 10.7kWh Li-ion battery pack, cargo capacity remains unchanged because the battery pack is packaged within the transmission tunnel. It affords an electric-only range of 46km and a charge time of 2.5 hours on a 3.7kW home charger, or slightly longer on a 10A 2.4kW portable charger.
How does the Volvo XC40 Recharge drive?
Well – very well, actually. When you start the car it defaults to the hybrid mode, which defaults to electric power until the driver pushes past a throttle position and activates the internal combustion engine.
Unlike some plug-in hybrids, that threshold is quite high, so the car will accelerate with the flow of traffic without needing to hand over to the internal combustion engine. If you get stuck into the throttle it fires to life and delivers additional torque, but until that point it stays off.
The drivetrain sends torque through a seven-speed dual-clutch transmission. Unlike in the Hyundai Ioniq plug-in hybrid, which has noticeable gear shifts as it motors along in electric mode with its dual-clutch transmission, you'd never pick that the XC40 Recharge PHEV uses that type of gearbox.
There's a 'B' mode that increases energy regeneration when the vehicle is slowing down by physically activating the brake pedal, creating a strange sensation if your foot is hovering nearby as you roll out of the throttle. While it serves its purpose, it doesn't decelerate to a full stop – the driver still needs to take over at some point to stop the vehicle entirely.
Brake pedal feel is okay, but can be a little devoid of feedback at times.
When the brake is automatically depressed in 'B' mode, the pedal can feel quite firm and require an additional nudge to pull up when the driver takes over. There's no issue stopping, it just requires a little more effort than it would in an internal-combustion Volvo XC40.
In terms of other plug-in hybrid controls, the driver is able to hold the charge level through a button on the infotainment system. This ensures the charge level doesn't drop by leaning exclusively on the internal-combustion engine. There's also a mode that charges the battery with the internal-combustion engine.
Performance
It's no slug
Despite sending all of its torque through the front axle, the XC40 Recharge PHEV takes care of the 0-100km/h dash in just 6.9 seconds
The transition between electric and hybrid mode is fairly seamless. The three-cylinder engine under the bonnet has a fun rasp and it can be heard if you bury the throttle, but outside of that it remains quiet and doesn't intrude into the cabin as it moves between modes.
In terms of economy, we lined up a 100km trip that included the first portion on a fully-charged battery and the remainder of the trip on hybrid mode, and found the resulting fuel economy of 4.4L/100km to be pretty reasonable.
The first portion of the trip was on a highway before pulling onto a hilly country road. It's around where you'd expect the economy of a 1700kg vehicle to sit, but quite a way from the claimed 2.0L/100km combined economy.
Sitting on 20-inch alloy wheels with 45 profile tyres, we were expecting the ride to be choppy. Thankfully, it wasn't as bad as we expected. It's certainly on the firmer side of comfortable, but it's softly damped, which means it copes well with longer and continuous undulations – and not so well with sharp and brittle sections of road.
Buyers can opt for adaptive damping for an additional $850. It's worth doing if ride quality is important. There's also an option to opt for a 19-inch alloy wheel instead of the 20-inch units pictured here for no additional cost.
On the open road, the ride is quiet and the combined drivetrain surprisingly sharp. We clocked a 6.9 second 0-100km/h time, but did notice the front wheels can scrabble for traction if you get stuck in from a standing start.
Outside of that there's enough torque for overtaking and the dual-clutch gearbox remains smooth and imperceptible as you motor along.
Visibility out the front, sides and rear is excellent thanks to its big wing mirrors, blind-spot monitoring, and lane-keeping assist. We weren't as sold on the optional Pilot Assist package, which tracks the road ahead to guide the vehicle around corners. It worked okay most of the time, but was easily caught out by some bends and sharper radius turns, even at highway speeds.
The XC40 isn't a sports car, but it's dynamic enough to be fun if you find yourself at the base of a mountain road. It rides on 245mm wide tyres all round that offer plenty of traction and a chassis that sits fairly flat through corners.
There's also ample steering feel to put a smile on your face.
How much does the Volvo XC40 cost to run?
Volvo has finally reconsidered servicing costs and slashed the price of having a new car serviced.
Servicing takes place every 15,000km or 12 months, and Volvo offers a prepaid service plan priced at $1595 over a three-year period. That averages out to around $531 per service.
Volvo has also increased its local warranty from three- to five years.
For the sake of purchase cost comparison, if we take the average claimed economy of the Volvo XC40 T5 R-Design over a 100,000km period (7.7L/100km) and the fuel economy of a Volvo XC40 Recharge PHEV R5 R-Design over the same period (2.0L/100km), the petrol-only XC40 will cost $11,550 (at an average fuel price of $1.50 per litre), while the PHEV will set you back $3000.
That's the cost of fuel alone. If you charge the vehicle once every tank of fuel the equation changes slightly, adding $535 to the running costs over 100,000km of travel – that's a 46km charge per 500km of travel.
So ultimately it will take a little over 100,000km to pay back the additional investment for the XC40 Recharge PHEV, but it's worth keeping in mind if you travel shorter distances and have the ability to charge regularly, that period could be significantly cut down.
CarExpert's take on the Volvo XC40 Recharge
I came away surprised with the Volvo XC40 Recharge Plug-In Hybrid T5 R-Design. It's a long name but it delivers an impressive drive, decent fuel economy, and a fuss-free plug-in hybrid package that doesn't take a degree to understand.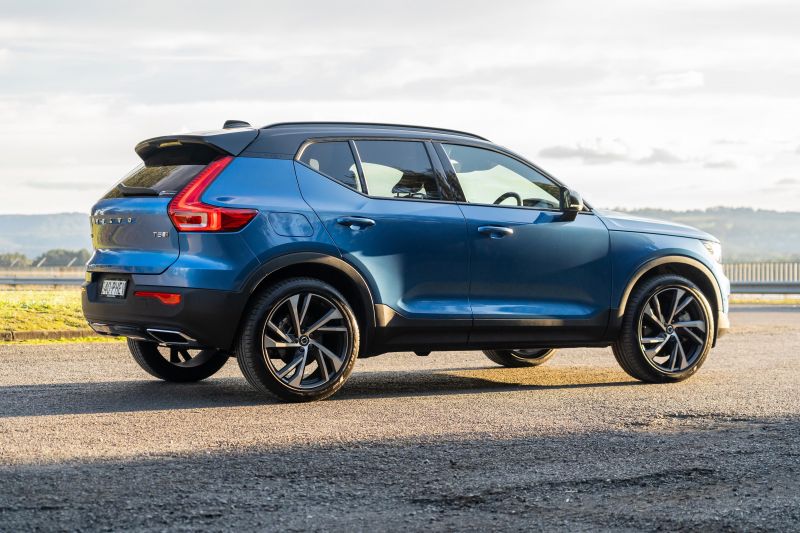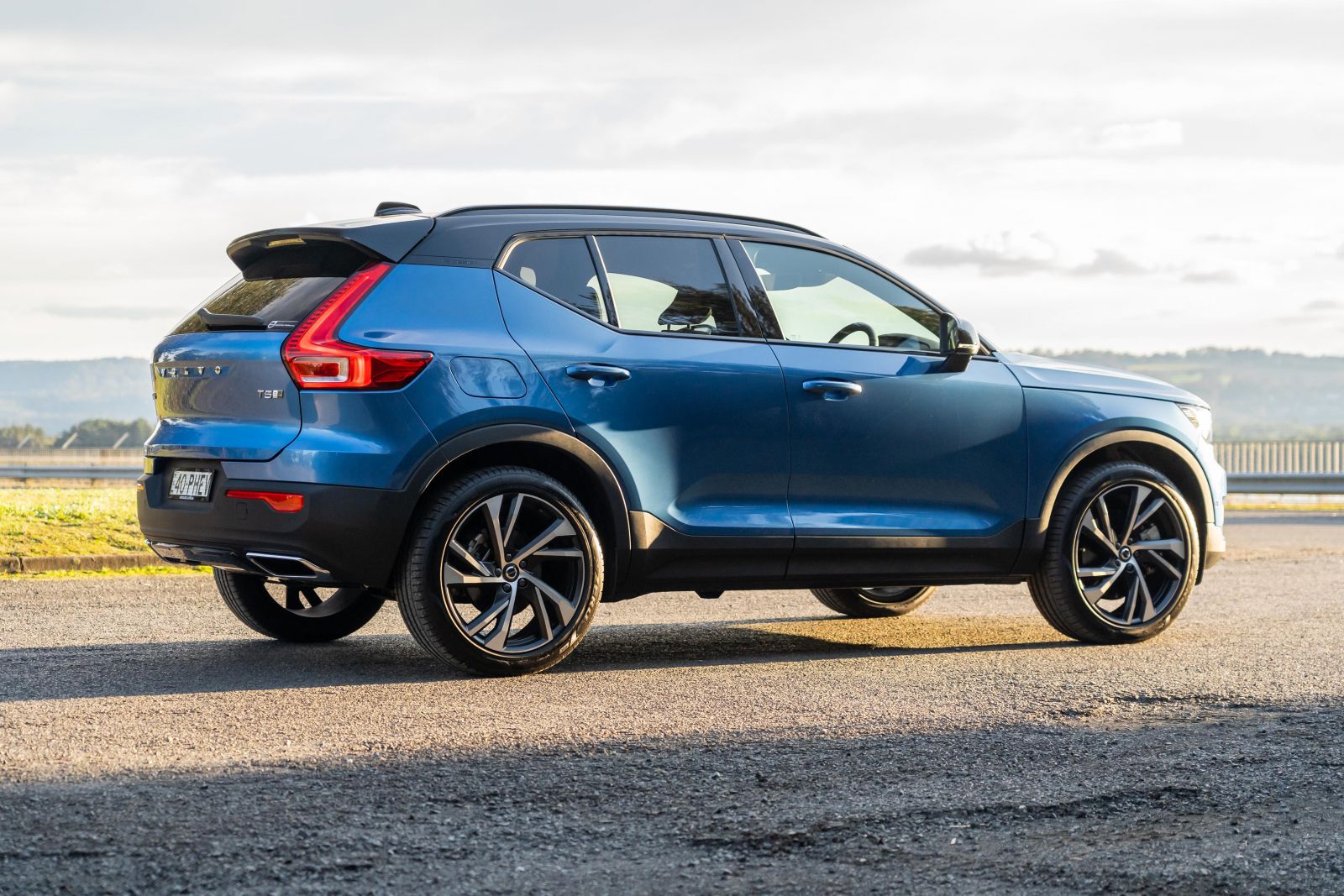 It's let down slightly by the ride. It's a little too firm on its 20-inch alloy wheels, but that's fixed easily enough by optioning for the 19-inch alloy wheels instead, and considering the optional adaptive damping package.
Outside of that, the XC40 is a seriously good package. The interior is nicely presented and feels as solid as a rock, while a real focus has been placed on making the interior premium. There's stacks of room inside for a small SUV, and no space compromise to accommodate the plug-in hybrid drivertrain.
Should you spend an additional $8000 on the plug-in hybrid over the T5 R-Design? It depends entirely on your application. If you travel less than 40km a day to and from work (and most people do) and have the ability to charge the car, it makes perfect sense because you can have an XC40 without ever really needing to pay for fuel.
We are all keen to see what the full electric version of the Volvo XC40 will look and feel like when it arrives in Australia during 2021.