The newly-launched Kia Stonic slots into the brand's range below the taller and boxier Seltos, making it the new entry SUV in its like-up.
Of course, the relevance of that acronym is becoming increasingly tenuous, but I digress.
The Stonic feels very much like a Rio hatchback on stilts, topped with a cooler design, making it a ready-made rival to a long list of conceptually similar products that are more or less the same size (4.1-4.2 metres long) and price.
These include the top-selling Mazda CX-3; the recently launched Toyota Yaris Cross, Skoda Kamiq and Ford Puma; and established contenders such as the Nissan Juke, Hyundai's Kona and Venue, the Volkswagen T-Cross, and Suzuki Vitara.
It's a slightly belated arrival, given the Stonic premiered in Europe during 2017. Kia Australia waited until it received a mid-cycle facelift, which made it better suited to local tastes.
No doubt Kia's dealers will be rapt to get their hands on it anyway: the Seltos is selling its socks off, and both the Rio and Picanto are big movers in their segments.
But the Stonic offers something a little different from any of them, and very much meets the current zeitgeist. The fact its advertising features the claim it's "Insta-worthy" kind of tells you what demographic the brand is chasing. Newtown and Fitzroy North await…
This is our launch review featuring the top-spec Stonic GT-Line.
How much does the Kia Stonic GT-Line cost?
Kia commendably offers national drive-away prices unlike many competitors, giving customers some clarity.
The Stonic S base model costs from $22,990 on the road, while the Stonic Sport starts at $24,990 drive-away.
These prices are for models equipped with a six-speed manual gearbox, but the automatic option sure to be favoured by the overwhelming majority of buyers is a reasonable $1000 more.
Here we're testing the auto-only Stonic GT-Line range-topper, which comes in at $29,990 drive-away.
This places the flagship Stonic at more of less the same price point as a CX-3 sTouring, Venue Elite, Kona Active, Juke ST, Yaris Cross GX, and base versions of the Kamiq, T-Cross and Puma.
It's also $5000 more than the Rio GT-Line that shares many key components including the engine and dash.
This is quite a jump on percentage terms, but then again it's a similar story for the Stonic's rivals. A cute SUV body and elevated driving position can fetch a premium…
What do you get?
The base Stonic S gets standard features including 15-inch steel wheels, automatic headlights, an 8.0-inch touchscreen with wireless Apple CarPlay and Android Auto, a reversing camera, cruise control, lane assist, and autonomous emergency braking (AEB).
The Stonic Sport adds 17-inch alloy wheels, proximity key with button start, satellite navigation with 10 years of map updates, electric-folding side mirrors, and leather-wrapped wheel and gear shifter.
However, its head unit only supports wired Apple CarPlay/Android Auto – you can read Kia's explanation here.
The top-of-the-range Stonic GT-Line adds further features such as different alloy wheels, LED headlights (reflector type), seats trimmed in cloth and synthetic leather, climate control, rear privacy glass, an auto-dimming rear-view mirror, and the choice of a sunroof or two-tone paint scheme.
The GT-Line also gets a different turbo engine and dual-clutch auto transmission, plus a firmer and sportier suspension tune, which we will detail in a sec.
Is the Kia Stonic GT-Line safe?
Crash tester ANCAP awarded it five stars, albeit with a 2017 date stamp. It's deemed to be so closely related to the Rio that ANCAP actually based the Stonic's score on the Rio's impact data.
Safety features include six airbags, back-seat ISOFIX and top-tether points, plus the aforementioned active lane-keeping aid (whereby the wheel can turn the car through mild corners, especially on highways) and AEB that also detects vehicles, pedestrians and cyclists.
It also has a system that beeps at you if you're in gridlock and the car ahead departs without you following quickly. If you hear this chime, get off your phone! There's no active cruise control, blind-spot monitoring, or rear cross-traffic alert like there is in Europe, however.
The rating will initially apply to the Kia Stonic S and Sport, but the company also expects the Stonic GT-Line to earn a five-star rating based on the Rio's score. More on that can be found here.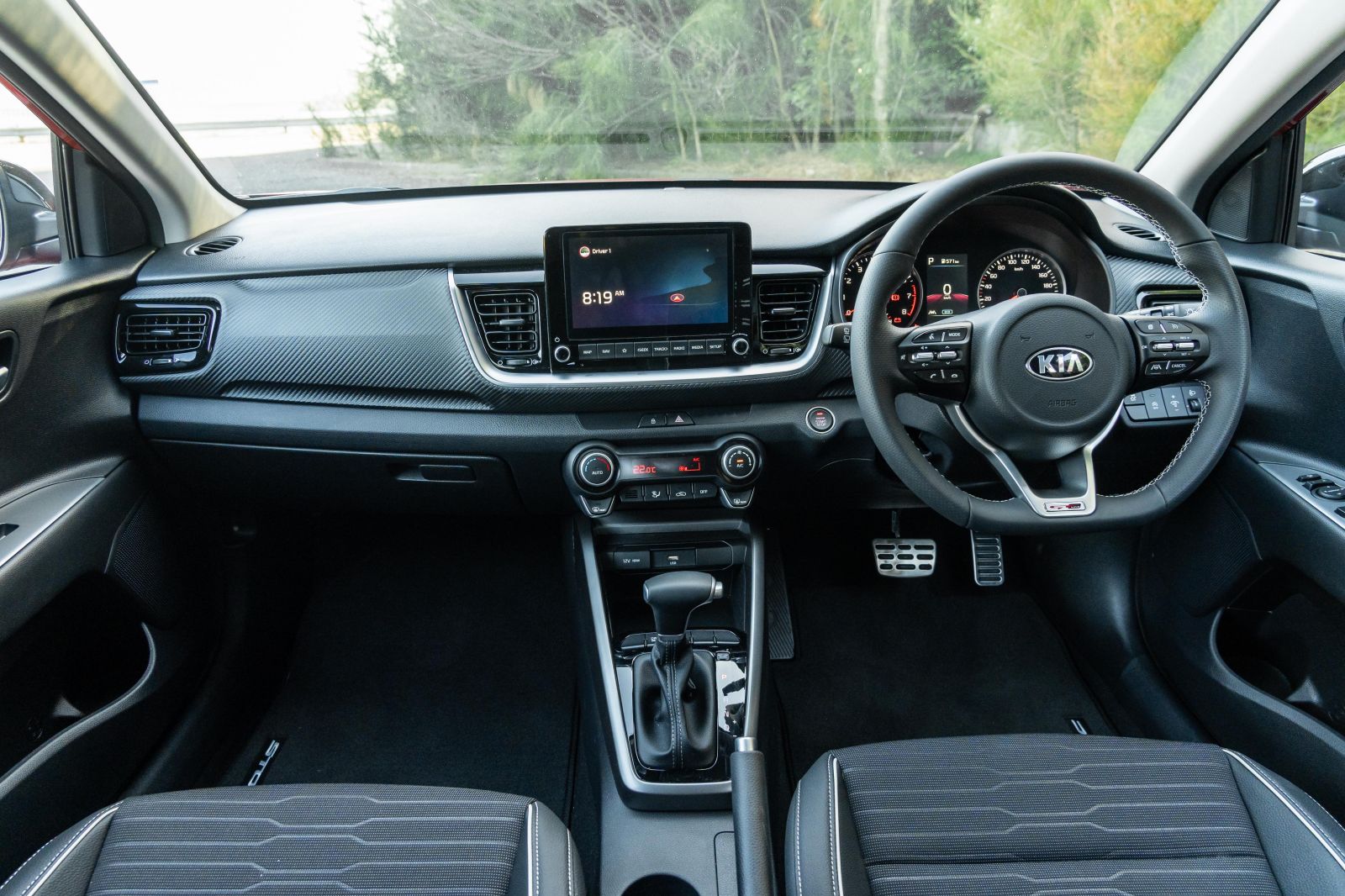 What is the Kia Stonic GT-Line like on the inside?
The similarities to the Rio are hard to miss, though it doesn't have push-button start like this car, and the Stonic's extra 43mm of ground clearance clearly gives a slightly elevated driving position.
The leather steering wheel with white top-stitching feels quite premium and it adjusts up and down, and in and out. The instrument cluster is basic, but the white-on-black dials are legible and the trip computer includes a digital speed readout.
'Sporty' touches include the GT-Line label on the wheel, the cool patterned grey seats with decent side support, metal-capped pedals, and a carbon-fibre-look plastic dash inlay. Every little bit helps.
The build quality and panel consistency felt fine, but the plastics used are definitely built to a price – a Rio price. Trims like this are easy to clean, but also hard on the elbows and knees. The main issue is the tacky dash-top that reflects the sun back onto the windscreen more than we'd like.
There's a good amount of cabin storage, from sizeable door bins, a padded-lid centre console, two open shelves below the climate controls, and a decent glovebox. If your car is cluttered, this Stonic can cater for you fine.
The centre touchscreen is not quite the Seltos's standout 10.25-inch unit, but the 8.0-inch screen offers good sat-nav mapping, phone mirroring, and some hard button shortcuts. The reversing camera has guidelines but is a smidgen grainy.
While it's no family SUV, the back seats are actually relatively capacious for a 4140mm long vehicle, as the image of six-foot-tall Paul Maric should show. Its fine for kids, and adults will be comfortable enough for all bar long road trips.
The boot capacity is 352 litres, 27L more than a Rio. This is sufficient for two big suitcases and backpack as shown, though only the CX-3 (264L) has a smaller boot in this class.
The dimensionally-smaller Hyundai Venue has a 355L boot, the Nissan Juke 422L, a Toyota Yaris Cross 390L, a Suzuki Vitara 375L, a Ford Puma 410L, and a Volkswagen T-Cross 385L.
There's a space-saving temporary spare tyre under the loading floor, and of course those back seats fold down to liberate extra storage capacity.
Engine
Tiny Turbo
Like many competitors, the Stonic GT-Line uses a torquey 1.0-litre three-cylinder turbo petrol engine.
What's under the bonnet?
The Stonic S and Sport use a 1.4-litre multi-point injected and naturally-aspirated petrol engine making 74kW of power and 133Nm of torque, mated to either six-speed manual or automatic transmissions, and front-wheel drive (FWD).
The GT-Line featured here swaps this for a 1.0-litre three-cylinder turbocharged unit with the same 74kW of power, but a meatier 172Nm of torque (pulling power), available much earlier in the rev band – between 1500 and 4000rpm, compared to 4000rpm for the 1.4.
It's mated to a fuel-conserving and quicker-shifting seven-speed dual-clutch automatic, and again is only FWD.
The fuel economy claim for the GT-Line on a combined urban and highways route is 5.6 litres per 100km, whereas I averaged 6.6L/100km. Nevertheless, it's 24 per cent more fuel efficient than the base engine, because the latter requires more revs to get you up and moving.
It'll run on 91 RON regular petrol and the tank stores 45L.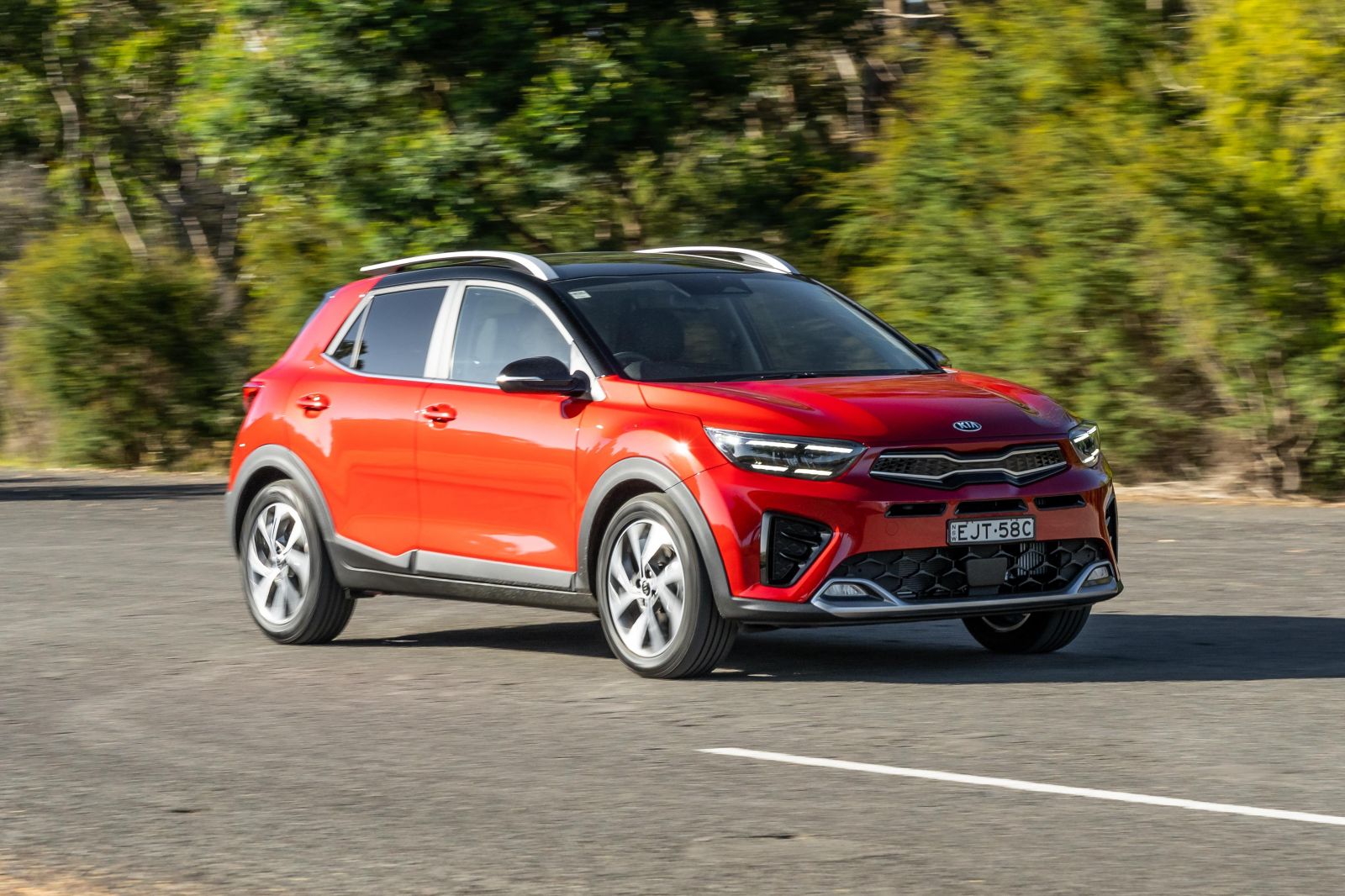 How does the Kia Stonic GT-Line drive?
A 1.0-litre and three-cylinder turbocharged engine and dual-clutch auto are not uncommon for this class of car. The 84kW Juke, 92kW Puma, and 85kW Kamiq and T-Cross, all use drivetrains with these exact specs.
While 74kW is a lower power output than any competitor, there's enough early torque to give the Stonic decent rolling response. It also has a characterful sound and the dual-clutch transmission isn't too indecisive or jerky at low speeds.
I clocked a 0-100km/h acceleration time of just under 12 seconds, which is hardly race-car fast, but acceptable for errands. At 100km/h the tacho read 2100rpm, thanks to a tall-ish seventh gear.
Kia always makes sure to mention its Australian suspension-tuning operation, which tests cars before launch and specifies specific dampers, bar, springs, bushes etc. from the factory.
The GT-Line has its own slightly firmer tune, and overall I rate the job Kia has done.
Its body is well controlled through corners, but the ride quality is never thumpy over speed bumps or potholes. Moreover, the adjustable-weight steering (there are three driving 'modes' to cycle through via button) is responsive from centre and linear.
If there's a dynamic bugbear it's noise, vibration and harshness (NVH). The 205/55 Continental tyres are premium, but nevertheless there's quite a bit of interior noise evident at higher speeds, particularly on typical coarse-chip Australian bitumen.
The rather weak sound system doesn't really cover it up either. If you do lots of long trips on highways, then this might become an issue.
It was 2dB louder over my road circuit than a Kamiq I steered recently, and matched the far-from-refined Yaris Cross. So it's no outlier for the segment, in fairness.
Credit goes to the lane-assist system, which did a great job of steering the vehicle between road lines, better than many more expensive cars' systems.
For the mechanically-attuned, the Stonic uses MacPherson strut front suspension and a rear torsion beam, 280mm ventilated front disc brakes and 262mm rear solid discs, motor-driven steering, and has a 10.2m turning circle.
How much does the Kia Stonic GT-Line cost to run?
All Kias get a fantastic seven-year, unlimited-kilometre warranty.
2021 Kia Stonic models with the 1.4-litre require servicing every 12 months or 15,000km, whichever comes first. The GT-Line requires servicing every 10,000km though, which is too condensed for my liking.
Kia offers seven years of capped-price servicing. The GT-Line has an average service cost of $471 over seven years, while all other Stonic models have an average cost of $421.
There should be zero hidden costs here, unlike you find with some rival brands' capped-price plans.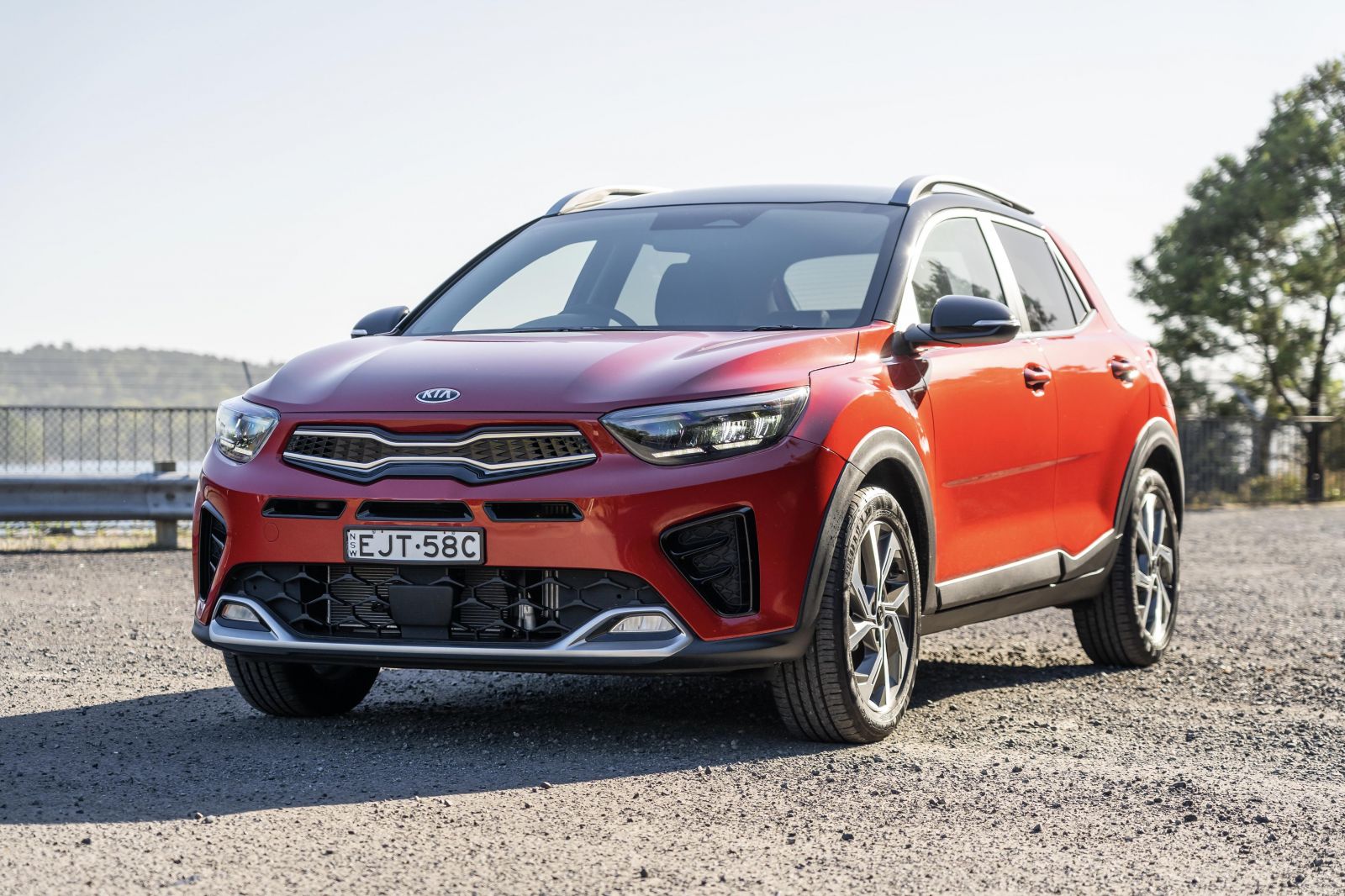 CarExpert's Take on the Kia Stonic GT-Line
Cynics will note that the Stonic is a pricier, elevated Rio with a sleeker design. However, you could say that same thing about almost any competitor too, so why pick on Kia for cashing in on a market trend?
Still, while I think the larger Seltos is a class-leading option, I don't view the Stonic in the same way. It certainly looks great, is fun to drive around town with steep-driveway-friendly clearance, has decent interior space for such a tiny car, and the sub-$30,000 price is acceptable in context.
But there are some shortcomings in terms of NVH, interior trims, and active safety options, and few of its positive aspects are unique.
It's certainly a noteworthy entrant into a crowded segment of competitors, but it's not a standout like its big brother.
Click the images for the full gallery
MORE: Kia Stonic news and reviews
MORE: Everything Kia