Ford's T6 platform has spawned a bunch of cool products, from the Ranger itself through to the all-new Ford Bronco.
But the most relevant of the non-Ranger products to Australians is the Everest, which started off life in mule form as a Ranger-Territory Frankenstein's Monster.
The front half was built from the original PX Ranger, while the rear was based on the Australian-manufactured Territory SUV.
It was quite an interesting mashup, but it's one that makes sense – a seven-seat version of an off-road oriented Ford Ranger.
Ford has recently tried to diversify the Everest range by slotting another variant in between the mid-specification Trend and top-specification Titanium models called the Sport. How does it stack up?
How does the Ford Everest fare vs its competitors?
View a detailed breakdown of the Ford Everest against similarly sized vehicles.
How much does the Ford Everest Sport cost?
The Ford Everest range kicks off at $49,690 before on-road costs for the entry-level Ambiente two-wheel drive variant, and capping out at $72,790 before on-roads for the top-specification all-wheel drive Titanium.
The Sport model starts at $62,490 before on-roads for the 3.2-litre turbo-diesel, with the 2.0-litre model on test priced from $63,990 before on-roads.
Ford's 3.2-litre five-cylinder turbocharged diesel engine dates back to the original PX Ranger and while it was an impressive power-plant back then, today it's a little dated compared to the 2.0-litre four-cylinder turbo-diesel, which is why you'll see a $1500 price difference between the two.
Available in five colours, all but solid white cost an additional $650. The only other option for the Sport is a tow bar for an additional $1000, with fabric seats with manual adjustment a no cost option.
At this price point, the Everest Sport is considerably more expensive than ute-based SUV competitors such as the Mitsubishi Pajero Sport, Toyota Fortuner, and Isuzu MU-X. It competes more with the Toyota Prado in terms of price.
What do you get?
Given the price tag, Ford has thrown the book at the Everest with a high level of standard equipment.
You'll be able to spot the differences between the Sport and other Everest variants on the road thanks to black highlights, Everest script on the bonnet, bi-LED headlights, black mirrors, black lower bumper highlights, black window surrounds, black 20-inch alloy wheels, and black roof rails.
Other external features include LED daytime running lights, LED tail lights, Sport badging, front and rear parking sensors, side steps, and a powered tailgate.
Inside the cabin you'll find leather seats, radar cruise control, an 8.0-inch infotainment system with Sync 3 connectivity and inbuilt satellite navigation, AM/FM and DAB+ digital radio, auto dimming rear vision mirror, Apple CarPlay and Android Auto smartphone mirroring, dual-zone climate control, active noise cancellation, three rows of seating, automatic headlights and windscreen wipers, proximity entry and start, and privacy glass.
In terms of off-road equipment, you get 800mm of wading, 227mm of ground clearance, 29.5 degree approach and 25 degree departure angles, a rear differential lock, and a low-range transfer case.
Is the Ford Everest safe?
The Ford Everest has a five-star ANCAP rating and was first tested in 2015. It scored a total score of 35.98 out of 37.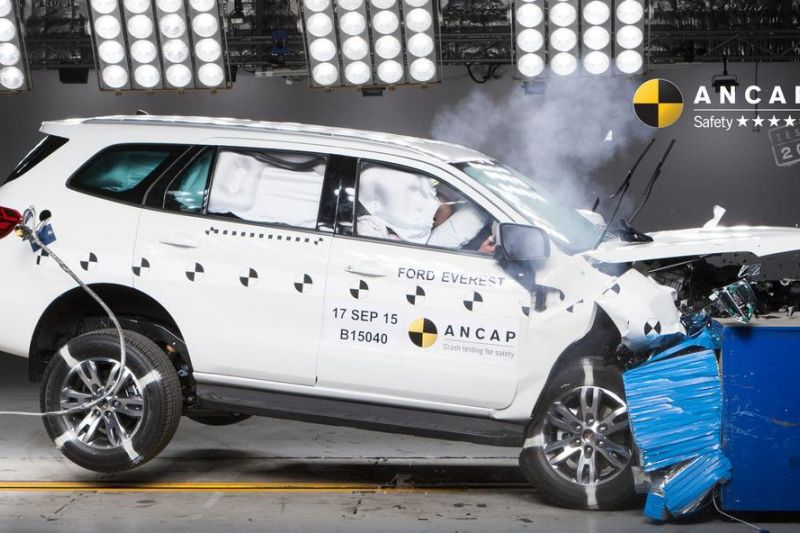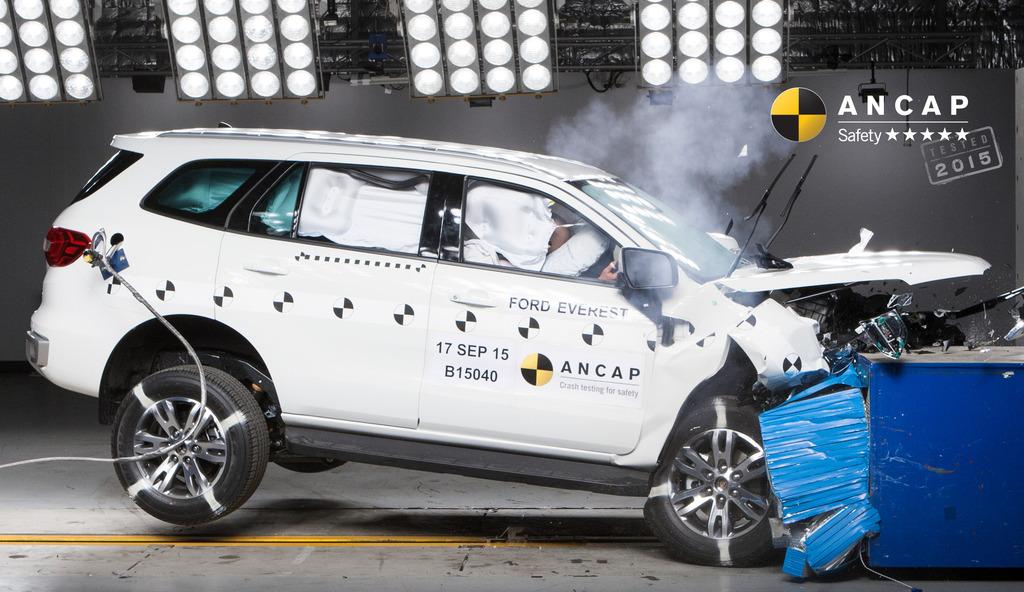 The Everest Sport comes standard with front, side, and head airbags (including coverage for the third row), along with autonomous emergency braking with pedestrian detection, rollover stability control, trailer sway control and lane departure assistant.
Disappointingly, the Everest Sport isn't available with the fairly basic blind-spot monitoring safety function, which is only available on the top-specification Titanium.
What is the Ford Everest Sport like on the inside?
While there are side steps, it's a big leap from ground level to climb into the Everest. Once you're aboard you'll find a logically laid-out cabin finished with soft-touch leather-esque materials atop the dashboard, and the 8.0-inc Sync3 infotainment system sitting front and centre.
It feels spacious in the first row, but it's not hard to notice the fairly narrow width in comparison to non-ute-based SUVs. The Everest measures 1869mm wide, which feels narrower than SUVs like the Jeep Grand Cherokee, which comes in at 1954mm.
With that in mind there's still plenty of leg- and head room in the first row with impressive amounts of storage in the centre console, glove box, and door bins.
The Sync 3 infotainment system will shortly be offered with Ford Pass Connect, which offers remote connectivity for the Ranger and Everest. In addition to that you'll find AM, FM, and DAB+ radio, Apple CarPlay and Android Auto smartphone mirroring, along with inbuilt navigation.
It's an excellent infotainment system, easily one of the best on the market. The big advantage of smartphone mirroring isn't so much for the music streaming potential, but for the ability to download off-road maps that specifically focus on trails you may not find in the inbuilt navigation system.
Fit and finish around the cabin is good, but it's not hard to tell you're sitting in an SUV version of the rough and tumble Ranger ute. The centre console lid is loose-fitting and there are scratchy plastics strewn throughout the cabin. Not an issue if you're an adventurer, but they don't fit with the premium price Ford has chosen for the Everest.
The second row isn't as spacious as we expected. It slides forwards and backwards, and reclines to offer more room for the third row, but there isn't a great deal of room to begin with, with fairly limited knee- and toe room.
ISOFIX points are located on the two outboard seats and there's a central armrest with cupholders dividing the two outer seats. There's useful 230V and 12V power outlets, but no USB charging. Roof-mounted air vents are supplemented by floor-mounted vents with individual blower controls.
Third-row occupant space is limited to small kids, with limited knee and toe room for adults. They fit at a pinch, but it wouldn't be a space suited to long journeys. The third row features cup holders though, which is a bonus. Getting into the third row is fairly tricky too, with only a narrow opening between a slid-forward second row and the C-pillar.
Light and easy
Electric power steering
The Ford Everest features electrically-assisted steering, which makes it easy to place and drive around the city.
There's barely any storage space behind the third row when erect. Ford claims there's 450 litres on offer, but that's measured up to the roof. The space struggles to hold more than a few bags of shopping, although there is storage space beneath the floor for odds and ends.
Once the third row is folded, the space expands to 1050 litres, and with the second row folded increases to 2010 litres.
What's under the bonnet?
Powering this version of the Ford Everest Sport is a 2.0-litre four-cylinder turbocharged diesel engine producing 157kW of power and 500Nm of torque. It's mated to a 10-speed automatic transmission co-developed with General Motors.
This particular engine is only offered with an automatic, so there's no ability to option a manual if you're in to that kind of thing.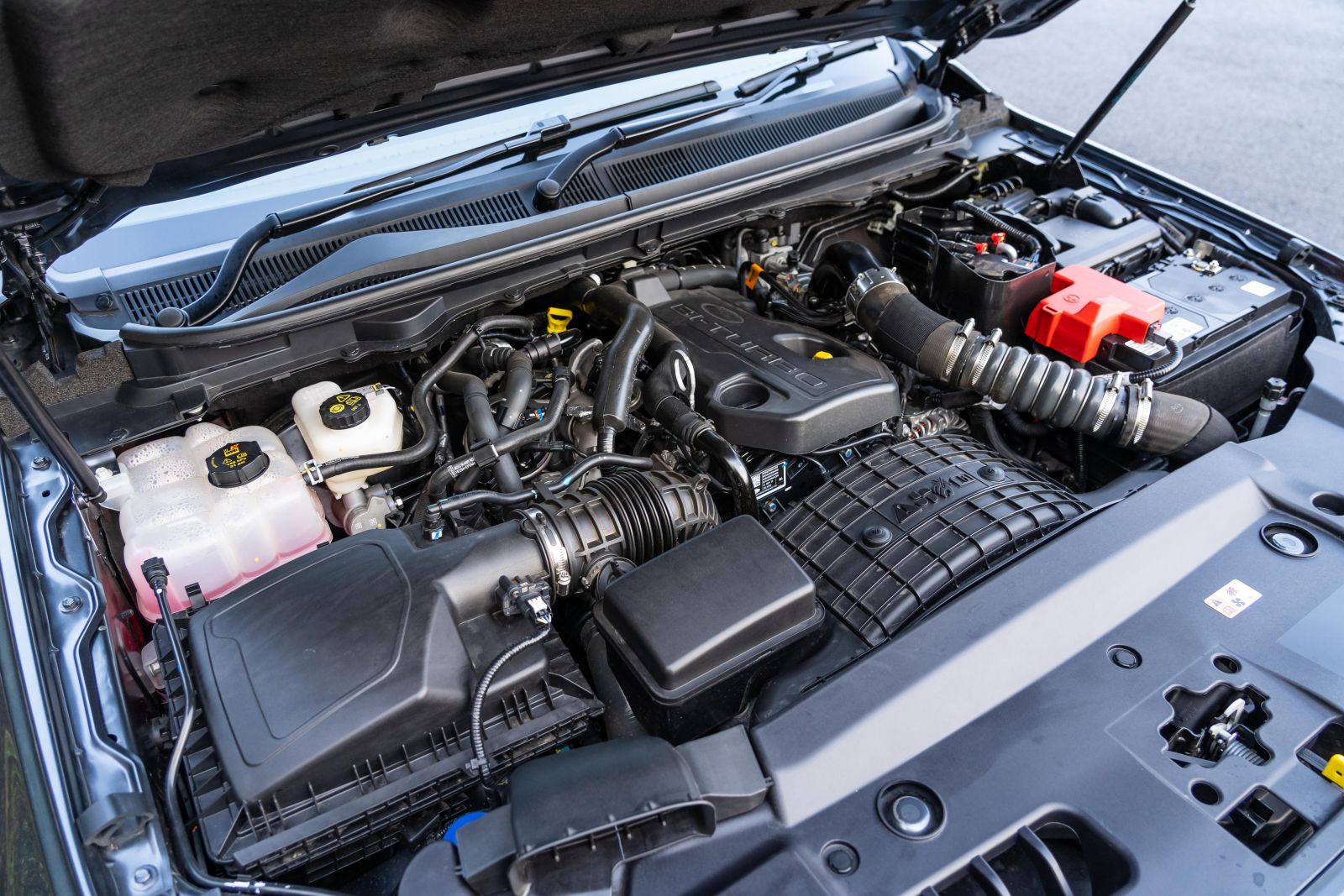 Official fuel economy comes in at 7.0 litres of fuel per 100km, but we averaged closer to 8.5L/100km on test, which is still reasonable for a vehicle that tips the scales at just under 2400kg.
It's worth noting the Everest requires AdBlue, which is a urea and deionised water solution used to reduce emissions from a diesel vehicle. The AdBlue reserve requires filling every 10,000km or so and can be done manually by the owner, or by the dealer during a scheduled service.
How does the Ford Everest Sport drive?
Switch the Everest on and you'll notice the typical diesel clatter at idle. It's not quite as noisy as the 3.2-litre five-cylinder diesel also available in the Sport, nor is it at noisy as the Isuzu MU-X, but it's not hard to tell it's a diesel.
The 10-speed automatic transmission is smooth, fuss-free, and always intelligently has the right gear on offer. It's able to lean on the engine's meaty 500Nm of torque most of the time without jumping back through gears for progress.
That also reduces engine noise inside the cabin, because it's not regularly hunting or trying to use revs to overcome a lack of torque.
To that end, it's no rocket ship, but it's quick enough to move the fairly hefty mass attached to the engine.
Ford switched from hydraulically-assisted steering to an electrically-assisted system when the change from PX to PXII Ranger took place, allowing the steering to be lighter and more flexible in terms of low-speed driving, and supporting the addition of semi-autonomous parking features (not available on the Sport model).
As a result, steering feel is impressive for a vehicle this size. While it's not overly communicative, there's enough weight to the wheel to make it feel like you're doing something. Sometimes manufacturers will make steering overly light for ease, but it removes any sense of connection to what's going on at the front of the car.
Unlike the leaf-sprung Ranger with which this car shares its platform, the Everest uses a coil-sprung rear end. This offers a more balanced ride that doesn't require weight over the rear end to settle it.
The wheel and tyre package offers enough sidewall profile to cushion the ride, while the coil springs round out any potholes or mid-corner bumps that tend to unsettle vehicles with leaf springs.
In terms of handling, the Everest isn't expected to be a sports car, but it provides a rewarding driving experience. Most vehicles in this segment err towards comfort, where the Everest features a slightly firmer spring rate that helps it sit flatter through corners and limits body roll.
Four-wheel drive mode selection is handled by Ford's terrain management system (TMS for short), which allows the driver to select from one of four off-road drive modes, providing clear instructions throughout the process.
For example, the rock setting asks the driver to change to low-range and then supplies instructions on how that takes place. The other big advantage of Ford's off-road controls is that the rear differential lock can be activated without switching into low-range.
The permanent all-wheel drive system used in Everest sends 40 per cent of torque to the front axle and 60 to the rear unless the centre differential is locked, at which point it reverts to a 50/50 split.
Our review this time around focuses on on-road driving, but we've been off-road in the Everest before and it didn't fail to impress. The traction controls handle wheel slip with ease, while the additional four-wheel drive controls help it gain grip where traction control intervention isn't sufficient.
On the towing front, 3100kg of braked towing capacity puts it in line with the Mitsubishi Pajero Sport. But it's worth considering that if you add 3100kg to the rear of the Everest, you'll be asking the engine to pull both the near 2400kg mass and a 3100kg load – which is a fair ask of a 2.0-litre diesel engine.
How much does the Ford Everest Sport cost to run?
Ford offers a five-year, unlimited-kilometre warranty across its range. The Everest comes with 15,000km service intervals that occur every 12 months or 15,000km, whichever comes first.
Over a five-year period servicing comes in at $1561, which averages out to around $312 per service.
In comparison to its peers, the Toyota Prado is cheaper to service at each visit ($260 per service), but servicing is required every six months instead annually or every 10,000km, so over a five-year period the Prado costs $3781 to service.
It's worth keeping in mind Ford's servicing allows 75,000km of travel over five years for that price, whereas Toyota's service plan covers 100,000km over the same period.
CarExpert's take on the Ford Everest Sport
The Ford Everest is a real gem that remains a standout in this segment despite how long it has been on the market.
It's been subject to a number of running changes by Ford and offers a comprehensive package both on- and off-road.
It's considerably more expensive than its direct competitors, but more affordable than where Ford has positioned it, which is against vehicles like the Toyota Prado.
If you are in the market for one, we'd hold out until Ford Pass Connect is rolled out across the Ranger and Everest. This will ensure you're buying the most technologically-advanced version of the vehicle.
Outside of that, it's really hard to go wrong with the Everest.