2022 MG ZST
| | |
| --- | --- |
| Price | $24,990 - $32,490 |
| Fuel Efficiency | 6.9 - 7.3 / 100km |
| ANCAP Rating | Not tested |
| Warranty | 7 years |
About the ZST
Rather than give its ZS SUV a mid-life update, MG decided to turn it into a new model. The ZST has a new look, a more upmarket interior, and a full suite of active safety assists.
Summary
Our expert's shortest summary
Hit
Attractive, roomy cabin
Punchy engine
Solid value for money
Miss
Four-star ANCAP rating
Interior technology needs some work
Driver assist features need finessing
Photo Gallery
CarExpert High Resolution Photos of the MG ZST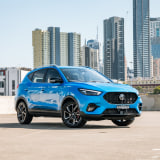 ZST Price
What is the price of a MG ZST?
MG ZST Core: $25,490
MG ZST Vibe: $27,490
MG ZST Excite: $30,490
MG ZST Essence: $33,490
All prices are drive-away.
Reviews
Our expert's reviews of the MG ZST
News
All the latest ZST news
Range Guide
Which variant of the MG ZST range is best for you?
MG ZST Core includes:
10.1-inch touchscreen infotainment display
Wired Apple CarPlay and Android Auto
17-inch alloy wheels
Rain-sensing wipers
Automatic headlights
Automatic high-beam
Leather-wrapped steering wheel
Keyless entry and start
LED headlights and tail lights
Four-speaker sound system
Cloth upholstery
Centre armrest
MG ZST Vibe adds:
Rain-sensing wipers
Six-speaker sound system
Satellite navigation
Front fog lights
17-inch two-tone alloy wheels
Leatherette upholstery
MG ZST Excite adds:
Turbocharged 1.3-litre engine
Red brake calipers
MG ZST Essence adds:
Unique 17-inch alloy wheels
Panoramic sunroof
Digital instrument cluster
Embossed MG logo on headrests
Heated front seats
Six-way power driver's seat
Variants
What are the variants of the MG ZST?
Interior
Photos and Images of the MG ZST Interior
Open the door and you're greeted with an attractive, contemporary cabin. Soft-touch materials cover the top half of the dash, with patterned leatherette upholstery spanning the dashboard and doors. We especially like the soft-touch dash top which, with its stitching, looks leather-wrapped.
Build quality isn't faultless. The glove compartment lid slams open clumsily, while a slight rattle could be heard from the panoramic sunroof at times. But otherwise, everything seems screwed together quite well.
We loved the front seats. They're easily some of the thickest, cushiest front seats you'll find in a small SUV today and proved to be both comfortable and supportive.
The back seat is comfortable, too. There's more than enough headroom for someone around 180cm tall, despite the panoramic sunroof – it's more spacious, for example, than a Mitsubishi ASX.
Likewise, legroom is comfortable even for taller passengers and the front seatbacks are covered in leather and pack pockets. The door pockets can fit a 600mL bottle and there are two USB-A outlets located at the base of the centre console though unfortunately there are no air vents. Instead, there's a little cubby.
Other cabin storage includes a tray at the base of the centre stack that's large enough for most phones, plus a decent-sized centre console bin and large door pockets in the front doors. The cupholders are poor, though – you'd be lucky to fit one drink in them, let alone two. While we're griping, the vanity mirrors don't have lights.
As expected, there are two ISOFIX and three top-tether points for child seats in the second row.
Where the MG fumbles is in its in-car technology, though.
Take the digital instrument cluster. It looks attractive but it's a case of style over substance. The speedometer and tachometer are so heavily stylised it can be hard to read.
The numerical readout for the speedometer is also located to the far left instead of in the middle of the cluster, as is more common, while the fuel level is a bit hard to read at a glance. There's unfortunately no option to change the display design like other vehicles with digital instrument clusters.
The infotainment system is also superficially attractive but more frustrating once you start to use it. Take the home screen, for example. It's colourful but even when set to the minimum brightness, it's just too bright at night.
Some functions, like Android Auto, are also buried in the footer and relegated to the second page.
Exterior
Photos and Images of the MG ZST Exterior
The ZST rides on 17-inch alloy wheels as standard, but the Vibe and higher in the range get a more upmarket two-tone design.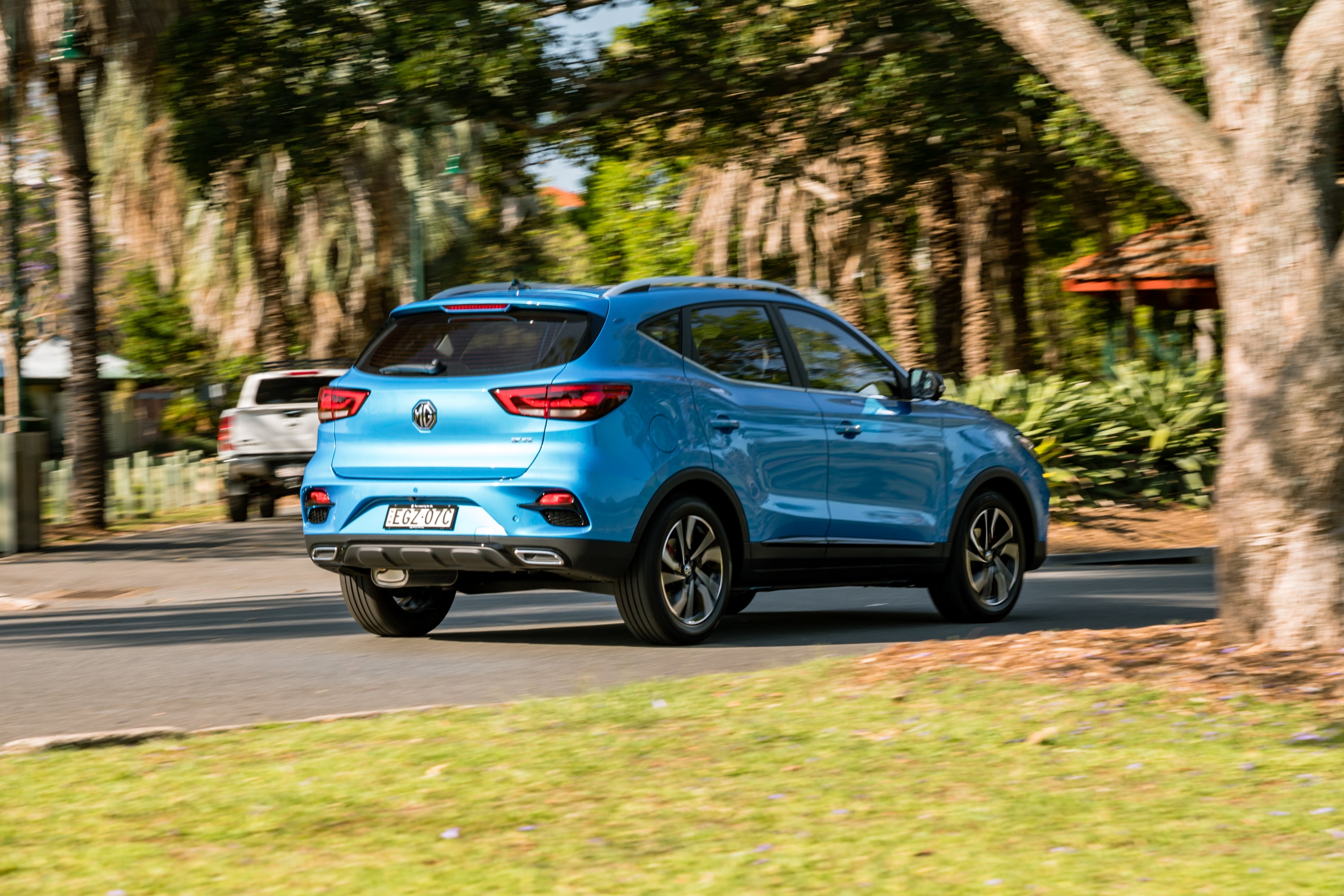 Moving from the ZST Vibe to the Excite gets you black trim in place of the silver used on lower-end models, along with red brake calipers and black mirror caps.
All models have LED headlights and tail lights.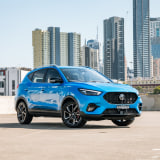 ZST Colours
What colours are available for the MG ZST?
The MG ZST is available in five colours: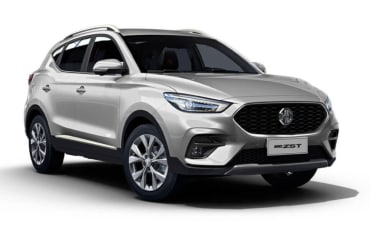 Brighton Blue (metallic)
Diamond Red (metallic)
Sloane Silver (metallic)
York White
Pebble Black
Cost of Ownership
What is the running, servicing and ownership costs of buying a MG ZST?
The ZST is covered by a seven-year, unlimited-kilometre warranty with seven years of roadside assist.
Servicing is required every 12 months or 10,000km, whichever comes first. Five years of servicing in the 1.5-litre costs $1505, while the 1.3-litre costs $1566.
MG ZST 1.5L servicing costs:
$250 - 12 months / 10,000km
$292 - 24 months / 20,000km
$300 - 36 months / 30,000km
$413 - 48 months / 40,000km
$250 - 60 months / 50,000km
$342 - 72 months / 60,000km
$250 - 84 months / 70,000km
MG ZST 1.3L servicing costs:
$253 - 12 months / 10,000km
$295 - 24 months / 20,000km
$304 - 36 months / 30,000km
$461 - 48 months / 40,000km
$253 - 60 months / 50,000km
$345 - 72 months / 60,000km
$253 - 84 months / 70,000km
How it Drives
Our expert take on MG ZST drivability?
There's a bit of hesitation off the line as the turbocharger spools up. Once rolling, though, the ZST's turbo triple is punchy and the automatic's shifts are smooth.
The ZST's engine even has a sporty, raspy engine note under heavy acceleration. Ease off the accelerator, however, and the ZST is impressively hushed. Even at highway speeds, the ZST has a pleasantly quiet cabin for a small SUV.
The electrically-assisted steering is overly light in its standard setting but in Dynamic mode it has a confidence-inspiring amount of weight. We just left it in Dynamic.
Handling is perfectly acceptable for a small SUV. It's not overly sporty in feel and there's some body roll in corners but it doesn't feel too tippy, while the Michelin tyres give the ZST good grip. It's entirely predictable and a pleasant companion.
Likewise, ride quality is decent for the class. Large expansion joints and potholes can upset the torsion-beam rear a bit but otherwise it smooths out bumps and ruts well.
Other than the turbo lag, about the only disappointing aspect of the ZST's driving experience is a rather spongy brake pedal.
The panoramic sunroof developed a rattle that appeared sporadically, and when it did it proved especially noisy over poorly-surfaced roads.
The lane-keeping assist needs some finessing. It makes the steering wheel feel loose and disconnected yet it almost aggressively tugs at the wheel to keep you in a lane. It also deactivates at speeds below 60km/h which, in urban traffic, means it's constantly dinging.
While we could turn off audible alerts for the lane-departure warning, there didn't appear to be an option for the lane-keeping assist, though we could reduce alert frequencies. After enduring a cacophony of chimes, not to mention visual messages saying "lane-keeping assist quit", we eventually just turned the feature off.
The adaptive cruise control is controlled via a stalk. You'll want to take a moment before getting out on the road to look at the stalk and figure out how it works as it's hidden by the steering wheel when you're driving in a straight line.
Rather than press a steering wheel button to adjust the vehicle distance, for example, you twist the stalk. That's not something that's immediately clear when you're new to the ZST and it's something we needed to do as the default setting is overly trepidatious.
Safety Rating
ANCAP Safety Rating Australia
The ZST retains the same safety rating as the related ZS.
The ZS received ratings of Good and Acceptable for whiplash and pedestrian protection respectively, plus a frontal offset score of 10.46 out of 16.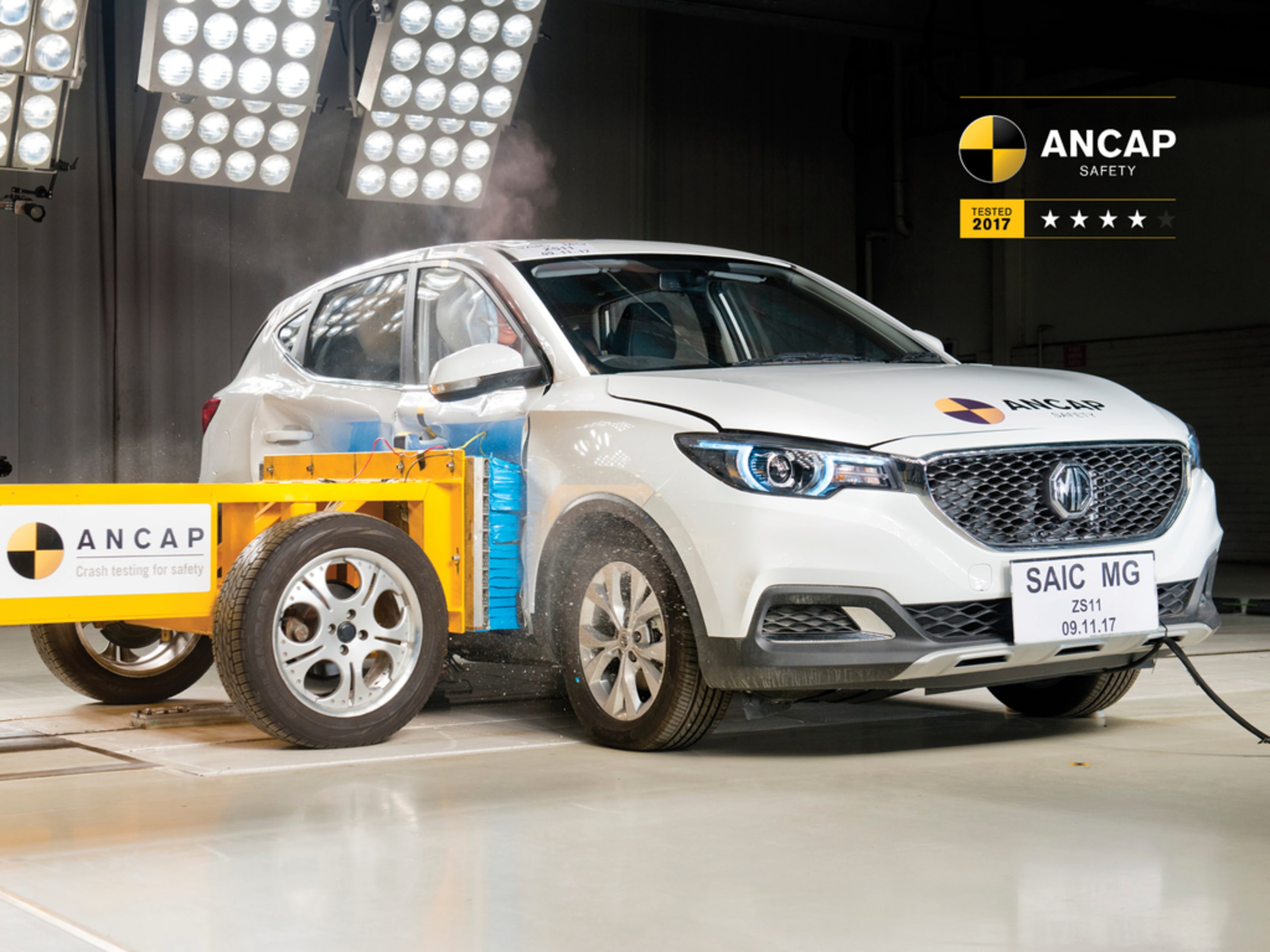 In addition to its suite of active safety technology, the ZST also features front, front-side and curtain airbags for a total of six.
The autonomous emergency braking works at speeds of between 4 and 85km/h for stationary vehicles, 4 and 150km/h for moving vehicles, and 4 and 64km/h for pedestrians.
ZST Lifecycle
How old is the current generation and when will there be a new or updated MG ZST?
The MG ZST was released in July 2021, but is a development of the MG ZS that debuted in China during 2016, and arrived in Australia during 2017.
MG expanded the range in May 2021 with new, cheaper options.
There are no current plans for an updated ZST, but Chinese brands have been known to use shorter model cycles than their Korean, Japanese, and European competitors.
ZST Options
Options list for the MG ZST
What you see is what you get with the MG ZST. Given its value for money proposition, there are no options to be found.
ZST Warranty
What is the warranty period and kilometre limit for the MG ZST?
MG suggests that owners service their 2022 MG ZST every 6 months or 10,000km, whichever comes first.
The 2022 MG ZST has a 7 year, unlimited km warranty.
ZST Stock Availability
Is the MG ZST available to buy now and what are stock levels and how long are wait times?
MG has better stock of the ZST than most of its rivals.
The brand earlier this year welcomed its own shipload of cars Down Under, and hasn't been hit by the same supply crunch as other carmakers due to its different supply chains.
ZST Boot Space
How much luggage or cargo capacity and boot space is there in the MG ZST?
Boot space is 359L with the rear seats upright, and 1187L with them folded flat.
ZST Fuel Economy
How much fuel does the MG ZST use and what are its emissions?
Claimed fuel economy for the 2021 MG ZST is 6.9L/100km on the combined cycle in the Core and Vibe and 7.1L/100km in the Excite and Essence.
The naturally aspirated 1.5-litre engines in Core and Vibe can run on 91RON, while the turbocharged 1.3-litre engines in the Excite and Essence require 95RON as a minimum.
Depending on the variant, view the 2022 MG ZST fuel usage below.
All Highway, City, and Combined figures below are litres per 100km
| Variant | Series | Style | Fuel Type | Highway | City | Combined | E10? |
| --- | --- | --- | --- | --- | --- | --- | --- |
| CORE | MY22 | 5D WAGON | UNLEADED PETROL | - | - | 6.9 | - |
| VIBE | MY22 | 5D WAGON | UNLEADED PETROL | - | - | 6.9 | - |
| EXCITE | MY22 | 5D WAGON | UNLEADED PETROL | - | - | 7.3 | - |
| ESSENCE | MY22 | 5D WAGON | UNLEADED PETROL | - | - | 7.3 | - |
ZST Dimensions
The dimensions of the MG ZST
The MG ZST measures 4323mm long, 1809mm wide and 1653mm tall, with a 2585mm tall wheelbase.
Tare mass is 1295kg and the maximum braked towing capacity is 500kg.
The 2022 MG ZST measures 4323mm long, 1809mm wide and 1653mm tall, with a 2580mm tall wheelbase.
The 2022 MG ZST has a braked towing capacity of 500kg and an unbraked towing capacity of 500kg.
ZST Market Fit
Where does it fit in the competitor segment?
The ZST goes head-to-head with smaller SUVs like the Mazda CX-3 based on price, and SUVs like the Kia Seltos based on its dimensions.
It also takes on the Mitsubishi ASX
ZST Sales Data
How well has the MG ZST been selling?
MG doesn't break out sales for the ZST from its broader ZS range, but the brand has sold 16,443 cars to the end of November 2021.
That puts it ahead of the Mitsubishi ASX (13,712 sales) and Hyundai Kona (12,170) in the sales race, and represents an increase of 266.1 per cent on the same point in 2020.
Should you buy the ZST
Is this the right car for you? Our experts buy or not guide.
The MG ZST is a genuinely likeable small SUV, and you don't need to add the "for a Chinese car" caveat. It has a punchy engine, a well-finished interior and a sharp price. It does most things well and, with a little more finessing, it could pose a serious threat to the established order.
It's worth taking for a test drive if you're after lots of features for a little price.
Competitor Analysis
What other cars should you look at?
The ZST is appealing based on its price. It's less expensive than the equivalent Mitsubishi ASX or Mazda CX-3, but offers more space and a longer feature list.
The most natural rival for the ZST is the latest Haval Jolion, which is also made in China, and also packs a long feature list and big body despite its sharp sticker price.
MG ZST Interesting Facts
Did you know?
Some versions of the MG ZST sold in Australia have a Trophy badge on their c-pillars, in a nod to the car's name in China. The ZST was the best-selling small SUV in Australia in 2021 (source: VFACTs).
MG's parent company SAIC built more than 4.7 million cars last year with automotive suppliers like Bosch and ZF contributing to the ZST's spec list.
The top-grade ZST Essence was MG's strongest performing SUV in 2021.
Frequently Asked Questions
The MG ZST range kicks off from $24,990 (plus on-road costs) for the "
ZST CORE
" variant and finishes at $32,490 (plus on-road costs) for the "
ZST ESSENCE
" variant.
The MG ZST is built in China and is then shipped to Australia.
The MG ZST has a braked towing capacity of 500kg and an unbraked towing capacity of 500kg.
MG suggested that owners service their MG ZST every 6 months or 10,000km, whichever comes first.
The MG ZST has not been tested by ANCAP yet.
The MG ZST uses Unleaded Petrol.
The MG ZST had a 7 year, unlimited km warranty.
Variants from previous years