2023 Maserati MC20
| | |
| --- | --- |
| Fuel Efficiency | 10.3 / 100km |
| ANCAP Rating | Not tested |
| Warranty | 3 years |
| | |
| --- | --- |
| Fuel Efficiency | 10.3 / 100km |
| ANCAP Rating | Not tested |
| Warranty | 3 years |
About the Maserati MC20
There's a higher base price and more available safety equipment for the 2023 Maserati MC20, but the Italian brand says it's sold out.
Pricing for the 2023 Maserati MC20 coupe has risen $29,000 compared to the 2022 model, and now starts at $467,000 before on-road costs and options.
This higher asking price now makes it only around $17,000 cheaper than the Ferrari F8 Tributo and around $31,000 cheaper than the Lamborghini Huracan EVO.
As previously detailed, Maserati has revealed a drop-top version of the MC20 called the MC20 Cielo which is priced from $528,000 before on-road costs.
Despite pricing going up for the MC20 coupe there are new standard features for the 2023 model year.
These new standard features include a carbon fibre engine cover, an Alcantara steering wheel with carbon fibre inserts and a new blue starter button, as well as a touch-sensitive 1.6-inch round drive mode selector.
There are also new 20-inch carbon fibre wheels and 20-inch 'MMXX' gloss black diamond cut alloy wheels available as an option.
Maserati MC20 Photo Gallery
CarExpert High Resolution Photos of the Maserati MC20
News
All the latest Maserati MC20 news
Maserati MC20 Range Guide
Which variant of the Maserati MC20 range is best for you?
The 2023 Maserati MC20 coupe comes with the following standard equipment:
20-inch alloy wheels
Carbon fibre engine cover (NEW)
10.25-inch touchscreen infotainment display
10.25-inch digital instrument cluster
1.6-inch touch-sensitive drive mode selector (NEW)
Alcantara steering wheel with carbon fibre inserts and a blue starter button (NEW)
The MC20 Cielo adds:
Retractable glass roof
Revised side air intakes
Price & Specs
See comprehensive price and specification details for the Maserati MC20
Interior
Photos and Images of the Maserati MC20 Interior
It's a decidedly minimalist interior, with Alcantara and carbon-fibre touchpoints seemingly everywhere you look, yellow stitching to match the paint, and very little to distract you from the actual driving.
You push a button under the door handle and the lightweight butterfly door spectacularly lifts, creating space to enter carefully, before you find yourself wrapped up in the Sabelt bucket seat with one-piece backrest, more carbon-fibre inlays, and stitched Tridents.
Some reviewers have complained it's all a bit simple and austere, whereas to me that seems precisely the point.
The seats and steering wheel offer ample adjustment, and aside from the slightly offset accelerator pedal that took a second to adjust to, it all feels very comfortable and un-compromised. Until you try to see out the back… Thankfully there's a digital rear-view mirror.
The wheel looks and feels very Alfa Romeo-like, though it's also pleasingly tactile and perfectly formed. The Start and Launch buttons on the wheel are intuitively positioned, and the fixed paddle shifters are damped and made of aluminium.
The digital cluster has various display models to cycle through, including a lap-timer in the Corsa mode, which also priorities the digitised tachometer. Flanking this screen on each side are high-mounted vents for cooling off sweaty track hands.
Exterior
Photos and Images of the Maserati MC20 Exterior
Maserati is one of the most iconic and widely beloved automotive brands, with a back catalogue and a racing pedigree any competitor would covet.
This hasn't always materialised in the most convincing range of products – lots of heart and soul, sometimes lacking the rest – but every car enthusiast alive keeps the Maserati fire burning somewhere in there.
Which is a big part of the excitement and hype surrounding the MC20 (Maserati Corse 2020), a mid-engine, carbon-fibre supercar with no compromises, an in-house engine, and a bead drawn on Maranello.
Maserati MC20 Colours
What colours are available for the Maserati MC20?
The 2023 Maserati MC20 and MC20 Cielo, depending on the model, are available in the following exterior paint colours:
Grigio Incognito (NEW)
Bianco Audace
Nero Enigma
Rosso Vicente
Giallo Genio
Blu Infinito
Grigio Mistero
A new Acquamarina exterior paint colour is available on the MC20 Cielo as part of the 'Maserati Fuoriserie' customisation program.
How it Drives
Our expert take on Maserati MC20 drivability?
Both the 2023 Maserati MC20 and MC20 Cielo are powered by a 3.0-litre Nettuno twin-turbo V6 engine producing 470kW of power and 730Nm of torque.
It's mated to an eight-speed dual-clutch transmission, with drive sent to the rear wheels only.
Maserati claims the MC20 coupe can do the 0-100km/h sprint in 2.9 seconds, and the MC20 Cielo spyder can do the 0-100km/h sprint in approximately 3.0 seconds.
Top speed for the MC20 coupe is more than 325km/h and top speed for the MC20 Cielo spyder is more than 320km/h.
The Italian automaker claims that, despite the slight weight increase, the MC20 Cielo still "maintains the dynamic performance and driving pleasure of the coupe version".
Both models are built on a body made of carbon-fibre and composite materials, but the MC20 Cielo has an electrically-retractable glass roof.
This glass roof can open and close in 12 seconds, and has an electrochromic function that allows it go from transparent to opaque with a push of a button. The BMW iX has a similar function with its fixed panoramic glass sunroof.
The standard brake rotors are 380mm front and 350mm rear, clamped by respectively six- and four-piston calipers, but our tester had 390mm/360mm carbon-ceramic (CCM) stoppers instead. It also replaced the standard rear mechanical LSD with an electronic one.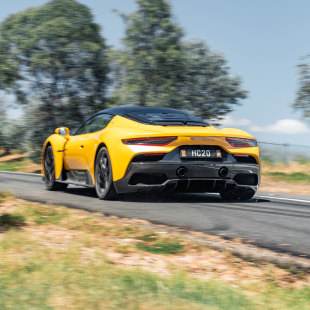 Maserati MC20 Safety Rating
ANCAP Safety Rating Australia
Neither the Maserati MC20 or the MC20 Cielo have been crash tested by ANCAP or Euro NCAP.
Compared to the 2022 model, the 2023 Maserati MC20 and its MC20 Cielo counterpart has a larger advanced driver assistance system package available as an optional extra. These include the following:
Autonomous emergency braking (AEB) with pedestrian and cyclist detection
Blind-spot monitoring
Rear cross-traffic alert
Surround-view camera
Parking sensors
Auto-dimming side mirrors
Traffic sign recognition
Maserati MC20 Options
Options list for the Maserati MC20
There's already an extensive list of optional extras for the 2023 Maserati MC20 and MC20 Cielo, but two new additions are 20-inch carbon fibre wheels and 20-inch MMXX gloss black diamond cut alloy wheels.
Other optional equipment available include an exterior and interior carbon fibre package, an upgraded sound system, electronic limited-slip differential, and a suspension lifter, among others.
A special optional extra for the MC20 Cielo spyder is a matte titanium Trident decal on the polycarbonate engine compartment cover.
Maserati MC20 Warranty
What is the warranty period and kilometre limit for the Maserati MC20?
Maserati has confirmed all 2023 MC20 and MC20 Cielo models will have a "comprehensive maintenance programme" for three years. This will cover all logbook servicing requirements.
The company covers its models with a three-year, unlimited-kilometre warranty.
Maserati MC20 Infotainment
What infotainment do you get within the range?
Tech includes a 10.25-inch digital cluster and matching central touchscreen, DAB+, sat-nav, Apple CarPlay and Android Auto, a wireless phone charger, six speakers and passive cruise control.
The centre touchscreen is strangely tilted downwards, but the infotainment system is really simple to use thanks to a vertical menu tile, and responsive to inputs. This is one occasion I'll forgive the deletion of buttons in favour of screen menus, because it suits the aesthetic.
Maserati MC20 Boot Space
How much luggage or cargo capacity and boot space is there in the Maserati MC20?
Both models have a rear boot capacity of 100L and a front boot capacity of 50L. Combined boot capacity is 150L.
Maserati MC20 Fuel Economy
How much fuel does the Maserati MC20 use and what are its emissions?
Claimed combined cycle fuel economy for the 2023 Maserati MC20 coupe is 11.6L/100km.
Maserati hasn't detailed official fuel economy figures for the MC20 Cielo spyder as of yet.
The MC20 has a 60L fuel tank and requires premium unleaded petrol.
The 2023 MASERATI MC20 is Combined (10.3) and E10 Compatible (-).
Maserati MC20 Dimensions
The dimensions of the Maserati MC20
The 2023 Maserati MC20 and MC20 Cielo both measure in at 4669mm long, 2178mm wide and 1224mm tall, with a 2700mm wheelbase.
The Maserati MC20 coupe weighs in at 1475kg, whereas the MC20 Cielo spyder tips the scales at 1540kg.
The 2023 MASERATI MC20 measures 4669mm long, 2178mm wide and 1224mm tall, with a 2700mm tall wheelbase.
Maserati MC20 Market Fit
Where does it fit in the competitor segment?
The Maserati MC20 is categorised as a SPORTS FROM 200K and has a price of $438,000.
Should you buy the Maserati MC20
Is this the right car for you? Our experts buy or not guide.
The MC20 is an incredibly exciting and dynamic supercar in its own right.
It occupies the same echelons as proper tier-one supercars, but doesn't seem to feel out of place, and with an EV coming this one will surely go down as a collector's item.
But more telling is what it says about brand Maserati, in its latest incarnation. The company makes much of its rapid, largely virtual development here and yet this comes across as a cohesive and lovingly created project.
If it's indeed emblematic of Maserati's new era, as billed, then it shows us what this brand can do with the right resources and focus – which would be cause for celebration for all enthusiasts, and not just the select group of high rollers fighting over this car.
Frequently Asked Questions
Variants from previous years