See prices tailored to you, select a variant and enter your postcode!
2023 Subaru Forester
See prices tailored to you, select a variant and enter your postcode
About the Subaru Forester
The 2023 Subaru Forester has had its asking prices increased, alongside a couple of minor specification adjustments.
Orders are now open at Subaru dealers and 2023 model year Forester deliveries are "anticipated to commence" in the fourth quarter of 2022.
All 2023 Subaru Forester models have had prise rises ranging between $1900 and $2150, depending on the variant, which Subaru Australia claims are due to "an increase in the costs associated with production and logistics".
Select variants have had some minor specification changes, with the high-spec Forester 2.5i Sport, 2.5i-S and Hybrid S all now getting an auto-dimming rear-view mirror as standard.
Further, the outgoing range's Dark Blue Pearl exterior paint option has been replaced Sapphire Blue Pearl.
Video Review
Subaru Forester Video Review
Skip to chapter
Intro
Exterior
Interior
Infotainment
Safety Tech
Practicality
On the Road
0-100 km/h
Verdict
2022 Subaru Forester SUV review (inc. 0-100)
Has Subaru finally nailed the perfect SUV? After a few minor mechanical tweaks and some styling changes, the 2022 Subaru Forester adds some kit that was missing the first time around. Is it any good? Paul Maric gives you a detailed review so you can see for yourself.
Subaru Forester Photo Gallery
CarExpert High Resolution Photos of the Subaru Forester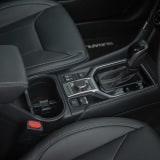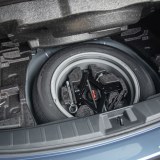 Compare
See Subaru Forester comparisons against similarly sized vehicles
Subaru Forester
vs
Nissan
X-Trail
Toyota
RAV4
Mazda
CX-5
Honda
CR-V
Mitsubishi
Outlander
Hyundai
Tucson
Kia
Sportage
Volkswagen
Tiguan
CLICK HERE TO SEE MORE MODELS...
Current Deals
What is the price of a Subaru Forester?
2.5i Premium
Save Up To: $760
2.5i 50 Years Edition
Save Up To: $760
2.5i-S 50 Years Edition
Save Up To: $662
2.5i Sport
Save Up To: $760
Available Deals for the 2.5i-S
Deal Overview
Receieved A 2 Year/25,000 Km Service Plan When You Purchase Any Selected New Or Demonsrator Subaru Models
Excludes Fleet, Government And Rental Buyers
Deal Pricing
Manufacturer listed price
Free servicing, warranty etc
Vehicle Specs
Reviews
Our expert's reviews of the Subaru Forester
News
All the latest Subaru Forester news
Subaru Forester Range Guide
Which variant of the Subaru Forester range is best for you?
The 2023 Subaru Forester 2.5i comes standard with the following equipment:
17-inch alloy wheels
Reversing camera with washer
Automatic, active cornering LED headlights
Front fog lights
Rain-sensing wipers
8.0-inch touchscreen infotainment system
Wired Apple CarPlay and Android Auto
DAB+ digital radio
6.3-inch multi-function display
Six-speaker sound system
Leather-wrapped steering wheel
Leather-wrapped gear selector
Dual-zone climate control
Paddle shifters
The 2.5i-L and Hybrid L add the following:
Driver monitoring system
Rear AEB
Adaptive high-beam
Front and side cameras
Heated front seats
The 2.5i Premium adds:
18-inch alloy wheels
Power tailgate
Satellite navigation
Eight-way power front seats with driver's memory
Metal pedals
The 2.5i Sport adds:
Sunroof
LED front fog lights
Auto-dimming rear-view mirror (NEW)
Orange and gunmetal interior highlights
The 2.5i-S and Hybrid S add:
Leather upholstery
Eight-speaker Harman Kardon sound system
Price & Specs
See comprehensive price and specification details for the Subaru Forester
Interior
Photos and Images of the Subaru Forester Interior
You are treated to a practical, sensible interior with plenty of space for the whole family.
The seats are trimmed in what feels like high-quality leather, and neatly balance softness with support. With heating and electric adjustment, you couldn't ask for much more.
Facing the driver is a leather-trimmed steering wheel featuring plenty of buttons. There are 17 on the wheel, and that doesn't include the paddle shifters. Bundle in controls for the active safety down by the driver's right knee, as well as a trip reset button behind the wheel, and there's a bit going on.
The rear seats were a strong point when this Forester generation launched, and time hasn't changed that. With a tall, boxy roofline and massive windows, it feels much brighter back there than in some of its more style-focused rivals.
Even with a panoramic sunroof fitted the Forester has enough headroom for tall teens, and legroom is good behind taller adults. The bench itself is plush, and is wide enough for three people to sit across without too much trouble.
You get air vents, two USB ports, a fold-down armrest, and two-tiered pockets behind the front seats, along with door pockets that comfortably swallow a water bottle.
Speaking of the rear doors, the fact they open to almost 90 degrees makes it easier to load a child seat into the Forester than some of its rivals.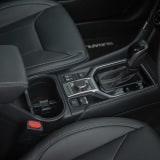 Exterior
Photos and Images of the Subaru Forester Exterior
Subaru refreshed the exterior design of the Forester for the 2022 model year which brought a revised front bumper and grille, as well as new headlights and fog lights, among other minor design changes.
Subaru Forester Colours
What colours are available for the Subaru Forester?
The 2023 Subaru Forester is available in the following exterior paint colours, depending on variant.
Crystal White Pearl
Ice Silver Metallic
Brilliant Bronze Metallic
Crimson Red Pearl
Autumn Green Metallic
Horizon Blue Pearl
Cascade Green Silica
Magnetite Grey Metallic
Crystal Black Silica
Sapphire Blue Pearl (NEW)
Cost of Ownership
What is the running, servicing and ownership costs of buying a Subaru Forester?
For non-hybrid models they cost $1277.90 and $2422.38 respectively, while the Hybrid's cost $1288.24 and $2439.60.
How it Drives
Our expert take on Subaru Forester drivability?
Non-hybrid variants of the 2023 Subaru Forester are powered by a 2.5-litre naturally-aspirated flat-four engine producing 136kW of power and 239Nm of torque. This is mated to a continuously-variable transmission (CVT) with drive sent through an all-wheel drive system.
Hybrid variants of the 2023 Subaru Forester are powered by a 2.0-litre four-cylinder engine producing 100kW and 196Nm with an electric motor producing 12kW and 66Nm, and a lithium-ion battery pack. This is also mated to a CVT with drive sent through an all-wheel drive system.
Subaru Forester Safety Rating
ANCAP Safety Rating Australia
ANCAP awarded the Subaru Forester with a five-star safety score in 2019, based on scores of 94 per cent for adult occupant protection, 86 per cent for child occupant protection, 80 per cent for vulnerable road user protection, and 78 per cent for safety assist.
Standard safety equipment on all 2023 Subaru Forester models includes:
Autonomous emergency braking (AEB)
Blind-spot monitoring
Rear cross-traffic alert
Lane-departure warning
Lane-keep assist
Lane centring
Autonomous emergency steering
Adaptive cruise control
All bar the base 2.5i come standard with a facial recognition camera to detect driver drowsiness or distraction, as well as rear AEB.
80%
pedestrians & cyclists
Subaru Forester Warranty
What is the warranty period and kilometre limit for the Subaru Forester?
The 2023 Subaru Forester has a five-year, unlimited-kilometre warranty, plus an eight-year and 160,000km warranty for the Hybrid's lithium-ion battery.
Subaru offers three- and five-year servicing plans.
Subaru Forester Infotainment
What infotainment do you get within the range?
the infotainment system is functional. Wireless smartphone mirroring would be nice, given it's rolling out in the Forester's rivals, but you still get wired Apple CarPlay and Android Auto, and the factory system blends a logical layout with bright, crisp graphics.
It also has factory mapping. The shortcut buttons and volume/tuning dials below the screen are both welcome in a world that's going touch-only, but the taller screens in the new Outback and WRX make the dash in the Forester look a bit old.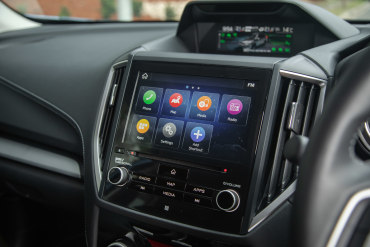 Like the Outback and WRX, the Forester has a facial recognition system. It can remember up to five drivers, and moves the seats and configures the infotainment system when it works out who's behind the wheel. It also chimes when you take your eyes off the road, which sounds good in theory but tends to jump at shadows in practice.
The clear analogue dials flank a 4.2-inch trip computer with a huge range of layouts, including a digital speedo. At just shy of $50k though, they're old-fashioned compared with the digital options Hyundai and Kia offer in their mid-sized SUVs.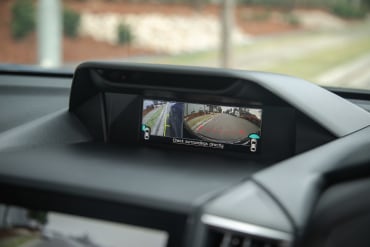 It partners a horizontal display atop the dashboard, capable of showing fuel economy, media information, a breakdown of your active safety systems, or details about your all-wheel drive system.
The hybrid also features displays showing what's happening with your petrol engine and e-motor, which usually serves to show you how little the electric bits are doing… but more on that later.
They're both useful, but both have their quirks. You lose your dash-top display in favour of an EyeSight graphic when cruise is engaged, for example, and unless you're particular with how you set the screens up it's easy to have the same information on show in three places.
Subaru Forester Boot Space
How much luggage or cargo capacity and boot space is there in the Subaru Forester?
Boot space with the rear seats upright is 498L in petrol models and 509L in the hybrid variants.
This expands to 1779L in the hybrid variants, while that figure is 1768L in all regular petrol models except for the Sport and 2.5i-S where it's 1740L.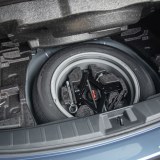 Subaru Forester Fuel Economy
How much fuel does the Subaru Forester use and what are its emissions?
The 2023 Subaru Forester consumes 7.4L/100km on the combined cycle, or 6.7L/100km in the hybrid.
All Foresters run on 91RON regular unleaded fuel. The regular petrol models have a 63L fuel tank while the hybrid has a 48L tank.
Depending on the variant, view the 2023 SUBARU FORESTER fuel usage below.
All Highway, City, and Combined figures below are litres per 100km
| Variant | Series | Style | Fuel Type | Highway | City | Combined | E10? |
| --- | --- | --- | --- | --- | --- | --- | --- |
| 2.5X (AWD) | MY23 | 4D WAGON | UNLEADED PETROL | - | - | 7.4 | - |
| 2.5i (AWD) | MY24 | 4D WAGON | UNLEADED PETROL | - | - | 7.4 | - |
| 2.5i-L (AWD) | MY24 | 4D WAGON | UNLEADED PETROL | - | - | 7.4 | - |
| 2.5i PREMIUM (AWD) | MY24 | 4D WAGON | UNLEADED PETROL | - | - | 7.4 | - |
| HYBRID L (AWD) | MY24 | 4D WAGON | UNLEADED PETROL/ELECTRIC | - | - | 6.7 | - |
| 2.5i SPORT (AWD) | MY24 | 4D WAGON | UNLEADED PETROL | - | - | 7.4 | - |
| 2.5i-S (AWD) 50 YEARS EDITION | MY23 | 4D WAGON | UNLEADED PETROL | - | - | 7.4 | - |
| 2.5i-S (AWD) | MY24 | 4D WAGON | UNLEADED PETROL | - | - | 7.4 | - |
| HYBRID S (AWD) | MY24 | 4D WAGON | UNLEADED PETROL/ELECTRIC | - | - | 6.7 | - |
Subaru Forester Dimensions
The dimensions of the Subaru Forester
The 2023 Subaru Forester measures 4640mm long, 1815mm wide, and 1730mm tall with a 2670mm wheelbase.
Braked towing capacity is 1800kg on petrol models and 1200kg on hybrid models.
The 2023 SUBARU FORESTER measures 4640mm long, 1815mm wide and 1730mm tall, with a 2670mm tall wheelbase.
The 2023 SUBARU FORESTER has a braked towing capacity from 1200kg to 1800kg depending on the variant and an unbraked towing capacity of 750kg.
Subaru Forester Market Fit
Where does it fit in the competitor segment?
The Subaru Forester is categorised as a Medium SUV and has a price range of $37,890 to $50,140.
Frequently Asked Questions