The 2020 Renault Kadjar is not a car you see all that often. In the first three months of this year, Renault Australia has found only 105 buyers for the small SUV.
It's an interesting name, Kadjar, and it has two meanings. The first? Kad is a reference to quad, for four-wheel drive, while the Jar references the word jaillir, which means to spring into action.
The other, more believable explanation is that it's based on Qajar, an Iranian royal dynasty that ruled from 1789 to 1925 and whose king, in 1900, bought two Renault vehicles and brought them home.
The Renault Kadjar is based on the same underpinnings as the Nissan Qashqai, which itself is named after the nomadic Qashqai people living in mountainous central and southwestern Iran.
Much like the Qashqai, the Kadjar is a child of the Renault-Nissan Alliance. Although the car has been around for a number of years, Australia only saw the introduction of the Spanish-built vehicle from late 2019.
We get the facelifted model, having missed out entirely on the version rolled out in 2015.
Why is it important? It sits between the Captur and Koleos, in one of the best-selling segments in Australia – a segment Renault no doubt wants to be a part of.
It's a good looking car and, in the Flame Red colour tested here, turned a few heads. Does it have the substance to match its style?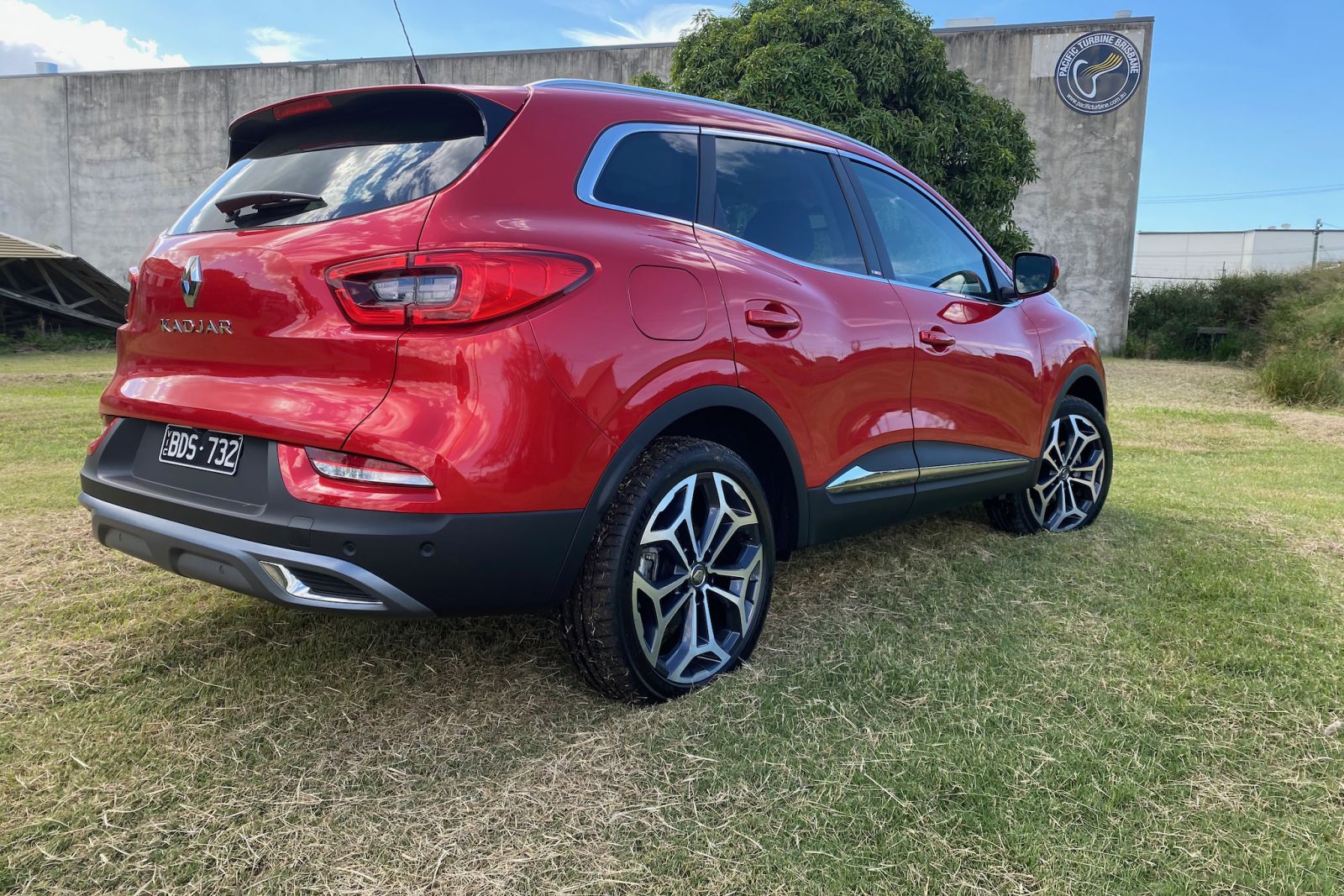 How much does the Renault Kadjar Intens cost?
There are three versions of the Renault Kadjar. The entry-level Life variant is $29,990 before on-road costs.
The mid-spec Renault Kadjar Zen is $32,990 before on-road costs, while the car on test here, the top-spec Intens is a healthy $37,990 before on-road costs.
It's priced well against its in-house rival, the Qashqai, but also the similarly-sized Hyundai Tucson and Kia Sportage, not to mention the smaller Mitsubishi ASX and Kia Seltos.
What do you get?
All models come with a 1.3-litre three-cylinder turbo petrol engine co-developed with Mercedes-Benz. It's coupled to a seven-speed dual-clutch transmission as standard.
There are no diesel or manual options, which is also why all Renault Kadjar models sold in Australia are front-wheel drive.
The base Life gets 17-inch alloy wheels, the latest incarnation of Renault's R-Link infotainment system with Apple CarPlay and Android Auto, and niceties such as front and rear parking sensors, a rear-view camera, automatic headlights, and rain-sensing wipers.
Step up to the mid-spec Zen and you gain two-tone alloy wheels, keyless entry and push-button start over a traditional key, fake-leather and cloth seat trim, and factory satellite-navigation, along with rear USB ports and roof rails.
There's also cornering fog lights, side parking sensors, a fold-down rear armrest, rear air vents, folding door mirrors, lumbar adjustable front seats, and rear seats that fold more simply.
That's a lot of necessary features for only $3000 more, which makes the Zen a bit of a sweet spot in the range.
If you want to go further, an extra $5000 gets you the top-spec Intens on test here with everything Renault as to offer.
Atop what's already been mentioned, you get LED headlights, leather upholstery, heated front seats, a Bose audio system, handsome 19-inch wheels, a panoramic glass roof, and auto park assist.
Other useful features include automatic high-beam headlights, LED front and rear fog lights, an auto-dimming rearview mirror, driver and front passenger seat under-thigh cushion extensions (for those blessed with long legs), a leather steering wheel, and Kadjar front sill plates.
That's a lot of features, but it's hard to say if you really need them to get the most out of the Renault Kadjar. Preference will play a big role here.
SO FRENCH
Qui vivra verra
European, but without the sky-high price
Is the Renault Kadjar safe?
The Euro NCAP rating for the Renault Kadjar from 2015 is five-stars – but it would not get a five-star rating under 2020 testing criteria.
That's down to its autonomous emergency braking system, which can't detect pedestrians or cyclists. It also can't brake the Kadjar to a complete stop.
Passive safety features for the Kadjar include six airbags, two child-seat ISOFIX points, and a tyre pressure monitoring system.
What is the Renault Kadjar Intens like on the inside?
It's hard to hide the fact this isn't a brand new car. It might be new to Australia, but it's been around since 2015 elsewhere – and that is clear from behind the wheel.
Something as simple as the 7.0-inch infotainment system isn't well presented, with the display sitting so far behind the glass it becomes hard to see and read properly in direct sunlight.
The resolution of the screen itself also feels outdated. In the age of $100 smartphones being able to do so much more, it's such a simple thing to get right.
Other than that though, the electric-seats are supportive and comfortable, the Bose sound system is pretty damn decent and we tested the Bluetooth telephony system extensively and found the sound quality to be top-notch.
You'll find a plenty of storage in the cabin as well. From coin holders to cup holders its definitely not lacking places to put things.
The top-spec model here also gets a full panoramic sunroof which, thankfully, is covered by a full shade to stop the cabin heating up uncontrollably in Australia's summer.
On the downside, we found the air-conditioning struggled to cool the car in a reasonable period of time under the Brisbane's sun. It wasn't helped by the fact the start/stop would turn the engine off at red lights to save pittance of fuel, further neutering the system.
The only solution was to turn off start/stop, which lets the air-conditioning run at full speed.
The Kadjar is spacious enough to easily carry four adults. I measure 180cm tall (okay, 178cm) and could easily sit directly behind my seating position with plenty of head- and legroom. It's not ideal to carry five large people at a time, but the Kadjar can if it has to.
The boot measures 462L, expanding to 1478L with the rear seats folded down. It's not class-leading, but it's a lot bigger and deeper than the numbers may suggest, and can easily swallow a pram and the week's groceries.
What's under the bonnet?
The German-French turbocharged engine – which is also used in the Mercedes-Benz A-Class – has a power output of 117kW and a healthy 260Nm of torque.
The transmission pairs well with the engine and the Kadjar actually feels quite zippy, with a 0-100km/h time of 9.6 seconds.
That's not exactly what you'd call fast, but it's actually not that bad against its predominantly naturally-aspirated rivals.
We felt the transmission do, well, what dual-clutch transmissions do and very occasionally stutter around town at low speeds.
It would also (rarely) roll down a hill every so slightly on takeoff, but all in all the whole powertrain works exceptionally well.
Renault claims a fuel economy figure of 6.3L/100km and during our week with the car we easily averaged high sixes without trying to impress Greta.
How does the Renault Kadjar Intens drive?
You could assume a car on 19-inch wheel would ride firmly – and it does a tad – but in the scheme of things, the Kadjar is really accomplished dynamically.
It's super smooth to drive and surprisingly quiet on the inside. There's a hint of torque steer if you flatten the accelerator, thanks largely to the healthy amount of torque on offer, but other than that the Michelin tyres do a great job balancing refinement with grip.
We found the steering sensitive enough to make the Kadjar fun to drive, but not exactly full of feedback or well-weighted. Then again we suspect most buyers won't notice, let alone care.
Thanks to the torque on offer, you always feel more than confident overtaking in the Renault Kadjar on the highway. It has the guts and the ability to make it happen.
Push it hard into a corner and you may get some tyre squeal but the body control of the French SUV is first rate, and noticeably better than its Nissan equivalent.
How much does the Renault Kadjar cost to run?
Renault is doing a seven-year warranty on some of its models at the moment, but the Kadjar isn't included. The small SUV still comes with a five-year, unlimited-kilometre warranty, capped-price servicing, and roadside assistance.
The Kadjar is definitely suited to anyone doing lots of kilometres because of its 30,000km (or 12 month) service intervals, which compare very favourably against its competition.
If you happen to do lots of driving for work, the Kadjar would cost you a hell of a lot less to own than say, a Nissan Qashqai or Kia Seltos with their 10,000km intervals.
Why? Well, not including parts like tyres and brake pads, to keep the Kadjar running for five years or 150,000km at Renault dealers will cost you $2385 including oil, filters, coolant, spark plugs and other normal service items.
The Kia Seltos is $2025 and the Qashqai is $1451, but both those cars have 10,000km intervals so that price only covers 50,000km.
If you did 30,000km a year, they – alongside plenty of other similar SUVs – would cost significantly more. Big tick for Renault there.
CarExpert's take on the 2020 Renault Kadjar Intens
There is nothing exceptionally good to make the Renault Kadjar stand out. It's a gorgeous car with a lot style and flair. It's French and proud of it. It's a little quirky but we like it.
It's the perfect car for people who do a lot of kilometres and want to save money on servicing. Nonetheless, it lacks some of the advanced safety features that have very much become commonplace in its competitors.
We would happily recommend the Renault Kadjar if you average 25,000km or more per year, but if you're on the average side of around 15,000km there are better choices out there.
WORTH BUYING
The ideal car if...
You cover a lot of ground every year