2022 Renault Koleos
| | |
| --- | --- |
| Price | $34,000 - $46,500 |
| Fuel Efficiency | 8.1 - 8.3 / 100km |
| ANCAP Rating | 5-star |
| Warranty | 5 years |
About the Koleos
The Renault Koleos is a Japanese-engineered SUV built in Korea and sold by a French brand. Think of it as a more stylish Nissan X-Trail because, under the skin, that's essentially what this is.
Summary
Our expert's shortest summary
Hit
Looks more premium than its price tag suggests
Spacious interior
Outsider charm
Miss
Lifeless steering
Somewhat clunky infotainment
Lacking some active safety and driver assist features found in rivals
Video Review
Koleos Video Review
Skip to chapter
Intro
Exterior
Interior
Infotainment
Features
Practicality
On the Road
Verdict
Renault Koleos review
The 2020 SUV you probably forgot about. Comes w/ Apple CarPlay + Android Auto
The 2020 Renault Koleos is the SUV you've probably forgotten about. The Renault Koleos shares a platform with the Nissan X-Trail (Rogue), but the two medium SUVs couldn't be any further apart! But, is it good enough to spend your money on? Paul Maric finds out!
Photo Gallery
CarExpert High Resolution Photos of the Renault Koleos
Koleos Price
What is the price of a Renault Koleos?
2022 Renault Koleos Life: $33,590
2022 Renault Koleos Zen: $37,390
2022 Renault Koleos Intens: $43,890
2022 Renault Koleos Intens AWD: $46,390
All prices exclude on-road costs.
Reviews
Our expert's reviews of the Renault Koleos
News
All the latest Koleos news
Range Guide
Which variant of the Renault Koleos range is best for you?
The Life comes with the following standard features:
7.0-inch touchscreen infotainment system
Wired Android Auto and Apple CarPlay
Automatic headlights
Automatic high-beam
Rain-sensing wipers
Dual-zone climate control
Electric parking brake
Reversing camera with rear parking sensors
Cruise control
11-speaker sound system
LED headlights
17-inch alloy wheels
The Zen adds:
Front and side parking sensors
Artificial leather upholstery
Heated front seats
Power driver's seat
Blind-spot monitoring
Keyless entry and start
Power-folding exterior mirrors
18-inch alloy wheels
The Black Edition adds:
8.7-inch portrait-oriented touchscreen infotainment system
Satellite navigation
Hands-free power tailgate
19-inch alloy wheels
Gloss-black roof rails and door mirrors
Matte carbon-look interior trim
The Intens adds:
8.7-inch portrait-oriented touchscreen infotainment system
Satellite navigation
Parking assistance system
Nappa leather upholstery (Black or Sand Grey)
Ventilated front seats
Power driver's seat with massaging and memory
Power passenger's seat
Bose 11-speaker premium sound system
Panoramic sunroof
Ambient lighting
Power tailgate
Hill descent control (all-wheel drive only)
19-inch alloy wheels
Variants
What are the variants of the Renault Koleos?
Interior
Photos and Images of the Renault Koleos Interior
The Koleos' interior is vastly different to that of its X-Trail platform-mate, and has a strong familial resemblance to that of the Renault Megane. Material quality is quite good and there's a rather stylish European flair to the cabin.
There's a handsome, upright centre stack with either a 7.0-inch touchscreen (Life, Zen) or a portrait-oriented 8.7-inch screen (Intens).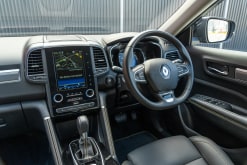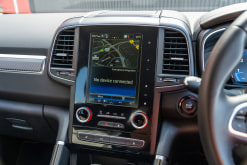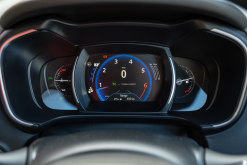 The infotainment system is neatly presented, though it's not the last word in sophistication – it can be quite slow to react and will at times just ignore button pushes, with key items buried in obscure menus. There are also touch-capacitive shortcut "buttons" that lack haptic feedback. Overall, the setup is fairly attractive but also rather clunky.
Climate functions are controllable via buttons and knobs below the touchscreen. These knobs are perhaps the only overtly cheap-feeling items in the interior.
The base of the centre stack is bracketed by two leatherette-wrapped grab handles, which lend an upscale touch.
The instrument cluster is neatly presented, and we appreciate the ability to configure the design and colour of the information screen and its digital speedometer, critical vehicle warnings. and trip computer information.
The Intens' colour-adjustable lighting also adds some visual drama to the interior. Changing the colour will also change the colour used on the gauge cluster and infotainment screen.
There are some strange French quirks to the interior. For example, cruise control buttons are split between the steering wheel and the centre console. Controls for volume and media are found not on the steering wheel, but rather on a stubby bar behind the steering wheel. It takes some getting used to, but you'll get there.
The front cupholders are quirky without being insufferable. The recess is split into four segments: two for normal-sized cups and bottles and two smaller ones for perhaps Yakults.
Step into the back and there's ample legroom and knee room, though headroom suffers in the Intens due to its panoramic sunroof.
You'll find three top-tether and two Isofix anchor points for child seats. The Life and Zen have a 12V outlet, while the Intens instead features two rear USB charging ports.
Exterior
Photos and Images of the Renault Koleos Exterior
The Koleos' styling ties in nicely with other models in the Renault range like the Megane and Arkana, wearing distinctive lighting elements front and rear and gently curvaceous sheetmetal.
The Life rides on 17-inch alloy wheels, with the Zen upgrading to 18s and the Intens using 19s.
Alas, while all models have LED daytime running lights, only the Intens features LED headlights.
Koleos Colours
What colours are available for the Renault Koleos?
The Koleos range is available in just four colours: Millesim Red, Universal White, Metallic Grey and Metallic Black. Unusually, the red is a no-cost option, while the monochromatic shades are an extra $800.
Cost of Ownership
What is the running, servicing and ownership costs of buying a Renault Koleos?
The Koleos requires servicing every 12 months or 30,000km, whichever comes first. The mileage interval is surprisingly long for this segment, considering most rivals require servicing every 12 months or 10-15,000km.
In addition to a five-year, unlimited kilometre warranty, Renault offers five years of capped price servicing. Each service is capped at $429 except the 120,000km service, which costs $999.
How it Drives
Our expert take on Renault Koleos drivability?
While its 126kW/226Nm outputs aren't exceptional for the class, the continuously-variable transmission (CVT) does a decent job keeping the car within its peak torque and power band. Push it too hard, though, and it can get a bit noisy, though it's not the worst-sounding engine in its class.
There's a manual shift mode with artificially-stepped gears but you'll have to move the gearshift as there are no paddle shifters.
The ride is comfortable, even in the Intens with its 19-inch wheels. It never feels flustered or brittle over poor surfaces and is just as happy when rural road conditions jump from smooth bitumen to goat track.
On the highway there isn't a great deal of road noise, but you will begin to notice noise in the cabin from the tyres on coarse chip country roads and poorly-finished surfaces.
Visibility out of the front and sides is good with generously sized wing mirrors and a blind spot monitor, but we found visibility out the rear to be a little compromised due to the narrow window envelope.
The Koleos' steering is feather-light. While that might appear a good thing for some drivers, it has the unintended consequence of making the Koleos feel somewhat vague and cumbersome to drive.
This mid-sized SUV can feel hard to place, and there's also no way to at least add some artificial weight to the steering via a selectable drive mode as in some rivals.
Handling is on par with most rivals. There's a touch of body roll in corners, but otherwise it's safe and predictable, especially with the Intens' optional all-wheel drive.
Safety Rating
ANCAP Safety Rating Australia
When ANCAP tested the Koleos in 2017, it awarded it a rating of five stars.
That rating was based on an adult occupant protection score of 84 per cent, child occupant protection score of 79 per cent, vulnerable road user protection score of 62 per cent and a safety assist score of 52 per cent.
All Koleos models come standard with the following:
Autonomous emergency braking
Lane-departure warning
Front, front-side and curtain airbags
The Zen and Intens also include blind-spot monitoring.
Koleos Lifecycle
How old is the current generation and when will there be a new or updated Renault Koleos?
The current, second generation Koleos was launched in 2016 and has received minor updates and specification changes since then.
While a next-generation Nissan X-Trail was first introduced overseas in 2020 and is due here in 2022, and a related Mitsubishi Outlander was launched in 2021, there's been no sign yet of the Koleos' replacement.
Koleos Options
Options list for the Renault Koleos
The Easy Life Package for the Zen costs $2000 and adds an 8.7-inch touchscreen infotainment system and a hands-free power tailgate.
Sand grey Nappa leather upholstery is a $300 option on the Intens, while premium paint is optional across the range.
Koleos Warranty
What is the warranty period and kilometre limit for the Renault Koleos?
RENAULT suggests that owners service their 2022 RENAULT KOLEOS every 12 months or 30,000km, whichever comes first.
The 2022 RENAULT KOLEOS has a 5 year, unlimited km warranty.
Koleos Boot Space
How much luggage or cargo capacity and boot space is there in the Renault Koleos?
There's 458L of boot space, expanding to 1690L with the rear seats folded. The second-row doesn't quite fold completely flat.
All models have a 17-inch steel spare under the boot floor.
Koleos Fuel Economy
How much fuel does the Renault Koleos use and what are its emissions?
The Koleos consumes 8.1L/100km on the combined cycle in front-wheel drive variants and 8.3L/100km combined on the Intens AWD.
It requires 91RON regular unleaded fuel.
Depending on the variant, view the 2022 RENAULT KOLEOS fuel usage below.
All Highway, City, and Combined figures below are litres per 100km
| Variant | Series | Style | Fuel Type | Highway | City | Combined | E10? |
| --- | --- | --- | --- | --- | --- | --- | --- |
| LIFE (4x2) | XZG MY22 | 4D WAGON | UNLEADED PETROL | - | - | 8.1 | - |
| ZEN (4x2) | XZG MY22 | 4D WAGON | UNLEADED PETROL | - | - | 8.1 | - |
| BLACK EDITION (4x2) | XZG MY22 | 4D WAGON | UNLEADED PETROL | - | - | 8.1 | - |
| INTENS (4x2) | XZG MY22 | 4D WAGON | UNLEADED PETROL | - | - | 8.1 | - |
| INTENS (4x4) | XZG MY22 | 4D WAGON | UNLEADED PETROL | - | - | 8.3 | - |
Koleos Dimensions
The dimensions of the Renault Koleos
The 2021 Renault Koleos measures 4672mm long, 1678mm tall, and 1843mm wide (2063mm including the mirrors), riding a 2705mm wheelbase.
Kerb weight ranges from 1556kg in the Life to 1691kg in the all-wheel drive Intens.
The 2022 RENAULT KOLEOS measures 4672mm long, 2063mm wide and 1678mm tall, with a 2705mm tall wheelbase.
The 2022 RENAULT KOLEOS has a braked towing capacity of 2000kg and an unbraked towing capacity of 750kg.
Koleos Market Fit
Where does it fit in the competitor segment?
The priciest Renault Koleos undercuts the cheapest Peugeot 3008, so instead of going head-to-head with that other French-branded SUV, the Koleos instead dukes it out with more mainstream fare.
That includes its corporate cousin the Nissan X-Trail, as well as the Mitsubishi Outlander that's based on the next-generation Nissan. Other rivals include the Mazda CX-5 and Toyota RAV4.
You could also include the low-volume Citroen C5 Aircross among its direct rivals.
Koleos Sales Data
How well has the Renault Koleos been selling?
In 2021, Renault sold just 1937 Koleos SUVs in Australia, accounting for around 1.3 per cent of the mainstream mid-sized SUV segment.
That still put it comfortably ahead of the likes of the Citroen C5 Aircross (58), Jeep Cherokee (382), Peugeot 3008 (1172) and 5008 (189), and the SsangYong Korando (353), and it also edged out the Ford Escape (1673).
Should you buy the Koleos
Is this the right car for you? Our experts buy or not guide.
The Renault Koleos is an often overlooked mid-sized SUV. It's showing its age in some respects, particularly in its limited list of active safety and driver assist features, but it's pleasant to drive and has a more premium look inside and out than the dated X-Trail.
We wouldn't put it at the very top of our shortlist, but it's worth considering.
Renault Koleos Interesting Facts
Did you know?
Built by Renault Samsung Motors in Busan, Korea, the Koleos is known as the Renault Samsung QM6 in that market.
Frequently Asked Questions
The Renault Koleos range kicks off from $34,000 (plus on-road costs) for the "
Koleos LIFE (4x2)
" variant and finishes at $46,500 (plus on-road costs) for the "
Koleos INTENS (4x4)
" variant.
The Renault Koleos is built in France and is then shipped to Australia.
The Renault Koleos has a braked towing capacity of 2000kg and an unbraked towing capacity of 750kg.
Renault suggested that owners service their Renault Koleos every 12 months or 30,000km, whichever comes first.
The Renault Koleos has a five star ANCAP safety rating out of five.
The Renault Koleos uses Unleaded Petrol.
The Renault Koleos has 4 doors.
The Renault Koleos had a 5 year, unlimited km warranty.