See prices tailored to you, select a variant and enter your postcode!
2023 Kia Sportage
See prices tailored to you, select a variant and enter your postcode
About the Kia Sportage
Arguably one of the best medium-SUVs on the market, Kia's recently launched Sportage is more spacious and upmarket than before, and still offers a choice of front- or all-wheel drive and petrol or diesel power.
Summary
Our expert's shortest summary
Hit
Well-sorted locally-tuned ride
Excellent on-road manners
Attractive and spacious interior
Miss
Underdone base engine
Exterior design polarises
Too many conspicuous blank switches in lower-end models
Video Review
Kia Sportage Video Review
Skip to chapter
Intro
Exterior
Interior
Infotainment
Safety Tech
Practicality
On the Road
0-100 km/h
Verdict
2022 Kia Sportage review (inc. 0-100)
New best mid-size SUV?
Has Kia managed to knock it out of the park with the 2022 Kia Sportage? Sharing a platform with the Hyundai Tucson, the Kia Sportage builds on it with a local ride and handling tune and a longer warranty. Is it worth checking out? Paul Maric tests out the top-specification 2022 Kia Sportage GT-Line to find out.
Kia Sportage Photo Gallery
CarExpert High Resolution Photos of the Kia Sportage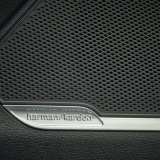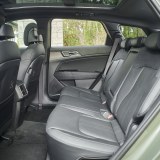 Compare
See Kia Sportage comparisons against similarly sized vehicles
Kia Sportage
vs
CLICK HERE TO SEE MORE MODELS...
Reviews
Our expert's reviews of the Kia Sportage
News
All the latest Kia Sportage news
Kia Sportage Range Guide
Which variant of the Kia Sportage range is best for you?
The Sportage S comes standard with:
17-inch alloy wheels
8.0-inch touchscreen infotainment
Apple CarPlay/Android Auto (wireless)
DAB digital radio
Six-speed audio system
'Basic' digital instrument cluster with 4.2-inch TFT display
LED headlights (reflector-type)
LED daytime running lights
Partial-LED tail lights
Full-size spare wheel
Leather-accented steering wheel and PVC shifter
Electric park brake (auto models only)
Tyre pressure monitoring
Sportage SX adds:
18-inch alloy wheels
12.3-inch touchscreen infotainment system
Satellite navigation
Apple CarPlay/Android Auto (wired)
Power driver's lumbar adjustment
Rain-sensing wipers
Dual-zone climate control with auto de-fog
Auto up/down windows (front)
Leather-wrapped shifter
Remote-folding second-row seats
Sportage SX+ adds:
19-inch alloy wheels
8-speaker Harman Kardon premium audio
Faux leather seat trim
Heated front seats
LED front fog lights
Power driver's seat with power lumbar
Power tailgate
Electrochromic rear-view mirror
Keyless entry and start
Steering-mounted paddle shifters
Rear privacy glass
Front parking sensors
Sportage GT-Line adds:
12.3-inch digital instrument cluster
Leather seats with suede upper
Driver's seat with memory function
Power passenger seat adjustment
Heated/ventilated front seats
Bi-LED headlights (projector type)
Full-LED tail lights
Shift-by-wire gear selector (dial type)
Wireless phone charger
Ambient interior lighting
LED interior lighting
Panoramic sunroof
Alloy pedals
Blind Spot View Monitor
Parking Collision Avoidance (reverse)
Remote Smart Park Assist (diesel only)
Surround-view cameras with 3D view
Price & Specs
See comprehensive price and specification details for the Kia Sportage
Interior
Photos and Images of the Kia Sportage Interior
The Kia Sportage has a super modern cabin that befits its recent launch as a strong leader in the SUV segment.
The overall cabin feel is clear and easy to navigate, offering lots of light and excellent outward vision though the glasshouse.
The Kia Sportage offers comfortable seats with sound ergonomics. It's quite a natural and welcoming cabin space in the first row, and the nicely-trimmed multifunction wheel brings a sense of occasion to the fairly unadventurous dark colour scheme.
The 'boomerang' style motif that anchors the handsome exterior design (most noticeably via its LED lights) is mirrored in the air vents and door handles to impressive effect.
Meanwhile, the wraparound effect of the dash fascia blending into the concave door trims, with the driver-skewed central stack layout and surfboard-sized instrument and infotainment panel, is very European.
The look of the digital instrumentation, with its (very Kia) purple hue, is pleasing and modern, while the infotainment system is slick to behold and to use even if wireless smartphone mirroring isn't available in most models.
However, some of the presentation looks and feels inexpensive. Unlike some rival cabin treatments, there's a little too much cheap, shiny and hard plastic used right in your line of sight, and very little of what attempts to appear as metal, or at least metallic, comes across as genuine or convincing.
Similarly, the centre console in the base S, with its simpler array than higher-grade variants, has an unattractive assortment of blank panels where the GT-Line's seat heating/ventilation buttons are situated as evidence of features absent from this base model.
That said there are other details, such as the rubber-ringed centre stack dials, that stops entry-level Sportage models from feeling overly cheap.
At the other end of the model range, the GT-Line looks slick with its dual 12.3-inch displays, wood-look trim elements, and rotary gear selector. The look is reminiscent of the new EV6, and the Blind-Spot View Monitor is a really handy feature.
Sitting below the widescreen infotainment system is a slim, matte touchscreen featuring a row of function buttons capable of controlling either the air-conditioning or the infotainment system.
It's a clever design that's neater than the cascading stack of touch buttons on the Tucson, and has also allowed the design team to make the cabin look clean and simple.
There's an abundance of storage spaces around the cabin, with two cupholders, a decent space under the dashboard, a deep central bin, and door bins with space for large water bottles.
Kia has opted for a combination of USB-A and USB-C plugs up front.
Spaciousness in row two is fantastic, and full-sized adults will be able to sit behind full-sized adults. Knee room is outstanding and for sheer room it's tough to beat, augmented by adjustable (40:60-split) seatback tilt to tune in extra comfort. The tail-shaft hump, too, is so low-profile that it doesn't really compromise foot space by any meaningful measure.
There's also plenty of headroom, even in the GT-Line with its panoramic sunroof.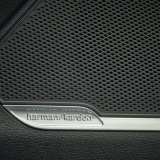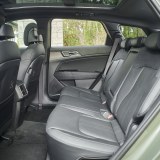 Exterior
Photos and Images of the Kia Sportage Exterior
All models have LED headlights, but only the SX+ and GT-Line get LED fog lights while only the GT-Line gets full LED lighting up front including the indicators.
All models have LED tail lights.
The S rides on 17-inch alloy wheels, the SX on 18s, and the SX+ and GT-Line both feature 19-inch alloy wheels albeit with different designs.
Ownership Suitability
Who is the Kia Sportage good for?
The Kia Sportage will suit families that have two kids or less. Three young kids will still fit depending on child seat requirements but the width of the rear seats may not be as accommodating.
It's the ideal size SUV that still fits nicely with inner-city requirements but will also provide an excellent option for long distance driving and more than capable of navigating some basic off-roading (AWD models).
Kia Sportage Colours
What colours are available for the Kia Sportage?
Clear White is the standard paint finish, with the following optional: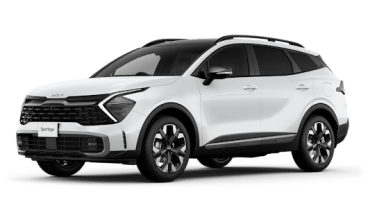 Steel Grey
Gravity Grey
Fusion Black
Vesta Blue
Dawning Red
Snow White Pearl (SX+ and GT-Line only)
Jungle Wood Green (SX+ and GT-Line only)
Premium paint costs an extra $520.
All models have a black interior.
Cost of Ownership
What is the running, servicing and ownership costs of buying a Kia Sportage?
Service intervals are different depending on the engine choice.
The 1.6-litre turbo intervals are:
1 Year or 10,000 km $323.00
2 Years or 20,000 km $573.00
3 Years or 30,000 km $422.00
4 Years or 40,000 km $783.00
5 Years or 50,000 km $364.00
6 Years or 60,000 km $851.00
7 Years or 70,000 km $672.00
The 2.0-litre petrol intervals are:
1 Year or 15,000 km $316.00
2 Years or 30,000 km $565.00
3 Years or 45,000 km $399.00
4 Years or 60,000 km $759.00
5 Years or 75,000 km $356.00
6 Years or 90,000 km $706.00
7 Years or 105,000 km $378.00
The 2.0-litre diesel intervals are:
1 Year or 15,000 km $349.00
2 Years or 30,000 km $541.00
3 Years or 45,000 km $435.00
4 Years or 60,000 km $794.00
5 Years or 75,000 km $393.00
6 Years or 90,000 km $695.00
7 Years or 105,000 km $417.00
How it Drives
Our expert take on Kia Sportage drivability?
This new Sportage uses a different platform to the old model, which brings superior torsional stiffness. It's actually a derivative of the platform that underpins the bigger Sorento, plus the related Hyundai Tucson. Kia Australia's local suspension team specified the damper tune to suit local roads, adding ride compliance while retaining body control.
Where the related Hyundai Tucson's more Euro-leaning tune is on the sportier side and can at times be a touch firm, the Sportage really irons out pockmarked roads and bumpy city streets with luxurious levels of grace. It's very, very impressive in this regard.
There just seems to be an added layer of pliancy that so few manufacturers seem to get right. While there's an excellent level of all-round comfort, that hasn't come at the cost of handling or driver engagement.
With a wonderfully-balanced steering and chassis tune, the Sportage turns in predictably and directly without being razor sharp. It's perfect for the intended demographic and if you flick the mode selector into Sport the steering and throttle sharpen up for more eager response.
Refinement at speed is likewise excellent. Wind noise is next to non-existent and tyre roar even on coarse-chip B-roads is whisper quiet.
That confident, big-car feeling carries over whether you're putting around the city or cruising on the freeway. It's hushed, planted, and unfazed by poor weather or uneven road surfaces.
The Sportage is let down only by its powertrains. Well, two of them.
We've yet to drive the Sportage with the base 2.0-litre petrol, but in the Tucson it sounds gruff and lacks grunt.
The 1.6-litre turbo-petrol is better but still not quite there.
There's a lethargic slurring off the line and slight break in power delivery when the car shifts from first into second that betrays a lacks a layer of polish it really should have. It's also far more evident because everything else is so damn good.
It's worth getting it out of your head that the 1.6T is a more sporting choice. While there's more low-down shove and more effortless progress than naturally-aspirated rivals, middling outputs mean the 1.6-litre doesn't feel particularly quick.
The best powertrain, far and away, is the 2.0-litre turbo-diesel.
You sense considerable effort has been invested into both making the diesel as smooth and refined as possible and suppressing any associated 'rattle' from penetrating the cabin.
In fact, the Sportage diesel is so quiet you might mistake it for a petrol vehicle.
Effortless doesn't begin to describe it – the diesel Sportage gets up and goes, without hesitation or fuss. You barely need to stoke the right pedal, yet there's no peakiness or unpleasantness.
The auto is an absolute gem: seamless in a manner lacking in the dual-clutch designs offered elsewhere in range, and in the Sportage's segment. Its calibration feels perfectly matched to the engine's sweet spot for no other reason than it doesn't seem to put a shift wrong.
Meanwhile, the various driver assistance systems across the Sportage range do a good job. The adaptive cruise and active lane centring (Lane Follow Assist) come together well on the freeway and offer almost semi-autonomous capability and the GT-Line's nifty Blind Spot View Monitor and surround-view cameras are excellent.
Some may find the lane centring function a little overbearing, and the lane-keep assist can at times tug at the wheel unnecessarily out of caution. Nothing we haven't seen before, but worth noting.
Kia Sportage Safety Rating
ANCAP Safety Rating Australia
The Kia Sportage has yet to be rated by ANCAP, but the mechanically-related Hyundai Tucson received a five-star rating.
All models come standard with the following safety equipment:
AEB with pedestrian/cyclist/junction assist
Blind-spot monitoring (manual models) or blind-spot assist (auto models)
Rear cross-traffic alert (manual models) or rear cross-traffic assist (auto models)
Lane-keep assist
Lane Following Assist
Intelligent speed limit assist
Adaptive cruise control (excludes manual models)
Reversing camera
Rear parking sensors
Front-centre airbag
Safe exit warning
Kia Sportage Lifecycle
How old is the current generation and when will there be a new or updated Kia Sportage?
The current generation Kia Sportage was launched in November 2021 and is currently 36 percent through its lifecycle. The last update was a new variant that was launched in January 2022 with the next model expected in 2027.
Kia Sportage Options
Options list for the Kia Sportage
There are no options beyond premium paint.
Kia Sportage Warranty
What is the warranty period and kilometre limit for the Kia Sportage?
In addition to a seven-year, unlimited-kilometre warranty, Kia offers seven years of capped-price servicing.
Kia Sportage Stock Availability
Is the Kia Sportage available to buy now and what are stock levels and how long are wait times?
Availability for the Kia Sportage remains tight with wait times of around six months for the base model 2.0-litre, while those going for the more expensive turbo petrol or turbo diesel models will be likely waiting around two to three months.
Kia Sportage Infotainment
What infotainment do you get within the range?
The base model Kia Sportage comes with an 8.0-inch infotainment screen that has Apple CarPlay/Android Auto (wireless) capability as well as DAB digital radio, a basic six-speed audio system and a run of the mill 4.20inch TFT digital instrument cluster.
Stepping up to the higher grades will add a much larger 12.3-inch infotainment system that also has satellite navigation and if you go for the best grade, there is also a 12.3-inch instrument cluster.
Kia Sportage Boot Space
How much luggage or cargo capacity and boot space is there in the Kia Sportage?
The Sportage has 543L of boot space with the rear seats up, increasing to 1829L with the rear seats folded. There's a full-sized alloy spare under the boot floor.
Kia Sportage Fuel Economy
How much fuel does the Kia Sportage use and what are its emissions?
With the 2.0-litre engine and the six-speed manual transmission, the Sportage uses 7.7L/100km on the combined cycle. This increases to 8.1L/100km with the optional six-speed automatic.
The 1.6-litre turbo-petrol uses 7.2L/100km while the 2.0-litre turbo-diesel is the thriftiest at 6.3L/100km on the combined cycle.
Depending on the variant, view the 2023 KIA SPORTAGE fuel usage below.
All Highway, City, and Combined figures below are litres per 100km
| Variant | Series | Style | Fuel Type | Highway | City | Combined | E10? |
| --- | --- | --- | --- | --- | --- | --- | --- |
| S (FWD) | NQ5 MY24 | 4D WAGON | UNLEADED PETROL | - | - | 7.7 | - |
| S (FWD) | NQ5 MY24 | 4D WAGON | UNLEADED PETROL | - | - | 8.1 | - |
| SX (FWD) | NQ5 MY24 | 4D WAGON | UNLEADED PETROL | - | - | 7.7 | - |
| SX (FWD) | NQ5 MY24 | 4D WAGON | UNLEADED PETROL | - | - | 8.1 | - |
| S (AWD) | NQ5 MY24 | 4D WAGON | DIESEL | - | - | 6.3 | - |
| SX+ (FWD) | NQ5 MY24 | 4D WAGON | UNLEADED PETROL | - | - | 8.1 | - |
| SX (AWD) | NQ5 MY24 | 4D WAGON | DIESEL | - | - | 6.3 | - |
| SX+ (AWD) | NQ5 MY24 | 4D WAGON | UNLEADED PETROL | - | - | 7.2 | - |
| SX+ (AWD) | NQ5 MY24 | 4D WAGON | DIESEL | - | - | 6.3 | - |
| GT-LINE (AWD) | NQ5 MY24 | 4D WAGON | UNLEADED PETROL | - | - | 7.2 | - |
| GT-LINE (AWD) | NQ5 MY24 | 4D WAGON | DIESEL | - | - | 6.3 | - |
Kia Sportage Dimensions
The dimensions of the Kia Sportage
The Sportage measures 4660mm long and 1865mm wide. It's 1665mm tall on S and SX models and 1680mm tall as an SX+ or GT-Line. All models have a 2755mm wheelbase.
Ground clearance is 181mm across the range, while tare weight ranges from 1508kg to 1759kg.
Depending on the variant, the 2023 KIA SPORTAGE measures as below.
| Variant | Series | Style | Length (mm) | Width (mm) | Height (mm) | Wheelbase (mm) |
| --- | --- | --- | --- | --- | --- | --- |
| S (FWD) | NQ5 MY24 | 4D WAGON | 4660 | 1865 | 1665 | 2755 |
| S (FWD) | NQ5 MY24 | 4D WAGON | 4660 | 1865 | 1665 | 2755 |
| SX (FWD) | NQ5 MY24 | 4D WAGON | 4660 | 1865 | 1665 | 2755 |
| SX (FWD) | NQ5 MY24 | 4D WAGON | 4660 | 1865 | 1665 | 2755 |
| S (AWD) | NQ5 MY24 | 4D WAGON | 4660 | 1865 | 1680 | 2755 |
| SX+ (FWD) | NQ5 MY24 | 4D WAGON | 4660 | 1865 | 1665 | 2755 |
| SX (AWD) | NQ5 MY24 | 4D WAGON | 4660 | 1865 | 1680 | 2755 |
| SX+ (AWD) | NQ5 MY24 | 4D WAGON | 4660 | 1865 | 1680 | 2755 |
| SX+ (AWD) | NQ5 MY24 | 4D WAGON | 4660 | 1865 | 1680 | 2755 |
| GT-LINE (AWD) | NQ5 MY24 | 4D WAGON | 4660 | 1865 | 1680 | 2755 |
| GT-LINE (AWD) | NQ5 MY24 | 4D WAGON | 4660 | 1865 | 1680 | 2755 |
The 2023 KIA SPORTAGE has a braked towing capacity from 1650kg to 1900kg depending on the variant and an unbraked towing capacity of 750kg.
Kia Sportage Market Fit
Where does it fit in the competitor segment?
The Kia Sportage is part of the sprawling, intensely competitive mid-sized SUV segment. Its rivals include the Ford Escape, Haval H6, Honda CR-V, Hyundai Tucson, Mazda CX-5, MG HS, Mitsubishi Outlander, Nissan X-Trail, Subaru Forester, Toyota RAV4 and Volkswagen Tiguan, among others.
Kia Sportage Sales Data
How well has the Kia Sportage been selling?
In the first two months of 2022, Kia has sold 2406 examples of the redesigned Sportage. That puts it behind only the Mazda CX-5 (4478), Mitsubishi Outlander (3025), Subaru Forester (2738) and Toyota RAV4 (5879). Notably, it's outselling its Hyundai Tucson platform-mate (1506).
Should you buy the Kia Sportage
Is this the right car for you? Our experts buy or not guide.
Yes.
Skip the weak base engine and step up to the 1.6-litre turbo-petrol or, better yet, the 2.0-litre turbo-diesel.
The Sportage impresses with its thoughtfully designed and spacious interior and its impeccable on-road manners.
Competitor Analysis
What other cars should you look at?
Choosing between the Kia Sportage and Hyundai Tucson comes down almost entirely to styling preference, as they share their underpinnings. That includes the three powertrains available across both model ranges. The Tucson has lower capped-price servicing rates but the Sportage has a longer warranty.
The Mazda CX-5 also offers a choice of petrol, turbo-petrol and turbo-diesel four-cylinder engines, though its turbo-petrol is considerably more powerful than the Sportage's. However, the CX-5 is one of the smaller models in its class and tighter inside than the spacious Sportage.
Kia has no rival for the Toyota RAV4 hybrid in Australia, but the Sportage has a similarly well-sorted ride/handling tune to the wider RAV4 range and a similarly spacious interior while offering more modern infotainment.
Speaking of modernity, the Sportage is much fresher than the venerable Nissan X-Trail. The Mitsubishi Outlander is as new as the Kia and offers the option of a third row of seating, though it's no longer available as a diesel.
Kia Sportage Interesting Facts
Did you know?
Europe receives a shorter-wheelbase version of the Sportage in lieu of the longer body style sold in markets like ours and Korea and North America.
Hybrid and plug-in hybrid powertrains are also offered overseas, but have yet to appear here.
Frequently Asked Questions