The current, fourth-generation Kia Sportage first landed in Australia in 2016. Spies have been snapping photos of the next generation Hyundai Tucson, its platform-mate, which means the current Sportage is getting close to the end of its lifecycle. 
That must mean it's inferior to newer, fresher rivals, right? Don't be so sure.
Its rather bug-eyed face came as somewhat of a shock in 2016, particularly following the crisp, elegant third-generation model. 
Its ubiquity, however, has made us accustomed to its once controversial visage. 
Last year, the Sportage was the seventh best-selling vehicle in the sprawling mid-size SUV segment, the most popular segment in Australia. That puts it firmly in the top half in terms of sales.
The rest of its exterior is chunky, handsome and has aged well, particularly in higher-spec models with their LED tail-lights and attractive wheel designs.
How much does the Sportage cost?
The GT-Line petrol is priced at $44,790 before on-road costs, though Kia is currently advertising a drive-away price of $46,490.
If you prefer the fuel economy and effortless torque that comes with turbo diesels, the Kia Sportage GT-Line can also be had with a four-cylinder oiler for $47,890 plus on-road costs, currently advertised for $49,690 drive-away.
What do you get?
In top Kia Sportage GT-Line spec, the Sportage is stuffed to the gills with features.
Hyundai and Kia deserve credit for democratising some luxury features, like panoramic sunroofs and ventilated seats, once exclusive to luxury brands. Some rivals still don't offer these.
Both are standard only on the Sportage GT-Line, which is also the only Sportage trim to feature heated and ventilated front seats, a 'smart' power tailgate, Qi wireless phone charging, an automated parking system, and adaptive cruise control.
Those are in addition to features available in lower grades like an eight-speaker JBL sound system with DAB digital radio, an 8.0-inch touch-screen infotainment system with Apple CarPlay and Android Auto, and a 4.2-inch colour screen in the instrument cluster. 
There's also smart key entry with push-button start, rain-sensing wipers, and an electronic parking brake.
You can distinguish the Kia Sportage GT-Line from lesser Sportages by its larger, 19-inch alloy wheels, satin silver grille, auto-levelling LED headlights, and LED front fog lights. 
Inside, you can identify it by its flat-bottom sports steering wheel and metal-look paddle shifters and pedals, as well as the available two-tone grey leather interior. 
If you want to be boring, you can also get the GT-Line with an all-black interior.
Is the Sportage safe?
Autonomous emergency braking with forward collision alert, a reversing camera, rear parking sensors and lane-keeping assist are available across the entire Sportage range, as are automatic high-beam headlights. 
The Kia Sportage GT-Line, however, adds blind-spot monitoring and rear cross-traffic alert to its safety credentials.
Speaking of credentials, the Sportage received a five-star rating from ANCAP when it was tested back in 2016.
You can find more details and highlights on all the safety features on the official Kia Sportage website.
Inside
A classy cabin
An elegant colourway and a neat dashboard make for a pleasant place to sit
What's the Sportage like inside?
The Kia Sportage GT-Line's available two-tone interior classes up the ambience, as two-tone interiors tend to do. The top half of the dash is covered in a soft-touch, leather-like material with attractive stitching. 
Soft-touch plastics are also used on the tops of the door trims, with leather inserts situated below. 
The lower half of the door trims and the dashboard feature hard plastic but that's not unusual for the segment. The overall look and build quality of the interior is hard to fault.
The 8.0-inch infotainment system is nicely integrated in the dash and yet easy to reach, providing a better balance of aesthetics and ergonomics than many of today's tablet-style screens. 
While many smartphone users will likely activate Apple CarPlay or Android Auto, the factory navigation works well.
Even when you're not navigating to a destination, the system will alert you if you're about to enter a school zone. 
Somewhat confusingly, it announces, "Children crossing ahead" even if there's no zebra crossing. Just slow down anyway.
It'll also announce if there's a red light camera ahead. This is a little ethically dubious as there's really no excuse for ever running a red light. Strangely, once you've driven through such an intersection, the system plays a chime that sounds like a doorbell.
Don't worry, you can turn it off.
The GT-Line features a 10-way power adjustable driver's seat with two-way lumbar support and an eight-way power adjustable passenger's seat. 
The seats themselves are rather firm and unyielding, though the driver's lumbar adjustment helps shore up lower back support.
The panoramic sunroof is a delight. It takes up most of the roof, can be tilted for fresh air, and has a nice, thick blind for when you don't want the sun to shine in. 
These full-size sunroofs are great at making a car's cabin feel more light, airy and upscale. Not that the Sportage's cabin is especially gloomy, with average visibility for its class.
It's also sufficiently spacious for the segment, with a roomy back seat and plenty of legroom. The huge sunroof doesn't eat into rear headroom, either.
The second row can be reclined for comfort or folded 60:40 for cargo. Rear seat occupants enjoy rear air vents, a USB port and a 12V power outlet.
Back there, you'll also find three anchor points and two ISOFIX points for child seats.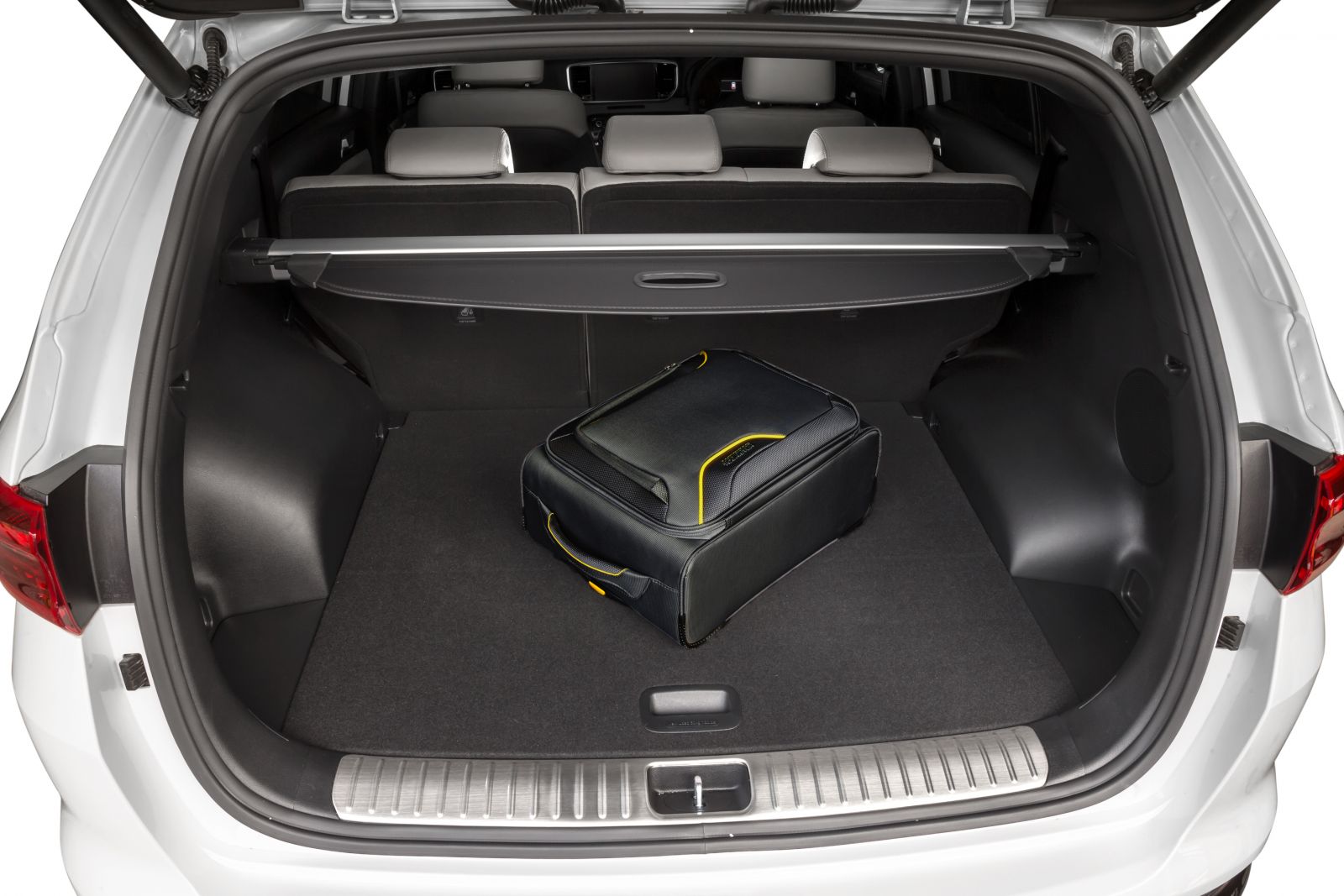 Cargo volume is a bit lower than rivals like the Honda CR-V and Toyota RAV4, with a total volume of 466L.
It expands to 1055L with the rear seats folded. A full-size spare is located under the load floor.
Kia Sportage GT-Line models feature a "smart" power tailgate that'll open if you stand behind it for three seconds with the key handy. 
There's no need to put your left foot in and take your left foot out and certainly no need to shake it all about, though the tailgate is a bit slow to open and close.
Less clever is the bonnet, which still uses a prop rod.
What's under the bonnet?
The GT-Line brings with it a larger, more powerful petrol engine. The naturally-aspirated, direct-injected 2.4-litre four-cylinder produces 135kW at 6000 rpm and 237Nm at 4000rpm and sends power through a six-speed automatic transmission to all four wheels.
That's up 21kW and 45Nm over the 2.0-litre petrol in lesser Sportages. However, it merely matches the standard 2.5-litre four in the Subaru Forester (136kW and 239Nm) and the turbocharged 1.5-litre in most of the Honda CR-V range (140kW and 240Nm).
The Sportage GT-Line is priced up against more powerful rivals. 
The Holden (née Chevrolet) Equinox can be had with its punchy turbocharged 2.0-litre four (188kW and 353Nm) from as little as $39,990 before on-road costs.
Even in range-topping LTZ-V spec, it's just $200 more than the GT-Line. It can likely be had even cheaper as part of Holden's run-out sales.
The Kia Sportage is also down on torque compared to the turbocharged 1.6-litre four-cylinder in up-spec variants of the related Hyundai Tucson. 
Finally, it's considerably less punchy than the turbocharged 178kW 2.0-litre four available in Sportages in markets like the US, where our 2.4-litre engine is actually the base offering.
If you're after a Kia Sportage in Australia with more torque and superior fuel economy than the 2.4-litre, a 2.0-litre turbo-diesel four-cylinder is available across the range.
Available exclusively with all-wheel drive and mated to an eight-speed automatic transmission – instead of the six-speed auto in petrol models – the turbo-diesel produces an almost identical 136kW but a stout 400Nm between 1750 and 2750 rpm.
What's the Sportage like to drive?
For a flagship petrol engine, the 2.4-litre never feels especially fast. Power is best described as adequate and the engine has a gruff note at low speeds.
It quietens down at higher speeds, at least until you get on the highway. There, wind noise around the mirrors becomes prevalent.
While it sounds somewhat like a gale, highway driving is a breeze in the GT-Line thanks to its lane-keeping assist and adaptive cruise control. 
The lane-keeping assist feature is nigh on unflappable, securely keeping your car in its lane. It's subtle, too, the system gently tightening the steering and never unceremoniously yanking it.
It's the perfect feature for someone who had trouble colouring between the lines as a kid. 
Realistically, you probably shouldn't be driving if you can't stay within a lane but the system does an excellent job doing some of your job.
If you decide to take more control and end up veering into another lane, the GT-Line chimes with an audible alert.
Though it isn't necessarily the most communicative, the electrically-assisted, speed-sensitive power steering in the GT-Line has a nice weight to it. 
The chunky, flat-bottom wheel feels good in your hands and both tilts and telescopes.
Incidentally, the lone blank switch on the Sportage's dashboard – located between the driver and passenger seat heating and ventilation controls – is for the heated steering wheel option not available here.
Most rivals – even the related Hyundai Tucson – have moved onto seven, eight and even nine-speed automatic transmissions. There's nothing inherently wrong with the GT-Line's six-speed auto, however, as it's a smooth-shifting unit.
On the road
Nothing flash
Performance is only average
Paddle shifters allow you to take control over the car's gearing, though it'll eventually override your inputs if you get too silly.
Considering the transmission's general competence, there's little need for the paddles. They feel nice and surprisingly substantial, however.
Whether on the highway, pottering around town, or blasting along unsealed country roads, the GT-Line always feels secure and planted. 
The ride is a little busy, likely due to the GT-Line's unique 19-inch alloy wheels, but it never feels crashy. Bumps and imperfections are dispatched without much drama.
All-wheel drive is mandatory on all GT-Line and diesel Sportages. Should you want some extra traction on a muddy road or trail, you can activate AWD Lock mode via a switch on the centre console, 
The car will shift back into AWD Auto mode above 30km/h, but will return to AWD Lock should you decelerate.
There are also three driving modes, also toggled via a switch on the centre console. 
You can choose between the default Normal, Eco or Sport, the car's shift patterns and throttle response adjusting accordingly. Sport mode will also firm up the steering.
How much does the Sportage cost to run?
In a mix of urban and highway driving, the Sportage recorded an average of 10.9L/100km on the required 91RON.
Kia claims a combined rating of 8.5L/100km, with a highway rating of 6.7L/100km and a city rating of 11.8L/100km.
With Kia's capped price servicing, you'll pay $272, $472, $324, $657 and $306 for the first five services, respectively. Services are at 15,000km intervals.
CarExpert's take
While never especially thrilling to drive, the Sportage demonstrates precisely why buyers have flocked to mid-size SUVs instead of medium or large cars.
It's to the Sportage's credit that it's still an option worth considering in this savagely competitive segment even as it nears the end of its life cycle. 
The Kia Sportage GT-Line makes its premium worth it with a raft of luxury features and a slightly more powerful engine. 
It could stand to feature a more inspiring powertrain but the Sportage does nothing glaringly wrong, instead impressing with a generally high level of all-round competence. 
Add that seven-year, unlimited-kilometre warranty into the mix and you've got one medium SUV you should add to your shortlist.