Dual-cab utes are among the best-selling vehicles in Australia year after year, and car companies are getting better at creating ways to help you part ways with your money.
With the advent of Instant Asset Write-Off, there's almost no cap to how much business owners will spend to reduce their tax bills.
That's why Toyota has put a more effort into the second iteration of the HiLux Rogue. While the 2021 Toyota HiLux Rogue carries a higher price tag, Toyota has put greater focus on safety, design and functionality to make it feel justifiable.
In a segment that's brimming with options, should the 'luxury' Toyota HiLux be on your shopping list?
How does the Toyota HiLux fare vs its competitors?
View a detailed breakdown of the Toyota HiLux against similarly sized vehicles.
How much does the Toyota HiLux Rogue cost?
The Toyota HiLux Rogue has risen in price by $6500, now with an asking price of $68,990 before on-road costs.
The only vehicle more expensive in the HiLux range is the Rugged X, which is priced at $69,990 before on-roads.
There are nine colours to choose from with all but white costing an additional $600.
What do you get?
Toyota has gone to greater lengths to differentiate the Rogue from the rest of the HiLux range this time around. The previous Rogue looked quite similar to the regular SR5 and didn't really stand out a great deal.
This time around you'll find unique 18-inch alloy wheels, prominent wheel arch cladding and styling highlights inspired by the North American Toyota Tacoma, resin-based sports bar, LED headlights and daytime running lights, LED tail lights, privacy glass, proximity entry and an Australian-developed motorised tray cover.
Inside there's leather seats with electric seat adjustment for the driver, seat heating for the first row, a nine-speaker JBL sound system, an 8.0-inch infotainment system with Apple CarPlay and Android Auto, single-zone climate control, adaptive cruise control, and automatic up/down on all four windows.
You can read more about the 2021 Toyota HiLux Rogue pricing and specifications here.
Is the Toyota HiLux Rogue safe?
The Toyota HiLux was crash tested by ANCAP and achieved a five-star safety rating.
Crash test ratings for the current HiLux apply from July 2019. It earned a 96 per cent adult occupant protection rating, an 87 per cent child occupant protection rating, an 88 per cent vulnerable road user protection rating, and a 78 per cent safety assist score.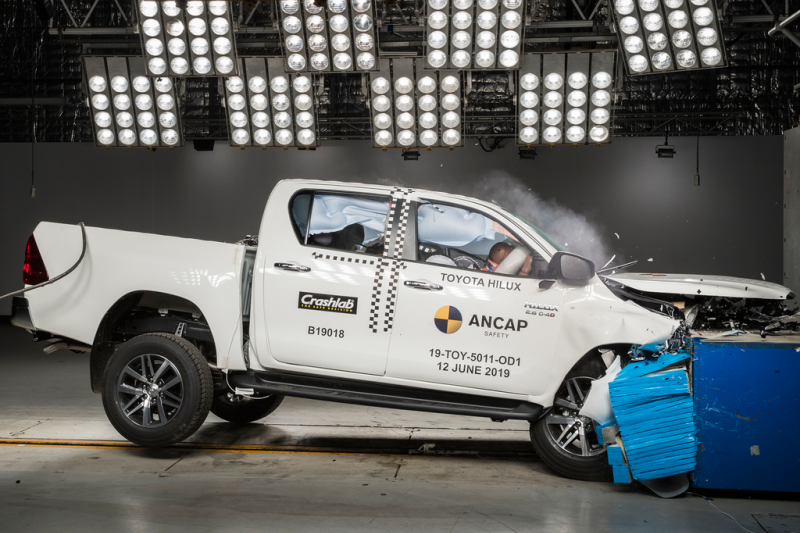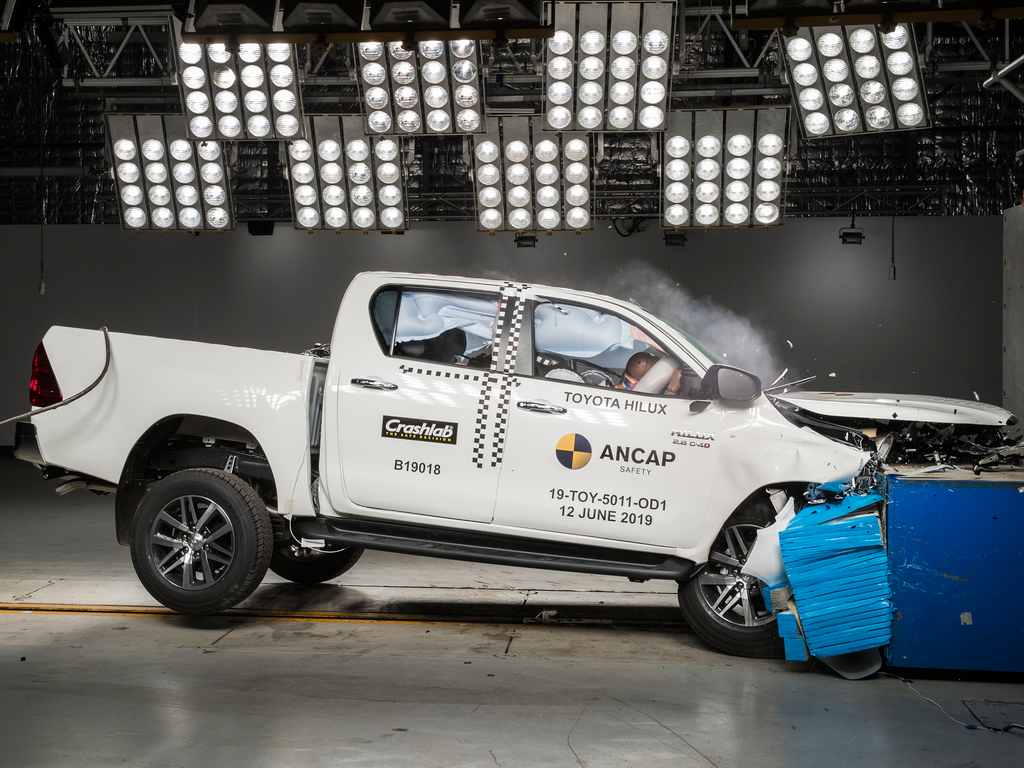 Standard equipment on the Rogue includes autonomous emergency braking (forward) with vulnerable road user detection, lane departure warning, lane departure assistant, adaptive cruise control as well as front, chest, head and knee (driver) airbags.
You can read more about the HiLux crash test results on the ANCAP website.
What is the Toyota HiLux Rogue like on the inside?
In a word, familiar. Toyota hasn't changed the HiLux's cabin much since the current generation was introduced. That's not such a bad thing because it's adequately styled and the Rogue breaks up the sea of black with a brushed aluminium-look material between the air vents and infotainment screen.
Ahead of the driver you'll find a small LCD display between the speedometer and tachometer that includes critical vehicle functions, settings and the trip computer. Restyled analogue gauges also add a point of difference to the display.
Infotainment comes in the form of an 8.0-inch touchscreen that includes wired Apple CarPlay and Android Auto functionality, and a nine speaker JBL sound system. The screen is easy to use, but it can be laggy when transitioning between menus and shortcut buttons.
Both Apple CarPlay and Android Auto take up the entire display and remove most of the hard work from operating the screen. Outside of selecting an AM/FM/DAB+ radio station, you can safely avoid using the in-built interface by virtue of smartphone mirroring.
The only issue worth pointing out is the sole USB port in the cabin can't be used by any other device when a smartphone is connected. It's a shame there isn't another plug or wireless smartphone charging for your passengers.
In terms of storage, Toyota offers a litany of places to keep your things. Two cupholders at the front of the cabin are joined by a phone slot, another storage slot behind the gear lever, large door bins, a generous centre console with a 230V power outlet, a big glove box and a secondary storage box above it that is also cooled.
A handy inclusion is a set of cup holders in front of the air vents for front seat passengers.
Seat comfort, leg- and headroom up front is great with the driver's seat offering a good range of electric seat adjustment. The front passenger seat is still manually adjustable, though.
The second row is tight for adults with a fairly cramped space for knee- and headroom. This is more noticeable if you have a taller front seat passenger or driver that pushes their seat quite far back.
But rear seat passengers do get air vents, a centre armrest with two cupholders, bottle holders in the doors, hooks on the back of the driver and front passenger seats, along with storage beneath the bench seat. Two ISOFIX points are joined by three top tether points (one anchored point and two hoop points).
Carpet
Luxury for your tools
Don't worry, it's not your monitor playing up, there's actually carpet in the tray of this ute. And yes, you must take your shoes off before climbing in.
The cover on the tray operates courtesy of an electric motor that can be triggered by buttons on top of the tray or by the key. When retracted, it reveals one of the funniest things I've seen this year – a carpeted tray.
It's the automotive equivalent of carpeting your bathroom – it's entirely bizarre, but kind of cool. We all know that most of the people driving these high-end dual-cab utes are unlikely to be carrying tools in the tray, so it makes sense to have a plush surface to rest your gym bag on.
The carpet includes cut outs for hooks and the upper portion of the tray includes LED lights. Toyota skimped on tray door dampening with a single set of metal hinges, just like the new Isuzu D-Max.
All the tacked-on parts atop the tray door make it noticeably heavy to operate. It would be nice to see a torsion bar fitted to make the door easier to open and close. These can be found on vehicles like the new Nissan Navara and Ford Ranger.
What's under the bonnet?
The updated HiLux includes a meatier engine, along with a reprogrammed Diesel Particulate Filter (DPF) burn regime.
Under the bonnet you'll find a 2.8-litre four-cylinder turbocharged diesel engine that produces 150kW of power and 500Nm of torque. It's mated to a six-speed automatic transmission.
On the combined cycle, Toyota claims a fuel economy of 8.4 litres of diesel per 100km. During testing, our figure settled on just over 10.0L/100km with a mix of city and highway driving, along with some off-road driving.
After a number of issues with diesel particulate filters and the outgoing 2.8-litre diesel engine, Toyota has now adjusted the programming of the DPF burn and also included a manual burn switch.
Previously, the DPF failed to activate often enough to burn diesel particulates caught in the filter. This resulted in filters becoming clogged and particulates bypassing the filter entirely.
We noticed during our testing that the particular filter burn is activated more frequently than before with a particulate burn taking place twice during the 400km we spent with the car. The car can be switched off during a particulate burn (with it resuming on the next start) and an indicator appears on the screen offering a status update on how much longer it needs to complete.
How does the Toyota HiLux Rogue drive?
Toyota didn't look to reinvent the wheel with the latest HiLux update, instead looking to refine power and torque delivery, along with ride comfort.
The headline figures are a jump in power and torque and it's a noticeable change behind the wheel. A 10 per cent increase in torque output is readily felt when you get stuck into the throttle.
Mid-range acceleration feels sharper and there's less lag off the line before you are pushed back into the seat. While it remains smooth throughout the rev band, we did notice it can feel a little unrefined above 3000rpm, where there's a slight vibration that's felt through the wheel.
We didn't get a chance to tow with the Rogue, but we feel the increase in torque will help it feel more confident with a load attached. The previous model felt comfortable with upwards of 2500kg attached to it, but struggled with hills if you had anything other than the trailer on the vehicle.
The six-speed automatic transmission feels smooth and can be used in three drive modes – an Eco mode that dulls air conditioning and throttle response, a Power mode that sharpens throttle feel and a Sport mode that encourages delayed gear shifts and a higher rev limit.
Ride comfort has also been improved thanks to longer rear leaf springs, wider spacing of the front springs and revisions to the attachment points. These combine to offer a more settled ride when unladen and take the harshness out of the ride experienced in the previous HiLux.
As for the steering Toyota has added a variable flow control pump for a lighter feel at low speeds, but despite this it remains quite heavy at low speeds and doesn't offer a great deal of feel, meaning U-turns and roundabouts require a bit of effort. Unlike most other dual-cab utes in the segment, the HiLux retains a hydraulic steering rack, which limits the ability for variable tuning and the dynamic feel on offer from other vehicles in this segment.
It also means the lane-keeping assistant is the more intrusive braking type. Instead of lightly pulling the steering wheel to bring the vehicle back into line, it brakes individual wheels to steer the vehicle back into line. It can be quite abrupt and distracting when it happens, though thankfully it can be switched off.
In terms of four-wheel drive specifications, the Rogue offers 247mm of ground clearance, a 700mm wading depth, a 29 degree approach angle and 27 degree departure angle.
The selectable four-wheel drive system offers several modes – two-wheel drive high range (rear-wheel drive), four-wheel drive high range and four-wheel drive low range – as well as a rear differential lock (only available in low range) and hill descent control. If you need a refresher on what all of this means, check out our 4WD controls explained article and video.
The HiLux remains one of the best utes for off-road driving in the segment. It's robust and offers enough feedback to get an idea of what's going on beneath the skin when driving off-road. The electronic aids aren't intrusive and there's adequate clearance to pass over most objects that would leave an SUV dead in the water.
For those a little more serious about off-road driving, it's worth checking out the HiLux Rugged X which includes strengthened side rails, a snorkel and extra underbody protection.
How much does the Toyota HiLux Rogue cost to run?
Toyota offers a five-year, unlimited-kilometre warranty with the HiLux.
Servicing occurs every six months or 10,000km, where most rivals offer less restrictive 12-month service intervals. It won't be an issue for most people, but if you rely on the vehicle for work it'll mean it spends time off the road twice as much each year if you travel an average 15,000km annually.
Over a five-year period, scheduled servicing comes in at $3289 averaging $328.90 per visit.
CarExpert's take on the Toyota HiLux Rogue
Toyota has a fairly consistent formula with the HiLux. Despite recent issues with diesel particulate filters, the updated model appears to resolve those issues while the extra punch from the engine and refinements to the suspension make it pleasing to drive.
There's no longer a need to carry a load in the tray or turn to aftermarket modifications to settle the ride. The addition of smartphone mirroring also takes the focus away from the average infotainment system.
If anything, the HiLux is starting to feel its age with its hydraulic steering system and is slowly falling behind on the technology front without any remote connectivity options (Ford recently rolled out FordPass Connect and other manufacturers are expected to follow), and the glaring omission of blind-spot monitoring.
But, put those drawbacks to the side and if you want a dependable vehicle that's likely to still be trucking on for decades to come, it's hard to look beyond the HiLux.
It's certainly not the best in the segment, but it does what it does predictably and for those of you unwilling to see if the grass is greener on the other side, you're not going to be disappointed if you go out and buy another HiLux.
MORE: Toyota HiLux news and reviews
MORE: Toyota news and reviews