Yeah, I know. The Toyota Prius may be the antithesis of an enthusiast car, but they've sold over six million units globally, and it's well and truly the best-selling hybrid/electric vehicle in the world.
The latest iteration of the Prius brings with it performance gains, plus a new platform. The Toyota New Global Architecture (TNGA) is a modular platform Toyota is rolling out across its range, allowing it to package hybrid and plug-in hybrid drivetrains across a number of model lines.
We didn't want to just drive the Toyota Prius for a few hundred kilometres and take the economy for granted. We planned a 2000km road trip covering city, country, and a big stint of highway driving to see whether Toyota's leading hybrid product is as efficient as we all assume it is.
How much does the Toyota Prius i-Tech cost?
The Prius range includes two variants, the Prius and Prius i-Tech, with pricing kicking off from $37,890 before on-road costs for the entry-level Prius.
It then steps up to $45,350 before on-roads for the top-specification Prius i-Tech tested here. Buyers can pick from seven colours, with all but the base solid white costing an additional $500.
Outside of that Toyota doesn't offer any options, everything else comes standard.
What do you get?
Being the top-specification model, the Prius i-Tech is pretty well equipped on the features front.
On the outside you'll find 17-inch alloy wheels on low rolling resistance tyres, LED headlights, LED tail lights, fog lights, proximity entry, and LED daytime running lights.
Inside the cabin there's leather seats, push-button start, AM/FM/DAB+ radio, Apple CarPlay and Android Auto, automatic headlights and windscreen wipers, a head-up display, a 10-speaker JBL sound system, single-zone automatic climate control, radar cruise control, heated seats for the first row, and wireless phone charging.
There's also privacy glass and an auto-dimming rear-view mirror to round out the standard list of equipment.
Is the Toyota Prius safe?
First tested in 2016, the Toyota Prius scored a five-star ANCAP safety rating.
It was awarded a total crash testing score of 36.22 out of 37, only missing out on a full marks with the frontal offset test, where it scored 15.22 out of 16. You can read the full crash test results and data on the ANCAP website.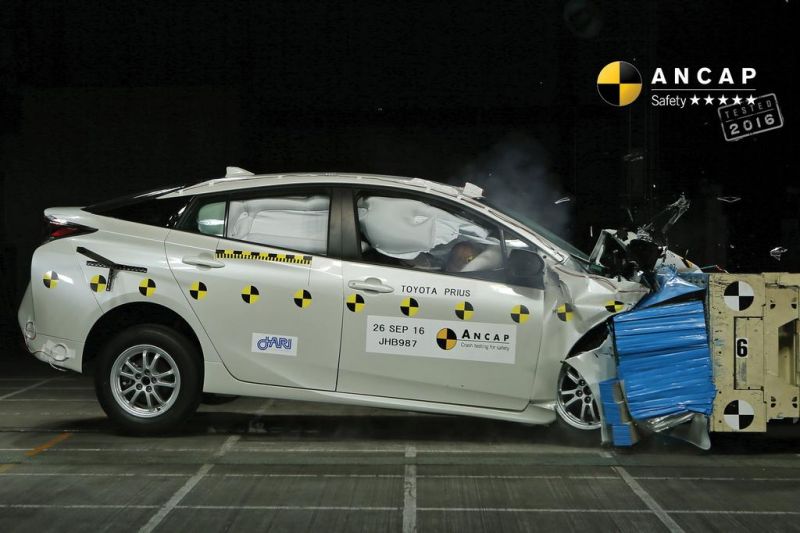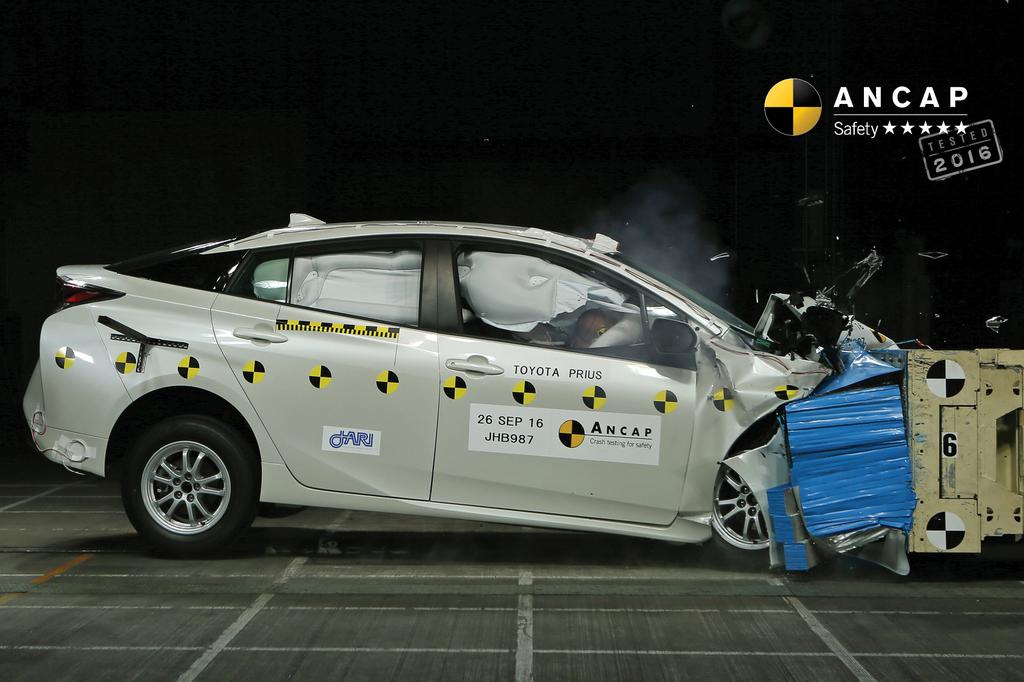 In terms of standard safety equipment, you'll find a full suite of front, side and head airbags, along with a driver knee airbag.
In addition to the airbags, autonomous emergency braking is fitted standard, but lacks the ability to detect pedestrians and cyclists.
What is the Toyota Prius i-Tech like on the inside?
In a word, basic. That's how the the Toyota Prius feels on the inside. It uses the previous generation of Toyota's infotainment system in a DIN style arrangement with lashings of piano black and the type of styling designers thought would look 'futuristic' in 2015.
Today it seems quite simple in comparison to other cars in the segment – it still wears cues from a time when Toyota wanted the Prius to look completely different to other cars on the road, hunting for that eco flex many owners wanted.
When you get get an efficient hybrid drivetrain in something as 'normal' looking as the Toyota RAV4 today, it kind of makes the Prius feel out of place.
Anyway, if you put the styling to one side, the interior has all the basic creature comforts. Strangely there's only single-zone climate control, but it works well and teams with heated seats for the first row, plus the ability to only supply heating/cooling to the driver if the rest of the cabin is empty.
In terms of infotainment and connectivity, you'll find the older 7.0-inch Toyota infotainment system that's now fitted with Apple CarPlay and Android Auto smartphone connectivity, plus inbuilt satellite navigation. It also comes with a single USB port for the entire car, plus wireless phone charging.
It's a pretty clunky infotainment system in terms of what we've come to expect from other manufacturers, but does the job. One thing we found strange was the fact it wouldn't allow us to select radio stations from two of the three DAB+ bands in Melbourne – I'm sure there's a setting somewhere to expand coverage, but we couldn't find it for the life of us.
There's a stubby transmission lever, plus the ability to select a higher regeneration mode by pulling down into 'B' (more on that later). You'll also find an archaic foot-operated park brake. Some people are fine with it, but I think it's a bit of a cop out and shows a lack of interest in bringing the Prius into 2020.
Ahead of the driver is a head-up display, with a centrally-mounted display offering speed information, along with the trip computer. The position of the central display is pretty good because it offers an alternative angle, but more importantly is backed by the head-up display.
Efficiency
Tyres
The low coefficient of drag is backed up by low rolling resistance tyres that help minimise the resistance of the road.
The second row offers reasonable accommodation for adults with adequate knee- and headroom, but toe room is fairly compromised.
There's also only a map pocket behind the passenger seat. Between the two rear seats is a central arm rest, along with two ISOFIX points for the outboard seats.
Cargo space comes in at 457 litres with the second row in place and expands to 1558 litres when the second row is folded flat. Beneath the cargo floor is a tyre repair kit with no space saver available.
What's under the bonnet?
The Toyota Prius is powered by a series hybrid arrangement. The internal-combustion engine is a 1.8-litre naturally-aspirated four-cylinder petrol engine producing 72kW of power and 142Nm of torque.
The internal-combustion engine uses an Atkinson cycle, which is a more efficient combustion process that comes at the cost of torque. That torque hole at the low end of the rev band is filled by using an electric motor.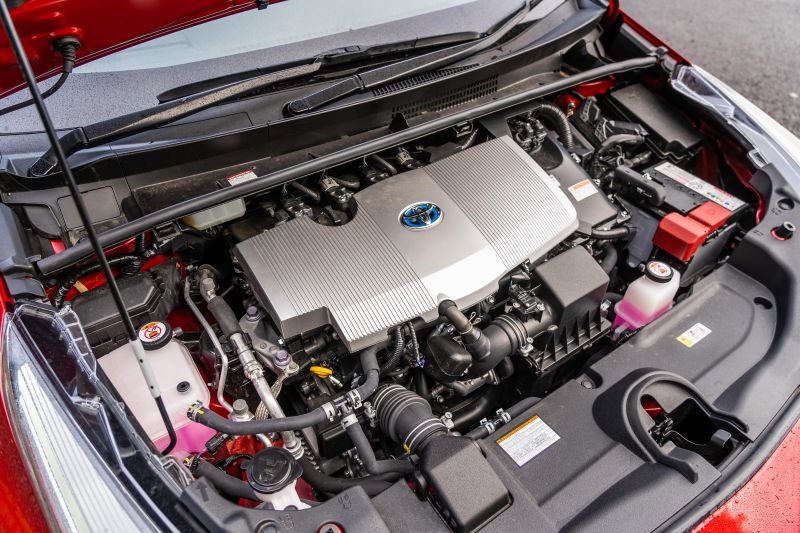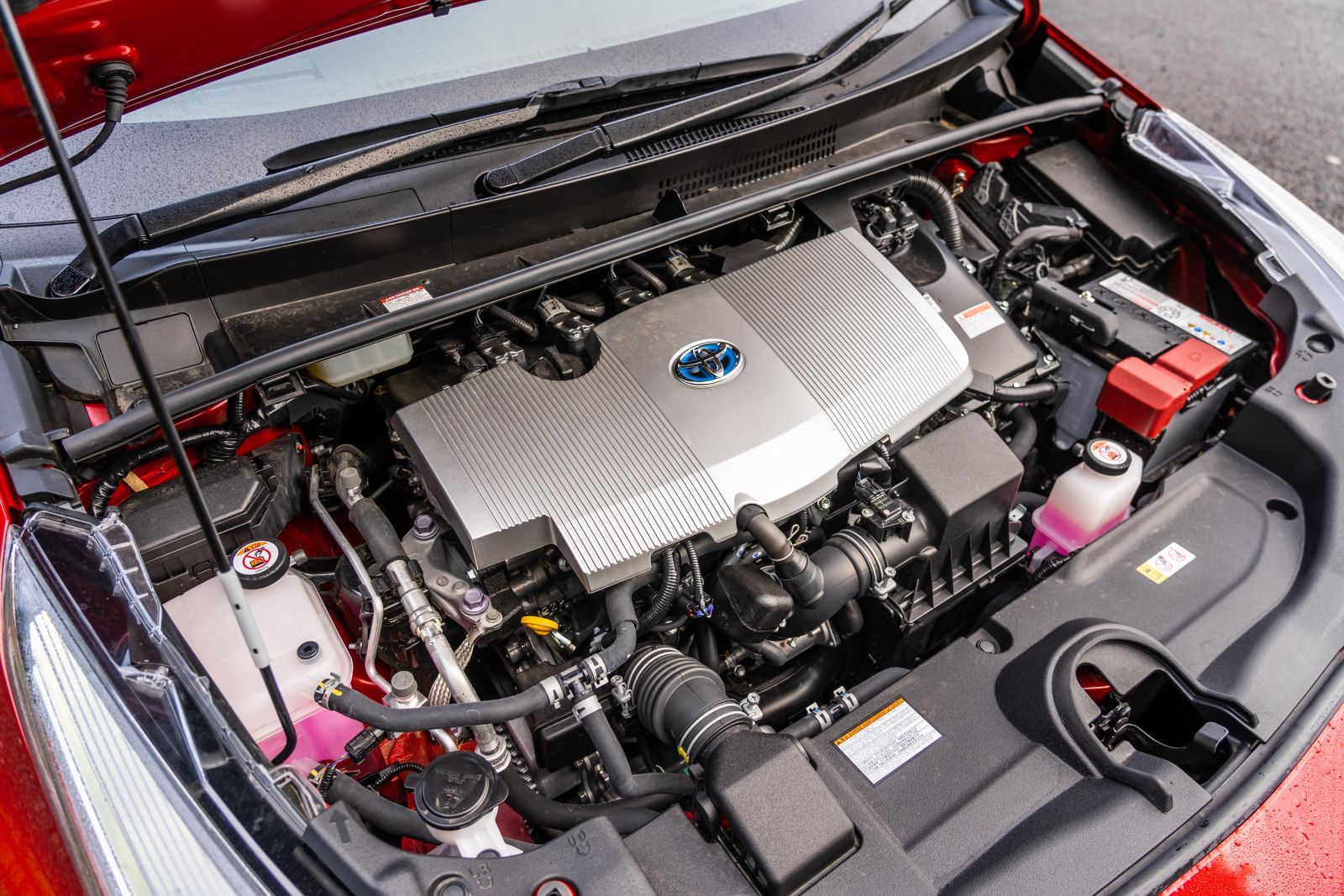 The electric portion of the drivetrain offers a combined power output of 90kW of power (with a combined torque figure undisclosed by Toyota), with the package mated to a continuously variable transmission (CVT).
Toyota claims a combined fuel economy of 3.4 litres of fuel per 100km, which is pretty remarkable for a petrol engine. It's the type of fuel economy once only seen with ultra-efficient diesel vehicles on the highway.
On the electric front, the Prius uses a 1.3kWh nickel-metal-hydride (NiMH) battery that's used to aid in moving the Prius along at low speeds.
How did we go matching that claim? We'll go into more detail on this later, but in and around town it's fairly easy to achieve around 4.0L/100km, which is what makes the Prius such a dependable option for those wanting to save on fuel costs.
It's also good to see the Prius can operate on 91RON regular unleaded fuel, instead of the 95RON required on some modern engines, including Mazda's mild-hybrid Mazda 3 SkyActiv-X.
How does the Toyota Prius i-Tech drive?
Part the Prius' success comes down to it feeling just like any other car to drive. Pop the car into drive and it whisks away silently in its full-electric mode, before the internal-combustion engine kicks on to help move things along.
A display ahead of the driver indicates when the Prius is running on electric power alone, and when the transition to a combined electric and petrol propulsion mode takes over. For the most part it's not too hard to take off gently and have the Prius stay in EV mode until the car has enough momentum.
There's also a 'B' mode that can be selected, which allows the Prius to increase the amount of electricity regeneration for the 1.3kWh battery pack. It's not quite as extreme as a pure-electric vehicle, but there's noticeable deceleration when B mode is engaged. Curiously, the car won't engage cruise control with B mode selected, it needs to be switched off before radar cruise operates.
Weighing in at 1400kg, the Prius is fairly light for a hybrid vehicle. As a result it doesn't need a huge engine and motor combination to keep it moving. Even with passengers on board, the Prius has enough power to get off the line with adequate pace. There's also enough power on tap for overtaking.
Where that doesn't stand as true is at highway speeds. Once the car is moving, there's little in the form of assistance when you try to overtake a line of cars, and it becomes even harder if you're faced with a hill.
Our extended drive was designed to get a better idea of how accurate the Prius' fuel consumption is over a variety of terrain, specifically focusing on long-distance driving. We initially wanted to do this same test in an electric vehicle, a petrol vehicle and a diesel, but the pandemic put an end to that idea.
The test route included 100km of city and suburban driving, 40km on country roads and then about 1800km of highway driving from Melbourne to Sydney and back again. In and around the city, the Prius did well – fuel consumption hovered under 4.0L/100km constantly, dipping as low as 3.5L/100km.
It's slower conditions where the benefits of the hybrid drivetrain can really be seen. It was a similar story over suburban roads, where slowing down and taking off from a standing start limited the amount of time the internal combustion engine has to operate.
It's a different story on the highway though. After setting off from Melbourne with a brimmed tank and a stated range of 1100km, it seemed easy to assume I'd make it to Sydney without needing to stop for fuel.
As the drive took place, it was pretty clear this wasn't going to happen. The fuel economy gradually climbed to 4.0L/100km, increasing slowly due to the CVT flaring on hills with the cruise control active as it tried to keep the car moving at 110km/h.
The range gradually started to drop as we approached the outskirts of Sydney, to the point where we had to exit to fill the car as range dropped to zero. Our final fuel economy ended up being 4.5L/100km, which is around 30 per cent higher than the claimed combined economy of 3.4L/100km.
Toyota claims 3.5L/100km for extra urban economy (highway driving), but as you can see even that was quite a way from where we landed. This is partly due to the economy taking a serious hit as the car moves from 100km/h to 110km/h, where wind resistance is greater and the car has to work harder at the face of hills and maintaining the speed.
The other issue we faced was the amount of road noise in the cabin above 80km/h. It made phone calls hard to make on the coarse chip highway surface, drowning out most of my speech for the other caller.
Outside of the fuel economy, it's worth touching on the rest of the drive. The ride is excellent and that's partly thanks to the work Toyota has put into the TNGA platform. It soaks up bumps and imperfections perfectly, and absorbs speed humps and cobblestones without any dramas.
The 215mm-wide tyres on all four corners are low rolling resistance Bridgestone Turanza treads, which aid fuel economy, but seem to the be the main contributor to the level of road noise in the cabin.
Steering feel is light and brake pedal feel is good – Toyota has pretty much mastered the blend between the mechanical brakes and the regeneration mode.
Visibility out of the cabin is great from the front and sides, with blind-spot monitoring assisting with cars hidden behind the pillars. The same can't be said for rearward visibility with the tailgate split into two sections; an upper window and a tinted lower window. Separating these windows is a horizontal bar that sits right in the line of traffic.
Sometimes cars can get lost in this spot and the lower tinted window has no cleaning mechanism. Once it gets dirty, it reduces the amount of visibility through the window at night.
How much does the Toyota Prius i-Tech cost to run?
The Prius comes with a five-year, unlimited-kilometre warranty with six-monthly, 10,000km service intervals.
Over a five year period servicing comes in at $2228.63, or an average of around $222 per service.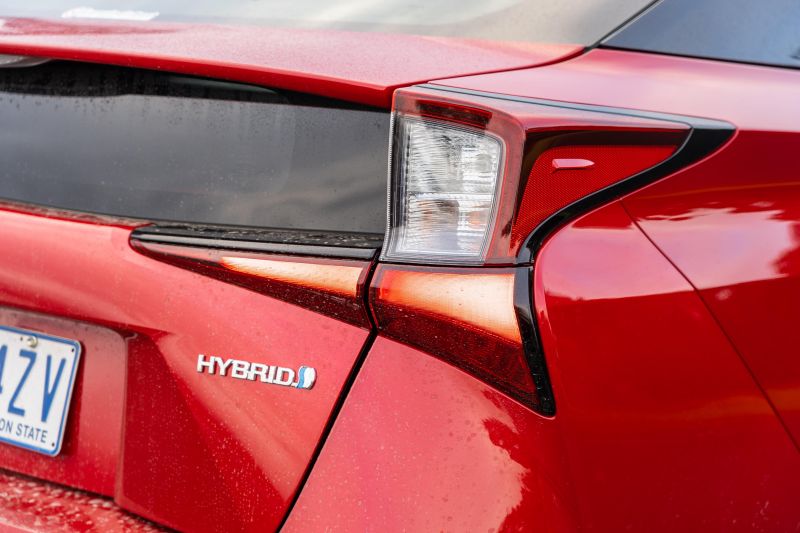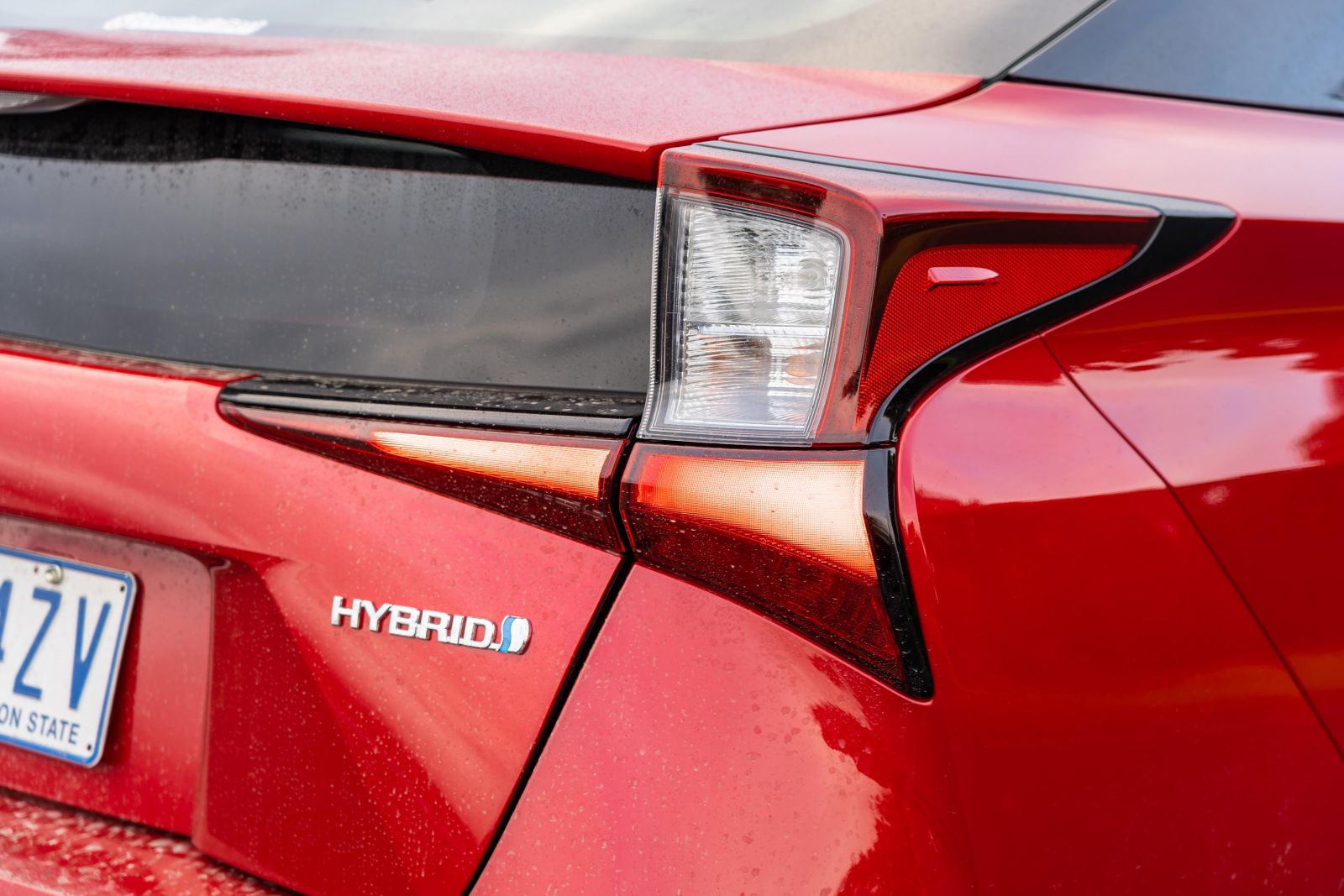 Outside of that, the Prius is cheap to operate with a requirement of 91RON regular unleaded fuel.
CarExpert's take on the Toyota Prius i-Tech
The Toyota Prius remains an excellent option for those after a highly-efficient hybrid. It has plenty of room inside, and comes with a generous boot, with excellent ride quality to help with drivability.
But it's quite expensive. At a little over $45,000 before on-roads it misses out on basics like dual-zone climate control, cooled seats, matrix LED lights and a decent infotainment system.
That kind of money will land you the plug-in hybrid Ioniq, or even a top-specification all-wheel drive Toyota RAV4 Cruiser hybrid.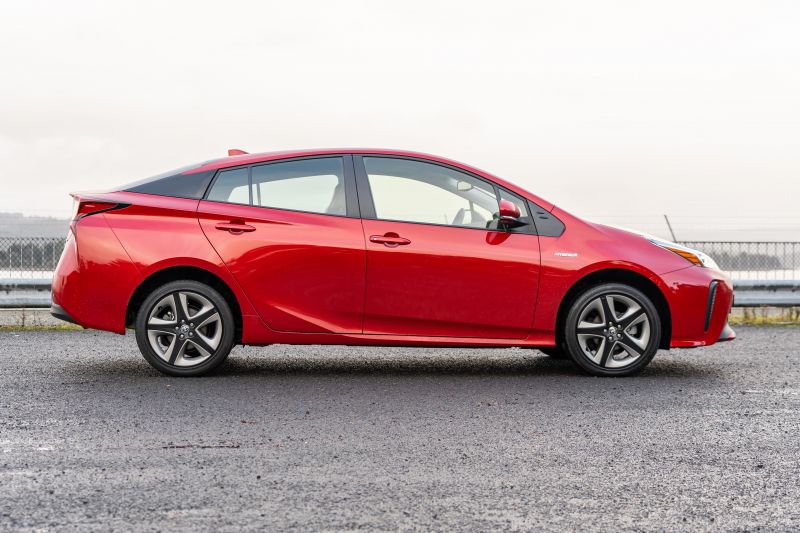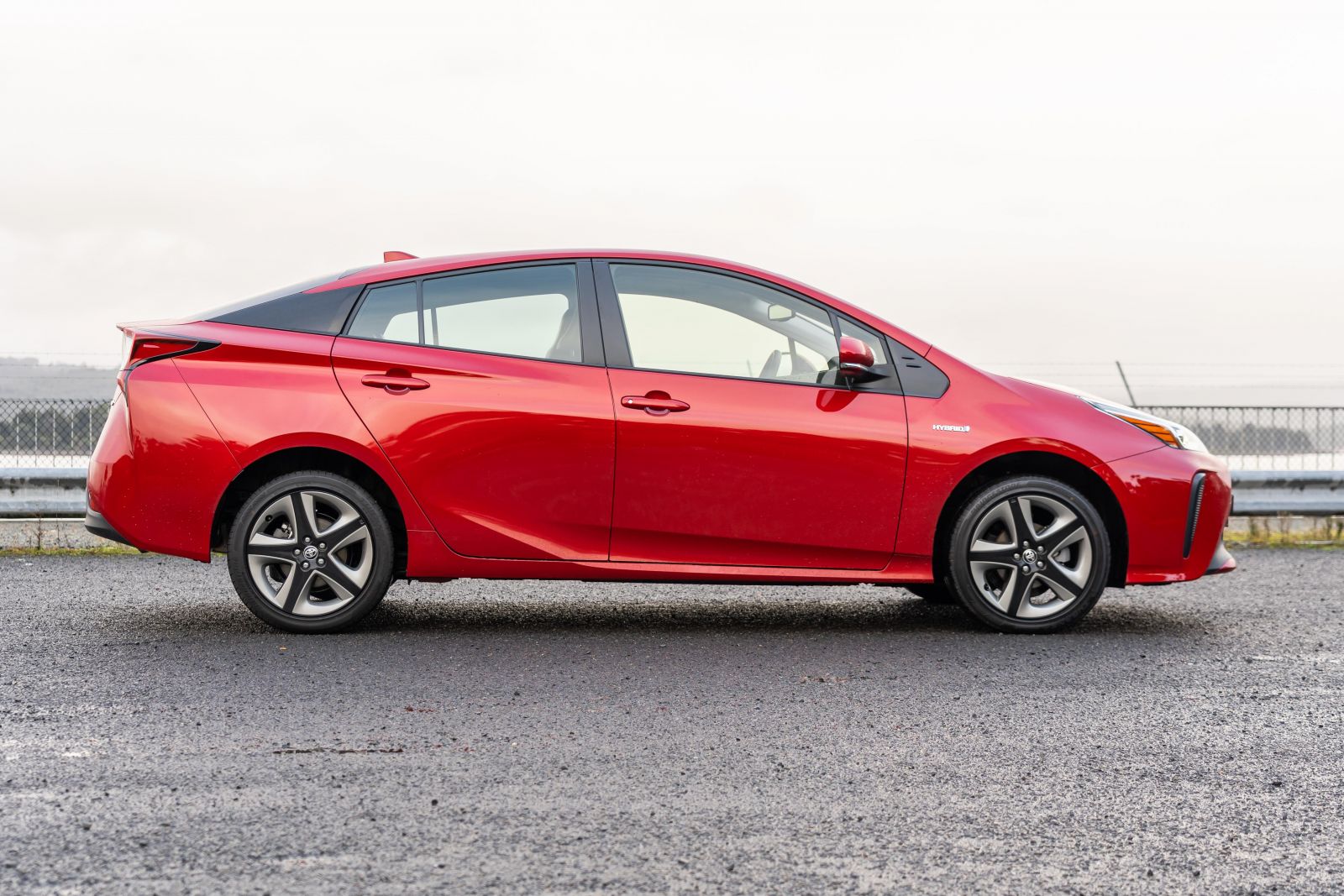 It looks as though the reign of the Toyota Prius is slowly coming to an end. The out-there design now looks out of place in a segment where more conventional looking cars now come with hybrid technology that may not match the Prius for economy, but comes close enough.
Perhaps the next generation of the Prius will go down the path of the next-generation Toyota Mirai, which has adopted sporty styling in an aim to make ultra-efficient cars the new must have item.