If you take a look across the Mercedes-Benz range these days, it's not hard to see a design trend forming across the many faces of the brand.
Big grilles, big emblems, and similar head- and tail light design cues are leading a unified designed approach for everything from the A-Class hatchback to the luxury S-Class limousine.
The move brings an element of luxury and appeal to entry-level models, while still offering cohesive design for more expensive models in the range.
A similar thing has happened with the Mercedes-Benz GLE, which wears similar design cues across its entire rang rather than packing design changes to differentiate between engines.
Outside AMG models, the specification is the same regardless of the engine, with buyers then picking extra options they want on top of the engine they've chosen.
This methodology makes the buying process far easier and removes an element of confusion from it all.
How does the Mercedes-Benz GLE-Class fare vs its competitors?
View a detailed breakdown of the Mercedes-Benz GLE-Class against similarly sized vehicles.
How much does the Mercedes-Benz GLE450 cost?
The entire Mercedes-Benz GLE range kicks off from $105,089 before on-road costs for the GLE300d, which is the entry-level 2.0-litre four-cylinder turbocharged diesel.
It then moves all the way through to the Mercedes-AMG GLE53, which is priced from $166,336 before on-roads, with a GLE63 S coming to Australia in due course.
The model tested here is the mid-specification GLE450, which is priced from $117,034 before on-roads and is powered by a turbocharged petrol six-cylinder engine.
It's available with 11 colours, with all but solid black costing an additional $2100. Solid white is $650, and high-end metallic colours will cost you an additional $3200.
Mercedes-Benz offers a number of options for the GLE, but the bulk of them are bundled into packages – we have more details on our Mercedes-Benz GLE pricing and specifications page.
Our test car had the seven-seat package ($3900), E-Active Body Control ($13,000), leather interior ($3000), Vision Package ($4200), and the Airmatic Package ($3400).
What do you get?
Aiming to simplify the range, Mercedes-Benz sells the entire GLE line-up with the same features regardless of engine. This gives buyers the flexibility and freedom to choose whether they'd like fries and pickles with their burger, or whether they'll be modern and get their burger without a bun (eww).
On the outside that means 20-inch alloy wheels, chrome highlights, full matrix LED headlights with adaptive beam, LED daytime running lights, LED tail lights, radar cruise control, keyless entry and start, front and rear parking sensors, a powered tailgate, automatic headlights, and auto windscreen wipers.
Inside the cabin there's faux leather seats, ambient LED lighting, electric seats (heated up front), a head-up display, open-pore wood trim, two 12.3-inch displays with MBUX, AM/FM and DAB+ digital radio, wired Apple CarPlay and Android Auto, MercedesMe connect, and semi-autonomous parking assistant.
In terms of optional extras, the only ones we'd consider adding to your list are the Airmatic Package (air suspension with adaptive damping), the seven-seat package if you need the extra space, and the Vision Package, which adds a panoramic glass roof, wireless phone charging, and a 13-speaker Burmester sound system.
Seats
Faux Leather
Mercedes-Benz has developed a material called Artico, which replaces leather in the GLE. Leather can still be optioned for those who prefer the nicer things.
The GLE is offered with a 2700kg braked towing capacity, but an optional tow package can be added, which increases towing capacity to 3500kg with a braked trailer, but keep in mind that tow bar down ball weight doesn't increase beyond 280kg.
Is the Mercedes-Benz GLE safe?
Yes, the Mercedes-Benz GLE scored a five-star ANCAP safety rating when it was tested in 2019.
The GLE scored a 91 per cent adult occupant rating, a 92 per cent child occupant protection rating, a 78 per cent vulnerable road user rating and a 79 per cent safety assist score.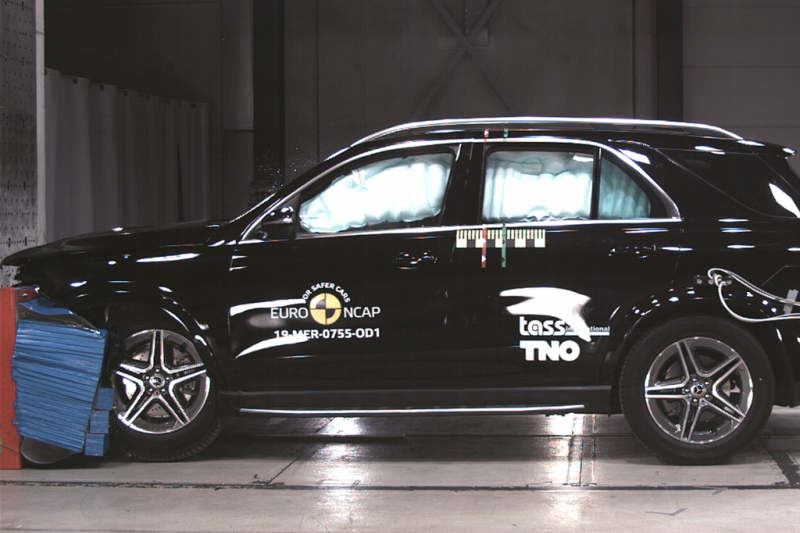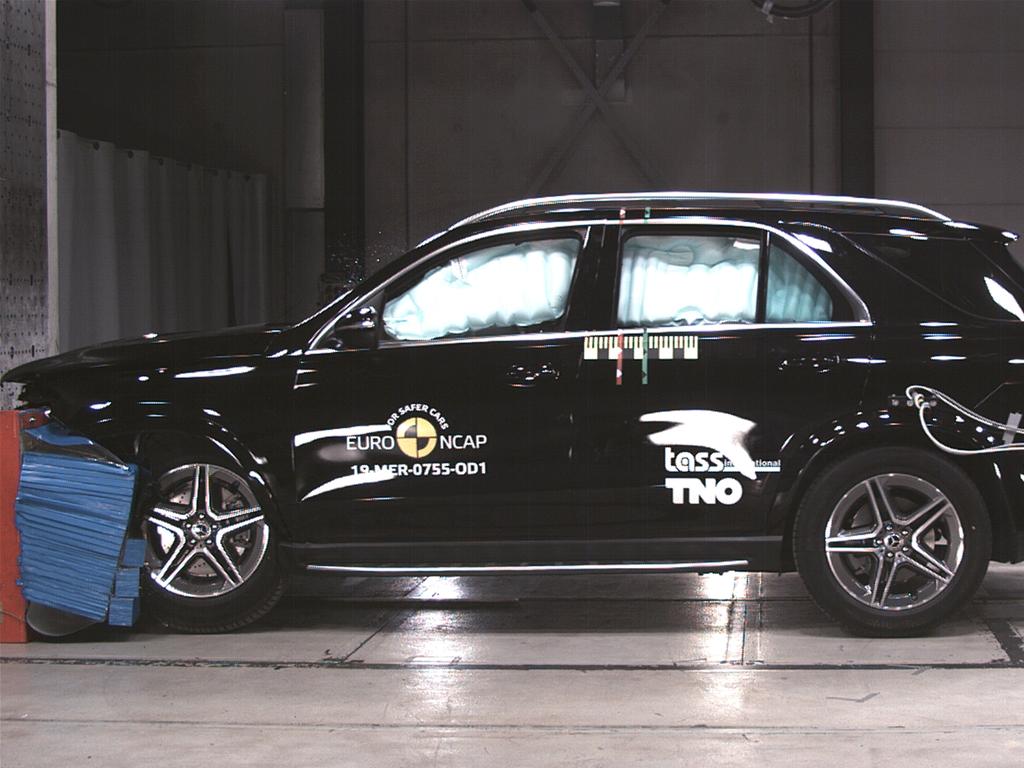 There's a big chunk of safety equipment fitted standard across the entire GLE range including low- and high-speed autonomous emergency braking with vulnerable road user detection, airbag coverage for the first, second and third rows, along with lane-keeping assist, blind-spot monitoring, and rear cross-traffic alert.
What is the Mercedes-Benz GLE450 like on the inside?
Mercedes-Benz is really nailing its interiors. Piano black, which has become somewhat of a staple in recent times, has been replaced with open-pore oak wood trim that's rough to the touch and offsets the black faux-leather trim used along the dashboard, centre console, and door linings.
Prominently displayed are two 12.3-inch high-resolution infotainment screens powered by Mercedes-Benz's MBUX system. The system is powered by a touch controller on the transmission tunnel, as a touchscreen, or using the left side of the steering wheel controls.
It's quick, intuitive and fairly easy to use. Some controls are buried in sub-menus, but for the most part it's easy to use on the move with a lot of commands and features accessible using the voice recognition system.
While it features Apple CarPlay and Android Auto, both systems require a cable to operated and are boxed into a small window instead of taking over the entire screen. USB-C is used throughout the cabin, replacing the USB-A format – although you can use an adaptor if you don't have USB-C cables yet.
Further highlights include knurled switches for the temperature and volume controls, along with metallic buttons on the steering wheel and transmission tunnel.
Build quality is good, but we did notice the stitching on the glove box door didn't line up with the panel next to it – it's one of those things you can't unsee when you notice. Not a big deal, but it's the second Mercedes-Benz we've noticed this same issue in.
Outside of that, there's generous storage in the doors, along with a decent-sized centre console and glove box, and two resizable drink holders up front.
The head-up display is a step forward from the outgoing GLE, but it almost feels a bit too big. It's split into three squares, each of which can be configured using the steering wheel controls. While you can switch the squares as required, the display still sits quite high and can't be shrunk.
BMW offers a choice between a supersized head-up display or a condensed mode taking up less room, and it'd be nice to have the same option here.
In the second row there's plenty of room for adults to stretch out, and there's a central arm rest with two cup holders built into it, generous door bin storage, and with USB-C charging. In models with the optional seven-seat package you'll find electrically-adjustable seats in the second row. The seven-seat package also adds run-flat tyres, with the spare tyre deleted.
Accommodation in the third row is pretty cramped for adults, so it's more of an emergency-use seat if you're a designated driver, or a place kids will be able to squeeze into. The second row slides forward and moves out of the way to provide access to the third row.
Storage behind the third row is pretty minimal – you won't really be able to fit much back there. But if you drop the sixth and seventh seats, the space expands to 630 litres with the second row all the way back.
With the second row slid forward that increases to 825 litres, while the space further expands to 2055 litres with all the seats folded.
What's under the bonnet?
Powering the GLE450 is a new inline-six turbocharged petrol engine with a 48V mild hybrid system.
The 3.0-litre turbocharged six-cylinder petrol engine produces 270kW of power and 500Nm of torque, with an additional 16kW of power and 250Nm of torque from the 48V mild-hybrid system. The drivetrain is mated to a nine-speed automatic transmission.
That makes this package good for a 0-100km/h sprint of 5.7 seconds, with a claimed fuel economy of 9.1 litres of fuel per 100km on the combined cycle. During testing, we achieved just over 12L/100km.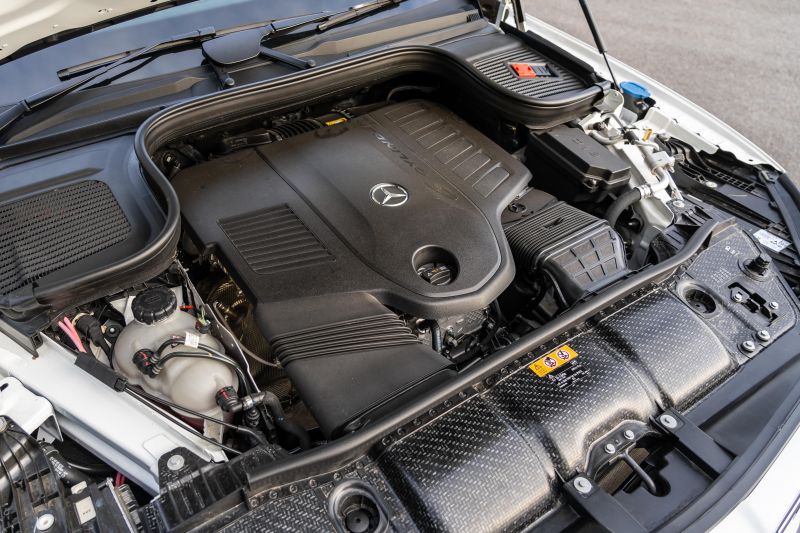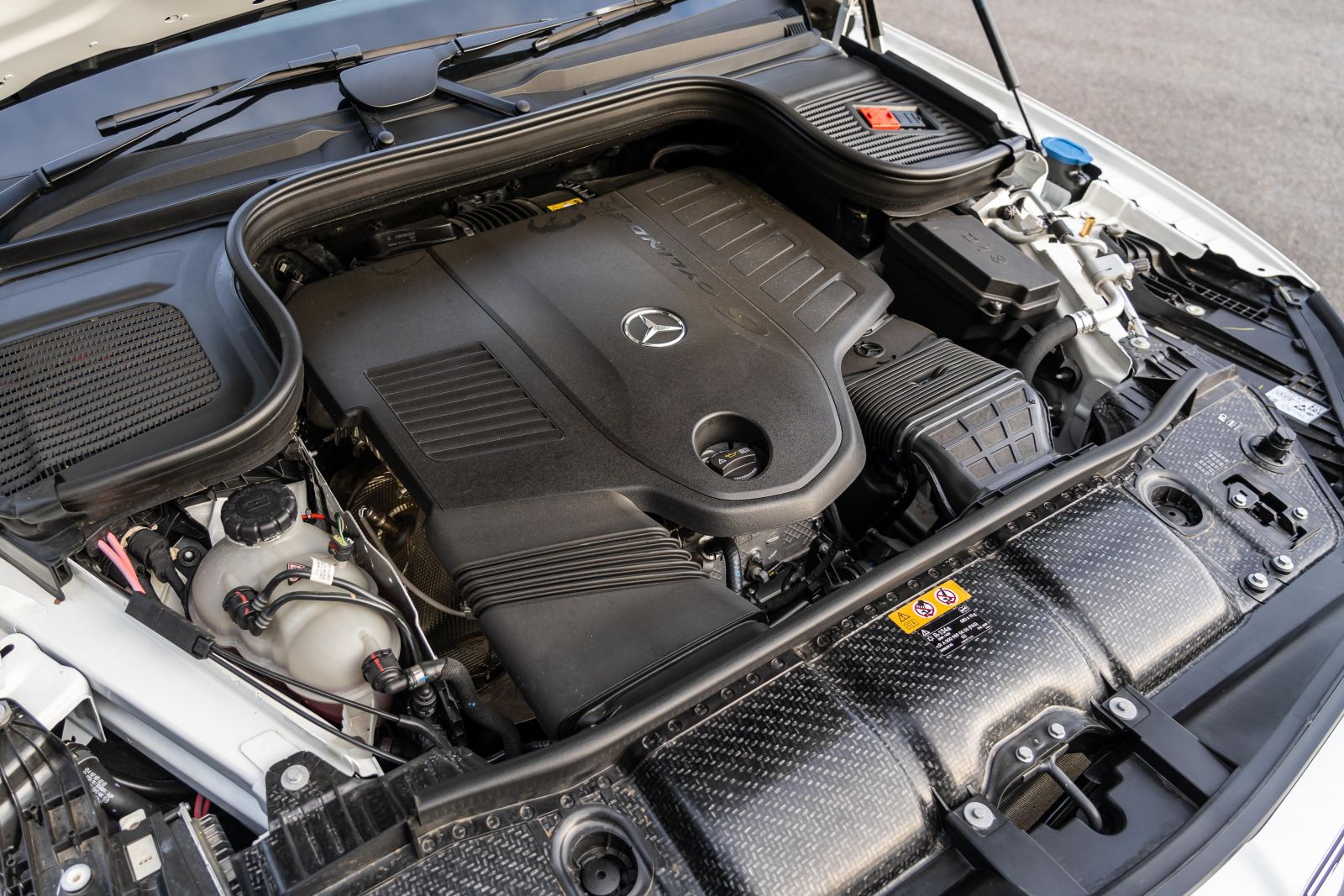 While there are economy benefits from the 48V mild hybrid system, it helps increase the kerb weight of the GLE450 to just under 2500kg.
What's the point of 48V and how does it work? You may have heard a lot of manufacturers refer to 48V systems, and their primary purpose is to cater for high-powered systems such as active suspensions, coasting assistants that allow the engine to turn off while coasting, and electric power boosts from motors.
A standard 12V electrical system doesn't supply enough power to those systems, nor do they allow vehicle accessory and safety systems to operate while the engine is switched off, which is where a 48V system comes into play.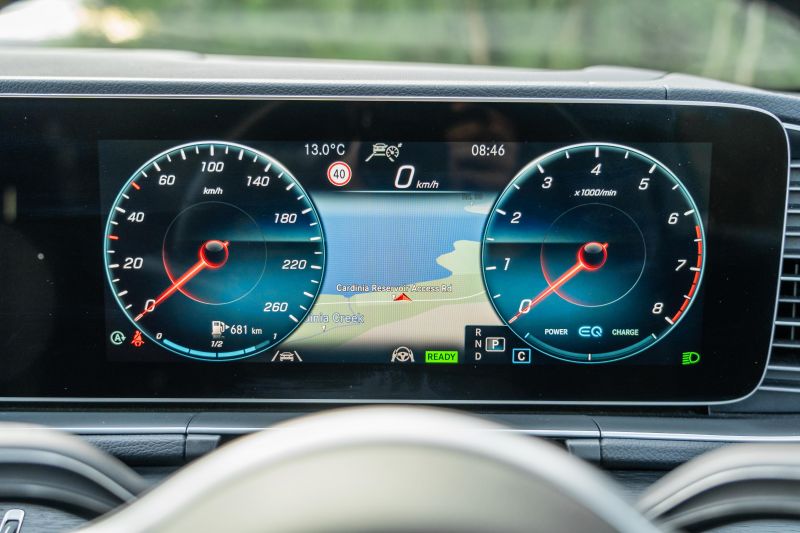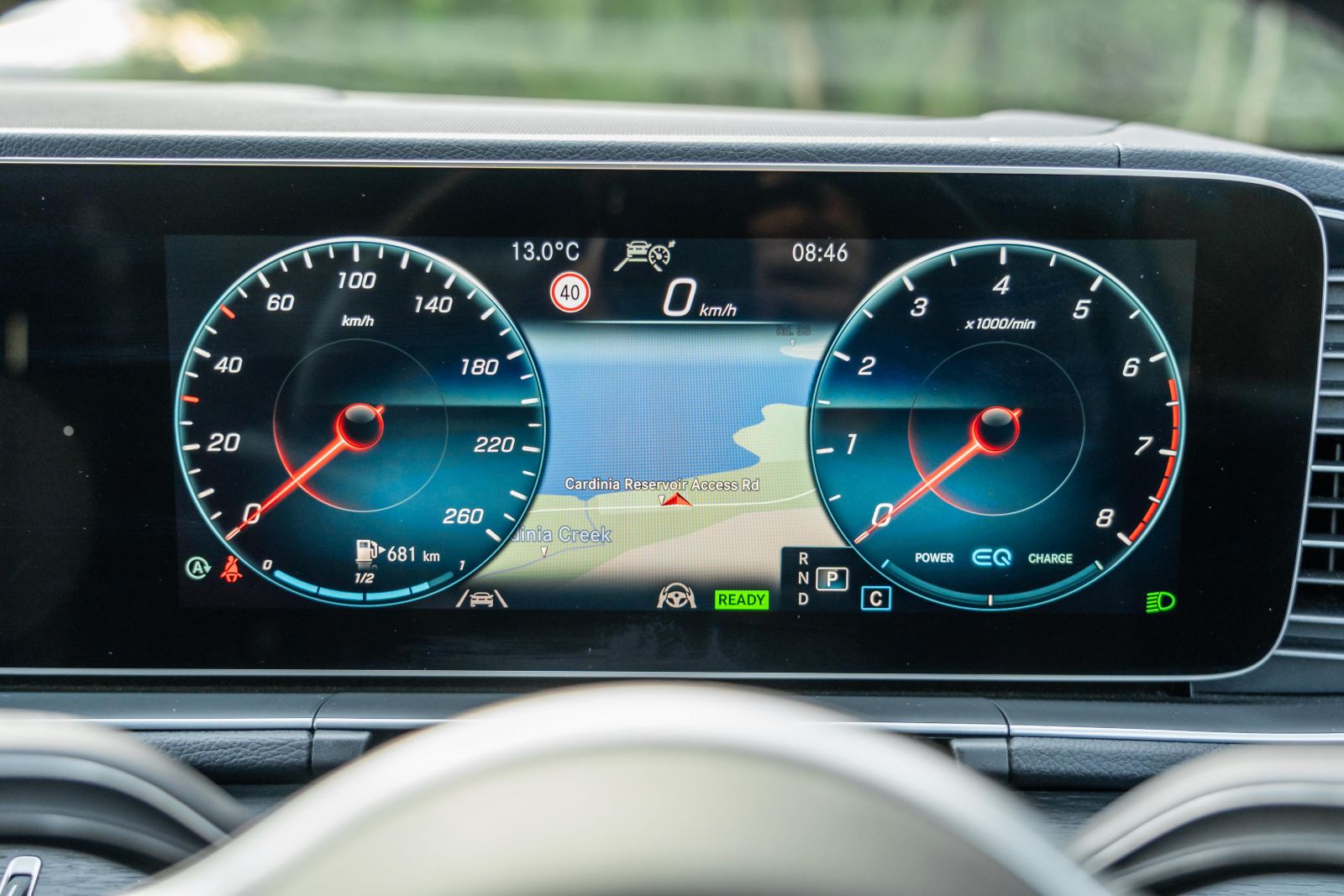 If you're familiar with Ohm's law, you'll know that Power (W) = Voltage (V) * Amperage (I). By increasing voltage and retaining the same current, you're able to get increased power. That also means you don't need to run thicker cables (which would be required if you only increase current, not voltage), which in turn reduces weight.
Mercedes-Benz's EQ Boost 48V system allows the GLE to coast with the engine switched off, while on-board systems remain functional. It also allows the optional E-Active Body Control system to adjust individual suspension components rapidly, which previously wasn't possible with a 12V system.
How does the Mercedes-Benz GLE drive?
The inline six-cylinder Mercedes-Benz engine is slowly becoming one of my favourite drivetrains. It's silky smooth and mated to a gearbox that doesn't fuss, despite having nine speeds. It's able to lean on the car's torque band to offer instant response, instead of constantly diving back through gears to keep the car moving.
It also sounds good, which is one of the side effects of using the inherently smooth, sonorous inline-six configuration.
The optional air suspension keeps the ride very smooth, even on coarse chip surfaces and roads riddled with potholes. Normally run-flat tyres, like those fitted to GLE variants equipped with seven seats, result in poor ride quality on roads with uneven surfaces, but it's rounded out thanks to the air suspension option with adaptive damping.
Despite weighing almost 2500kg, the GLE doesn't feel big or imposing. It doesn't shrink around you, but it isn't intimidating for a driver that may be used to a smaller vehicle.
Pick up from the six-cylinder engine is excellent with any torque holes filled by the 48V system, which offers an additional 250Nm of torque on demand. It's charged when the vehicle decelerates, or when coasting.
Our test car was also fitted with E-Active Body Control, which is a $13,000 option further enhancing the 48V electrical system courtesy of a stereo camera constantly scanning the road ahead. When it detects imperfections it pre-braces the suspension system and also the opposing side of the car.
It's a weird feeling because you can feel sense car rapidly lifting, with constant height increases as steering input is added. It's an interesting feature but we didn't notice much of a difference in cornering performance with the system engaged versus when it was disengaged.
And with that in mind, it's probably worth saving your $13,000 and spending it on something else.
Visibility out of the cabin is great out the front and sides, with blind-spot monitoring taking care of vehicles and motorcycles lurking in the blind spots. There's also a lane-keeping assist system.
It works well most of the time, but we noticed two occasions where it suddenly braked and pulled the car back into its lane even with the indicator on. It startles you because you don't expect it, but the feature can easily be switched off if required.
Steering feel is good, as is brake pedal feel. If you flick through the drive modes to Sport or Sport+ steering feel becomes heavier to simulate the feeling of less steering assistance and the gearbox drops back a couple of gears ready to accept some extra throttle input from an excited driver.
For the most part, it's an incredibly pleasant car to drive that soaks up miles with ease. That and it's very quiet out on the open road, it feels like Mercedes-Benz has put a lot of effort into refinement and drivability.
How much does the Mercedes-Benz GLE cost to run?
Mercedes-Benz now offers a five-year, unlimited-kilometre warranty across its range.
Servicing occurs every 12 months or 25,000km. A pre-paid service plan is available for $5200 over five years, which averages out to $1040 per service.
Outside of that it's worth noting that the Mercedes-Benz GLE450 requires 98RON premium unleaded petrol.
CarExpert's take on the Mercedes-Benz GLE450
The all-new Mercedes-Benz GLE450 surprised us. It offers refinement and an entertaining drive experience – it's a bit like having your cake and eating it too.
It's also our pick of the GLE range. It delivers all the thrills of a faster model, with relatively good fuel economy.
It's well equipped out of the box, but we'd recommend going down the path of air suspension, because the regular suspension setup can be a bit firm without the option ticked.
As always, we recommend at least a 24 hour test drive if you're buying one – especially if you plan on ticking the seven-seat option. You want to make sure you can fit the kids into the third row if required and whether it'll fit in the driveway. A 20 minute test drive with the dealer in tow may not cut it.