Ford of Europe has made some superlative hot hatches. There's the Escort RS Cosworth, two generations of Ford Fiesta ST, and multiple generations of go-fast Focuses.
The newest Focus ST is the latest member of a proud family, with the pedigree to battle a strong field of competitors led by the Honda Civic Type R, Renault Megane R.S, Hyundai i30 N, and Volkswagen Golf GTI.
This one also becomes Ford's hottest of hot hatches, since emissions regulations in Europe have killed off any chance of a new RS. This ST indeed sports a version of the old RS's drivetrain, but with front-wheel drive tamed by a clever new front diff.
How much does the Ford Focus ST cost?
There are two transmission options but one price for both: $44,690 before on-road costs. The only options are $650 'Prestige' paint and a $2500 panoramic sunroof.
The previous-generation Focus ST cost $38,990 before on-roads, plus another $2000 for the driver-assistance-bolstering Tech pack. So while this new one is more powerful and has more features, it's also more expensive.
The Hyundai i30 N kicks off at $41,400 before on-roads but it's pretty low on frills until you add the $3000 Luxury Package.
The Honda Civic Type R costs a hefty $51,990. The Renault Megane RS Sport kicks off at $45,990 and tops out at $51,990 (save the wild $73k Trophy R). The DSG-only Volkswagen Golf GTI lists at $46,690 and is in its final year on sale before the launch of the Mk8 version.
What does Ford say about it? Here's the director of Ford Performance in Europe – where the Focus ST is made – Leo Roeks.
"We've incorporated learnings from programs including our Ford GT supercar and the acclaimed Focus RS to develop a mid-size performance car with a degree of flexibility that's unique in its segment."
What do you get?
Outside there are LED headlights, taillights and running lights, privacy glass, a subtle body kit, red brake callipers, ST scuff plates, auto-folding side mirrors, rain-sensing wipers, and 19-inch alloy wheels with a temporary space-saver spare.
Colour choices are Ford Performance Blue, Orange Fury, Frozen White, Magnetic Grey, Race Red, Ruby Red, and Shadow Black.
Inside you get partial-leather Recaro bucket seats, ambient cabin lighting, dual-zone climate control, push-button start and a proximity key fob, and a 180-degree reversing camera with guidelines.
Infotainment comprises an 8.0-inch centre touchscreen mated to a 10-speaker B&O sound system with a sub unit mounted under the boot floor. There's satellite navigation with live traffic updates, Apple CarPlay and Android Auto, DAB+, a wireless phone charging pad, the ability to integrate Siri or Google Assistant once the phone is paired, and two USB ports.
Three pedals
The enthusiast choice
The manual gearbox is pinched from the old Focus RS, and has a short throw and mechanical shift feel
Is the Ford Focus ST safe?
All Ford Focus variants have a five-star ANCAP crash rating with a 2019 date stamp. The car achieved 96 per cent for adult occupant protection, 87 per cent for child occupant protection, and 72 per cent for both vulnerable road-user protection and its safety assist features.
Standard features include six airbags including full-length side curtains, and technology such as:
Autonomous emergency braking (AEB) with both cyclist and pedestrian detection
Cross-traffic alert
Blind-spot monitoring
Lane-departure alert
Lane-centring function (auto only)
Adaptive cruise control (auto only)
Passive cruise control (manual)
Automatic high-beam shut-off
Reversing camera
A speed limiter that matches the car with the current speed limit, once the car's camera reads the road sign
So, only the automatic has active cruise control, and steering assist built into the lane-departure warning system. Surely that means the manual could be a smidgen more affordable?
What is the Ford Focus ST like on the inside?
The old Ford Focus ST's interior had some unappealing elements, and this new one is much better to my eyes.
The heated Recaro front passenger seats look the goods, and offer up a gamut of manual adjustments including lumbar support. They're grippy, but also more practical and padded than the track-ready pews that made the Ford Focus RS hard to live with. 
The ST-badged steering wheel has the heavy padding near its hand grips typical of Ford, and is trimmed in fetching perforated leather. The button clusters on each spoke control audio, your active driving mode, phone, and cruise control functions, and are pretty simple to work out, and there is both rake and reach adjustment. 
Interestingly, despite this car being made in Germany with an obvious focus on left-hand drive markets (UK and Australia aside), Ford has rerouted the indicator stalk onto the right-hand side of the column, something many brands don't bother with. 
Behind the wheel are a simple analogue tachometer and speedometer coloured white on black, while the small screen between them displays digitised speed, the selected driving mode, shift advice, and other trip data. It's not flash, but does the job. 
The centre touchscreen is perched atop the dash and offers satellite navigation, wired Apple CarPlay and Android Auto, a crisp 180-degree reversing camera with guidelines, AM/FM/DAB, and Bluetooth. There are two USB inputs and a wireless phone charging pad below the ventilation controls. 
There's a decent choice of storage areas including a deep-but-narrow centre console, cupholders covered by a sliding lid, cloth-lined door bins wide enough for a 1L bottle, and a decent glovebox. Space is freed up along the transmission tunnel thanks to the figment of an electric parking brake switch. 
Like the rest of the Focus range, it's clear that the cabin has been built with price in mind. Touchpoints are mostly padded and there are some contrasting plastic inserts, but there are also various cheaper trims used throughout, and it's not particularly bold or brash in design terms. There were also two trim squeaks over corrugations.
Of course, Ford has opted to divert its attention to the driving side of things, and we can't fault it too much for that. But if you expect the cabin materials and trims to match a less-sporty Mazda 3, for example, you'll be disappointed.
Space in the back seats is acceptable for two adults measuring about 185cm or below. I'm 194cm and found head-, shoulder- and knee room a smidgen tight, but I'm clearly an outlier.  
You get two LED reading lights, an armrest with cup holders, cloth door bins, folding grab-handles with coat hooks, and a single 12V socket. You also get two ISOFIX anchor points and three top tethers. But there are no USBs or vents for rear occupants, and the plastic door trims are harder than those up front. 
Cargo space is 375 litres, smaller than a Civic Type R's big boot but acceptable for the class. There is a rigid removable cargo cover, and under the loading floor is a slim space-safer spare wheel that's nevertheless a better solution than a patch kit with compressor. 
Still, I wouldn't mind a crack at the European Focus ST wagon, which isn't on the radar for our market. Why should the Skoda Octavia RS get all the sales, especially given Ford Australia already sells the softer Focus ST-Line wagon locally? 
What's under the bonnet?
A version of the now-axed Ford Focus RS's 2.3-litre 'EcoBoost' turbo engine, and a transverse FWD-suitable take on that used in the Mustang four-cylinder, which Ford claims to be the "most free-revving Focus ST engine ever".
Ford claims power output of 206kW at 5500rpm and a thumping peak torque figure of 420Nm between 3000 and 4000rpm. Those numbers are up 22kW and 60Nm over the old ST's 2.0-litre.
Fuel economy on 95 RON petrol is 8.1L/100km, though I averaged 10.2L/100km.
However, the similar engine in longitudinal rear-wheel drive (RWD) configuration for the Mustang High Performance makes 236kW and 448Nm, and the old Focus RS's 2.3-litre made 257kW and 440Nm.
The aluminium engine is fitted with a twin-scroll turbocharger better at scavenging exhaust gases to recirculate, an electronically-controlled wastegate to really control the boost pressure, and a new exhaust system to cut back-pressure.
A rally-style anti-lag system pinched from the F-150 Raptor operates in the Focus's sportier driving mode too, keeping the throttle open when you lift off, maintaining compressor-wheel speed for immediate boost once you lean back on the loud pedal.
Bang
Shove in the chest
Launch control and a track mode give the Focus ST enthusiast cred
There are two transmissions to direct torque to the front wheels: a six-speed manual largely inherited from the Focus RS, and a model-first automatic that'll greatly improve sales since Australian data shows that when hatch hatch buyers have a choice in transmissions, they choose the auto three-quarters of the time.
It's a seven-speed auto with torque-converter controlled by a rotary dial or wheel-mounted paddle shifters. Its shift patterns change depending on which driving mode you're operating the car in, from comfort-focused to sport or track, or the icy-road-focused slippery mode that pares back engine torque delivery.
Fun fact: this transmission starts life as the eight-speed unit from the base Focus model, but Ford Performance removed the second ratio. It's also the only non-DCT in the class (WRX aside).
We've decided to offer two separate launch reviews of the Focus ST, with this piece focused (sorry about that pun) on the manual, and the follow-up to look at the automatic more closely.
How does the Ford Focus ST drive?
That engine is just brilliant. Its peak power is nothing special, but its 420Nm torque output is top of the class – more than the Civic Type R, and more even than the Mercedes-AMG A35. Its larger displacement certainly helps.
This makes it supremely tractable, with rolling response strong even if you don't grab a lower gear. But its 6500rpm redline is also only a few hundred rpm short of the Civic Type R's 2.0-litre turbo, giving you a flexible and characterful experience.
Indeed, the Ford Focus ST's German chief engineer told us "in-gear acceleration, aside from launching from standstill, it's actually as fast as a Focus RS… The ST is a lighter car than the old RS, has better aero, and there's the anti-lag turbo". We didn't have an RS handy, but I can believe the claim.
There is some artificial sound enhancement but it's done with subtlety.
The ST's power-to-weight ratio is 136.8kW per tonne. That compares with the i30 N (136.7kW/t), Civic Type R (167kW/t), Megane RS (146.7kW/t) and Golf GTI (130.7kW/t).
Yet the all-important 100km/h dash is completed in 5.7 seconds. While a full second slower than the AWD Focus RS and Mercedes-AMG A35, it hoses a Golf GTI by half a second, an i30N by a few tenths, and matches the Civic Type R's effort.
The six-speed manual has a slightly shorter shift throw than before and picks up the rev-matching system already used in the Mustang. This function engages in sport mode, which also brings about notable exhaust crackling on burbling on overrun.
It also has a really mechanical 'feel' accompanying the shorter throws, and a well-weighted clutch. That rich vein of torque means you'll hesitate to grab second, because it'll pull out of a corner in third with gusto.
Engine aside, what makes the ST an ST? Ford Performance took the normal model's 'C2' platform and made some significant revisions.
It has a new steering rack and electric power steering unit, and 15 per cent faster steering ratio (it's faster even than the Fiesta ST's steering), sits 10mm lower thanks to reworked suspension, sports larger 330mm front and 302mm brakes with a wear-reducing electronic booster tested extensively on track, and wears Michelin Pilot Sport 4S tyres.
Stop me
Taming the beast
The front brake discs are 330mm x 27mm and have dual-piston calipers
There's also an electronically-actuated mechanical limited-slip front diff supplied by Borg Warner, with a clutch that can redirect 100 per cent of torque to just the one front wheel if required. This system works in tandem with brake-torque-vectoring to put the power the road better, and banish push-understeer.
It has 'continuously controlled dampers' with a computer brain that resets every 2 milliseconds. The algorithms take into account body position, and your steering and braking inputs, to adjust how the dampers respond. For example a rapid wheel-drop suggests a pothole, so rebound damping is modified in time to smooth the car out.
This trick suspension is linked up to a model-first driving mode system. Buttons on the steering wheel let you choose between normal, sport and track, and variables changed include the ride stiffness, but also throttle mapping, exhaust crackles, and stability control lassitude.
That diff is the most useful component, because little of the old Focus ST's axle-tramping and torque steering is carried over to the new one. Those tyres hook up almost right away. Moreover, you can continue to add lock while powering out of a corner if you want to, and rather than scrub, the nose bites and turns.
I'm not sure it's quite as eager for lift-off oversteer as the old model was, but that might simply be down to the fact that this car is more competent and has more constant contact with the road.
The steering is superbly sharp right from centre and in typical Ford fashion, very light and non-resistant. Sporty steering need not be heavy steering. Of course, like any EPAS system it lacks that hydraulic road 'feel', but it's responsive and you'e rarely uncertain of precisely what the front wheels need at any moment.
It also feels agile and nimble, light on its proverbial feet, desperate for directional changes despite weighing 1500-odd kilos. There's a sense of cohesive mischief about it, a sense that everything has been tuned to work with everything else. It feels almost alive.
Criticisms? Well, I think Ford could add a comfort setting to those dampers because the low-speed ride over corrugated roads is always very firm and a little jiggly compared to the plush Golf GTI and even the softer i30 N's daily-driver setting.
The driving modes are also fixed, meaning you don't get the endless levels of customisation you do with the Hyundai, eg. soft dampers but loud exhaust.
Ford Performance Europe's chief engineer says the company is exploring such an addition for the first ST update.
How much does the Ford Focus ST cost to run?
Ford Australia provides a five-year, unlimited kilometre warranty and 24/7 roadside assist for up to seven years provided you maintain and service your car at any "participating" Ford dealer.
Service costs are very reasonable, with the first four visits capped at $299 each with intervals of either 12 months or 15,000km – whichever comes first.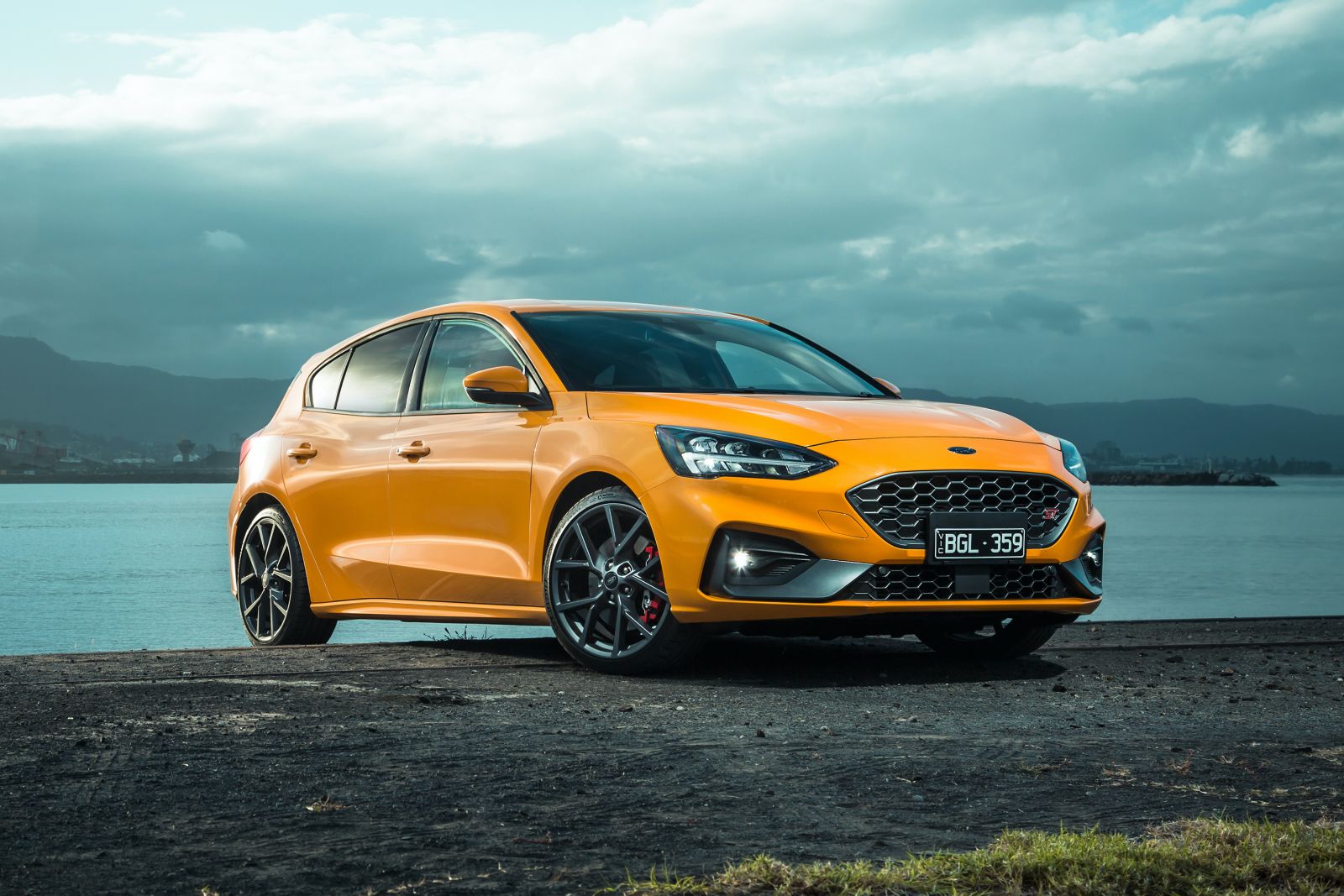 CarExpert's take on the Ford Focus ST
With a range now comprising the Fiesta ST, Focus ST, Mustang, and Ranger Raptor, it's hard to accuse Ford of ignoring enthusiasts.
The Focus earns a place in this quartet. It's larger and a little more mature than the Fiesta, yet feels more alive than a Golf GTI. And is definitely quicker.
While purists will continue with the manual version, the new automatic model and the option of a large sunroof means other kinds of buyer can now consider the Ford as well, and as with Renault we must commend Ford for looking after as many potential customers as possible.
Based on my first experience with the Focus ST I'm very confident it sits comfortably alongside its forebears, far more capable than the cheaper old model and a worthy foe to the existing competitor set.
It does make me long for a new RS though. What could have been…