The Hyundai i30 N changed people's perceptions of Hyundai when it arrived in 2018. This track-honed hyper hatch was project-managed by former BMW M Division heavy Albert Biermann, and funded by the Korean brand's deep pockets with the goal of upsetting the establishment.
Volkswagen, Ford, Honda, and Renault may not have been quaking in their boots at first – but then word got out just how good the Czech-made i30 N really was. Hyundai's investment in the TCR racing category added further gravitas to its challenge.
Since that original model Hyundai has expanded the range to include the i30 Fastback N. This offering swaps the conventional hatch body for a sleeker five-door 'coupe' silhouette. More choice is rarely a bad thing.
The Hyundai i30 Fastback N is 120mm longer and 21mm lower than the i30 N hatchback, and 12kg heavier. But its drag coefficient has also been reduced by seven per cent.
How does the Hyundai i30 fare vs its competitors?
View a detailed breakdown of the Hyundai i30 against similarly sized vehicles.
How much does the 2020 Hyundai i30 Fastback N cost?
The i30 Fastback N costs $42,490 before on-road costs, or a shade under $47,000 drive-away. Thus it's $1500 more expensive than its i30 N hatchback twin. The only justifier is the design, since they're the same car otherwise.
Reflecting its challenger status, both versions of the Hyundai undercut its major competitors: the Ford Focus ST ($44,690 before on-road costs), Honda Civic Type R ($51,990), Renault Megane R.S ($45,990), and Volkswagen Golf GTI ($46,690).
What do you get?
At base level it's no luxury car.
On the outside you get 19-inch rims wrapped in Pirelli P-Zero rubber, and a temporary spare. The styling package also includes red brake calipers, red inserts on the front and rear bumpers, twin exhaust pipes, a duck-tail spoiler, dusk-sensing LED headlights, and LED daytime running lights and rear combination lights.
Inside you get a leather-wrapped steering wheel and gear knob, dual-zone climate control, cruise control, an 8.0-inch touchscreen, satellite navigation with SUNA live traffic updates, Apple CarPlay and Android Auto, digital radio, and six speakers.
If you wish for some additional creature comforts there's a $3000 Luxury Pack, which adds a fairly long list of extras.
These include seats trimmed in imitation suede and leather instead of cloth, front seat heating and electric adjustment with memory presets for the driver, a keyless entry and start, a wireless phone charger, auto-folding and dipping side mirrors, a heated steering wheel, LED puddle lights and door handle lights, rain-sensing wipers, and a luggage net.
For a further $2000 you can add the Luxury Package with a dual-panel panoramic glass sunroof that tilts and slides.
Is the Hyundai i30 Fastback N safe?
Neither ANCAP nor Euro NCAP has specifically tested the i30 Fastback body, but they have tested the hatch and awarded it five stars.
The breakdown is 88 per cent for adult occupant protection, 84 per cent for child occupant protection, 64 per cent for pedestrian detection, and 68 per cent for safety assist.
You get seven airbags, three top tethers, and two ISOFIX anchor points, plus a reversing camera and rear sensors. Active safety features include high-speed autonomous emergency braking, a lane-keeping assist function that turns the wheel, and a driver-attention warning.
There's no reverse AEB, and no blind-spot monitoring – features we'd expect to find on cars at this price, and which we suspect will be added come update time.
What is the Hyundai i30 Fastback N like on the inside?
The interior benefits from black headlining, red inserts around the vents and gear stick, and stitching on the seats and wheel, along with metal covers on the well-spaced three pedals. The build quality is fine but it's all pretty basic, with lots of hard plastics on every surface that isn't a major touchpoint.
Ergonomics are very good, and the cloth bucket seats offer good support and lots of padding. The steering wheel is nice to hold and the shortcut buttons to change driving mode are a welcome touch. The analogue gauges are clear, and the small TFT screen between them shows your speed digitally. There is also a shift light array above it that glows red when it's time grab a higher gear.
The infotainment system gives you an excellent navigation system, though I relied on the Apple CarPlay connection and Waze. Given my test car was option-free (hero blue paint aside), the absence of basics such as a wireless charger, proximity key and push-button start (instead of an antiquated ignition barrel) and rain-sensing wipers was noticeable. Still, at least they're available
The Fastback body reduces rear shoulder room by 39mm over the hatch, and rear headroom by 72mm, making it less passenger-friendly. There are also no rear vents or USB charge connectors, but carrying adults up to about 180cm regularly shouldn't prove too problematic. It's a lot more practical than a two-door coupe.
The upside of the new body style is an improvement in boot capacity from 381 litres to 436L, expanding to 1337L with the back seats folded as flat as they're able. The opening aperture is also larger, meaning it's a better bet for weekend Ikea visits and the like.
At the end of the day, it's clear Hyundai has decided to focus on the N's dynamics rather than sexing up the cabin, and given the sharp price I think it chose wisely. If you want more bling, get the Luxury Pack. Or perhaps wait for the 2021 update expected to improve infotainment with the expected addition of fully digitised instruments and a wider touchscreen.
What's under the bonnet?
The Hyundai i30 N's 2.0-litre turbocharged engine makes peak power of 202kW at 6000rpm and peak torque of 353Nm between 1450 and 4700rpm. The 18-second overboost period beyond peak torque yields 378Nm from 1750rpm.
Its 1490kg tare weight means a power-to-weight ratio of 135.6kW per tonne.
For context, the 2.0-litre engine used in the Golf makes 180kW/370Nm and allows a power-to-weight figure of 130.7kW/t, the Honda Civic Type-R's 2.0-litre makes 228kW/400Nm (167kW/t), the Megane R.S Sport's 1.8-litre makes 205kW/390Nm (146.7kW/h), and the Focus ST's 2.3-litre makes 206kW/420Nm (136.8kW/t).
Hyundai's engine is mated exclusively to a six-speed manual gearbox with a switchable rev-matcher. It's also front-wheel drive, like its key competitors, and tames this power with an electro-mechanical limited-slip differential.
power packed
All pumped up
With 202kW on tap, the i30 Fastback N is a proper rocket
In early 2021 an eight-speed dual-clutch transmission (DCT) with paddles will join the range, and give sales a healthy kick along given many people don't like having to use a third pedal.
While the Fastback body adds 12kg, the claimed combined-cycle fuel economy is an unchanged 8.0L/100km using premium fuel. I did 350km, much of which included standing sprints and other dynamic driving, and averaged 9.7L/100km, which all things considered is pretty respectable.
The factory-supplied 0-100km/h time is 6.1 seconds, which I matched on the second try – albeit on the inbuilt sprint timer that runs off the speedo and commences as soon as you take off, rather than our own V-Box. I didn't use Launch Control, although is is fitted – the system holds revs between 3600 and 5000rpm for five seconds.
This suggests you might find another tenth or two on a good run.
How does the Hyundai i30 drive?
Hours of track development at the Nurburging and elsewhere really show.
The engine gives you the typically strong mid-range of a smallish-displacement turbo, accompanied by a shove-in-the-chest and a pronounced 'whoosh'.
It'll happily potter around town unobtrusively, but it also has a button-activated sports setting that changes the active variable exhaust system's valve placement. This, plus the car's ability to alter the injector timing, and the electronic sound enhancer located at the windscreen's base, means it can make a raspy growl as it builds revs, and then pop and crackle during overrun.
The six-speed manual has a nice weighty, mechanical feel and a precise throw, helped by well-weighted pedals with the ideal clutch take-up point enabling fast getaways. It takes habituation to smash it off the line without spinning the front wheels and finding moderate axle tramping, but at least in its hardcore performance modes the stability control backs off and doesn't cut any engine power.
Hyundai has also fitted a rev-matching system controlled by a button on the wheel, which will automatically blip the throttle to match engine speed after a downshift. For those who can't or don't want to heel-and-toe, it ensures less body shunting when you're going hammer and tongs.
The one issue with the gearing is academic, but important. The engine pings off its rev limiter at 98km/h in second gear, meaning you need to shift up into third when doing a standing 100km/h sprint. A slight tweak of this second gear might enable one to sneak in under six seconds… Of course in markets that focus on 0-60 miles per hour, this is a non-issue.
There's the choice of Eco, Normal, Sport and Sport+ driving modes that change the characteristics of the stability control, engine 'sound', throttle calibration, rev match intensity, LSD bite points, and electronically-actuated active suspension that relies on active dampers to stiffen or soften the ride quality and subsequent body control with solenoid valves.
Hyundai made some changes for the N range coinciding with the Fastback's launch, adding slightly softer front springs, revised front dampers with softer bump stops, and a front anti-roll bar reduced in diameter by 0.8mm.
At the rear, revised dampers and the adoption of a new camber-control arm completed the changes.
Hyundai made some running changes to the i30 N's tuning too, as explained by its chief product planner in Australia Andrew Tuitahi – who also has a senior role in its Sydney engineering team responsible for localising suspension tunes on all non-N products.
"We identified that a softer front-end would help with sharper turn in, better mid-corner adjustability, greater playfulness and also power-down even with the LSD," he said.
The i30 N is very good at compartmentalising its capabilities. In normal mode with some firmness let out of the suspension, it's quite good at soaking up typical urban bumps and corrugations. The ride is firm but never really jittery or crash-prone, meaning it won't hurt your spine doing the daily drive.
The change when flicking to Sport and Sport+ (the latter relaxes the ESC further) from Normal is quite noticeable, which Hyundai says is down to a revised logic tune designed to maximise what it calls the "character change" between the modes: the ride stiffens to the point that the car barely settles after rebound, but the body control becomes better suited to rapid directional changes.
The rack-mounted electric-assisted steering has ample resistance, and the chassis is quite happy to facilitate lift-off oversteer mid-corner.
Great chassis
Fast, but also fun
There are plenty of options for drivers who want to adjust the way their car handles
The Pirelli tyres offer plenty of grip – though road noise is pronounced on coarse chip bitumen – and the LSD minimises understeer unless you really overcook it barrelling into a corner. Ventilated disc brakes are fitted at each end, measuring 345mm x 30mm at the front and 314mm x 20mm at the rear.
At about 1500kg kerb, the i30 N Fastback isn't a featherweight, and it doesn't feel quite as lively and razor-sharp from centre as a smaller pocket rocket like the Fiesta ST, however it feels planted and stable, lots of grip, and is happy to step out when pushed. And that soundtrack is great to boot.
One final note, I have to commend Hyundai for giving you a programmable Custom mode that allowed me to have the car in my favourite settings for A-B commuting: soft ride, light steering, loud exhaust. This stuff was once the province of German luxury brands.
How much does the Hyundai i30 Fastback N cost to run?
All Hyundais come with a five-year, unlimited-kilometre warranty. If you service your car at a Hyundai dealer you're also covered by roadside assist and receive free satellite navigation updates.
Much to Hyundai's credit, this warranty on the i30 N also covers "race track use for non-competition events, including the fitment of track focused tyres such as semi-slicks". That's not a common thing.
You can pre-purchase a five-year servicing package with annual or 10,000km intervals for $1662, which is quite reasonable for a performance vehicle.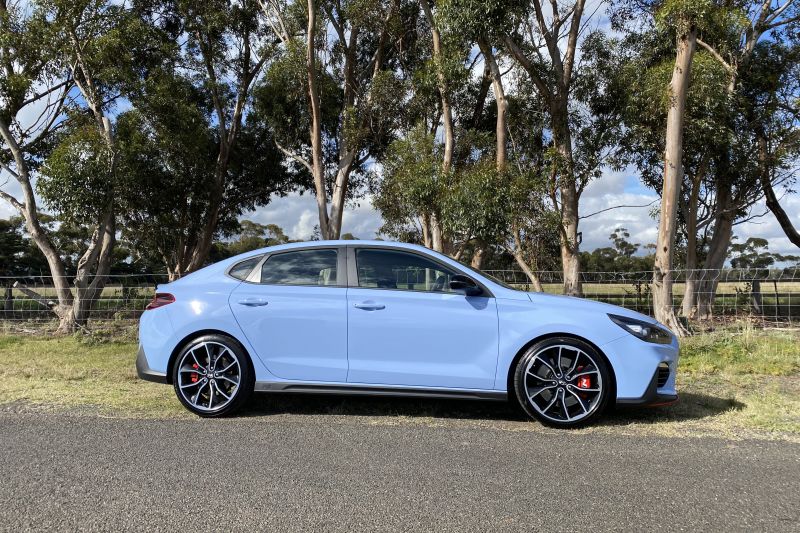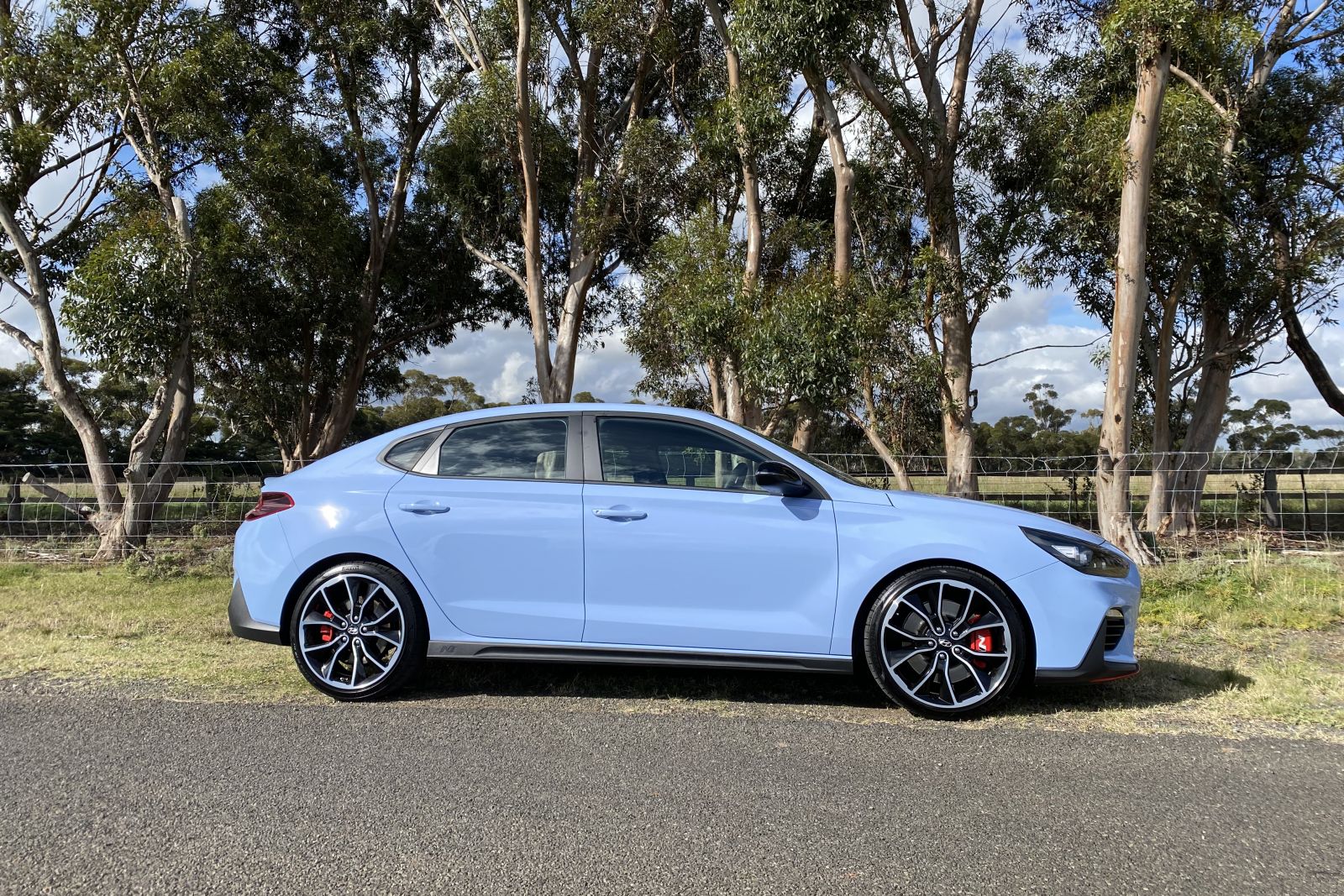 CarExpert's take on the Hyundai i30 Fastback N
I would buy the hatch and put the $1500 saving towards a set of spare tyres for track days.
However, stylistic choices aside, the i30 N offers a lot of performance car for the money if you're happy to shift your own gears (for the time being).
This is not a car that's merely good for a challenger brand, it's simply good. Full stop. To get this level of mechanical adjustability, drivetrain performance, day-to-day comfort, and the reassurance of that track warranty at this price is rare indeed.
More broadly, I think there's something very satisfying as a buyer to get in on the ground floor, as the expression goes.