See prices tailored to you, select a variant and enter your postcode!
2023 Mitsubishi Eclipse Cross
See prices tailored to you, select a variant and enter your postcode
About the Mitsubishi Eclipse Cross
The Mitsubishi Eclipse Cross wears a variation of a famous name, and is designed to slot in between the strong-selling ASX and Outlander in the Mitsubishi range.
A mid-life update gave it a more conventional look, and a plug-in hybrid is available at the top of the range.
Summary
Our expert's shortest summary
Hit
Torquey engine
10-year warranty
PHEV option
Miss
Elastic transmission
Interior is a bit dull
Tight back seat
Video Review
Mitsubishi Eclipse Cross Video Review
Skip to chapter
Intro
Exterior
Interior
Infotainment
Safety Tech
Practicality
On the road
Verdict
2021 Mitsubishi Eclipse Cross review
Now restyled and longer!
Mitsubishi has restyled and updated the 2021 Mitsubishi Eclipse Cross. It's now longer and ditches the split tailgate design of the previous version. There's an edgy design up front, along with a new infotainment system. Paul Maric tests out the new Mitsubishi Eclipse Cross to see if it's worth spending your hard earned cash on.
Mitsubishi Eclipse Cross Photo Gallery
CarExpert High Resolution Photos of the Mitsubishi Eclipse Cross
Compare
See Mitsubishi Eclipse Cross comparisons against similarly sized vehicles
Mitsubishi Eclipse Cross
vs
CLICK HERE TO SEE MORE MODELS...
Current Deals
What is the price of a Mitsubishi Eclipse Cross?
Available Deals for the LS Black Edition
Deal Overview
ABN Holders Only
Deal Pricing
Manufacturer listed price
Advertised Driveaway Price
Vehicle Specs
Reviews
Our expert's reviews of the Mitsubishi Eclipse Cross
News
All the latest Mitsubishi Eclipse Cross news
Mitsubishi Eclipse Cross Range Guide
Which variant of the Mitsubishi Eclipse Cross range is best for you?
The base ES comes standard with the following equipment:
8.0-inch touchscreen infotainment system
Wired Android Auto and Apple CarPlay
DAB+ digital radio
18-inch alloy wheels
Four-speaker sound system
Reversing camera
Cruise control
Paddle shifters
LED daytime running lights
The ES PHEV also includes:
Keyless entry and start
Leather-wrapped steering wheel
Electric park brake with auto hold
Lane-departure warning
Stepping to the LS brings:
Rear parking sensors
Six-speaker sound system
Rain-sensing wipers
Heated, power-folding exterior mirrors
Automatic headlights
Automatic high-beam
LED front fog lights
Privacy glass
The XLS gains:
Power driver's seat
Electrochromatic rear-view mirror
Adaptive cruise control with stop/go
Heated front seats
Dual-zone climate control
Front parking sensors
Moving to the XLS Plus gets you:
Satellite navigation
Leather upholstery
Panoramic sunroof
Heated rear seats
Power passenger seat
Heated steering wheel
LED headlights
Over the LS, the Aspire brings:
Blind-spot monitoring
Rear cross-traffic alert
Eight-speaker sound system
Adaptive cruise control with stop/go
Electrochromatic rear-view mirror
Front parking sensors
Heated front seats
Surround-view camera
Dual-zone climate control
Microsuede/leatherette upholstery
LED headlights (PHEV only)
The Exceed gains:
Heated rear seats
Leather upholstery
Satellite navigation
Head-up display
Panoramic sunroof
Heated steering wheel
LED headlights
Price & Specs
See comprehensive price and specification details for the Mitsubishi Eclipse Cross
Interior
Photos and Images of the Mitsubishi Eclipse Cross Interior
The Eclipse Cross cabin is a bit funky, not so much in styling flamboyance or in unorthodoxy. In fact, it's conventional in this regard.
No, it's the general design and ergonomics that are a bit strange, the front seats propped up high even at their lowest setting, while the steering wheel and driver's cluster seemingly lumped into your lap.
You quickly acclimatise to it. You just sit so high, the pedals surely a stretch for shorter occupants, though it does afford exceptional forward vision.
Rear viewing, too, is now a bit better because the old split glass hatch, which planted a horizontal frame in your line of sight, has been replaced by a more a sensible and conventional design.
Forward above your head is the switch for the front-half glass roof, but the switch for the rear-half scrim is way behind your head – designed for rear passengers (good) but awkward to access from up front (bad). Then there's the phone cubby, clearly sized for phones prior to the arrival of Apple's large current crop that don't fit, even without a cable connected.
Higher grade Eclipse Crosses get nicer materials in areas, though there's little premium about what's used and the blackout theme fails to bring a sense of either richness or lightness that might otherwise bring a bit of joy to the ambience.
The seat trim is reasonably supple, though not of much of it feels convincingly genuine as leather.
The basic climate control display, rudimentary switchgear, that stuck-on audio system label, the rather pointless column-mounted paddles… we griped about some of this stuff in the Aspire and not much extra effort has been invested into lifting the Exceed to help make it feel like a higher-grade flagship.
It's a similar story with the instrumentation and infotainment, both of which are acceptable but haven't benefitted from much love, nor do they produce much sense of occasion.
Like up front, the rear seat base is propped up excessively high, which is good for kids but not great for taller adults due to the low-slung ceiling. But legroom is good, toe room exceptional, and it's roomy enough for long-haul comfort.
Not nearly as commendable is that, despite the fitment of rear seat heating, there are no rear air vents, just a sole 12-volt outlet for device power.
Boot space is a usable 405 litres that expands to 1172L with the 60:40 rear split seatbacks stowed. As a five-seater, the boot offers decent length if not a huge amount of height due to the high-set floor. It packs a space-saver spare under the floor.
With six grades in its range, the tree-topper ought to feel more upmarket and unique than the Exceed. Instead, you be forgiven for guessing it's decent mid-ranger at best.
Exterior
Photos and Images of the Mitsubishi Eclipse Cross Exterior
Even base models wear 18-inch alloy wheels and feature LED daytime running lights, but stepping up to the LS adds LED fog lights and privacy glass.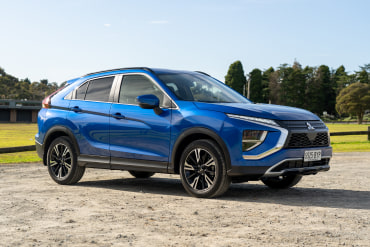 The XLS Plus features full LED headlights, along with more body-coloured trim highlights on the outside.
Mitsubishi Eclipse Cross Colours
What colours are available for the Mitsubishi Eclipse Cross?
Solid White is standard, with the following finishes optional:
White Diamond prestige
Red Diamond prestige
Sterling Silver metallic
Titanium metallic
Black pearlescent
Lightning Blue pearlescent
These finishes cost $740 except for the prestige colours, which are $940.
How it Drives
Our expert take on Mitsubishi Eclipse Cross drivability?
Though the Eclipse Cross PHEV is built on a version of the last Outlander's platform, it's considerably better to drive, while its powertrain still deserves plaudits.
The ride quality is superior to the outgoing Outlander PHEV, with a smooth ride across most surfaces. It feels fairly softly-sprung, though some larger ruts see impacts being transmitted through the cabin which can give the ride a brittle feeling.
The steering has an appropriate amount of weight, but it feels a bit numb and doesn't inspire confidence. That's unfortunate, as the car's S-AWC all-wheel drive system works well at getting power to the ground – as a week's worth of driving in record wet weather can attest – and handling is competent.
We wouldn't call the Eclipse Cross fun to drive, but it's nicely balanced and body roll is fairly well controlled for an SUV.
The best part of the driving experience, however, is easily the powertrain. The Eclipse Cross shifts between petrol and electric power seamlessly. You have to really stomp on the accelerator pedal to experience that trademark CVT rev flare, and only then is the transition between petrol and electric power particularly apparent.
You have the option to select a pure EV mode, otherwise the car will utilise the engine at constant speeds where it's most efficient. It's noticeably more electrified than a conventional hybrid, however, with the petrol motor tapped far less frequently.
In the petrol-only car, the 1.5-litre turbo petrol engine and CVT combo make acceleration linear and mostly effortless, and the Eclipse Cross builds speed deceptively quickly.
At times the CVT's tendency to hold revs or slur through 'steps' is a little droney and annoying, but it gets the job done and doesn't sound as laboured as some naturally-aspirated rivals.
With all 250Nm available from 2000rpm, the Mitsubishi gives you a slight shove in the back as peak torque comes online, and driving around town is pretty effortless.
Mitsubishi Eclipse Cross Safety Rating
ANCAP Safety Rating Australia
When the Mitsubishi Eclipse Cross was tested by ANCAP in 2017, it received a rating of five stars. The PHEV has yet to be tested on its own.
All models received an adult occupant protection score of 97 per cent, child occupant protection score of 78 per cent, vulnerable road user protection score of 80 per cent and a safety assist score of 58 per cent.
All 2021 Mitsubishi Eclipse Cross models come standard with autonomous emergency braking with forward-collision warning, as well as front, front-side and curtain airbags plus a driver's knee airbag.
All bar the base petrol ES include lane-departure warning, though blind-spot monitoring and rear cross-traffic alert are available only in the Aspire and Exceed.
The range-topping Exceed gets something Mitsubishi calls Ultrasonic Mis-acceleration Mitigation System, which is designed to stop the car if you press the accelerator instead of the brake at low speeds.
Mitsubishi Eclipse Cross Lifecycle
How old is the current generation and when will there be a new or updated Mitsubishi Eclipse Cross?
The current generation Mitsubishi Eclipse Cross was launched in December 2017 and is currently 84 percent through its lifecycle. The last update was a technology change that was launched in September 2023 with the next model expected in 2025.
Mitsubishi Eclipse Cross Options
Options list for the Mitsubishi Eclipse Cross
There are no options in the Mitsubishi Eclipse Cross, what you see is what you get.
Mitsubishi Eclipse Cross Warranty
What is the warranty period and kilometre limit for the Mitsubishi Eclipse Cross?
The 2022 Mitsubishi Eclipse Cross requires servicing every 12 months or 15,000km, whichever comes first. Mitsubishi offers ten years of capped-price servicing.
If you service your Eclipse Cross within the Mitsubishi dealer network, the five-year and 100,000km warranty is increased to 10 years and 200,000km.
The PHEV's battery is covered for eight years or 160,000km, though the vehicle is covered by the same warranty as the petrol Eclipse Cross.
Mitsubishi Eclipse Cross Boot Space
How much luggage or cargo capacity and boot space is there in the Mitsubishi Eclipse Cross?
Luggage space measures 405L, expanding to 1149L with the rear seats folded (1172L in sunroof-equipped models). Mitsubishi quotes figures of 359L and 626L with the seats up and down, respectively, in PHEV models.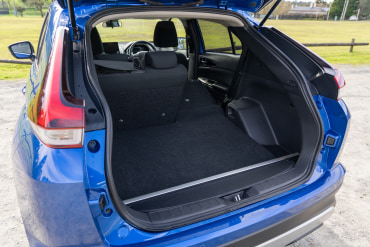 Mitsubishi Eclipse Cross Fuel Economy
How much fuel does the Mitsubishi Eclipse Cross use and what are its emissions?
The 2022 Mitsubishi Eclipse Cross consumes 7.3L/100km on the combined cycle in front-wheel drive models, 7.7L/100km in all-wheel drive models and 1.9L/100km in the PHEV, though the latter is reliant on a charged battery pack.
Electric range in the PHEV is 55km with a fully-charged battery pack.
Depending on the variant, view the 2023 MITSUBISHI ECLIPSE CROSS fuel usage below.
All Highway, City, and Combined figures below are litres per 100km
| Variant | Series | Style | Fuel Type | Highway | City | Combined | E10? |
| --- | --- | --- | --- | --- | --- | --- | --- |
| ES (2WD) | YB MY23 | 4D WAGON | UNLEADED PETROL | - | - | 7.3 | - |
| LS (2WD) | YB MY23 | 4D WAGON | UNLEADED PETROL | - | - | 7.3 | - |
| LS BLACK EDITION (2WD) | YB MY23 | 4D WAGON | UNLEADED PETROL | - | - | 7.3 | - |
| ASPIRE (2WD) | YB MY23 | 4D WAGON | UNLEADED PETROL | - | - | 7.3 | - |
| LS (AWD) | YB MY23 | 4D WAGON | UNLEADED PETROL | - | - | 7.7 | - |
| EXCEED (2WD) | YB MY23 | 4D WAGON | UNLEADED PETROL | - | - | 7.3 | - |
| EXCEED (AWD) | YB MY23 | 4D WAGON | UNLEADED PETROL | - | - | 7.7 | - |
| ES PHEV (AWD) | YB MY23 | 4D WAGON | UNLEADED PETROL/ELECTRIC | - | - | 1.9 | - |
| ASPIRE PHEV (AWD) | YB MY23 | 4D WAGON | UNLEADED PETROL/ELECTRIC | - | - | 1.9 | - |
| EXCEED PHEV (AWD) | YB MY23 | 4D WAGON | UNLEADED PETROL/ELECTRIC | - | - | 1.9 | - |
Mitsubishi Eclipse Cross Dimensions
The dimensions of the Mitsubishi Eclipse Cross
The 2022 Mitsubishi Eclipse Cross measures 4545mm long, 1685mm tall and 1805mm wide with a 2670mm wheelbase.
The 2023 MITSUBISHI ECLIPSE CROSS measures 4545mm long, 1805mm wide and 1685mm tall, with a 2670mm tall wheelbase.
The 2023 MITSUBISHI ECLIPSE CROSS has a braked towing capacity from 1500kg to 1600kg depending on the variant and an unbraked towing capacity of 750kg.
Mitsubishi Eclipse Cross Market Fit
Where does it fit in the competitor segment?
The Eclipse Cross competes with smaller SUVs such as the Kia Seltos and Mazda CX-30 on price, but its bigger body means it also goes toe-to-toe with mid-sized SUVs such as the Toyota RAV4 and Nissan X-Trail.
Should you buy the Mitsubishi Eclipse Cross
Is this the right car for you? Our experts buy or not guide.
The Mitsubishi Eclipse Cross builds on a solid base with more resolved design and more resolved infotainment.
Relative to the small SUV segment, it's one of the larger offerings with one of the most spacious second rows and a big boot, and is one of the few entrants in the class that is as at home on the freeway as putting around the 'burbs.
It's not huge on excitement, but it's a solid choice.
Competitor Analysis
What other cars should you look at?
The Eclipse Cross is one of the bigger small SUVs out there, offering more interior space than a Mazda CX-30 or Hyundai Kona. It's also good value, with long standard feature lists across the range.
Mitsubishi Eclipse Cross Interesting Facts
Did you know?
The Eclipse badge has previously been applied to a sporty coupe and convertible. Older Eclipse models even featured in the Fast and Furious franchise.
Frequently Asked Questions