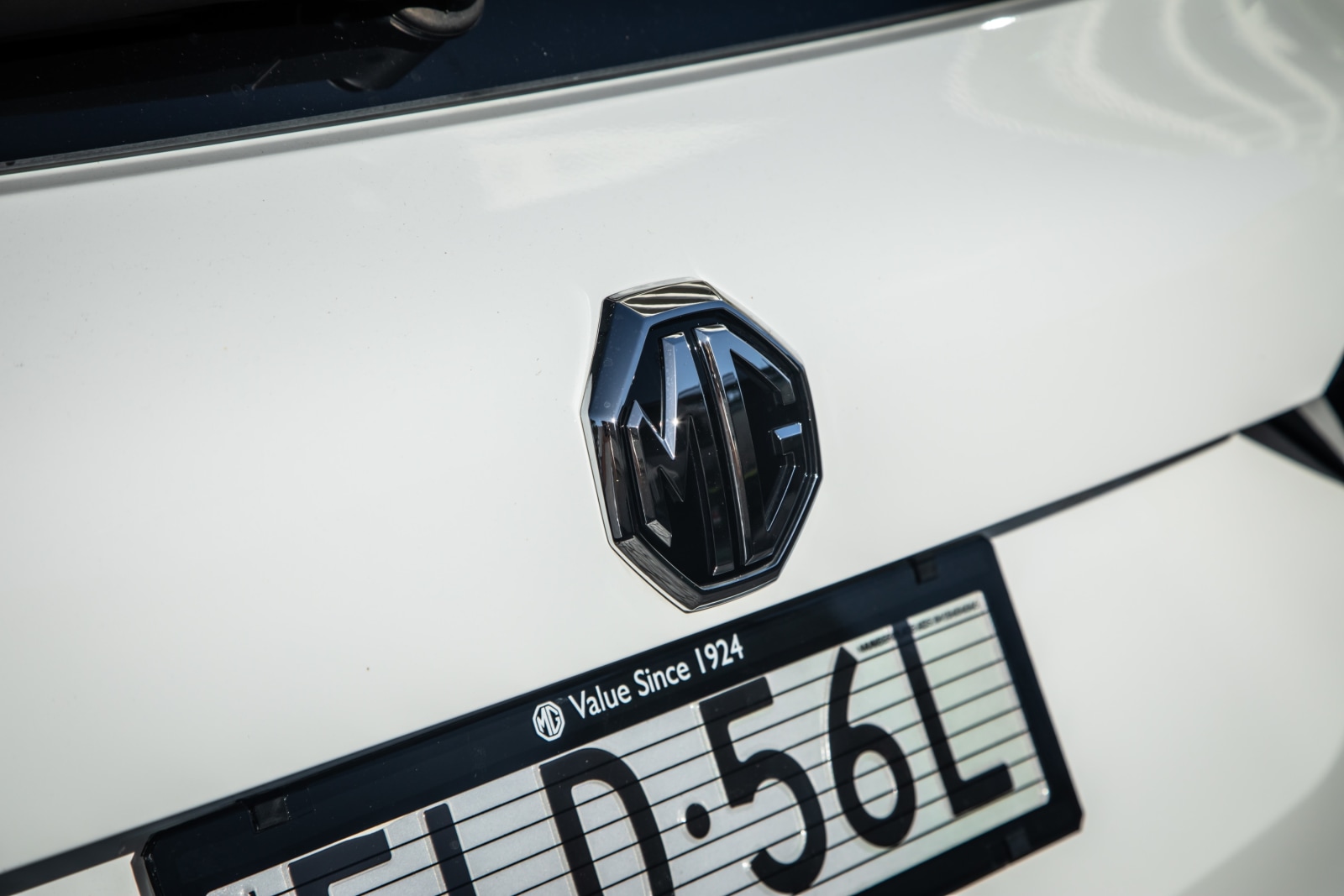 2022 MG HS
| | |
| --- | --- |
| Price | $29,990 - $41,990 |
| Fuel Efficiency | 7.3 - 9.5 / 100km |
| ANCAP Rating | 5-star |
| Warranty | 7 years |
About the HS
The HS was introduced as a replacement for the forgotten GS, and is MG's entry into the fiercely competitive mid-sized SUV segment. While the smaller ZS is offered with an electric powertrain, the HS has an available plug-in hybrid, called the Plus EV, as well as a turbocharged all-wheel drive powertrain.
Summary
Our expert's shortest summary
Hit
Generous list of safety equipment across the range
Spacious, neatly presented cabin
Excellent value for money
Miss
Clunky infotainment
Some of the driver assist functions need finessing
Optional 2.0-litre powertrain disappoints
Video Review
HS Video Review
Skip to chapter
Intro
Exterior
Interior
Infotainment
Other Features
Practicality
On the road
Verdict
MG HS review 2020
Is made in China finally good? We review MG's mid-sized SUV.
We use appliances and tech items made in China each and every day, but what about Chinese cars? They used to be pretty terrible, so has that equation changed recently? Paul Maric reviews the MG HS, a mid-sized SUV built in China and sold by a brand that once used to be British. Is it any good? Watch and find out!
Photo Gallery
CarExpert High Resolution Photos of the MG HS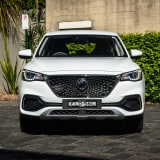 HS Price
What is the price of a MG HS?
MG HS Core 1.5T: $29,990
MG HS Vibe 1.5T: $30,990
MG HS Excite 1.5T: $34,990
MG HS Excite X 2.0T AWD: $37,990
MG HS Essence 1.5T: $38,990
MG HS Essence Anfield 1.5T: $40,690
MG HS Essence X 2.0T AWD: $42,990
MG HS Essence Plus EV: $48,990
All prices are drive-away.
Reviews
Our expert's reviews of the MG HS
News
All the latest HS news
Range Guide
Which variant of the MG HS range is best for you?
The HS Core comes with the following standard features:
10.1-inch touchscreen infotainment system
Wired Apple CarPlay and Android Auto
Reversing camera with rear parking sensors
17-inch alloy wheels
Electronic parking brake
Keyless entry and start
Four-speaker sound system
Cloth upholstery
LED tail lights
LED daytime running lights
The HS Vibe includes:
Leatherette upholstery
Leather-wrapped steering wheel and shifter
Six-speaker sound system
Fog lights
The Excite and Excite X bring:
Satellite navigation
LED headlights
Sports mode
Paddle shifters
18-inch alloy wheels
Power tailgate
Dual-zone climate control
Alloy pedals
Ambient interior lighting
Moving to the Essence and Essence X brings:
Panoramic sunroof
Surround-view camera
Sports seats
The Plus EV also includes a 12.3-inch digital instrument cluster, while the Essence Anfield has a red interior.
Variants
What are the variants of the MG HS?
Transmission
7-speed Auto Dual Clutch
Cylinders
turbocharged four-cylinder
FULL SPECS
Interior
Photos and Images of the MG HS Interior
If you think the MG 3 and ZS line-ups feel built to a price inside, the HS certainly breaks tradition in being one of the nicer cabins in its class.
From the elegant, minimalist dashboard to the array of soft-touch materials and contrast stitching, the MG HS makes a statement that Chinese cars don't have to look or feel cheap.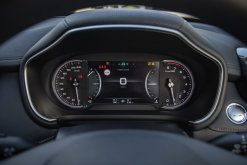 All the touch points are competitive with Japanese and Korean rivals in terms of perceived quality. We didn't have any noticeable rattles or squeaks in our test car, and everything feels well put together.
While it presents well, some of the ergonomics could use some work.
The climate controls, for example, are only accessed via the screen after pressing the toggle-style A/C switch on the centre stack. The driver's instrument display also defaults to a driver assist view when you engage adaptive cruise control which doesn't include a real-time digital speedo – you have to flick back a couple menus to get this, and you can't have cruise speed and speedo in view at once.
There are also no shortcuts for air recirculation without accessing the aforementioned menu in the central display, and there's nowhere to conveniently store a larger smartphone out of view when connected to smartphone mirroring.
Unlike the MG 3 and ZS, the HS offers reach and rake adjustment for the steering wheel, and once you've found your driving position the front seats are quite supportive and offer strong bolstering. You may just feel a tad upright.
We've already touched on the 10.1-inch touchscreen with regards to the climate controls, but the MG HS's infotainment setup feels a generation behind the best in class. Even with smartphone mirroring, it can be quite slow to respond and occasionally will freeze or drop out. The native navigation is also very clearly supplied by a third party.
One of the real HS highlights is rear roominess. Legroom is excellent, there's only a tiny floor hump, headroom is generous and it's properly adult friendly. Like other HS variants, the 60:40 split seat back has a couple of different tilt positions on offer, though you do need to reach over your shoulder to the release latches to awkwardly adjust the angles.
There are also three top-tether and two ISOFIX anchor points for child seats, plus a fold-down centre armrest with cupholders (featuring a swish brushed alloy look panel and damped opening mechanism), bottle holders in the doors, map pockets behind the rear seats and, in all bar the Core, rear air vents and a pair of USB charge ports.
The boot area has a high floor height and could probably offer a bit more volume because there's a whole lot of unused space between the floor and the top of the modest space saver spare located well below it. Due to the placement of the Plus EV's plug-in hybrid hardware, it's the only variant to miss out on a spare wheel.
Exterior
Photos and Images of the MG HS Exterior
The Core and Vibe ride on 17-inch alloy wheels, while all other models use 18-inch alloy wheels.
The Plus EV is distinguished by its charge port and a couple of exclusive colours, however it looks largely the same as the regular HS range.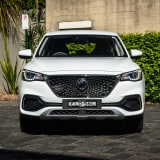 HS Colours
What colours are available for the MG HS?
The MG HS is available in the following colours:
York White
Phantom Red metallic
Surfing Blue metallic
Black Pearl metallic
Pearl White metallic
Sterling Silver metallic (Plus EV only)
Clipper Blue metallic (Plus EV only)
Cost of Ownership
What is the running, servicing and ownership costs of buying a MG HS?
MG backs its cars with a seven-year, unlimited-kilometre warranty. The HS Plus EV also includes a seven-year, unlimited-kilometre battery warranty for private buyers.
Servicing is required every 12 months or 10,000km, whichever comes first, with seven years of capped-price servicing.
The 1.5T's first seven services are priced at $282, $339, $333, $395, $282, $819 and $282.
The 2.0T's first seven are priced at $279, $556, $330, $612, $279, $1105 and $279.
The Plus EV's first seven are priced at $265, $373, $265, $421, $265, $968 and $265.
How it Drives
Our expert take on MG HS drivability?
All HS models have a comfortable ride in town and on the freeway. It isolates the cabin nicely in compression and settles quickly and confidently in rebound, only really becoming a bit unruly through a bit of suspension slapping here and there. Noise levels are kept to a minimum, even at highway speeds.
The HS feels solid and substantial if lithe enough and easy to punt around the 'burbs, the steering reasonably direct if a touch under assisted. It lolls about a little on its suspension – strut up front, multi-link in the rear – for a slightly soft-edge dynamic that's actually quite pleasing and, you sense, very much by tuning design.
Visibility is pretty good thanks to the large glasshouse, and the MG Pilot suite of active safety systems includes blind-spot monitoring so you have an extra set of eyes when making gaps in traffic or changing lanes on the freeway.
Speaking of the assist tech, we found the car has a habit of beeping and bonging without actually telling you what's wrong. This equipment definitely needs finessing, though at least there's a good amount of adjustability for these systems through the touchscreen.
The base powertrain is smooth despite its dual-clutch automatic and more tractable than many other base engines in this segment.
The plug-in hybrid pleases with its seamless transition between petrol and electric power. There's no shortage of power on tap and, though it's a lot to send to only the front wheels, the Plus EV never feels too unruly. The steering feels a touch heavy and the brake pedal a tad wooden, however.
The turbocharged 2.0-litre is the most disappointing powertrain in the range, despite its competitive outputs, with a dual-clutch transmission that proves lethargic, indecisive and quite jerky.
Safety Rating
ANCAP Safety Rating Australia
When the MG HS was tested by ANCAP in 2019, it received a rating of five stars.
That rating was based on an adult occupant protection score of 92 per cent, child occupant protection of 83 per cent, pedestrian protection of 64 per cent and safety assist of 77 per cent.
All 2022 MG HS models come standard with the MG Pilot suite of safety features. This includes:
Autonomous emergency braking with forward-collision warning
Lane-keep assist
Lane-departure warning
Adaptive cruise control
Rear cross-traffic alert
Blind-spot monitoring
There are also front, front-side and front-curtain airbags.
HS Lifecycle
How old is the current generation and when will there be a new or updated MG HS?
The MG HS was launched in Australia in December 2019, with the range expanding to include plug-in hybrid and turbocharged all-wheel drive variants in March 2021.
A facelifted version called the Pilot was introduced in China in late 2020, where it's sold concurrently with the existing HS. MG Motor Australia hasn't confirmed if it's coming here.
HS Options
Options list for the MG HS
As a buying proposition, the HS is as simple as it can be… what you see is what you get. The single option is metallic paint; if you're looking for anything other than York White, there is a $700 uptick.
HS Warranty
What is the warranty period and kilometre limit for the MG HS?
MG suggests that owners service their 2022 MG HS every 12 months or 10,000km, whichever comes first.
The 2022 MG HS has a 7 year, unlimited km warranty.
HS Stock Availability
Is the MG HS available to buy now and what are stock levels and how long are wait times?
MG has better stock of the HS than most of its rivals.
The brand in July 2021 welcomed its own shipload of cars Down Under, and hasn't been hit by the same supply crunch as other carmakers due to its different supply chains.
HS Boot Space
How much luggage or cargo capacity and boot space is there in the MG HS?
The MG HS's total luggage space is 463L, increasing to a maximum of 1287L with the second row folded.
These figures drop to 451L and 1275L in the Plus EV, which also misses out on a space saver spare and instead offers only a tyre repair kit.
HS Fuel Economy
How much fuel does the MG HS use and what are its emissions?
Claimed fuel economy for the 2022 MG HS is 7.3L/100km on the combined cycle in models with the 1.5-litre engine, 9.5L/100km in those with the 2.0-litre engine, and 1.7L/100km in the Plus EV.
The latter has a claimed 63km of pure electric range, however this is on the lenient NEDC standard.
All models except the HS Plus EV have a 55L fuel tank. The dual-motor version of the HS complements its claimed 63km of EV range from its 16.6kWh battery with a 37-litre fuel tank.
Depending on the variant, view the 2022 MG HS fuel usage below.
All Highway, City, and Combined figures below are litres per 100km
| Variant | Series | Style | Fuel Type | Highway | City | Combined | E10? |
| --- | --- | --- | --- | --- | --- | --- | --- |
| CORE | SAS23 MY22 | 4D WAGON | UNLEADED PETROL | - | - | 7.3 | - |
| VIBE | SAS23 MY22 | 4D WAGON | UNLEADED PETROL | - | - | 7.3 | - |
| EXCITE | SAS23 MY22 | 4D WAGON | UNLEADED PETROL | - | - | 7.3 | - |
| EXCITE X | SAS23 MY22 | 4D WAGON | UNLEADED PETROL | - | - | 9.5 | - |
| ESSENCE | SAS23 MY22 | 4D WAGON | UNLEADED PETROL | - | - | 7.3 | - |
| ESSENCE ANFIELD EDITION | SAS23 MY22 | 4D WAGON | UNLEADED PETROL | - | - | 7.3 | - |
| ESSENCE X | SAS23 MY22 | 4D WAGON | UNLEADED PETROL | - | - | 9.5 | - |
HS Dimensions
The dimensions of the MG HS
The MG HS measures 4574mm long, 1685mm tall and 1876mm wide on a 2720mm wheelbase.
Kerb weight is 1489kg in the Core, 1550kg in models with the 1.5-litre engine, 1700kg in those with the 2.0-litre engine, and 1775kg in the Plus EV.
Depending on the variant, the 2022 MG HS measures as below.
| Variant | Series | Style | Length (mm) | Width (mm) | Height (mm) | Wheelbase (mm) |
| --- | --- | --- | --- | --- | --- | --- |
| CORE | SAS23 MY22 | 4D WAGON | 4574 | 1876 | 1664 | 2720 |
| VIBE | SAS23 MY22 | 4D WAGON | 4574 | 1876 | 1685 | 2720 |
| EXCITE | SAS23 MY22 | 4D WAGON | 4574 | 1876 | 1685 | 2720 |
| EXCITE X | SAS23 MY22 | 4D WAGON | 4574 | 1876 | 1685 | 2720 |
| ESSENCE | SAS23 MY22 | 4D WAGON | 4574 | 1876 | 1685 | 2720 |
| ESSENCE ANFIELD EDITION | SAS23 MY22 | 4D WAGON | 4574 | 1876 | 1685 | 2720 |
| ESSENCE X | SAS23 MY22 | 4D WAGON | 4574 | 1876 | 1685 | 2720 |
HS Market Fit
Where does it fit in the competitor segment?
The MG HS and Haval H6 are both value-priced, Chinese-built rivals for establishment mid-sized SUVs like the Hyundai Tucson, Kia Sportage, Mitsubishi Outlander, Nissan X-Trail and Toyota RAV4, among others.
The Plus EV is one of the few plug-in hybrid options in this segment, rivalling the Mitsubishi Outlander Plug-In Hybrid EV but priced closer to the smaller Eclipse Cross Plug-In Hybrid EV. The Ford Escape PHEV is another rival.
HS Sales Data
How well has the MG HS been selling?
To the end of 2021, MG sold 6828 HS SUVs.
That put it above not only its fellow challenger the Haval H6 (3635), but even above the established Volkswagen Tiguan (3772).
Should you buy the HS
Is this the right car for you? Our experts buy or not guide.
The MG HS's strong points are its handsome and premium-feeling cabin, plentiful space, long warranty, features list, comfortable ride, and inoffensive design language that looks anything but cheap and tacky.
If the MG HS wore a Mazda, Kia or Hyundai badge, few people would be surprised or feel disappointed. It's not a class-leader, but nor is it a class laggard.
Indeed, this might be one of the first Chinese cars we've driven which offers a viable alternative based on more than mere price, and which we could add to a person's shortlist without throwing in too many querulous 'umms' and ahhhs' along the way.
However, it makes the most sense with either the perfectly acceptable base engine or the plug-in hybrid, with the turbocharged 2.0-litre needing a bit more polish before we can recommend it.
Competitor Analysis
What other cars should you look at?
The HS's most direct rival is its fellow Chinese SUV, the Haval H6. The base H6 doesn't have quite as exhaustive a list of standard safety equipment, but the H6 range counters with a more powerful standard engine that also manages to be almost as efficient as the HS's base engine.
The SsangYong Korando is another sharply-priced challenger SUV, albeit one from Korea instead of China.
There's also the traditional mainstays of the mid-sized SUV segment to consider, including the Mitsubishi Outlander. This SUV has traditionally been the sharpest priced of the Japanese entrants in this segment, though with its 2021 redesign it's gotten a little pricier, if a lot nicer inside.
MG HS Interesting Facts
Did you know?
MG offers a special edition Essence Anfield with a striking red interior. It's a tie-in between MG and Liverpool Football Club, of which the Chinese-owned brand is an official global partner.
MG's parent company SAIC Motor built more than 4.6 million cars in 2021.
Renowned global automotive suppliers like Bosch and ZF contribute to the HS's spec list.
According to MG, the HS Plus EV emits up to one tonne less carbon dioxide every year than a comparable-sized non-plugin hybrid.
Frequently Asked Questions
The MG HS range kicks off from $29,990 (plus on-road costs) for the "
HS CORE
" variant and finishes at $41,990 (plus on-road costs) for the "
HS ESSENCE X
" variant.
The MG HS is built in China and is then shipped to Australia.
MG suggested that owners service their MG HS every 12 months or 10,000km, whichever comes first.
The MG HS has a five star ANCAP safety rating out of five.
The MG HS uses Unleaded Petrol.
The MG HS had a 7 year, unlimited km warranty.
Variants from previous years