About the Ferrari Purosangue
The Ferrari Purosangue is the best SUV on the planet. Even if the Italians insist it's not an SUV, the facts are as simple as that. The Purosangue is the most accomplished, enjoyable, luxurious, sporty and engaging four-door, four-seater sports car money can buy today. 
Despite being a naturally-aspirated, fuel-guzzling V12 super-sports SUV at a staggering cost of about $1 million (on-road), the demand for Ferrari's first ever four-door, four-seater sports car is so high that you'll be waiting for about 18 months to two years before you'll get one.
Ferrari Purosangue Photo Gallery
CarExpert High Resolution Photos of the Ferrari Purosangue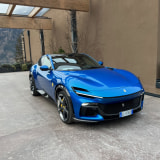 Interior
Photos and Images of the Ferrari Purosangue Interior
Lots of high-end brands offer a four-seater configuration in their SUVs for maximum luxury and space, but still give buyers an option for a conventional three-seat bench seat in the rear; but Ferrari isn't caving in to social norms. This is a four-seater, take it or leave it.
The Italians say the reason for this is due to the company's desire to give everyone in a Purosangue the full Ferrari experience.
The rear seats are proper Ferrari seats, and given the speed and pace of this car, that's a good thing. At first it seemed like an unreasonable thing to force on to customers, but having driven the vehicle and also sat in the back, we can say it's definitely the right call.
The other not-so-obvious elements of the Purosangue's interior are the rear doors, which open backward and are fully automatic.
The front doors have a 63-degree opening angle (5.0 degrees wider than the company's traditional two-door coupes) – while the rear-hinged back doors have a 79-degree opening. This makes getting in and out of the vehicle significantly easier.
The only annoyance is that if you are getting in the front seat and have others getting in the back, you tend to both go for the door handle at the same time and given both the front and rear door handles are toward the middle of the car, it can feel a little awkward. The customary thing to do is for the front passenger to open both doors.
Exterior
Photos and Images of the Ferrari Purosangue Exterior
Is the Ferrari Purosangue even an SUV? That really depends on your definition. In person, the four-door Ferrari feels more like a giant hot hatch than an SUV.
It has an extremely sleek design, the front and rear overhangs are unlike any other regular SUV you will find. Then again, it has up to 210mm ground clearance (180mm standard, with a 20 and 30mm lift available), AWD and presents a super comfortable and spacious cabin for four that is befitting of the SUV tag.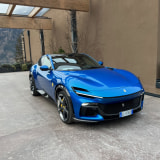 How it Drives
Our expert take on Ferrari Purosangue drivability?
The 6.5-litre naturally-aspirated V12 is a work of art. It's a derivative of the same engine you will find in the Ferrari 812 Superfast as well as some of the super-rare Ferraris like the Monza.
In the Purosangue, the V12 doesn't quite rev to 9000rpm – as is the case with the 812 Competizione – but at 8250rpm, it's still the highest-revving engine in an SUV. 
You can feel the soul and character of the motor as you drive along. In fact; it's the only naturally-aspirated V12 petrol SUV you can buy. Although Audi once made a V12 diesel SUV, this is categorically not in the same stratosphere, so arguably this is the first 'mass-produced' N/A V12 petrol super SUV on the planet – though Ferrari will limit production to around 3000-3500 per year at most.
Power comes in at around 533kW, backed up by an impressive 716Nm of torque – over 650Nm is available between 4300-7750 rpm.
From what we managed to ascertain, the Ferrari Purosangue drives brilliantly. It's incredibly fast (0-100km/h in 3.3 seconds, 0-200km/h in an insane 10.6 seconds) and poised, while also delivering a driving experience befitting of any V12 Ferrari that has come before.
It's responsive, torquey, and aggressive, but also offers the option of multiple personalities. So, when you leave it in Comfort, it can be a mundane – well, as mundane as a V12 SUV can be – runabout that's both comfortable and luxurious without always feeling like it needs to go fast.
Launch control is an interesting exercise that you can show off to friends and family without actually having to go through the process in full. Simply select the system and the Purosangue will immediately squat down like it's about to take off (which it is).
It gives you a rough idea of just how much travel exists in the suspension, and if you ever feel like intimidating someone at the lights without having to actually launch the car, it will categorically demonstrate your intent without breaking any rules.
Ferrari Purosangue Safety Rating
ANCAP Safety Rating Australia
There is currently no available third party crash testing data for the Ferrari Purosangue.
However, the company uses the latest in active and passive safety systems including autonomous emergency braking, and the vehicle itself is constructed from a mix of high-performance materials including carbon-fibre, aluminium and steel which Ferrari says offers minimum weight but maximum rigidity and safety.
Ferrari Purosangue Lifecycle
How old is the current generation and when will there be a new or updated Ferrari Purosangue?
The Purosangue is a brand new vehicle coming in mid to late 2023 and will likely remain untouched until at least 2025 at which point additional powertrains like a hybrid or a V8 might be on the cards.
Ferrari Purosangue Warranty
What is the warranty period and kilometre limit for the Ferrari Purosangue?
Standard manufacturer warranty is three years and unlimited kilometres, extendable to seven years.
There is also the Power20 warranty that covers all major mechanical/electrical components from four years up to 20 years so long as you're willing to pay to extend it each year.
Scheduled servicing is "free" and part of your purchase price for the first seven years and is transferrable.
Ferrari Purosangue Stock Availability
Is the Ferrari Purosangue available to buy now and what are stock levels and how long are wait times?
The Purosangue is in extremely high demand and if you were to order one today (mid 2023), you will likely be waiting at least 12-18 months.
Ferrari Purosangue Infotainment
What infotainment do you get within the range?
The 16-inch curved instrument cluster display is ultra clear and beautiful to look at. It's fast, full of features and offers plenty of ways to customise the layout. Buyers of older Ferraris would chuckle at the idea that you can actually change the colour of the tachometer (yellow by default) without ticking an options box – bargain.
This is backed up with a beautiful head-up display, which works in conjunction with the instrument display to provide varying levels of information, so you can – for example – have a gorgeous speedometer and tacho on the HUD while having your navigation in the instrument cluster.
On the other side, your passenger actually has a larger 10.2-inch screen that allows them to control the music, view various vehicle information, and give them a sensation of being part of the driving experience.
Ferrari Purosangue Boot Space
How much luggage or cargo capacity and boot space is there in the Ferrari Purosangue?
The boot offers 473 litres of capacity and expands significantly if you fold down the rear seats (electronically).
Frequently Asked Questions