Toyota hangs its hat on the success of the Corolla, having sold more than 45 million units globally since it was introduced in the 1960s.
It's little wonder that, as a leader in the hybrid vehicle space, Toyota would hybridise the Corolla range and begin presenting cars like the 2020 Corolla ZR Hybrid as the sporty halo of its hatchback range in Australia.
Boasting impressive fuel economy and the recent addition of smartphone mirroring across the range, does the Toyota Corolla still stack up as a viable alternative to the rest of its competitors?
How does the Toyota Corolla fare vs its competitors?
View a detailed breakdown of the Toyota Corolla against similarly sized vehicles.
How much does the Toyota Corolla ZR Hybrid cost?
Kicking off from $23,895 before on-road costs for the entry-level Corolla Ascent Sport manual, the range caps out at $34,695 before on-roads for the top-specification Corolla ZR Hybrid hatchback being tested here.
Throughout the range a sedan body can be optioned at each model grade for no additional cost, except at the top-specification ZR hybrid level.
There are nine colours to choose from, with everything but the solid white costing an additional $500.
Outside of that, two-tone paint – as seen on our tester – can be added for an additional $450.
What do you get?
Outside you'll find 18-inch alloy wheels, bi-LED headlights with auto high-beam, LED daytime running lights, a reverse-view camera, proximity entry and start, automatic windscreen wipers and headlights, LED tail lights, and privacy glass.
Inside the cabin are leather seats with red accents, front seat heating, wireless phone charging, dual-zone climate control, an eight-speaker JBL sound system, DAB+ digital radio, Apple CarPlay and Android Auto, radar cruise control, satellite navigation, a head-up display, and an auto-dimming rear-vision mirror.
There are no additional option packages, although the red interior highlights can be added as a no-cost option.
Is the Toyota Corolla safe?
The Toyota Corolla was first tested by ANCAP in 2018 and scored a five-star rating.
The individual crash test results include a 96 per cent adult occupant protection rating, an 83 per cent child occupant protection rating, an 86 per cent vulnerable road user protection rating and finally a 76 per cent safety assist score. You can read more about the ANCAP crash test results here.
Standard safety equipment includes seven airbags (including a driver's knee airbag), autonomous emergency braking with pedestrian and cyclist detection, lane-keeping assist, and a road sign camera.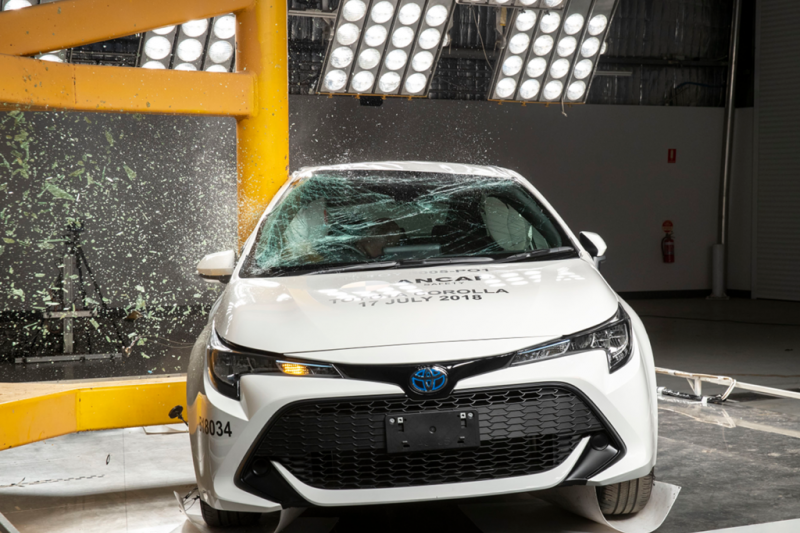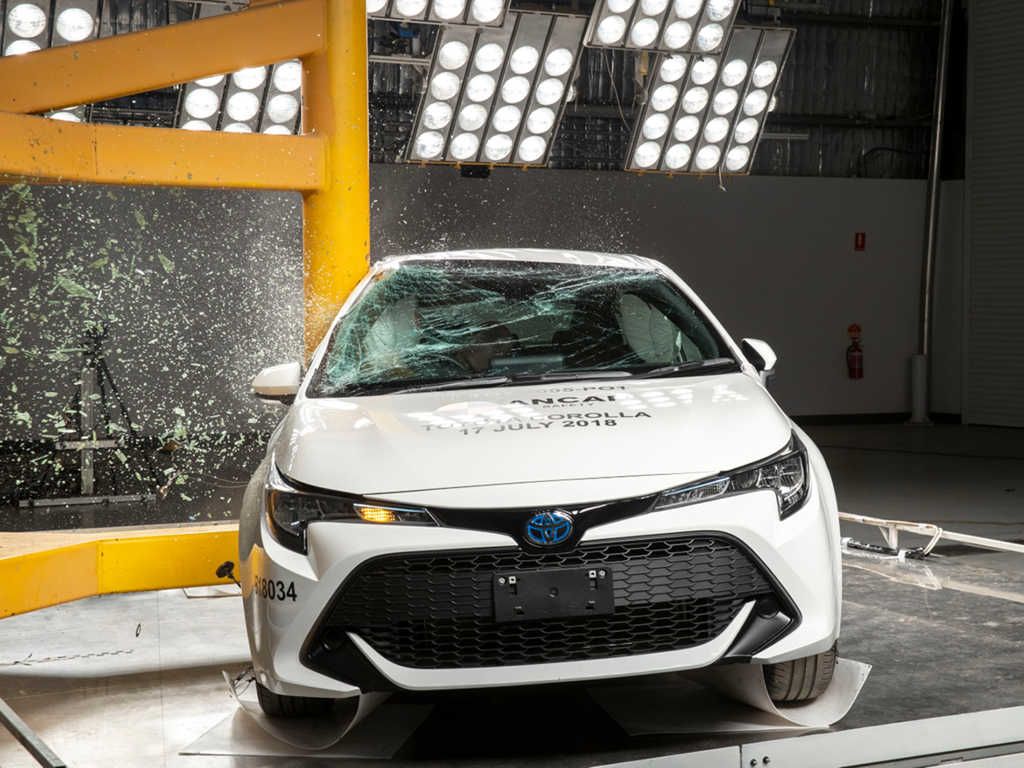 It's worth nothing the traffic sign recognition system can sometimes be a little confusing because it will display what it reads on the road, but often conflicts with the speed display on the infotainment system, which uses GPS data.
What is the Toyota Corolla like on the inside?
We always judge interiors on that initial wow factor. You want to feel impressed when you open the door for the first time, and you want your passengers to be equally as impressed – especially with the amount of money people spend on new cars today.
The Toyota Corolla ZR Hybrid meets that brief. The seats look racy and feature a mix of leather, suede, and metal elements. They hug you nicely and they improve the vibe of the cabin.
The steering wheel looks sporty and the dashboard features an upper and lower stitch line with soft padding to make the Corolla feel more like a higher-end vehicle than a city runabout.
An 8.0-inch colour display is mounted atop the dashboard and bundles inbuilt satellite navigation, AM/FM and DAB+ digital radio. It's also supported by wired Apple CarPlay and Android Auto, and wireless phone charging is also included.
Disappointingly there's only one USB port, so if you're using smartphone mirroring there are no other ports available for device charging.
Outside of that, all the switchgear up front is easy to use, and easy to reach. Ahead of the driver is a 7.0-inch multifunction display offering trip computer information, backed by a head-up display.
The eight-speaker JBL sound system is good, with tweeters mounted on the A-pillar providing a somewhat panoramic audio experience.
Hybrid
Added Boost
There's a more potent 2.0-litre version of the Corolla hybrid available in Europe that could be coming to Australia, offering a 46 per cent power boost.
The inbuilt voice recognition system works well, but it can be clumsy at times. You can pass commands through to your smartphone's cloud-based voice recognition system instead, which works far better.
It's in the second row onwards that the Toyota Corolla begins to lose its lustre. The back seats are quite cramped, and feel claustrophobic for adult passengers. There's limited head- and knee-room, and the height of the side sills makes it difficult to get in and out of the car.
There are air vents and a centre arm rest, along with ISOFIX points on the outboard seats.
Cargo capacity comes in at just 333 litres with the second row in place. This model misses out on any form of spare tyre, instead getting a tyre repair kit.
The boot lip is also quite small, meaning getting large items in to and out of the boot can be challenging.
What's under the bonnet?
Powering the Toyota Corolla ZR Hybrid is a 1.8-litre naturally aspirated petrol engine producing 72kW of power and 142Nm of torque.
The internal combustion engine is supplemented by a 53kW and 163Nm electric motor, for a combined power output of 90kW.
These drive elements are fed through an e-CVT, which isn't a conventional belt-driven continuously variable transmission, but a planetary gear set allowing the electronic heart of the drivetrain to control and vary torque from the internal-combustion engine and electric system.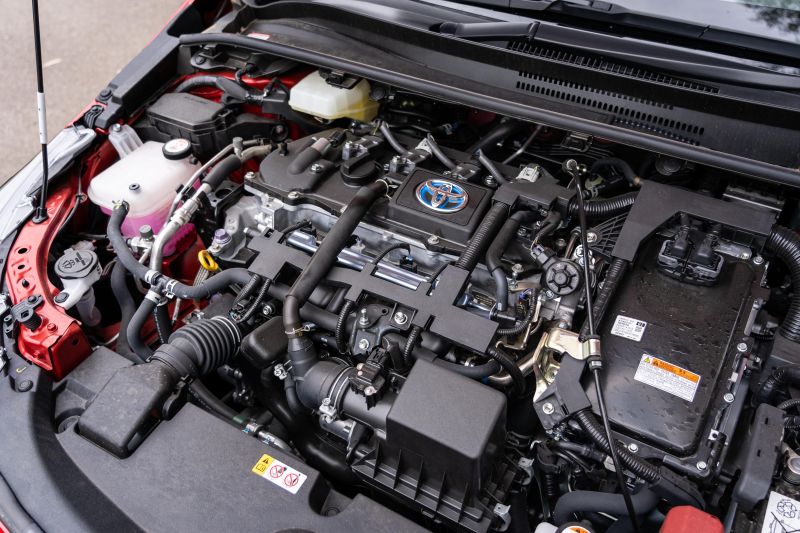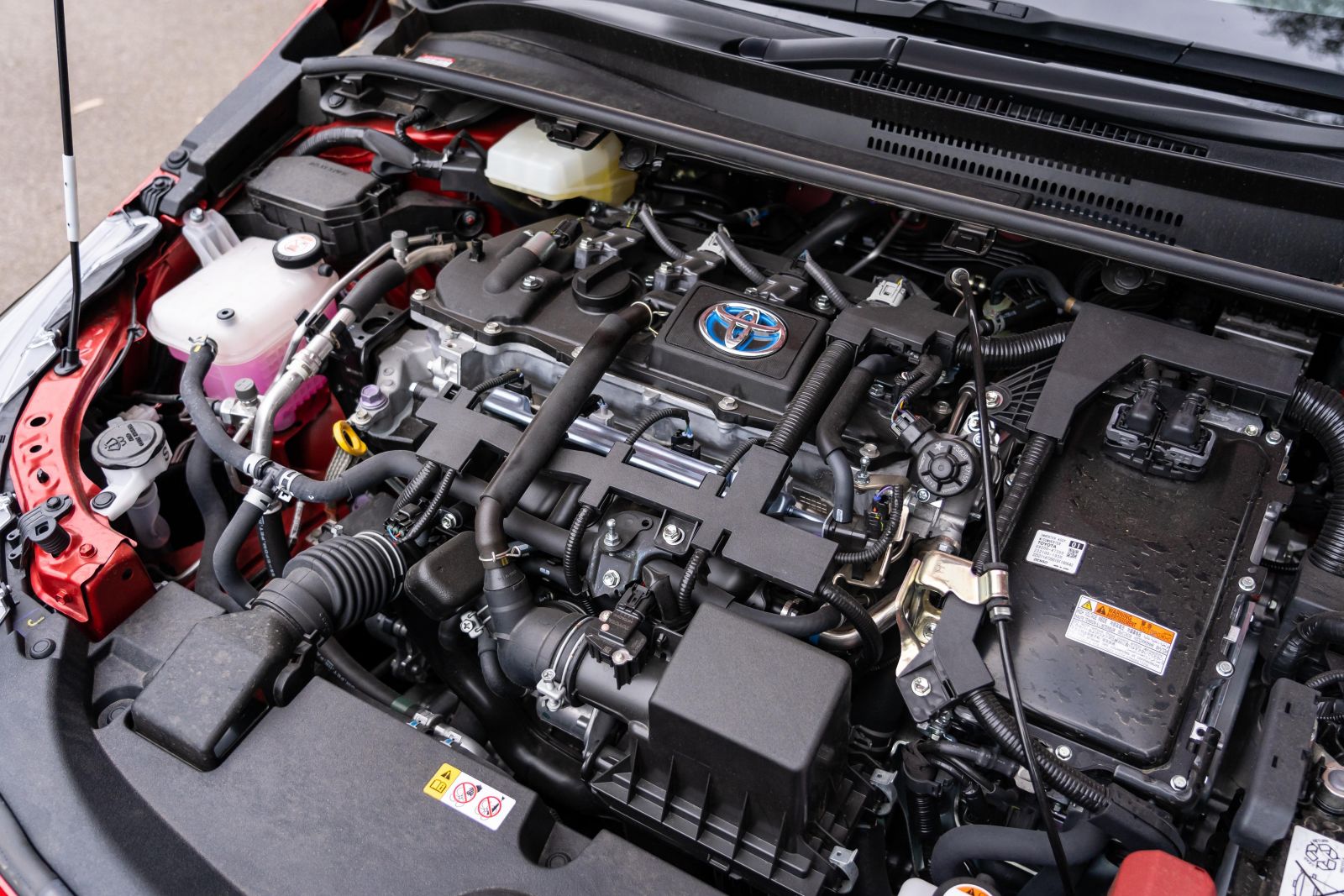 Toyota claims a combined fuel economy of 4.2 litres of fuel per 100km. We achieved around 5.5L/100km on test over a variety of city, highway and country driving conditions. Curiously, the Toyota Corolla hybrid sedan offers an even better fuel economy of just 3.5L/100km in comparison.
The engine can be fed with 91RON regular unleaded fuel. The combined fuel economy offers a driving range of just over 1000km.
How does the Toyota Corolla ZR Hybrid drive?
Hybrids are often considered boring and a means to an end in the automotive world. But that's all changing in the Toyota world, as the company attempts to feed hybrid drivetrains into all sorts of cars – including the sportier ZR.
Built on the Toyota New Global Architecture (TNGA) platform, the Corolla builds on the excellent ride and handling compliance engineered into this common platform. The addition of hybrid components help supplement the impressive ride and handling combination by offering quicker throttle response than a standalone internal-combustion engine.
From a standstill, the Corolla ZR Hybrid takes off silently running on electric power alone. The 6.5Ah nickel-metal hydride battery pack stores energy generated during deceleration or draws on the internal combustion engine, later using that energy to move the car from a standing start or supplement acceleration.
What's the point in that? The example I like to use is moving a large box on carpet or another similarly grippy surface. It takes a lot of energy to initially move the box, but once moving it's easier to control and push.
It's a similar story with a car. That initial burst of energy required to move the car from a standing start becomes less onerous once the car is moving. So Toyota's strategy is to capture energy in the battery system that would otherwise have been lost as heat due to friction in the mechanical braking system.
That energy is then used to get the car moving before the internal combustion engine kicks on and assists. That means the initial burst of energy is supplied by captured energy – energy that's considered 'free' and would have otherwise been needlessly lost into the atmosphere.
It works quite well, and you often find yourself being gentle on the throttle in an attempt to run on electric power alone for as long as possible.
Throttle response is good, although the e-CVT can get a little thrashy and noisy if you get stuck into the throttle. The 1.8-litre engine needs to work pretty hard if you ask a lot of it, and that noise readily resonates into the cabin.
Outside of that, it's a fairly quiet driving experience. Noise can intrude into the cabin on coarse chip roads at highway speeds, but it's nothing drastic.
In terms of handling, the car's diminutive proportions make it really fun to drive through the twisties. It's nimble and responsive, and the steering is direct enough to be considered engaging – not something we thought we'd ever say about a hybrid Toyota.
Brake pedal feel is good and Toyota has mastered this aspect of its hybrids for the most parts, but there are a couple of occasions where it will get suddenly grabby and it doesn't have the linear pedal feel of something like a Tesla or other full electric cars.
How much does the Toyota Corolla cost to run?
Toyota offers a five-year, unlimited-kilometre warranty on the Corolla, along with capped-price servicing.
Servicing occurs every 12 months or 15,000km (whichever comes first).
Servicing costs over a five year period come out to $900, or an average of $180 per service.
CarExpert's take on the Toyota Corolla ZR Hybrid
Let's get the negatives out of the way first. Rear leg- and head room is pretty bad – it's baffling to think why Toyota thought it would be okay to go backwards on second-row accommodation and cargo capacity.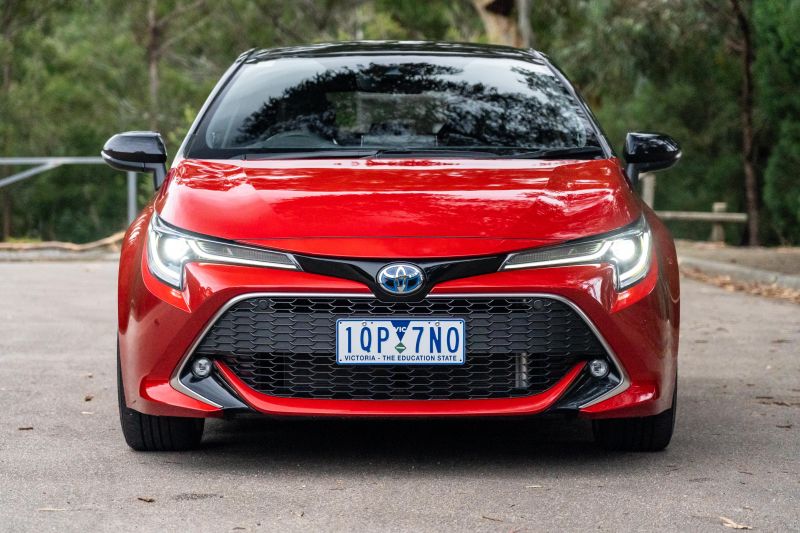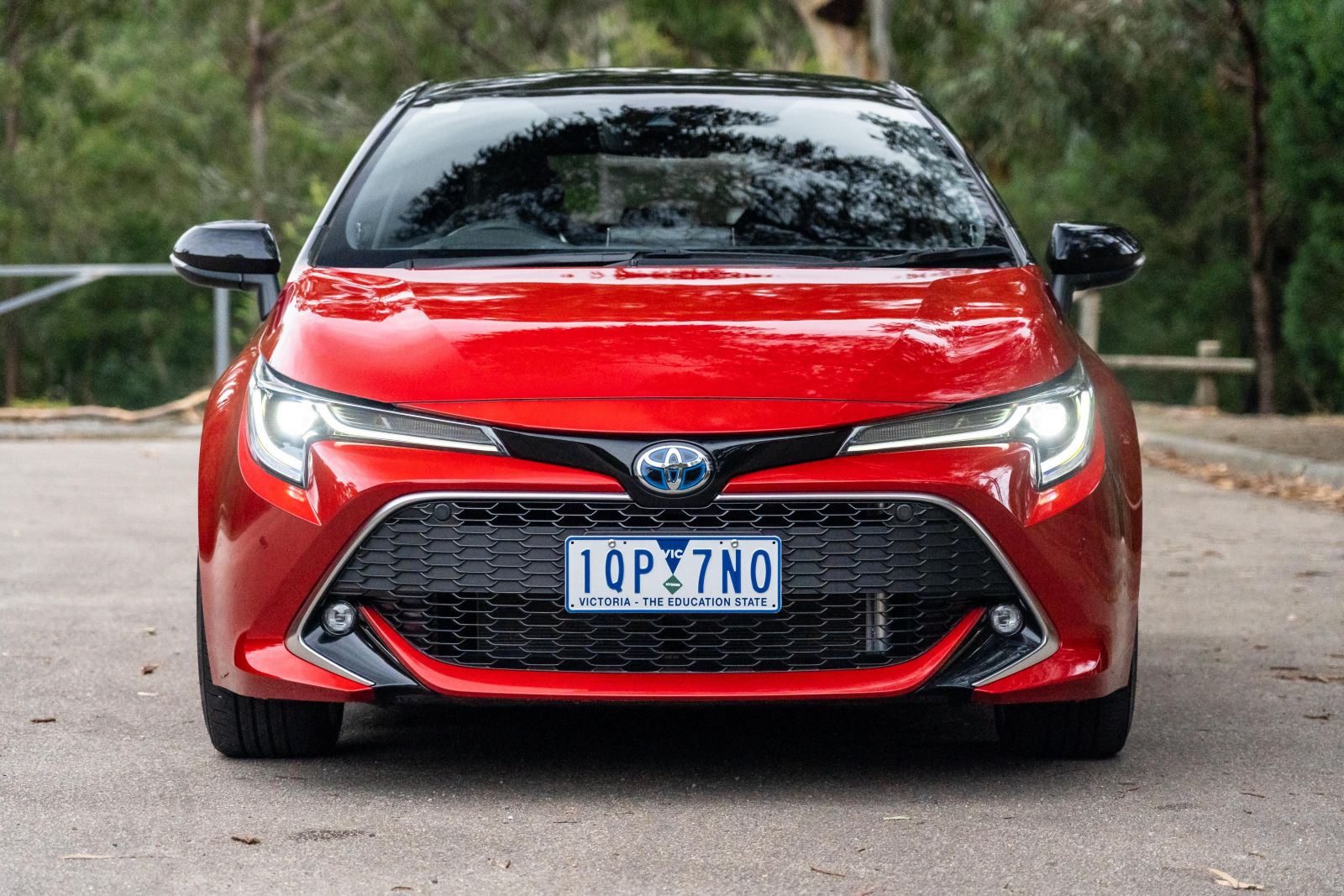 But if you put those two practicality issues to one side, the rest of the car is fantastic. It's fun to drive, comes with pretty much every feature you could want, and is cheap to run. It looks very sharp and uses barely any fuel, too.
There's a 2.0-litre version of the Toyota Corolla hybrid available in Europe, which swaps out the nickel metal hydride battery pack for a higher-voltage lithium-ion pack and offers an additional 46 per cent of power, increasing the combined output to 132kW instead of 90kW.
Our fingers and toes are crossed that this version makes it to Australia, because it'll push the Corolla ZR Hybrid into warm hatch territory, which can only be a good thing.