CarExpert is all about authenticity and not feeding you guys any BS. So I'll be upfront with you: the Mazda MX-5 has never really been my cup of tea.
I drove the ND MX-5 when it first came out and walked away not in love.
Given we're all at a new publication and we're throwing our baggage out the window, I thought I'd give the MX-5 another crack.
The last Mazda MX-5 I drove was the entry-level 1.5-litre with an automatic, so it wasn't a high base to work from. This time around it's the entry point to the RF range, powered by a 2.0-litre engine – and it has a manual gearbox.
Let's see how we go this time around!
How much does the Mazda MX-5 RF cost?
The Mazda MX-5 range kicks off from $35,890 before on-road costs for the entry-level MX-5 manual. The range caps out at $49,900 before on-roads for the top-specification MX-5 RF GT with an automatic.
This car on the other hand, the MX-5 RF, kicks off at $41,200 before on-roads and comes standard with a 2.0-litre engine and six-speed manual transmission.
Buyers can pick from six colours with all but Machine Grey and Soul Red costing an additional $495.
What do you get?
Being a pint-sized car, there aren't a great deal of features to add to the MX-5 package. That also means it doesn't really miss out on much.
Outside you'll find 17-inch alloy wheels, LED headlights, LED daytime running lights, dual exhaust outlets, a limited-slip differential, and central locking.
Inside the cabin there are cloth seats, body coloured door inserts, a 7.0-inch infotainment system (MZD Connect), an LCD display in driver's binnacle, single-zone automatic climate control, AM/FM/DAB+ digital radio, wired Apple CarPlay and Android Auto, a reversing camera, two USB ports, cruise control, and push-button start.
Is the Mazda MX-5 safe?
Tested first in 2016, the Mazda MX-5 scored a five-star ANCAP safety rating. You can see a full break down of the testing process and the MX-5's crash test scores by checking out the ANCAP website here.
It scored a total score of 35.2 out of a possible 37.
Standard safety technology includes low-seed autonomous emergency braking and four airbags, along with regular driver aids such as ABS brakes and electronic stability control.
What is the Mazda MX-5 RF like on the inside?
In a word, basic. But that's fine. It's a (fairly) cheap sports car, and Mazda has cut all the bells and whistles out of it to keep it simple.
So you get cloth seats, a manual handbrake, and analogue gauges. You won't find gizmos like radar cruise control, wireless phone charging or autonomous driving functions – and I'm cool with that.
Two cup holders are located behind the driver and passenger's elbow, but they can cleverly be detached from their slots. One can be relocated to just next to the drivetrain cover on the passenger side,
Infotainment comes in the form of Mazda's dated MZD Connect infotainment system – you can read our detailed review of MZD Connect and the new Mazda Connect infotainment system here.
It measures 7.0 inches in size and can be controlled as a touchscreen while the car is stationary, or using the iDrive-esque controller in the centre console.
It comes with a voice recognition function as well, but it's not much chop. It rarely works as you'd expect, and finds it hard to understand commands. Luckily you have wired Apple CarPlay and Android Auto through which the car can route voice commands.
The six-speaker sound system is good, but not amazing. It's capable of streaming music through AM/FM and DAB+ digital radio, plus USB, auxiliary connection, and through the smartphone mirroring system.
Build quality inside the cabin is reasonable, but feels a little cheap in parts. Some of the surfaces are fairly rigid and scratchy, and don't inspire confidence (like the centre console lid, for example).
In lieu of a glove box, Mazda has created a hidey hole between the driver and passenger seats that can stored odds and ends, while the centre console is accommodating enough for keys or other loose items.
In terms of cargo capacity, there's a surprising amount of room in the boot. It measures 127 litres in capacity, but is big enough to store a small cabin bag, plus a laptop bag alongside it.
Despite the key being a proximity key to start the car through push-button start, you still need to manually pull it out to unlock the car. It's not a proximity entry system, which seems strange given most of the hardware for the technology is already there.
Can tall people fit in the Mazda MX-5? In a word, no. I'm 185cm tall and just manage to squeeze in.
Find yourself somebody like my freakishly (201cm isn't freakish – Ed) colleague Scott Collie, though, and they'll need to drive around with the roof down to fit.
What's under the bonnet?
Powering the Mazda MX-5 RF is a 2.0-litre naturally aspirated four-cylinder petrol engine producing 135kW of power and 205Nm of torque. The engine is mated to a six-speed manual transmission that sends torque through a limited-slip differential to the rear wheels.
This engine recently scored a power upgrade, jumping from 118kW of power and 200Nm of torque – not a bad increase.
That power upgrade came courtesy of a larger throttle body, lightweight pistons, and new exhaust valves. The redline was also increased from 6800rpm to 7500rpm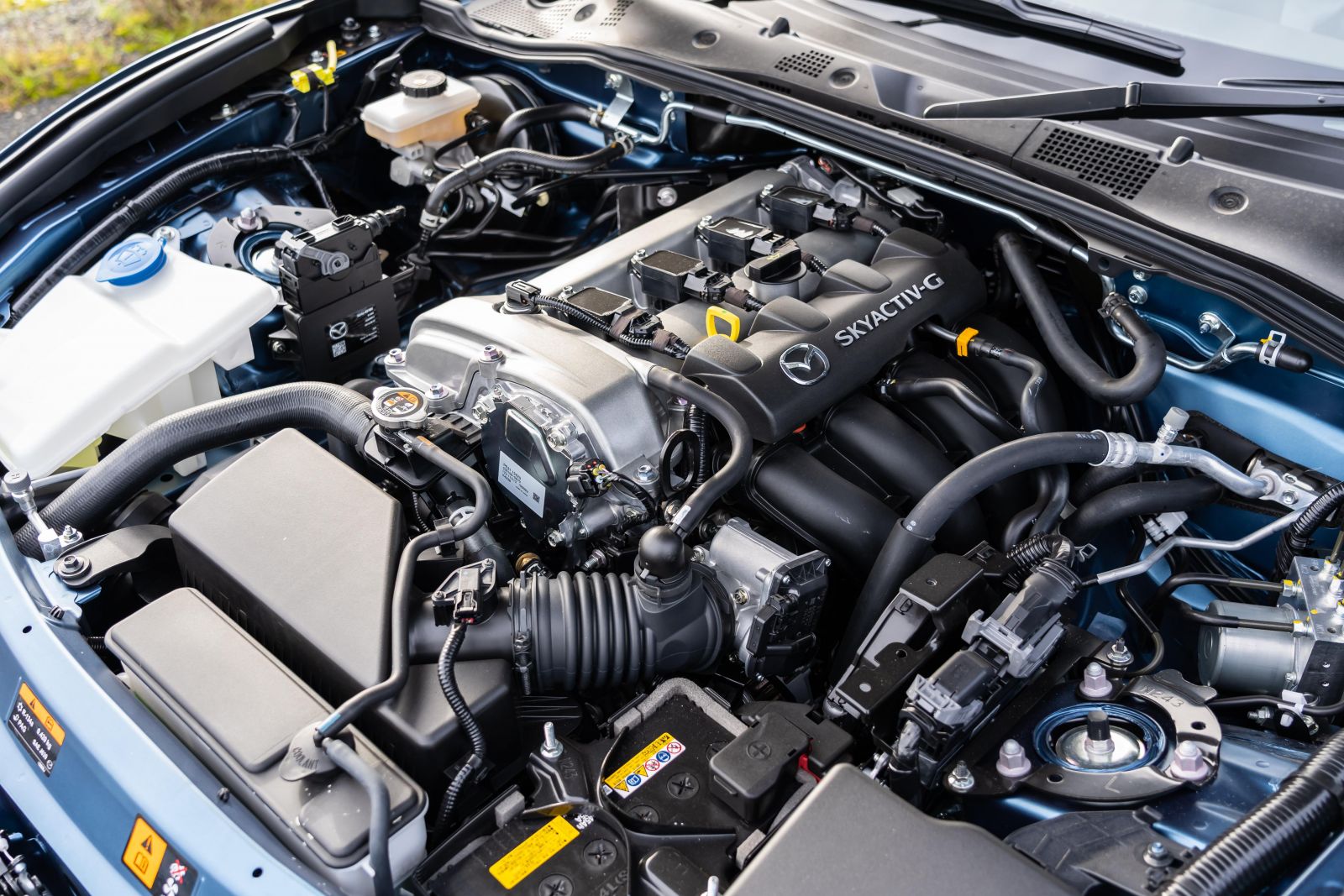 That results in a new fuel economy figure of 6.9 litres per 100km on the combined cycle. That fuel use is so low because the MX-5 is so light, with a claimed 1087kg kerb weight. We ended up consuming 8.0L/100km during testing.
Keep in mind though that the MX-5 requires 95RON premium unleaded petrol.
How does the Mazda MX-5 RF drive?
The first thing you'll notice when driving the MX-5 is how communicative all the controls feel, and how connected you are as a driver.
Swapping cogs comes courtesy of a short-throw transmission, where the clutch is easy to use and the steering is very precise. You also sit so close to the ground that it feels like a big go kart.
Despite only producing 135kW of power, it makes just under 130kW of power per tonne. As a reference, that's about 10kW/tonne less than a Mercedes-AMG A35.
That power is all sent through the rear wheels through a limited slip differential, so in wet conditions it can feel a bit snappy if you're too aggressive with the throttle, but the naturally-aspirated torque delivery makes it predictable.
In terms of the ride, it's on the firmer side of comfortable but not jarring or too sporty. It does have a degree of body roll dialled in and that helps make the car more predictable as you throw it around. It never really feels like it's going to unexpectedly bite you midway through a corner.
But my favourite part is the 7500rpm redline. Each gear feels like it goes forever and the noise that rushes into the cabin is addictive. It's always willing and wanting to give you more, and an excuse to row back through the gears and find more corners.
If I could complain about anything on the driving side of things, it's that I can't really fit in the cabin to properly heel and toe and I'll often be unable to effectively turn left with the high centre console catching my elbow.
I've had this issue in a number of Japanese cars, but it appears to be my freakish body – I have a short torso with long arms and long legs (please feel sorry for me) – that makes it hard to navigate the pedal box in small cars like the MX-5. Non-freaks will probably find it perfectly fine.
LSD
All the traction
If you needed more incentive to buy the manual MX-5 over the automatic, the manual comes standard with a limited slip differential for extra traction.
We were surprised that there wasn't a great deal of wind buffeting inside the cabin with the roof down. You get all the benefits of noise without wind throwing everything around the car. The roof operates in around 12 seconds, but only works at speeds below 10km/h.
When you're not hunting for corners, the MX-5 RF is fairly comfortable and could easily be used as a daily. Visibility out of the car is good out the front and sides, but somewhat compromised out the rear. It's easy to park and has an incredible 9.4m turning circle, so you can u-turn within your own lane almost.
The MX-5 really is hard to fault. It has more than enough poke for a spirited drive and keeps you entertained the entire time.
If you'd planning on doing track days, the only thing I'd look at changing is the brakes and tyres. You'll want a sticky set of rubber and some meatier brakes for constant track driving, but outside of that it fits the bill perfectly as a daily capable of a weekend fang.
How much does the Mazda MX-5 cost to run?
Mazda has now rolled out a five-year warranty across its range, which is great news when it comes to resale values.
Servicing for the MX-5 occurs every 12 months or 10,000km. Servicing over a five year period costs $1750, which averages out to $350 per service.
Outside of the requirement for 95RON premium unleaded petrol, the MX-5 is a fairly cheap car to run. There's not a whole lot to look at and the 17-inch wheel and tyre package is cheap to replace when required.
CarExpert's take on the Mazda MX-5 RF
Okay, I was wrong about the Mazda MX-5. This whole time, all I had to do was drive the 2.0-litre with a manual transmission and everything would have been fine.
Sure, it has a bit of body roll and the cabin is pretty cramped, but for the most part it's really hard to fault the MX-5. It's a proper driver's car and delivers an engaging steer every time you hop behind the wheel.
The feel you get through the chassis is so go-kart-like that you just want to get back in and drive again.
Let me know in the comments below – are you an MX-5 person? What do you love/hate about them?