Twenty-seven years ago, Ken Imhoff laid his eyes on the Lamborghini Countach in the Cannonball Run on television, and decided he would do anything to have one, even if it meant making one himself.
Some people are lucky enough to be able to buy their dream car others have to save up. However, as with many people, this Lambo enthusiast would soon discover that acquiring such a car would take a little bit more money than he had on tap, so for this engineer he got to work building one for himself. Probably with more attention to detail than the original.
Over the course of seventeen years Ken hand crafted the Lamborghini Countach from scratch in his basement.
Literally each and every part of this machine is pretty much custom-made. From the frame to the body panels and everything in between, this thing really took a lot of time, dedication, and a heap of skill to put together.
There aren't too many people that would be able to accomplish all of the different fabricating techniques and processes that were necessary to bring together all the different aspects of this Lamborghini. However, when it was finished, this replica ended up looking just about as good as the real thing.
A little history on the car
He 100 per cent handcrafted the Countach out of aluminium and a space tube frame. All aluminium body formed on a wooden buck using an English wheel.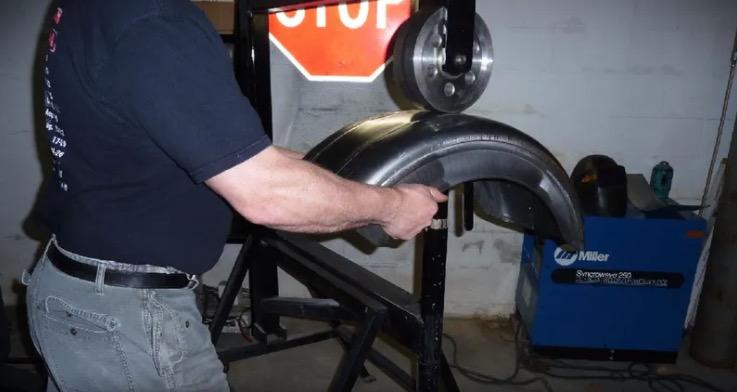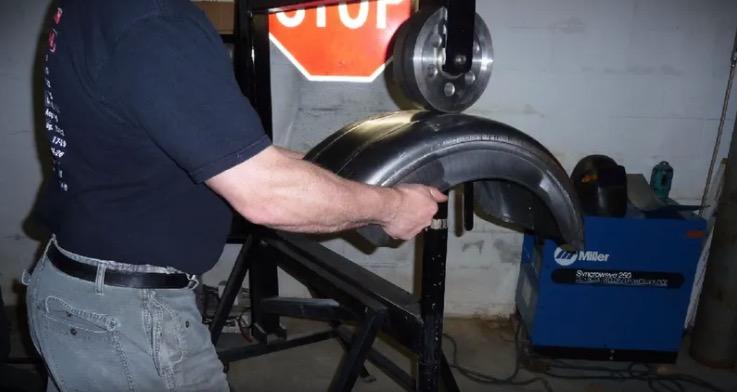 Ken's own design space frame with Corvette hubs and custom A-arms. Mated to a ZF-25 5 speed. S.S. 180 degree headers GT40 design "bundle of snakes". Powered by a Boss 351 bored stroked to 377 515hp 48 IDA Webbers, this mock-up Lambo would give the real 'bull' a run for its money.
One off TransAm BBS rim shells to custom made wheels. Custom brake package to fit 16″ wheels. Fuel cell, twin aluminium sprint car (Howe) radiators. All aluminium interior with leather dash, Momo seats and 5 point harness, on board halon fire bottle. quick release steering wheel. Low to the ground at 2700 lbs. 100 per cent body correct by using a real Countach to measure from.
After the build was complete, there was just one more challenge ahead. How do you get a full size car out of you basement. Can anyone guess how they got the car out of the basement?
Here are the specs for the Lamborghini:
♦ All hand formed aluminum body weighing 2400 lbs, representing a euro spec 1982 Countach LP5000S
♦ All steel tube space frame similar to the original
♦ Ford Cleveland Boss 351 (514hp@ 6800rpm) with a Probe 377C.I. stroker kit
♦ Forged 11.75 comp. pistons H-beam rods
♦ .630 lift roller cam and Milodon gear drive
♦ Crower pushrods and S.S. roller rockers with S.S. HiFlow manley valves
♦ Ported and polished heads and Hall Pantera Weber manifold
♦ 48 IDA downdraft Webers built by Inglesse
♦ Canton 10 qt. trap-door road racing pan and oil cooler
♦ ZF 5 speed transaxle with (4:10 gear)
♦ 15lb. aluminum flywheel
♦ MSD box and billet dist.
♦ Tires rear Hoosier 25.0×13.0x16 front 23.5×12.0x16 slicks
♦ Wheels custom BBS rim shells with hand made centre sections. 12×16 rear 10×16 front
♦ Brakes Wilwood Suprelite 4 piston calipers and 12″x1.25″ vented rotors and aluminum hats
♦ Exhaust handmade 180deg. 2″ S.S. headers, 3.5″ collectors, 12″ long x 3.5″ racing muffers.
♦ Wilwood racing pedals/master cylinders/hyd. clutch
♦ Pantera ZF 5-speed, Hyd clutch, alum flywheel, bell housing, and shifter
♦ Twin Howe sprintcar aluminum radiators with 2400cfm puller fans, Oil cooler with twin remote race filters
♦ Performance untested weight 2700lbs.
♦ 15 gal. fuel cell, electric fuel pump, and sending unit
♦ Top Speed confirmed by Ken = 140mph
♦ Real Lambo Parts : taillights, parking lights, windshield, speed glass side windows, badges, fiberglass wing, wheel arches, and chin spoiler
♦ A competition style interior, MOMO seats, 5 point harness, splined steering wheel, 5 lb. Halon fire bottle, all anodised aluminium interior panels with heat and sound barrier rear bulkhead with removable access panel between seats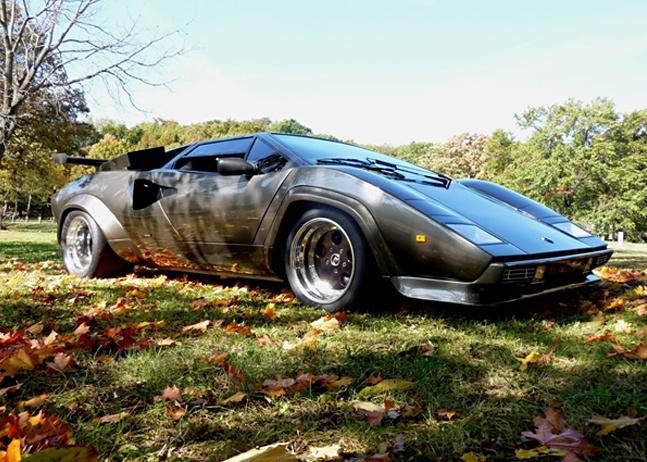 What an absolute masterpiece!