This image has been circulating the net for some time, so when it came across our desk we decided to do some research into exactly what this monstrous big-block Wankel engine was destined for.
Built by the now seemingly defunct "Rotary Power International" for low rpm, high-torque applications, it is claimed to be substantially lighter than any equivalent piston engine of similar output.
Originally designed to power yachts and boats, this insane rotor is not only is turbocharged, but it is also diesel. With configurations up to 6 rotors at your disposal, you can make up to a staggering 3000hp.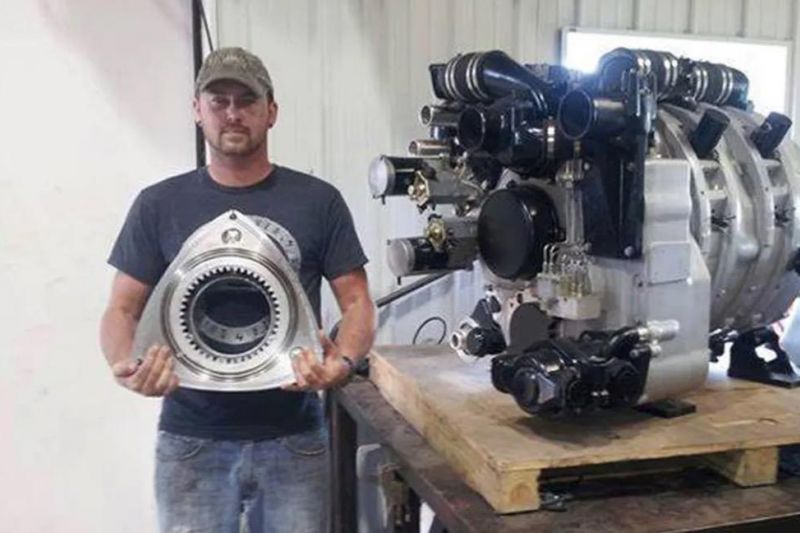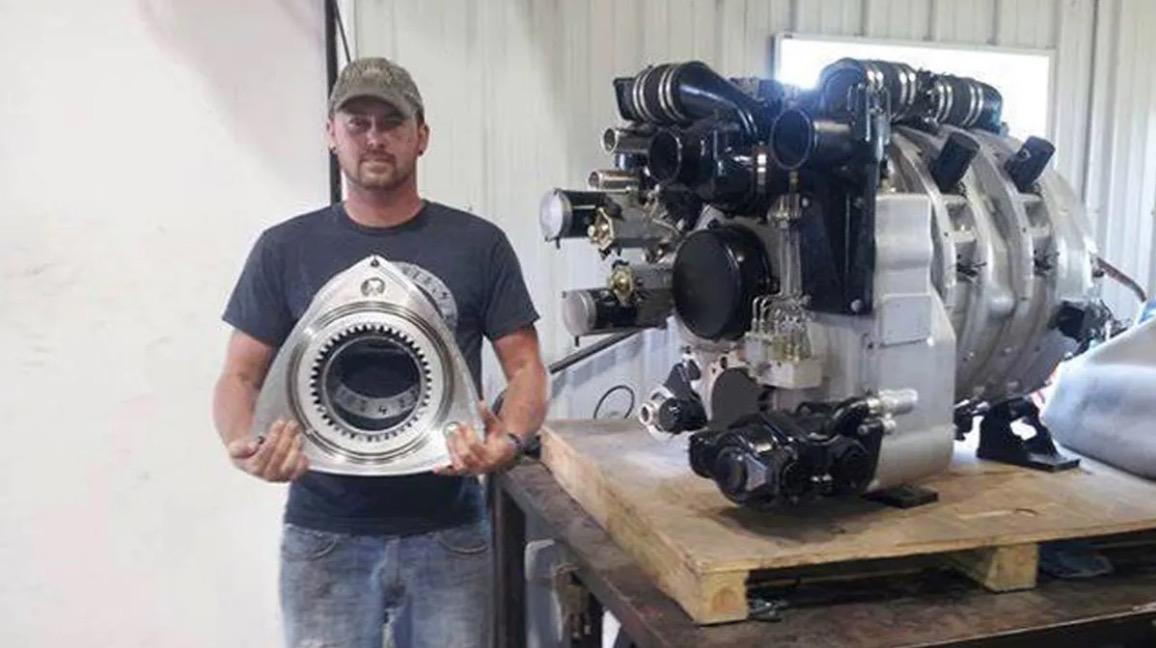 350-2 NG SPECS (2 rotor configuration – as pictured):
Engine Size/cc: 11600 (11.6 L)
Size Cubic Inch: 700
Max HP: 750
Max HP Turbo: 1500
Max RPM 3600: 3600
Est. Weight Lbs: 1895
Engine Cooling: Liquid
Fuel: Gasoline, Diesel, Kerosene, JP5, JP8, Ethanol, Natural Gas and low grade Natural Gas, Bio Gas, Landfill Methane Gas, Propane.
Available in up to a 6 rotor configuration displacing a mammoth 34.7 litres, and producing around 3,000hp – it's sure to get your Miata moving in a REAL hurry (although the engine itself weights nearly 2.4 tonne, so that might pose some strain on the chassis).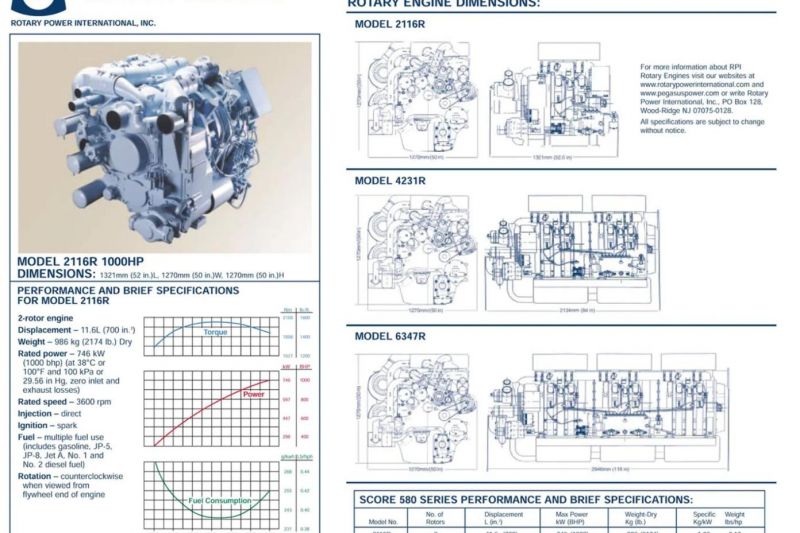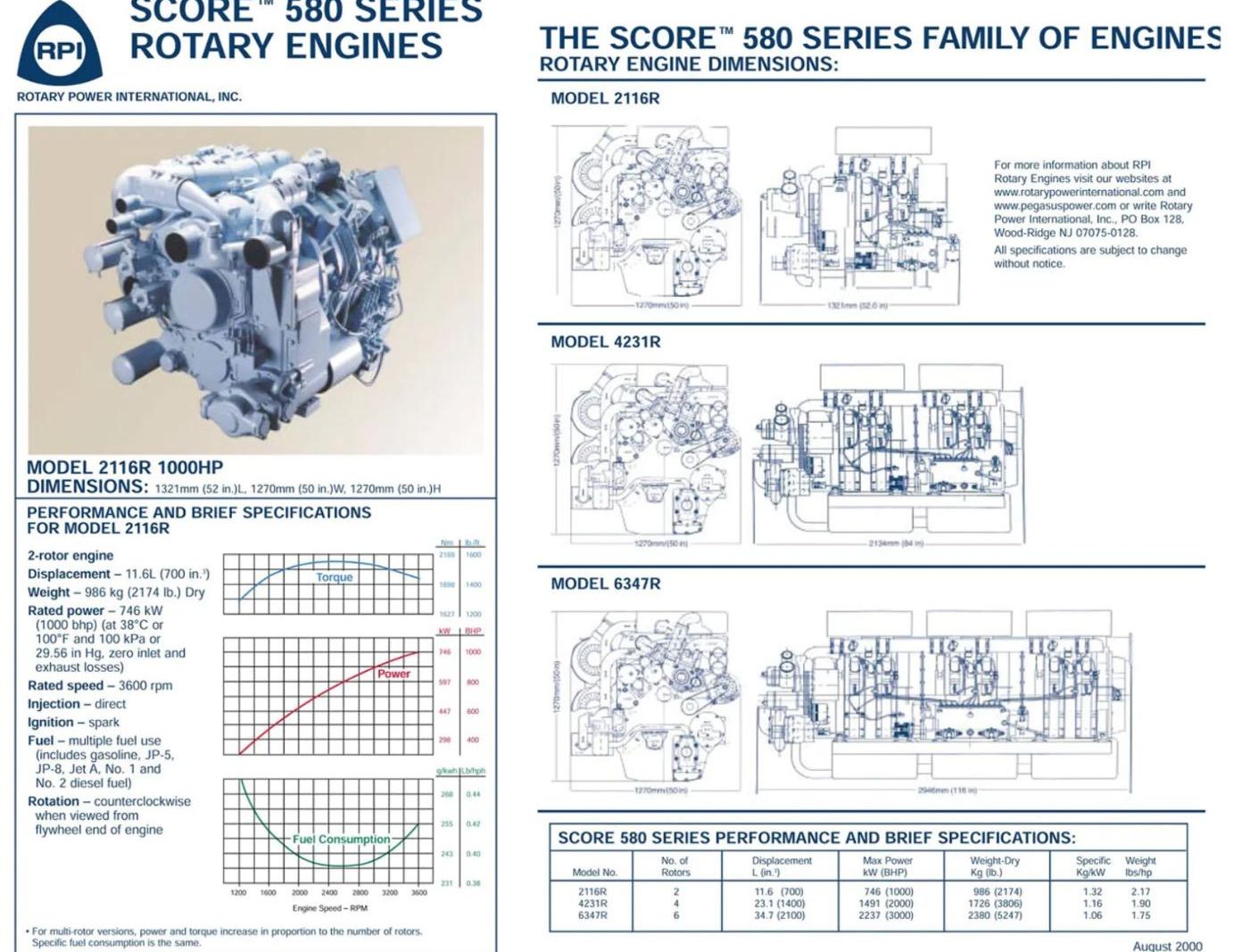 Unfortunately following the demise of RPI, it would appear this project has been terminated and details of this engine are limited only to a handful of marine magazines from the late 90's. Here is an extract from the press release by RPI:
"..take a basic two-rotor, 1,000hp, 1700-lb. 580 Series (it has 5.8 liters displacement per rotor) rotary diesel, add 800lb, for a reduction gear and accessories and voila: you have a reliable diesel engine weighing in at only 2.5 lb./hp. By comparison, a high-tech, modern reciprocating diesel in this power class typically weighs in 4 or more lb./hp and is some 2′ longer than the rotary. This rotary engine is due to be introduced early next year when RPI and ARP plan to install three 1,000-hp engines in a fast ferry to be built on the West Coast"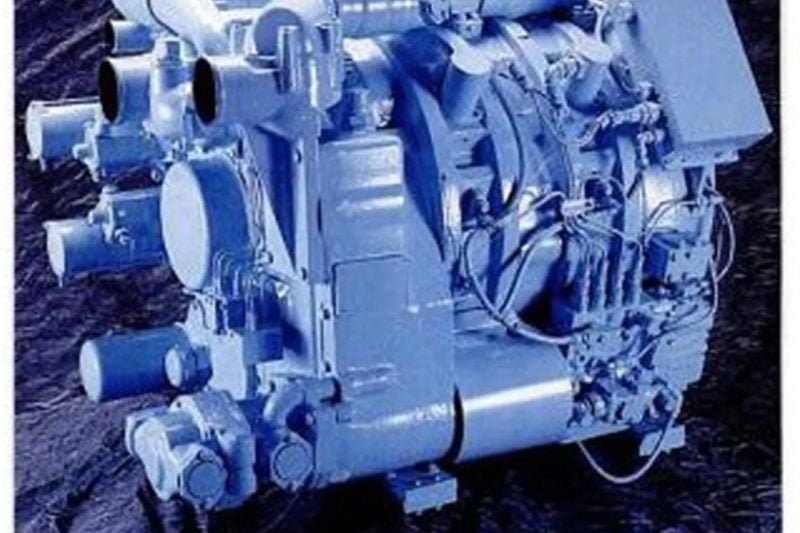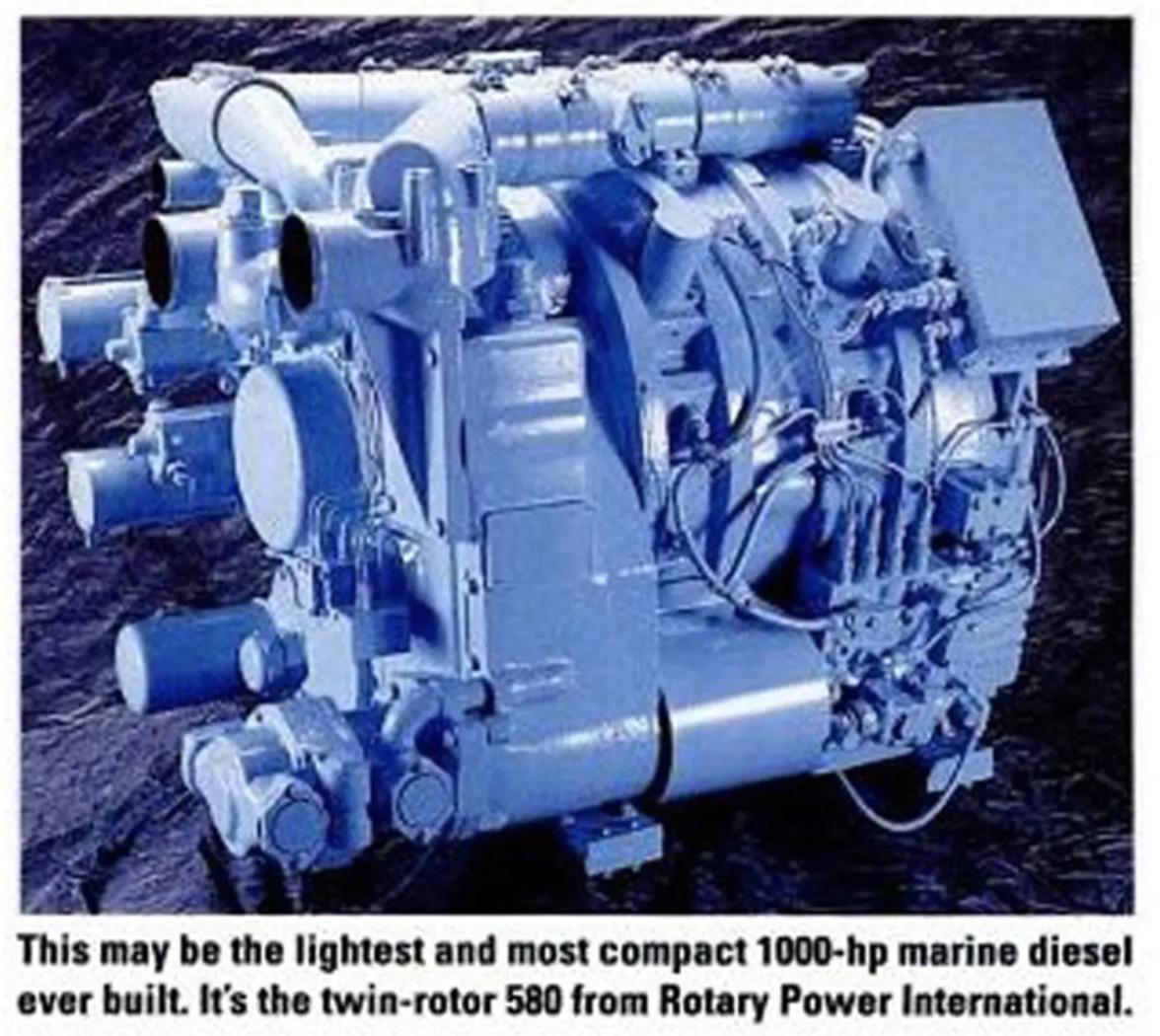 The secret to it's small size and relatively high power output is due to it's 270 degree power strock during each revolution. Something that sets the rotary engine apart from a regular piston engine.
"Instead of the two or four cycles needed to complete the sequence of the intake-compression-expansion-exhaust, the rotary completes all four events with a power pulse every revolution. It provides a 270-degree power stroke during each crankshaft revolution."
In case you were thinking about fitting it to your MX5, even if you could find one available, expect to shell out in excess of $215,000 AUD for the 1,000hp version.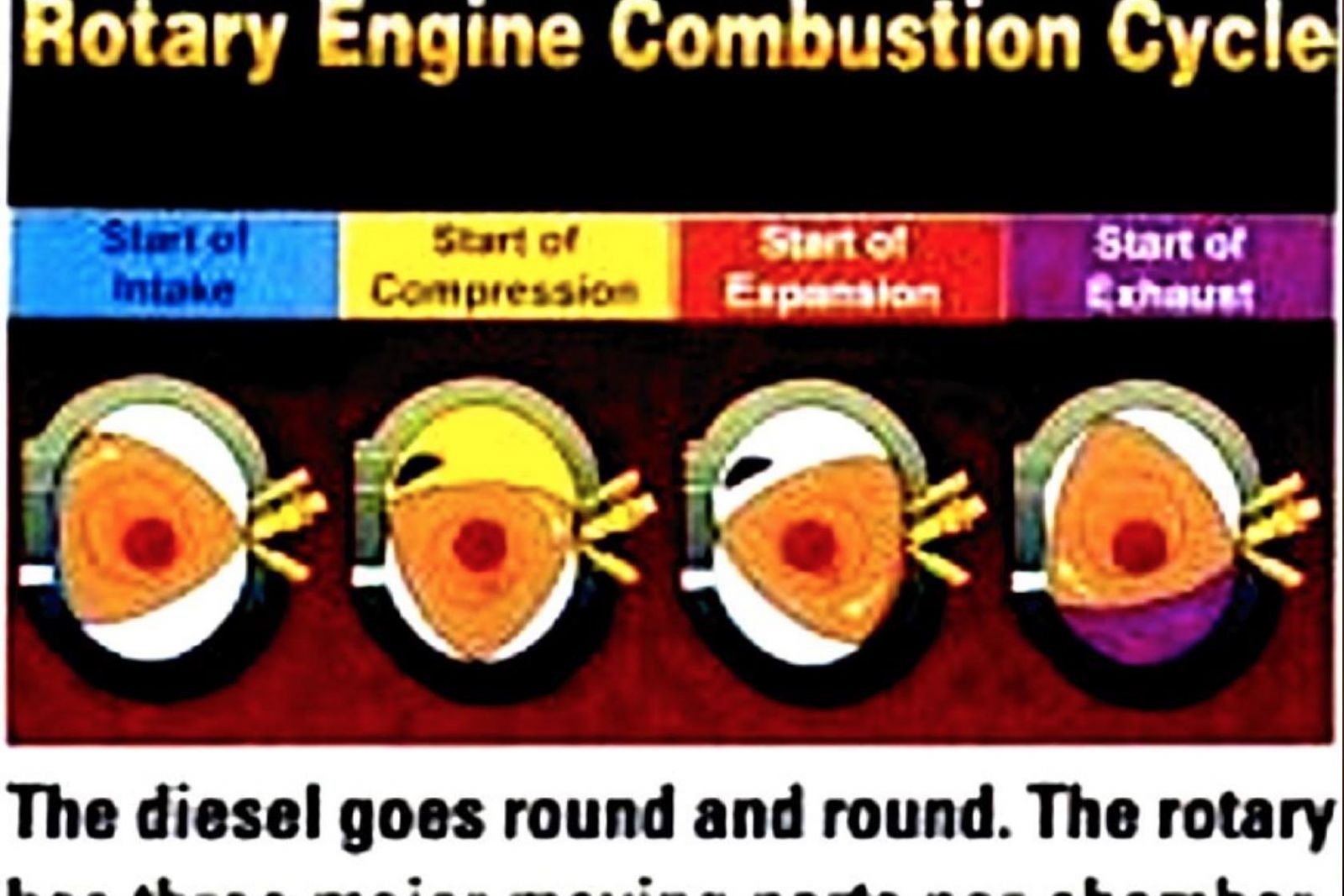 11.6L Turbocharged Big Block Rotary Engine – extract from Rotary Power International.

Engineers have been busy perfecting a new form of mechanical power that may transform the way we think about the diesel engine. And far from being a pipe dream, this technology is already among us-in fact, it's due to be tested at sea in 1997. Rotary Power International, through its marine distributor, Abejon Rotary Power, is introducing a new rotary diesel to the marine market.

This engine, called RoTar in house, has undergone rigorous testing for the Marine Corps Advanced Amphibious Assault Vehicle program. Even if RPI doesn't do business with Marines, yachts-men and commercial mariners stand to benefit. It's all in the numbers: take a basic two-rotor, 1,000hp, 1700-lb. 580 Series (it has 5.8 liters displacement per rotor) rotary diesel, add 800lb, for a reduction gear and accessories and voila: you have a reliable diesel engine weighing in at only 2.5 lb./hp.

By comparison, a high-tech, modern reciprocating diesel in this power class typically weighs in 4 or more lb./hp and is some 2′ longer than the rotary. This rotary engine is due to be introduced early next year when RPI and ARP plan to install three 1,000-hp engines in a fast ferry to be built on the West Coast. Felix Wankel, concept was simple-eliminate the pistons, connecting rods, valves and other friction-creating parts that make up a reciprocating engine. Wankel developed a triangular-shaped rotor, which follows an elliptical path around a concentric crankshaft to conform to the inside surface of the aluminum trochoid housing.

The rotor has three combustion faces, which take the place of a conventional engine's pistons. Instead of the two or four cycles needed to complete the sequence of the intake-compression-expansion-exhaust, the rotary completes all four events with a power pulse every revolution. It provides a 270-degree power stroke during each crankshaft revolution. At full throttle, the crankshaft turns 3600 rpm, while the rotor meanders around at a relatively sedate 1200 rpm. In a two-rotor engine, the rotors offset and balance each other naturally, so vibration SCORE (Stratified Charge Omnivorous Rotary Engine) for a reason.

A patented stratified charge injection system uses a pilot injector to introduce a small amount of fuel that is ignited by a spark plug. This creates a pilot flame that ignites the fuel injected by the main injector. As the rotor sweeps by, a layer of air (strata) is created naturally, which makes for clean and efficient fuel burn. "As the rotor passes by, it's actually painting the air near the injector," says Silvestri. "That's what's unique. It also prevents a concentration that will cause knock because it's stratified-kernels of fuel surrounded by air, essentially. It's what makes the engine multi-fuel capable and we can keep compression ratios down to 8.5:1, which are low for a diesel. It also eliminates cold-start problems and improves fuel efficiency because we're operating with very lean fuel mixtures". The 580 starts life as an aluminum casting that is delivered to RPI's manufacturing plant in Wood-Ridge, N.J. The blocks are machined in-house to very close tolerances and then sent out to be chrome-carbide coated. The block is returned to the RPI plant where the coating is ground smooth and lapped using mylar impregnated with diamond dust while molybdenum is sprayed on the side housing.

The casting is then inspected via a Zeiss coordinate measuring machine. This machine, which is mounted on a 12″ thick slab of granite, is accurate to within 1/1,000,000″. A Talysurf machine is then used to measure the smoothness of the finish. These precise manufacturing tolerances, use of molybdenum and chrome carbide coatings, rotors made of 17-4 stainless steel and ceramic seals all help ensure a long, reliable life span. RPI will initially warranty the engines for 4,500 hours, but this period will likely be extended to 10,000 hours. According to Bill Silvestri, RPI's executive program director, based on extensive test-stand results, the engine's life could be anywhere from 6,000 to 40,000 hours. Since the exterior surfaces of a rotary engine are smaller, it tends to get hotter than a reciprocating engine. RPI expects a 20 percent increase in cooling airflow will compensate. A high-capacity dual heat exchanger (one side cools the engine block, the other cools the oil and intercooler) keeps temperatures manageable. RPI also says combustion air requirements are also slightly higher. "We also designed this engine for a severe salt environment," says Silvestri.

The engine type 580 Series Rotary Engine is expensive — $165,000 for a 1,000hp (compared to about $120,000 for a world-class 1,000hp reciprocating diesel), but RPI expects costs to decrease. And fuel consumption is not quite as good as state-of-the-art conventional diesels (0.35lb. fuel/hp hr. vs. 0.31 for the best diesels), but the weight savings more than compensate, according to Abejon's Ken Brody. "We think the 1,000hp 580 Series is an ideal replacement for a 1,250hp reciprocating diesel", Brody says. "With a total of 4,000lb. less weight in the typical twin-engine 55′ yacht, speed should stay about the same while we expect range to increase by 15 to 25 percent. We also think a single 580 Series would be an ideal replacement for a pair of 550hp diesels with a second smaller rotary engine providing electrical and get-home power. In either case, engine room space would open up dramatically. A boat designed around rotary engines would have more room available for accommodations, too." Abejon Ken Brody says. "The reason we use the Wankel rotary engine was because we saw so many advantages."

Article via Rotary Power International Inc | editing by Rotary Reloaded Garage™ ーRRG