The new-look Nissan Qashqai has been revealed ahead of an Australian launch in late 2021 or early 2022, giving rivals such as the Kia Seltos, Honda HR-V, Mitsubishi ASX, and Mazda CX-30 (among others) some pause for thought.
In short, this third-generation model brings a nicer and more contemporary interior, new powertrains, improved safety features, and more cabin space. It also sports Nissan's clever e-Power hybrid drivetrain as an option.
We will of course compare this big-seller against its main rivals in due course, but we thought that a piece detailing exactly what has changed relative to its predecessor model might be helpful – maybe you're thinking of upgrading?
After all, Nissan Australia has sold 73,665 of the current Qashqai since its 2014 market launch – when it replaced the Dualis – which gives it an average market share of the Small SUV segment exceeding 10 per cent over the period.
Design
No need to lean on the press release design-speak guff here: the images speak for themselves. The images embedded here are sliders, so just drag the white line side to side to compare and contrast the new (blue) and old (red).
Up front there's a bigger V-shaped grille surround, sharper bumper creases, and interesting C-shaped LED headlight and running light units in place of the more conventional old setup. There are also more pronounced creases above each wheel arch.
The character lines running down each side are sharper and branch away from one another as you move your eye to the back doors. The rearmost pillar is a different shape, and the back-side window is more triangular than before.
At the rear, the tail lights are housed in slimmer surrounds, and the 'Qashqai' badge has been moved to the centre, below the Nissan logo.
Interior
The current Qashqai's cabin is looking pretty tired, so the changes in this new model are both welcome and overdue.
The steering wheel spokes are less cluttered with buttons, and the instrument cluster can be had fully digitised. The materials and stitch-work throughout looks to be far more premium.
The touchscreen is bigger and now mounted atop the dash, above the vents which have been shifted downwards. The ventilation controls are housed in a new rectangular interface, and the starter button has been shifted below this.
The old gear shifter has been changed out for a stubby little lever, enabled by a shift-by-wire system. This also declutters the centre tunnel.
Nissan also talks about the use of white ambient lighting, and "the ergonomic and aesthetic quality of the switch gear and buttons with a high quality, tactile feel". Fancy.
The tech specs are largely the same as the new X-Trail's. Range-topping models will get a 9.0-inch touchscreen with wireless Apple CarPlay and wired Android Auto, in-car WiFi, app-based remote services, and embedded live-traffic navigation.
There's also the option of a 12.3-inch digital instrument cluster with configurable views, and a 10.8-inch projecting head-up display.
In terms of packaging, the new Qashqai is said to have an extra 28mm of rear-seat knee room, and 15mm more headroom, and the rear doors now open 90 degrees. Boot capacity grows a claimed 50 litres due in part to a 20mm lower floor.
| | New Qashqai | Old Qashqai |
| --- | --- | --- |
| Length | 4425mm | 4394mm |
| Width | 1838mm | 1806mm |
| Height | 1635mm | 1595mm |
| Wheelbase | 2666mm | 2646mm |
Underneath
Nissan says the new Qashqai is the first car in Europe to sit on the Renault-Nissan Alliance's modular CMF-C architecture, though the old model also sat on a version of the CMF. Clearly it means this is a new, refined iteration.
The body is said to be 41 per cent stiffer than before, helping crash safety and handling.
There looks to have been a real focus placed on light-weighting. The doors, fenders and bonnet are now aluminium and save a total of 21kg, while a new composite-material tailgate sheds another 2.6kg.
The suspension will comprise MacPherson struts up front, and higher grades will retain independent (multi-link) rear suspension. But entry variants will now come with a rear torsion beam.
"Our engineering team has benchmarked a cross-section of C-segment hatchbacks, as well as direct competitor vehicles, and through thousands of kilometres of testing on roads and test facilities throughout Europe, have achieved a ride and handling balance," contends one of Nissan's vice-presidents of R&D.
Powertrains
This is the one we're not quite sure about. The first Nissan Qashqai press release is very focused on the European region, and the company's Australia division says it is still determining the local specs for our market.
The first engine in Europe is a 1.3-litre turbo-petrol making either 103kW of power and 240Nm of torque, or 116kW and 270Nm for the versions with a 12V on-board electrical"mild hybrid" system. It runs a CVT automatic, and can be ordered with either front- and all-wheel drive.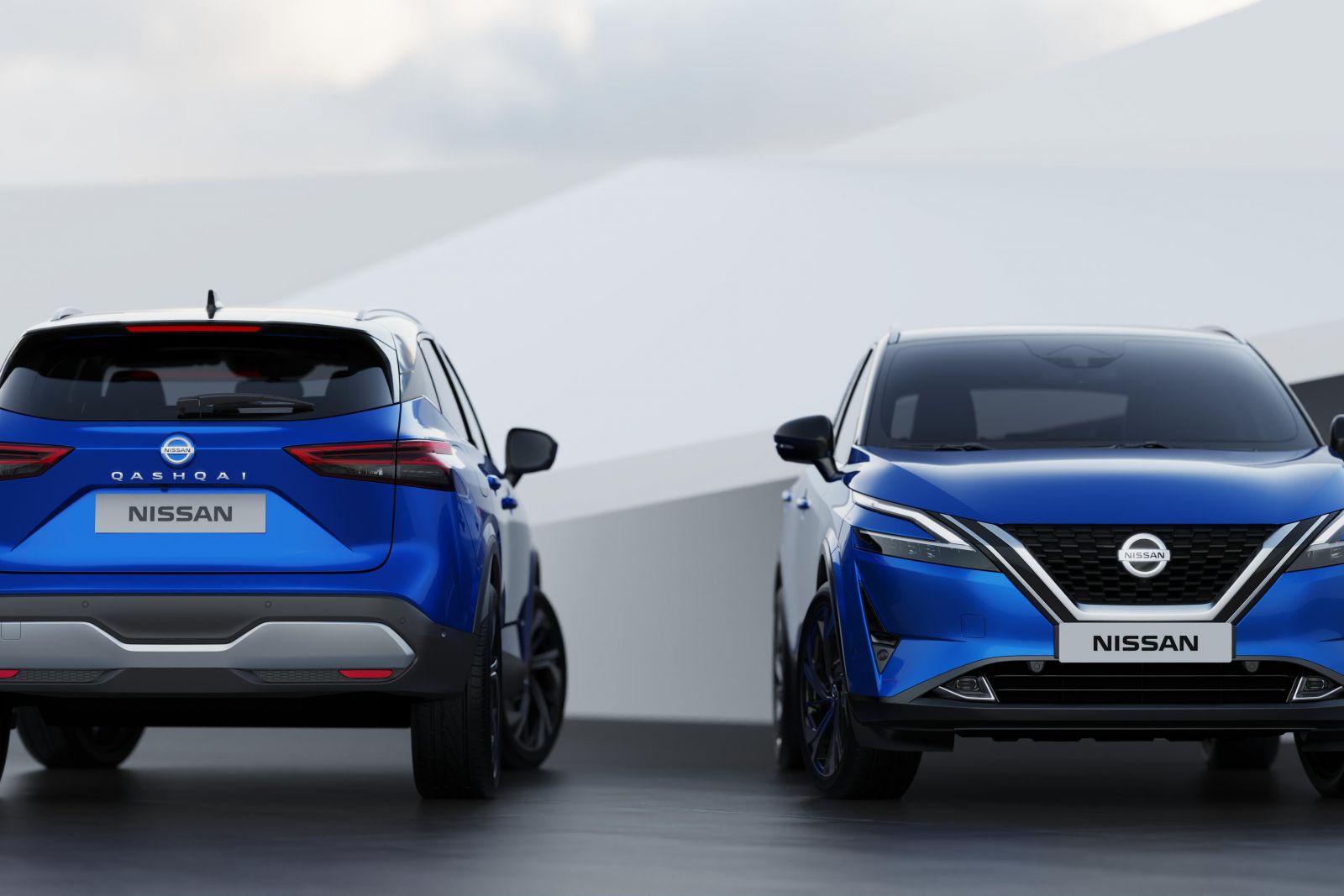 But Australia might not get this high-tech and more expensive engine, since emissions standards here don't require it. Nissan might opt to use a different engine altogether, or a version of the outgoing car's 106kW/200Nm 2.0-litre naturally aspirated unit to keep costs down.
It's also unclear if Nissan will continue to only offer the Qashqai as a front-wheel drive proposition, or introduce all-wheel drive to match many competitors with the option. If we knew more we'd tell you.
What we do know, though, is the other Euro-market drivetrain will come to Australia. The new Qashqai is the first Nissan in Europe to get the company's e-Power hybrid system, which has been in use in the Japanese-market Note and Serena for years.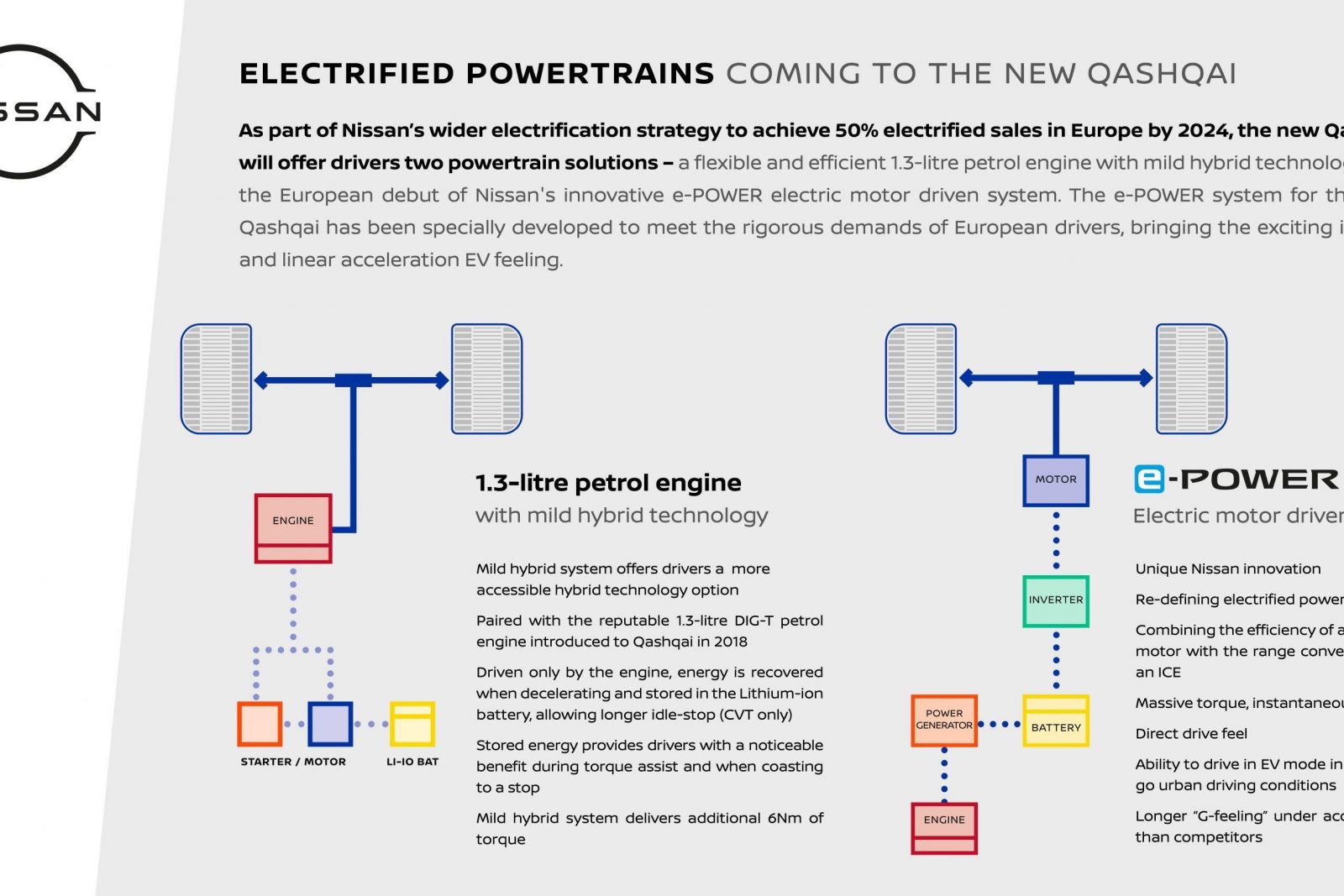 This drivetrain is actually quite different from a Toyota-style hybrid, because the 1.5-litre petrol engine is only there to generate electricity to power the motor, which in turn spins the wheels. This means you get an EV-style punch off the line, apparently. Not something a Corolla Hybrid has above car park speeds…
The total output for this battery-electric-petrol drivetrain is a solid 140kW and 330Nm. There's also a version of the Leaf EV's 'e-Pedal', which is a nifty regenerative braking system. Fuel economy figures on the WLTP cycle remain unclear, but somewhere around 4L/100km is a good guess.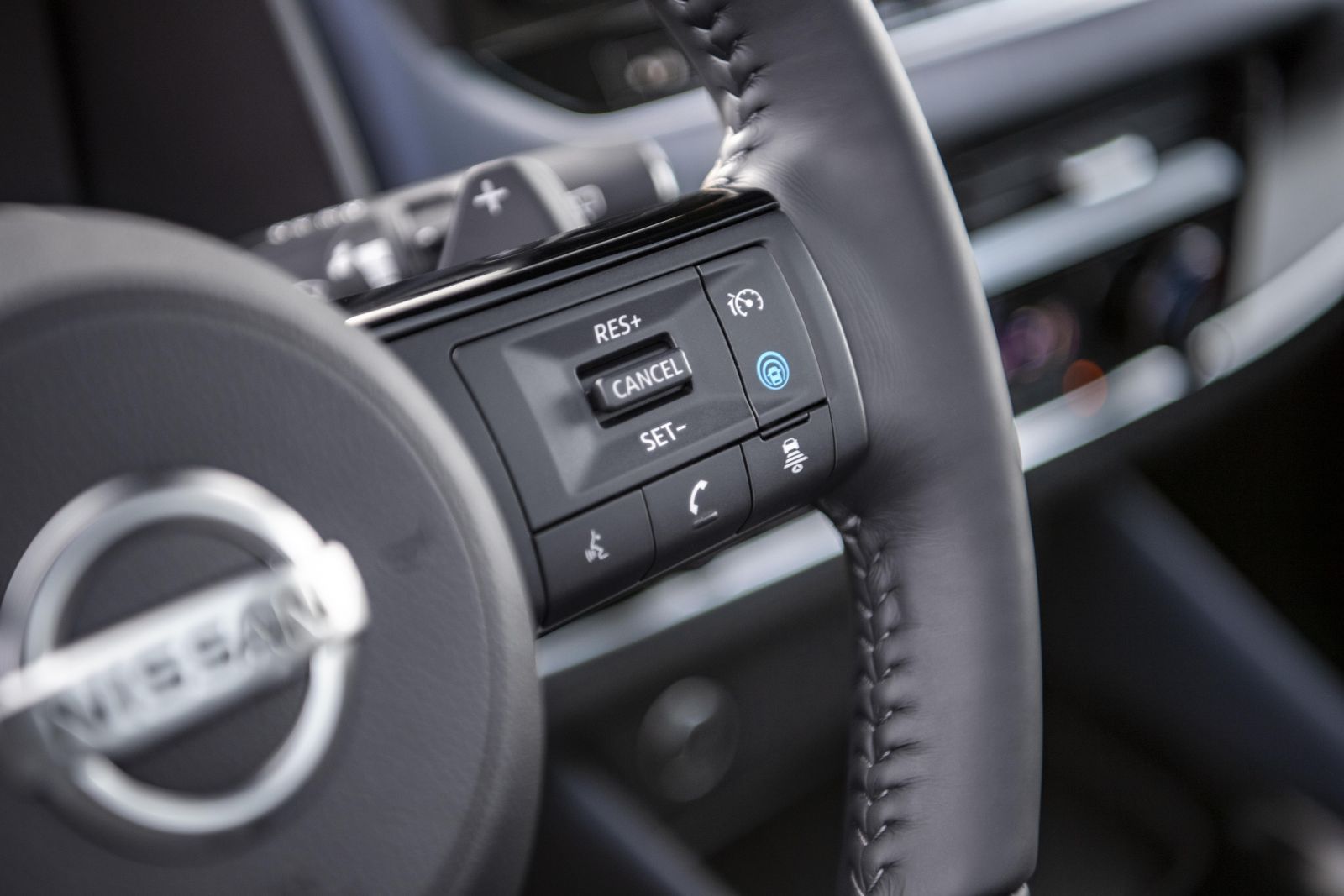 Active safety
The outgoing Qashqai can be ordered in Australia with autonomous emergency braking (AEB), audible lane-departure alert with wheel braking to nudge the car between road lines, rear cross-traffic alert, blind-spot warning, and park assist.
The new one builds on all this. Firstly it'll come with radar cruise control that can bring the car to a stop, and then get you moving again if the traffic clears.
It also has AEB that works in reverse in car parks and uses a better radar to see further up the road, can steer the car between road lines, and has active blind-spot monitoring designed to stop you from merging into traffic. There's also the now-ubiquitous front-centre head-clash airbag.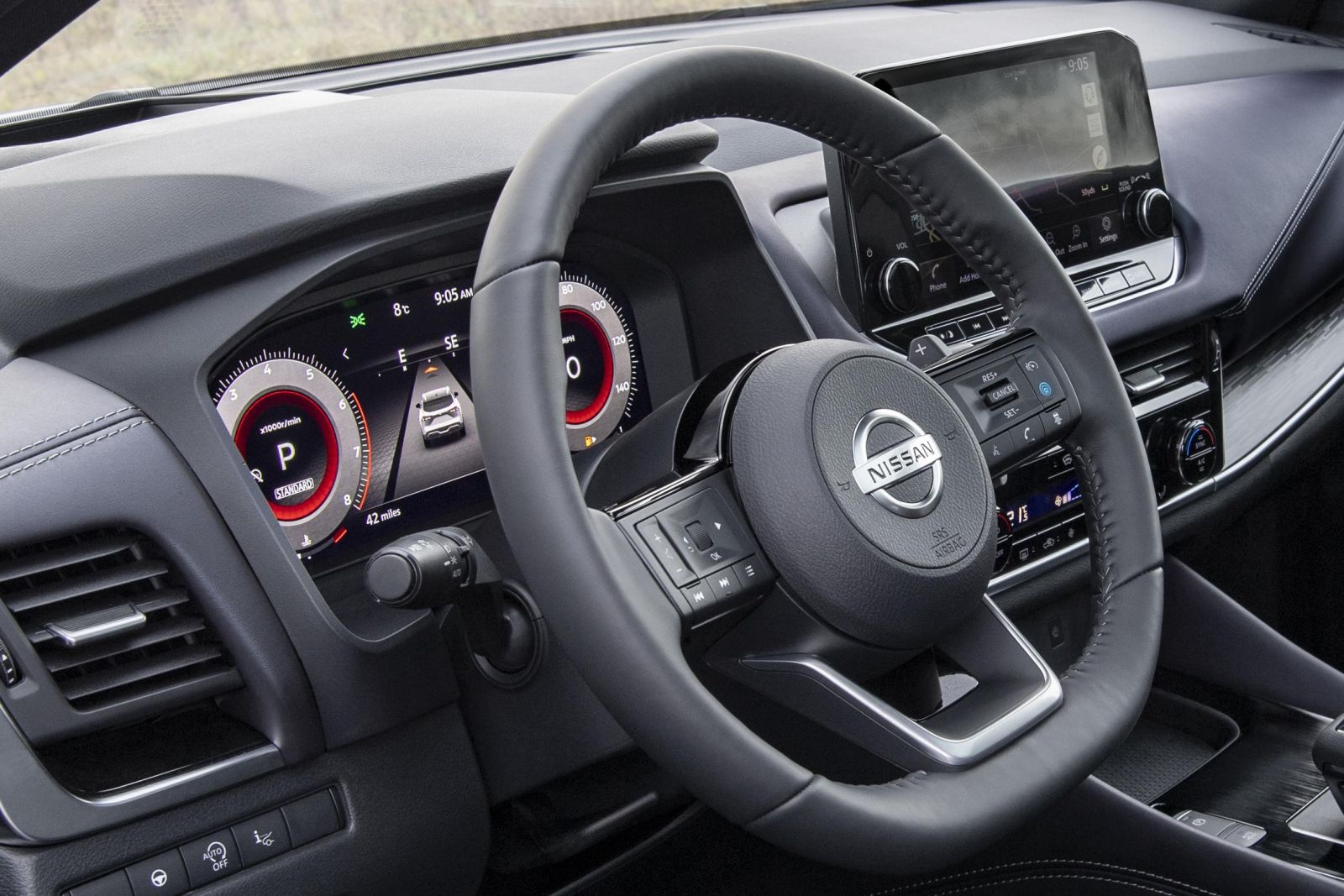 Australia
The British-made Qashqai was slated for an Australia launch by the end of 2021, but we understand from company sources that this could be pushed to early 2022.
Nissan has a lot coming up: it'll launch an updated Navara in March, an extended-range Leaf in April, and the brand-new X-Trail and Pathfinder SUVs in 2022. Plus, there's a little thing called the new Z Car….