The brand new Mitsubishi Outlander mid-sized SUV was just revealed to the world. Compared to its aged predecessor, it appears an improvement in every way.
One of its main competitors is the similarly new Nissan X-Trail (or Rogue, depending on where you live).
What's interesting is that the two vehicles actually share a lot of components below the surface.
Sharing components makes a great deal of financial sense, since a company need only do the core research and development once, thereby saving huge costs. It also recoups this investment quicker by scaling up the production.
"The platform of the all-new Outlander was developed through the Renault-Nissan-Mitsubishi Alliance," Mitsubishi said at the product reveal, though in truth Nissan is actually the major shareholder in Mitsubishi, not vice-versa.
We thought a quick look at the two vehicles side by side might be useful. You can slide the vertical white line side to side, and the images in the multi-picture galleries can be viewed at full-size if you click or tap on them.
Designs
The pair look appreciably different, though they're largely developed from a shared component set and share the same 2705mm wheelbase.
Converted USA-market data shows that the Mitsubishi is 61mm longer than the Nissan, as well as 23mm wider and 49mm taller. Relative to their predecessor models, the Outlander has grown while the X-Trail has shrunk.
The Mitsubishi has the company signature 'Dynamic Shield' grille that melds with slim running lights. Below these sit isolated rectangular headlight units. Nissan calls its grille design 'V-motion', which is more design guff but does accurately describe it. The bonnet appears less bluff, with a more rounded edge.
The silhouettes are similar, but there are differences in the details.
The Mitsubishi has two defined character lines starting near the front wheel arch and dividing the side into three sections. There are pronounced metal creases above each wheel. The glasshouses are similar but there are different takes on how to design a D-pillar and tail-light unit.
From the rear, the Nissan's tailgate glass looks a smidgen higher, and its tail-lights are chunkier. The liftback handle is also carved out just above the bumper, whereas the Mitsubishi's looks to be hidden just below the badge.
| | Mitsubishi Outlander | Nissan X-Trail |
| --- | --- | --- |
| Length | 4709mm | 4648mm |
| Width | 1862mm | 1839mm |
| Height | 1748mm | 1699mm |
| Wheelbase | 2705mm | 2705mm |
Interiors
The interior tech is largely shared: both use an Alliance multimedia system on the same hardware.
The centre touchscreen in both measures 9.0 inches, and runs satellite navigation plus Apple CarPlay and Android Auto. Both can also be had with an around-view camera. Each also has a wireless phone charging pad, and both USB-A and USB-C points up front.
The instrument clusters are either a highly configurable 12.3-inch digital display in high grades, or a combination analogue and 7.0-inch digital trip computer on entry grades. As well as showing your speed and trip data, they also display active safety system functions and direction signals.
Both the Nissan and Mitsubishi also come with the option of a 10.8-inch head-up display that can project your speed, directions, and active-safety system status messages onto the windscreen at eye level. This feature will likely be limited to the most expensive versions.
| | Mitsubishi Outlander | Nissan X-Trail |
| --- | --- | --- |
| Flagship digital instruments | 12.3-inch | 12.3-inch |
| Centre screen | 9.0-inch | 9.0-inch |
| Head-up display | 10.8-inch | 10.8-inch |
Both the Mitsubishi and Nissan have a stubby shift-by-wire gear lever, and electric parking brakes switches. They also use round dials to control the driving/AWD modes. But the Nissan's 'floating' section appears to offer a little more storage below, and it has a unique split console.
The also have different steering wheel designs – three spokes for the Nissan and four for the Mitsubishi – with the same basic button layouts.
A lot of the buttons for window operation and ventilation control look shared, but they're laid out differently. Mitsubishi has divided the temperature control panels and centre vents unlike the Nissan, and placed the starter button up higher.
In terms of colours and trims, both are shown with leather dash and door padding, quilted seats, and various colour and trim choices throughout. But you might expect Australian models to be largely black-on-black if traditional form is a guide.
In terms of family-friendliness, both of these are on the large side for the segment, and have ample space in the second row for all but the loftiest adults.
You can expect both to offer rear vents and plugs, but the Outlander appears to have a niftier seat-folding trick: its middle-row seat backs fold 40:20:40 rather than 60:40 as in the Nissan.
In their outgoing forms, both the X-Trail and Outlander come in seven-seat forms, but only Mitsubishi focused on a third row version of the new cars in all the press images and data.
Nissan instead emphasised its nifty Divide-n-Hide cargo stowage system including a plastic bin. Whether Nissan plans a seven-seat X-Trail in this iteration remain to be seen, but we'd expect it.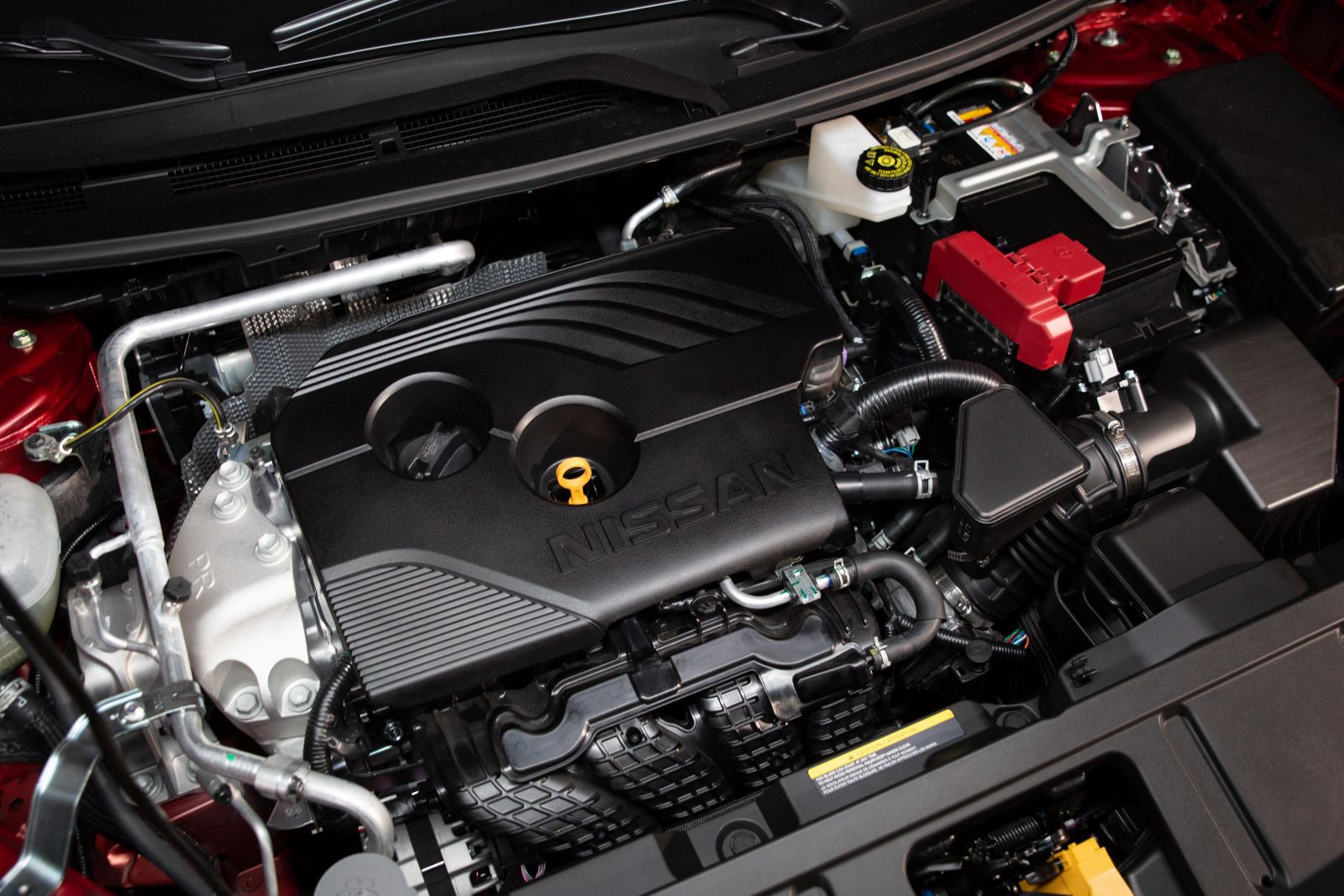 Drivetrains
They share an 'Alliance' petrol/gasoline engine at launch: a 2.5-litre naturally aspirated unit making 135kW of power and 245Nm of torque, mated to a CVT automatic with a manual 'mode'. This CVT has been designed to drive like a conventional automatic as much as possible.
By contrast, the outgoing X-Trail's 2.5-litre engine makes 126kW/226Nm, while the outgoing Outlander's 2.4-litre engine makes 124kW/220Nm. If I were a betting man I'd say neither will get a diesel option this time around, given dwindling demand here (in any SUV this size or smaller, that is).
Entry grades of each car will be front-wheel drive (FWD) with brake-vectoring, but both also come with on-demand variable all-wheel drive (AWD) option, using an electrically-actuated hydraulic clutch mechanism.
Both also have various driving modes, though they're different. The Nissan has Eco and Sport modes for the road that change the drivetrain and steering behaviour slightly, plus traction- and torque-allocation modes controlled by the ECU called Off Road and Snow.
The Mitsubishi's S-AWC AWD system has trick active yaw control (nifty automated brake adjustments controlled by reactive sensors) and more traction modes called: Tarmac, Gravel, Snow, and Mud. There's also a downhill-assist (off-road braking) button clearly visible.
We need to wait until our test drives, but Mitsubishi's marketing team appears to place more focus on AWD abilities, given it's a key brand pillar.
| | Mitsubishi Outlander | Nissan X-Trail |
| --- | --- | --- |
| Engine | 2.5-litre 4-cyl | 2.5-litre 4-cyl |
| Power | 135kW | 135kW |
| Torque | 245Nm | 245Nm |
| Transmission | CVT | CVT |
| Drive | 2WD and AWD | 2WD and AWD |
Safety
Both cars are available with the following safety features:
Active lane-keeping aid with steering function
Active radar-guided cruise control
Traffic-sign recognition
Autonomous emergency braking (AEB)
Rear cross-traffic alert
Blind-spot monitoring
High beam assist
Surround-view camera
The partial-autonomous highways modes are called MI-PILOT Assist (Mitsubishi) and ProPILOT (Nissan), and pair the active cruise control and active lane-keeping aids. Ignore the marketing song-and-dance, these systems are commonplace.
Environmentally-friendly options
Mitsubishi didn't talk about the second-generation Outlander PHEV plug-in hybrid, but we know it's confirmed.
Expect the pure EV range to grow to somewhere near 70km thanks to a (presumably) denser and higher-capacity battery.
While PHEVs are all the rage in Europe where emissions targets and tax policies make them viable, Mitsubishi was a real pioneer.
Meanwhile Nissan won't make its own PHEV drivetrain, but might simply borrow Mitsubishi's.
However, Nissan does have it own greener option called e-Power, which is a sure bet to feature in the X-Trail this time around.
This system relies on an electric motor to drive the wheels just like a full EV. This motor draws power from a small battery kept charged by a petrol engine/generator.
Think of it like a Toyota-style 'normal' hybrid, except the engine doesn't drive the wheels at all, rather it charges the battery.
Australia
Mitsubishi considers Australia a core market, and so plans to have the new Outlander here before the end of 2021.
Even though the Nissan X-Trail premiered in the middle of last year overseas, it potentially won't make it to Australia until early 2022. The USA was the focus at launch.
MORE: 2022 Mitsubishi Outlander revealed
MORE: 2021 Nissan X-Trail officially revealed
MORE: 2021 Australia New Car Launch Calendar