Ford has not been able to really capitalise on this era's medium SUV sales boom. Its Escape (once briefly called Kuga) has consistently failed to manage the sort of huge volume that the Mazda CX-5 and Nissan X-Trail achieve, month after month.
But the new-generation Spanish-made model launched recently has the right stuff to move this dial. It's handsome in an understated way, well-packaged inside, reasonably priced, and the most powerful offering in its segment.
But if Ford truly wants to make more headway, it needs to overcome the new class leader – Toyota's RAV4. The latest iteration of this established Japanese nameplate has become (far and away) Australia's top-selling SUV, and has been critically well-regarded to boot.
This comparison test is focused on those who have a tight-ish budget and are looking at entry-level variants.
How much?
The first Escape we were able to get our hands on following the launch was the base grade, priced at $35,990 before on-road costs. This lines it up nicely against the Toyota RAV4 GX, priced at $34,695 before on-roads.
In the real world, the Escape FWD was being retailed at the time of writing for a keen $36,490 drive-away, meaning Ford is covering most of those on-road costs. Pricing up a RAV4 GX with the tested drivetrain on Toyota's configurator is $39,000 drive-away.
Naturally, both the Escape (ST-Line and Vignale) and RAV4 (GXL, Cruiser, and Edge) come in higher grades that add more luxury features, both topping out just under $50,000 before on-road costs.
Other options? Well if you're after an entry grade SUV that perhaps lacks the polish of this new-design pair, then the Nissan X-Trail ST auto was (at the time of writing) available for a sharp $30,990 drive-away, and a Mitsubishi Outlander ES can be had for $32,990 drive-away.
Worthy entry-level rivals for the Toyota and Ford – and I've driven every competitor in class – include the Honda CR-V, Subaru Forester, and of course the Mazda CX-5, all of which come in entry form priced around the same as our pair of test cars.
What do you get?
Features fitted standard in both base models include alloy wheels (the Ford's being 18-inch, the Toyota's 17-inch), static LED headlights, rain-sensing windscreen wipers, a manual tailgate, and parking sensors at both ends.
On the inside each has manually-adjustable fabric seats, push-button start, a reversing camera, an 8.0-inch touchscreen, factory satellite navigation, DAB+ radio, Apple CarPlay and Android Auto, and six speakers.
The Ford really has an edge, because it adds the following over the Toyota: dual-zone climate control instead of manual air-conditioning, rear tinted privacy glass, a proximity key fob, an auto-dimming rear-view mirror, a wireless phone charger, an embedded modem with FordPass app integration, and programmable MyKey.
The Escape comes with two options at this base price point: an electric powered tailgate costs a steep $1300, while a Technology pack with Matrix LED headlights and a projecting head-up display is a quite reasonable $1000 impost.
Ford charges $650 for premium paint while Toyota charges $600. Toyota will also swap the standard space-saver spare wheel for a full-size spare, in return for $300.
Are they safe?
Just because these are base cars, doesn't mean they lack safety features.
Features common to both cars include dual front, front-side, and two-row curtain airbags, plus rear-seat ISOFIX and top-tether anchorage points.
Both cars also have autonomous emergency braking (AEB) that can detect pedestrians and cyclists, active and passive lane-keeping aids, road-sign assist, automated high-beam shutoff, active cruise control, blind-spot monitoring, and rear cross-traffic alert.
The Ford adds an intelligent speed limiter that adjusts the upper threshold by using a camera to identify speed signs. The Toyota has an extra airbag, for the driver's knee.
The Ford Escape has a 2019 date-stamped five-star crash rating from ANCAP, scoring 92 per cent for adult occupant protection, 89 per cent for child occupant protection, 82 per cent for vulnerable road user protection, and 77 per cent for safety assist.
The Toyota RAV4 also has a five-star ANCAP score with a 2019 date stamp, and achieved 93 per cent for adult occupant protection, 89 per cent for child occupant protection, 85 per cent for vulnerable road user protection, and 83 per cent for safety assist.
So the Toyota fared slightly better, but both are certainly safe propositions.
What are they like inside?
Ford
Big tick for the proximity key, which allows access without fumbling in your pockets. This Ford's interior is definitely a step up on the previous Escape's, which was a bit of a mess in design terms. This iteration is cleaner and simpler, though still not the last word in finesse or tactility. 
There are soft bits for your knees and on the front doors, plus the dash, and the quality and panel consistency is beyond reproach, but it's all quite mono-tonal and drab. It's classic 'basic Euro'. A little spice wouldn't go astray, however, well done Ford for eschewing glossy piano black trims.
The steering wheel has lots of adjustment, and is padded. The instruments are basic but concise, and the centre screen is nicely in your line of vision. I'm not a big fan of the front seats, which feel flat and unsupportive, are very firm, and position you up quite high – you sit 'on' the car, not 'in' it. 
In terms of storage, it's good. That rotary gear shifter frees up space along the tunnel, there are teethed centre cupholders, a net near the footwell, an open cubby below the ventilation controls with a wireless phone charging pad, decent door bins and glovebox, and a smallish console. There are both USB-A and USB-C points, by the way.
The infotainment screen may look tacked on, but the software has a great user interface. There are clear shortcuts placed in a lower toolbar, fool-proof sub menus, decent navigation, slick processing and swiping, and conversational voice control. The sound system is basic but crisp enough. I quite like the reversing camera's zoom mode designed for backing onto a trailer.
The fitment of FordPass Connect allows you to remotely unlock and start the car from your phone, and to pre-set the climate control. You can also remotely check the car's location, remaining range, and when your next service is due. It's nifty, and will no doubt be expanded as time passes.
There's plenty of knee-, head-, and toe room for my 194cm frame in the back. Despite the sporty design, it's as spacious as most rivals. The side windows let in plenty of light, and you have your own centrally mounted air vents and USB-A/USB-C points. 
The contrast-stitched seats slide and tilt, and are comfy enough. The trim quality is inferior to the front though – as a quick tap on the rock hard door trims will tell you.
Our test car didn't have the hands-free electric tailgate option, but the manual adjustment isn't hard on the arms. Cargo space is an excellent 556 litres, and though this does trail the Tardis-like RAV4, it's more capacious than a CX-5. 
The back seats fold down 60:40 when you pull the nifty levers in the loading area, there's a flimsy-feeling (but easily stored) cargo cover, and a temporary spare wheel under the loading floor. You also get a 12V socket and some tie-down points, and the top-tether anchorage points are very simple to access. 
Toyota
The driving position is high up, there's plenty of steering wheel adjustment, and the seats are more supportive than the Escape's. In fact, the driving position is a little more comfortable in general. The instruments flank a small screen that shows a digital speedo.
Everything is well put together, and the material quality (leather-wrapped wheel, rubberised air-conditioning dials, soft door and console trims) feels a cut above typical base models. The use of contrast decorative stitching and silver plastic add some lightness to the palette.
It's highly practical too. The door bins can handle a 1L bottle and a book, the centre console is capacious enough for a six-pack and therefore bigger than the Ford's, there's a lipped open section above the glovebox, and two open cubbies along the transmission tunnel in addition to centrally-mounted cup holders.
The touchscreen is flanked by shortcut buttons taking you directly to maps or audio or phone sub-menus, and the maps and audio quality are fine. The Bluetooth phone call audio isn't all that sharp, though I still got through multiple calls while on the move.
That said, when it comes to simplicity of use, Ford's Sync infotainment has few rivals.
The reversing camera isn't the crispest in terms of resolution and the guidelines are fixed. But there are parking sensors at both ends, and the large windows further aid outboard visibility.
I'd appreciate some padding on the side of the centre tunnel for my knees to rest on, there's lots of shiny black trim around the touchscreen that attracts dust and sun glare like a magnet, and passenger-seat height adjustments wouldn't go astray.
To the back seats, which are not obscured by privacy glass at this spec level. It's hard to criticise the amount of room on offer. I again had ample knee, head, shoulder, and toe space behind my own preferred driving position, and the large windows and small C-pillars enhance outward vision.
As well rear door bins, grab handles and coat hooks, amenities include rear air vents, two 2.1A USB points, a fold-down centre armrest with cup holders, a passenger-side seatback pocket, and back seats that recline by a notch (but don't slide). Even the narrower and higher middle perch is serviceable.
The boot is a huge 580 litres with the back seats in use, and comes with a 12V socket, a small cubby on the side, a pull-out cargo cover, and a two-level loading floor. The loading lip is very low and the wheel arches are shaped in such a way their intrusion into the boot is minimal.
There's a standard space-saver spare wheel but you can option a full-size unit, which is particularly worth considering for regional buyers.
| | Ford Escape | Toyota RAV4 |
| --- | --- | --- |
| Length | 4614mm | 4600mm |
| Width | 1838mm | 1855mm |
| Height | 1670mm | 1685mm |
| Wheelbase | 2710mm | 2690mm |
| Boot capacity  | 556L | 580L |
What's under the bonnet?
Ford
Despite our Escape coming from the Spanish factory that produces the European Kuga, the Australian model is fitted with an engine reserved for the North American market.
The 2.0-litre 'EcoBoost' four-cylinder turbo petrol makes a muscular 183kW at 5700rpm and 387Nm at 3100rpm. Drive in this variant is sent to the front wheels via a standard eight-speed automatic transmission – controlled via a rotary dial.
This gives it a far superior power-to-weight ratio to the RAV4 or really any other rival at this price, though its 1611kg kerb weight isn't exactly feather-like. You can expect to dash from 0-100km/h in a slick 7.5 seconds without trying, and to slash a few tenths off this if you really nail your getaway.
The old Escape also offered a similar engine, though in the auto-equipped crossover the four-pot turbo made 178kW and 345Nm. It also had just a six-speed auto. The old car's base 1.5-litre engine is no more, nor is there a diesel option – although a plug-in hybrid is due to hit Australia late next year.
Ford's official fuel use claim of 8.6L/100km is identical to the outgoing model, which is high for the class despite the fitment of stop/start. I averaged 9.2L/100km, which is close to the claim. All that performance does impact fuel use, and it needs 95 RON.
Toyota
A 2.0-litre naturally-aspirated four-cylinder petrol producing 127kW of power at 6600rpm and 203Nm of torque between 4400 and 4900rpm, mated to a CVT auto and front-wheel drive (FWD).
Those outputs aren't particularly high for a vehicle that weighs 1550kg before passengers, really, as our circa 10-second 0-100km/h 'dashes' attested.
It's an efficient engine despite the absence of stop/start though, using a claimed 6.5L/100km and capable of running on 91 RON. My average yield was 7.3L/100km over a mixed driving loop, on a hot day.
There's a high compression ratio, dual variable valve timing, as well as combined direct and port fuel injection. The CVT has a less 'elastic' launch gear, which hands over to the CVT's steel belt pulley system once you're rolling.
If you're keen to tow, shop elsewhere. The GX 2WD 2.0-litre RAV4 can only haul 800kg. That's 1000kg less than Ford's claim for the Escape.
For about $2400 more at list price, you can get the RAV4 GX 2WD petrol-electric hybrid that delivers a punchier 160kW while slashing fuel use to 4.8L/100km. A further $3000 gets you (hybrid-only) AWD by way of a second e-motor on the rear axle.
Ford does not offer all-wheel drive at base level, only on the higher-grade ST-Line and Vignale variants. The Blue Oval also has an even more advanced PHEV Escape on the way in 2021, but that's a far pricier proposition.
| | Ford Escape | Toyota RAV4 |
| --- | --- | --- |
| Displacement | 2.0-litre | 2.0-litre |
| Induction | Turbocharged | Naturally aspirated |
| Power | 183kW @ 5700rpm | 127kW @ 6000rpm |
| Torque | 387Nm @ 3100rpm | 203Nm @ 4400rpm |
| Power-to-weight | 116.1kW per tonne | 83.8kW per tonne |
| Fuel economy | 8.6L/100km | 6.5L/100km  |
| Fuel type used | 95 RON | 91 RON |
| Transmission | 8-speed automatic  | CVT  |
| Driven wheels  | Front  | Front  |
How do they drive?
Ford
Well, right off the bat you'll be aware that 183kW of power is rather a lot for a mid-sized SUV. It's actually more than a Volkswagen Golf GTI hot hatch.
If you're someone hopping into an SUV out of necessity rather than desire, then this Escape is one way to retain something with punch in your garage. The closest rival is Mazda's 170kW CX-5 or the highest-spec 162kW Volkswagen Tiguan.
The engine gives you confidence when overtaking or punching into gaps – and thrilling the kids – though at times it does overwhelm the front tyres, which give off the odd chirp. The eight-speed torque-converter auto's shifter takes some adjustment, but it's relatively non-invasive and the manual mode is controlled by paddles rather than old-Ford-style buttons.
Torque steer is quite controlled despite the lack of front diff trickery.
There are a few driving modes controlled by buttons (Normal, Eco, Sport, Snow) adjusting the throttle mapping, gearbox shift points, and even the stability control, to suit a given surface. Normal is good for avoiding speeding fines, and Sport really turns the dial to 11. Remember, this is in the context of the Escape's rivals.
Dynamically, it's not exactly a high-riding hot hatch, though the chassis balance and body control in corners is certainly better than your typical school-run express. Ford Europe's other products – Fiesta ST, Focus, Puma – are all as agile as heck, so there's a trend here.
However, the steering has a strange character. Namely, it's quite fidgety right on centre, and oddly resistant as you turn it a few degrees either side, with what can be best described as an 'elastic' tendency to want to return to the straight-ahead position.
This, along with those flat seats and high seating position, actively discourage you from driving it as hard as the engine and chassis can handle. That feels like a lost opportunity. The super-bitey brake pedal feel also needs some adjustment.
While it has larger alloy wheels than the RAV4, the ride quality isn't too bad. It's certainly firmer over rutted surfaces compared to the Toyota, but in fairness it's also better at isolating you from cabin noise. It's not the last word in cushy family comfort, but nor is it overly stiff and fidgety.
Toyota
The engine isn't overly loud except for a brief interval at startup as it rapidly gets up to operating temperature, and the fixed launch gear stops the CVT flaring right away.
But it also doesn't have much oomph until you're carrying some revs, with some breathless moments as the speedo gradually climbs. It's perfectly OK for urban commuting, but you're never in any danger of chirping the front tyres or being pinned to your chair.
It settles in nicely at highway speeds – I saw 2000rpm at 110km/h, thanks to the transmission I suspect.
There are three driving modes – Eco and Normal feel interchangeable to me, but Sport sharpens up the throttle response right away, though diminishes noise refinement.
The RAV4 rides on an iteration of Toyota's modular transverse platform, called TNGA. It has wider tracks than the old RAV4, MacPherson strut front and trailing wishbone rear suspension, and motor-driven power steering.
The front brakes are 305mm ventilated discs, while at the rear you get 281mm solid discs. The parking brake is an electric switch, with anti-creep Auto Hold.
It's a well-sorted machine, with evenly weighted steering, a stable and solid road feel, some agility through corners, and a generally excellent knack of isolating you from bumps and potholes. It's never flustered, and always makes you feel in control.
The only minor dynamic gripe is the road noise over coarse-chip bitumen, although I'm not sure whether the blame lies with the floorpan insulation or Bridgestone Alenza tyres. It's not horrible, but there are more refined contenders – the Ford included.
| | Ford Escape | Toyota RAV4 |
| --- | --- | --- |
| Weight | 1611kg (kerb) | 1550kg (kerb) |
| Ground clearance | 191mm | 195mm |
| Turning circle | 11.4m | 11m |
| Front suspension | MacPherson strut | MacPherson strut |
| Rear suspension | Multi-link | Trailing wishbone |
| Tyres | Continental 225/60 | Bridgestone 225/65 |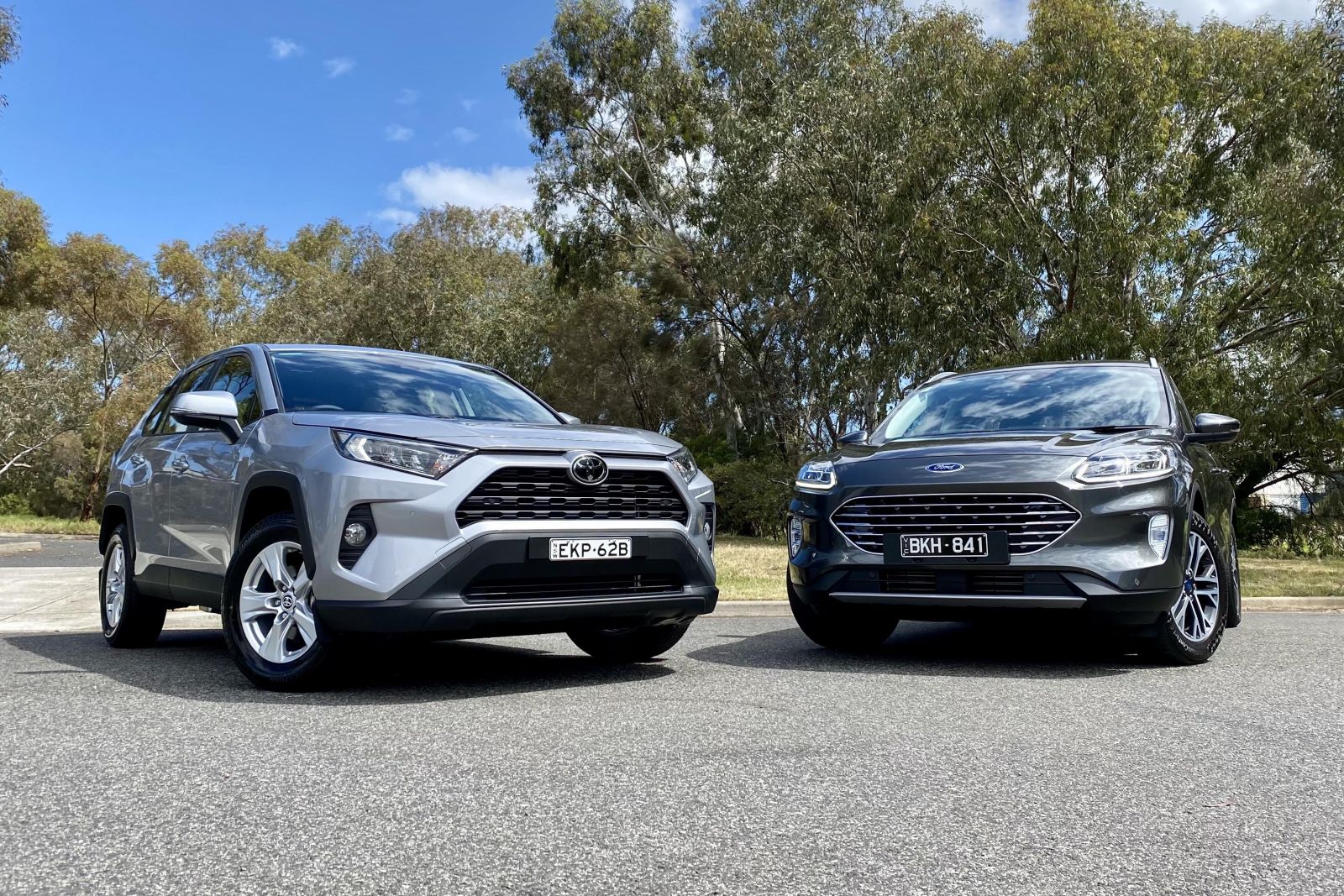 Cost of ownership
Both manufacturers offer five-year warranties with no distance limit, and servicing intervals of 12 months or 15,000km, whichever comes first.
They're also both affordable to service. Ford currently caps each of the first four visits at $299 a pop, while Toyota is even cheaper at $215 per visit.
CarExpert's Pick
The Toyota is the definition of a solid, sensible entry SUV. Its interior is well built and very practical, it's commendably safe for all occupants, has low running costs, and looks a little bit tougher than your typical hatch.
Unlike the entry Escape it also comes with hybrid and all-wheel drive options, so it wins points when it comes to breadth of choice.
But for me there's a strong argument that of all the sub $40,000 SUVs out there right now, Ford's Escape is the pick.
It's well-specified with tech and safety for the money, goes like the clappers, corners with agility, and offers a heap of space and affordable maintenance. The fact it's imported from Europe yet is sharper value is commendable.
Simply put, at the lower rungs of each respective line-up, the Ford kicks more goals.
Want more?
We've filmed this specific Ford Escape. We didn't film the RAV4 GX, but we have filmed the Cruiser version if you'd like to see it in action to further your research. See embeds below.
MORE: Ford Escape news and reviews
MORE: Toyota RAV4 news and reviews