The Toyota Corolla and Hyundai i30 are, in order, the two biggest-selling passenger cars in Australia. In other words, the most popular vehicles that are neither SUVs nor pickups.
Neither launched particularly recently – indeed, a facelift for the i30 is due towards the end of the year, bringing a facelifted look and more contemporary cabin technology and infotainment – but the likelihood of this duo being cross-shopped remains as high as ever.
The reason why we've chosen the two grades here is principally related to price. Beyond this denominator, the two take quite different approaches.
The i30 N Line Premium is a borderline hot hatch, a tier-two performance car sitting below the hardcore i30 N. By contrast the Corolla matches its similarly agile dynamics with a frugal hybrid drivetrain geared to maximise fuel economy instead of straight-line performance.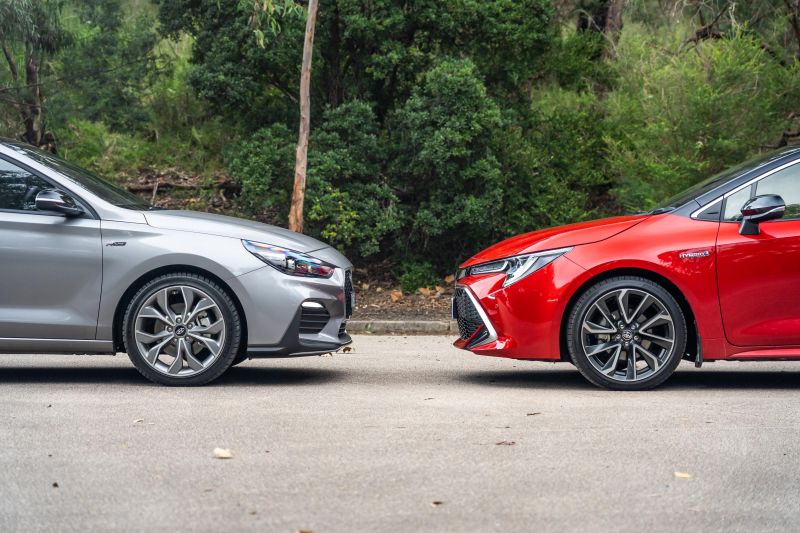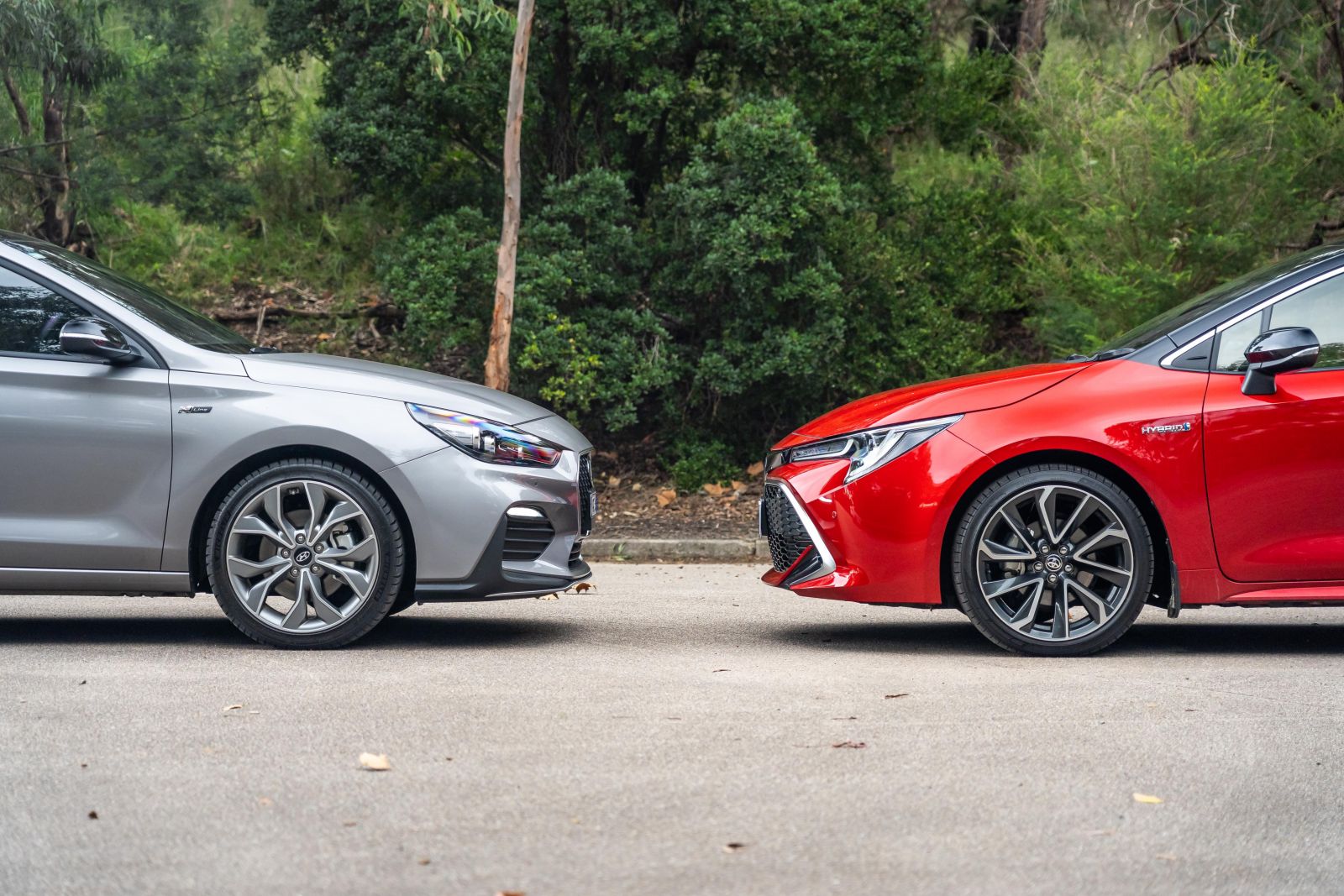 Dive into an extensive side-by-side analysis
Including price, detailed specifications and features
How much?
The Corolla ZR Hybrid flagship wears a sticker of $34,695, against the i30 N Line Premium's $35,590. Both of these are list prices before on-road costs.
In the real world, the manufacturer quotes on a drive-away basis at the time of writing were $39,689 for the Hyundai, and $38,900 for the Toyota.
What do you get?
Features found on both vehicles include: 18-inch alloy wheels, LED headlights with dusk sensors, proximity key fob, heated front seats, climate control, rain-sensing wipers, an 8.0-inch touchscreen, satellite-navigation, Apple CarPlay, Android Auto, and a wireless smartphone charging pad.
The Hyundai is the only car here with a temporary spare wheel (the Corolla has a repair kit only), panoramic sunroof that slides and tilts, and front-seat ventilation/cooling. The Corolla alone offers a projecting head-up display (HUD), and was tested with the exclusive $450 'two-tone' black roof.
Metallic/mica/pearlescent paint costs an extra $495 on the Hyundai and $500 on the Corolla, with solid white the only free choice for both.
Are they safe?
Both carry the maximum five-star ANCAP crash rating, date stamped in 2017 for the Hyundai and 2018 for the Toyota.
Because the Corolla's test fell under more recent crash protocols, there are published scores available for adult and child protection, safety assist features, and pedestrian protection, as detailed below.
Both vehicles come with a reverse camera, dual front, front-side/head, and full-length side curtain airbags, a driver's knee-bag, and both feature ISOFIX and top tether anchor points in the back row for kid seats.
Both come with active safety or driver-assist features including autonomous emergency braking (AEB) that can also detect pedestrians (and cycles in the daytime for the Toyota), lane-keeping assist that can steer the vehicle away from road lines, and active cruise control.
The Toyota offers more features not found on this grade of Hyundai including Lane Trace Assist that can actively keep the car centred in a lane, blind-spot monitoring, and rear cross-traffic alert. It's disappointing these latter two features are not offered on N-Line i30s.
| | i30 N-Line Premium | Corolla ZR |
| --- | --- | --- |
| ANCAP score | Five stars | Five stars |
| Year tested | 2017 | 2018 |
| Adult Occupant | N/A | 96% |
| Child Occupant | N/A | 83% |
| Pedestrians/Cycles | N/A | 86% |
| Safety Assist | N/A | 76% |
What are they like inside?
Hyundai i30 N-Line Premium
Hyundai has emphasised the sporty pretensions by using red for the stitches, seat highlights, seat belts, and vent surrounds. There are also metal-plated pedals.
The ergonomics are hard to fault given the plethora and seat and wheel adjustments you can choose, and there are also plenty of storage areas including a large closing section ahead of the (good quality) gear shifter, sizeable door bins, a sliding cupholder cover, and centre console.
Behind the wheel there's a fairly basic analogue instrument cluster with a small TFT screen between them, on which you can use a digital speedo. The MY21 update should improve on this.
The centre touchscreen display is flanked by shortcut buttons and a volume dial, and sends audio through a seven-speaker Infinity system. There's a wireless charging pad, as in the Corolla, but just the one USB.
The build quality feels solid and should last the test of time, though the material quality is a little 'meh', particularly the hard and drab plastics along the transmission tunnel and lower dash.
The back seats are useable for most adults. The backs of the front seats are hard and kid-proof, there are air vents, red seatbelts, and acceptable knee-room and shoulder room for anyone below 190cm.
Having a giant sunroof to look out of helps the ambience no end, although I did notice my 194cm height did render headroom less generous than I'd like, particularly in the back row. Therein lies one trade-off.
Still, a large glass roof (with a sliding shade over) is a really nice feature more often than not, and greatly elevates the experience.
The boot space is a reasonable 395L, and there's a temporary space-saver spare under the floor. You get a cargo net and a solid cover thrown in.
Toyota Corolla ZR Hybrid
The Toyota Corolla's leather and suede seats look and feel great, and are very supportive. Next to the Hyundai's leather pews with garish red belts, they feel a little more 'premium'. 
The use of padded materials, nice stitching, tasteful brightwork, and subtle blue highlights to spruik the car's eco credentials, all hit the mark. As do the ergonomics and build quality. 
The 8.0-inch display mounted atop the dashboard bundles inbuilt satellite navigation, DAB+, wired Apple CarPlay and Android Auto, and wireless phone charging. But there's only one USB port.
Ahead of the driver is a 7.0-inch multifunction display offering trip computer information, backed by a head-up display projecting onto the windscreen. This is a real premium touch.
The eight-speaker JBL sound system is good, with tweeters mounted on the A-pillar providing what colleague Paul called a "somewhat panoramic audio experience".
There's not a huge amount of storage: a small console, two cup holders, and bottle holders in the doors. The only other potential flaw is the extensive use of dust- and scuff-prone glossy black plastic along the transmission tunnel. 
In the back the Corolla begins to show weakness. The rear seats are quite cramped, and feel a touch claustrophobic for adult passengers compared to a number of segment rivals.
There's limited head- and knee-room, and the height of the side sills makes it more difficult to get in and out of the car.
Cargo capacity comes in at just 333 litres with the second row in place. This model misses out on any form of spare tyre, instead getting a tyre repair kit. It'd be a far smaller boot (217L) with a spare, so it's a mixed blessing. 
The boot lip is also quite small, meaning getting large items in to and out of the boot can be challenging.
| | i30 N-Line Premium | Corolla ZR |
| --- | --- | --- |
| Length | 4345mm | 4375mm |
| Width | 1795mm | 1790mm |
| Height | 1453mm | 1435mm |
| Wheelbase | 2650mm | 2640mm |
| Boot space | 395L | 333L |
What's under the bonnets?
The 1.6-litre turbocharged petrol engine is familiar from other cars such as the Hyundai Veloster and Tucson, and Kia's Cerato GT.
It outputs 150kW of power at 6000rpm and 265Nm of torque between 1500 and 4500rpm, and has combined-cycle fuel consumption (using 91 RON) of 7.1L/100km – in the real world expect it to sit at 8.5L/100km like our test car did.
While the lower-grade i30 N Line can be had with a six-speed manual gearbox option, the sole transmission in the Premium is a seven-speed dry-clutch DCT with manual mode.
The Corolla ZR Hybrid has a 1.8-litre naturally aspirated petrol engine producing a rather weedy 72kW of power and 142Nm of torque. The combustion engine is supplemented by a 53kW and 163Nm electric motor, for a combined power output of 90kW.
These drive elements are fed through an e-CVT, which isn't a conventional belt-driven continuously variable transmission, but a planetary gear set allowing the electronic heart of the drivetrain to control and vary torque from the internal-combustion engine and electric system.
Toyota claims a combined fuel economy of just 4.2L/100km. The engine can also be fed with 91RON regular unleaded fuel. The combined fuel economy offers a theoretical driving range around 1000km (43L tank).
We should note here that you can get the Corolla with a 125kW/200Nm 2.0-litre naturally aspirated petrol engine and CVT.
| | i30 N-Line Premium | Corolla ZR |
| --- | --- | --- |
| Drivetrain | 1.6-litre turbo | 1.8-litre petrol, electric motor, battery |
| Power | 150kW @ 6000rpm | 90kW @ 5200rpm |
| Torque | 265Nm @ 1500rpm | System output not listed |
| kW / tonne | 105.3kW/t | 65.5kW/t |
| Trans | 7-speed DCT | e-CVT |
| Drive | Front-wheel | Front-wheel |
| Fuel use | 7.1L/100km | 4.2L/100km |
| Fuel tank | 50L | 43L |
| Fuel type | 91 RON | 91 RON |
How do they drive?
Hyundai i30 N-Line Premium
The turbo engine doesn't really inspire with its soundtrack, certainly not like the hardcore i30 N does with its active exhaust. But it gets up and goes nicely, with effortless rolling response thanks to lots of low-down torque.
At the same time, around town there's no doubt the DCT is a little harder to get along with than a conventional torque-converter auto, requiring a more gradual throttle input to ensure smoothness.
This car is more affordable than proper hot hatches like that i30 N, plus the Volkswagen Golf GTI and myriad others, and while neither as sonorous or outright quick, certainly sits above most competitors for punchiness with a 0-100km/h sprit capability of 7.2 seconds.
That's 4-5 seconds quicker than the Corolla, though the gap from 0-60km/h is far slimmer, because the Corolla's weakness is at the engine's top end,
Unlike entry-grade i30s, the N Line Premium has a more sophisticated multi-link independent rear suspension setup, alongside fixed dampers.
Rather than just take the stock car, Hyundai's Australian-based team of engineers retune the springs, shocks, bushes, and bars on all its vehicles to better suit local roads.
Body control through corners is tied-down. This car feels quite agile, and the unusually resistant steering helps at speed. The fitment of Michelin Pilot Sport 4 tyres ensures grip rarely falls short of what you need it to be.
There are various driving modes that change the transmission shift points, steering resistance, and throttle response. But all the latter really means is heavier steering and a DCT that holds low ratios longer.
The driver assistance functions all played their part, though the lane-departure alert and steering system only nudges you away from road lines rather than trying to keep you centred like Toyota's Lane Trace system.
Toyota Corolla ZR Hybrid
The Corolla generally starts up and takes off silently, running on electric power alone. The nickel-metal hydride battery pack stores energy generated during deceleration or draws on the combustion engine. This makes it quite punchy right off the mark.
That initial burst required to move the car requires the most energy, so at higher rolling speeds or under heavier acceleration the engine does the heavy lifting, with the exception of downhill runs.
Because this 1.8-litre engine is no powerhouse, it can sound strained and is never push-in-the-chest quick. and the e-CVT can get a little thrashy and noisy if you get stuck in.
But funnily enough though, you often find yourself being gentle on the throttle in an attempt to run on electric power alone for as long as possible.
Europe has a 2.0-litre hybrid Corolla option that has more power and torque, and while it would also increase the price, it'd be a welcome addition to the range regardless.
At times in urban driving where the battery does more work, my fuel use dipped to 3.9L/100km. The overall combined-cycle figure over a variety of city, highway and country driving conditions was 5.2L/10km. It's at least 50 per cent more frugal than the zippier Hyundai, then.
The Corolla's body sits on the Toyota New Global Architecture (TNGA) platform, with space-robbing trailing wishbone suspension at the rear.
In terms of handling, it's really fun to drive through the bends. It's nimble and responsive on account of the lightweight hybrid system and stiff chassis, and the steering is direct enough to be considered engaging. It's the best-handling Corolla in generations, maybe ever.
The ride quality is okay, but the slim-sidewall Dunlop SP Sport Maxx tyres do hinder that final 10 per cent of ride comfort over sharp hits.
The recuperative system's brake pedal feel is natural enough and, as Paul said in his single-car review, Toyota has largely mastered this aspect of its hybrids.
Cost of ownership
Both brands offer a five-year and unlimited kilometre warranty, but at the time of writing Hyundai was offering seven years. Toyota's offer was captive finance at a low comparison rate. There are always carrots…
Servicing intervals and costs are as follows:
Hyundai i30 N-Line Premium
12 months/10,000km: $269
24 months/20,000km: $269
36 months/30,000km: $269
48 months/40,000km: $309
Toyota Corolla ZR Hybrid
12 months/15,000km: $180
24 months/30,000km: $180
36 months/45,000km: $180
48 months/60,000km: $180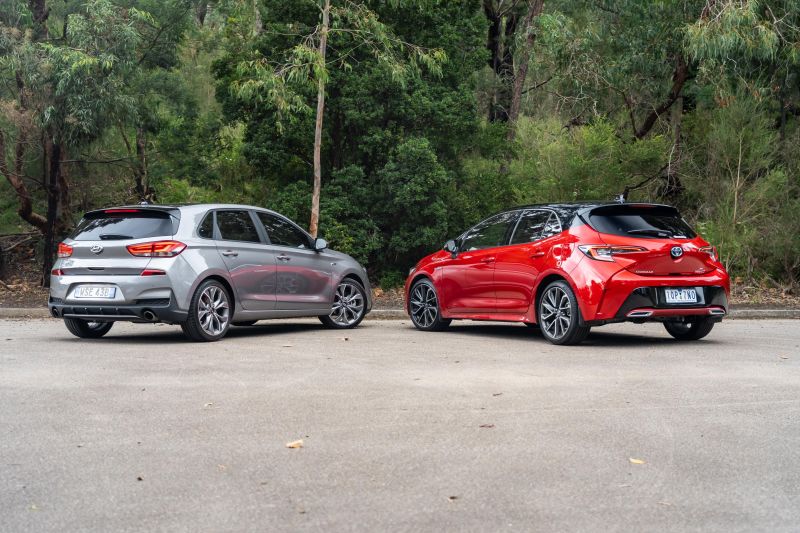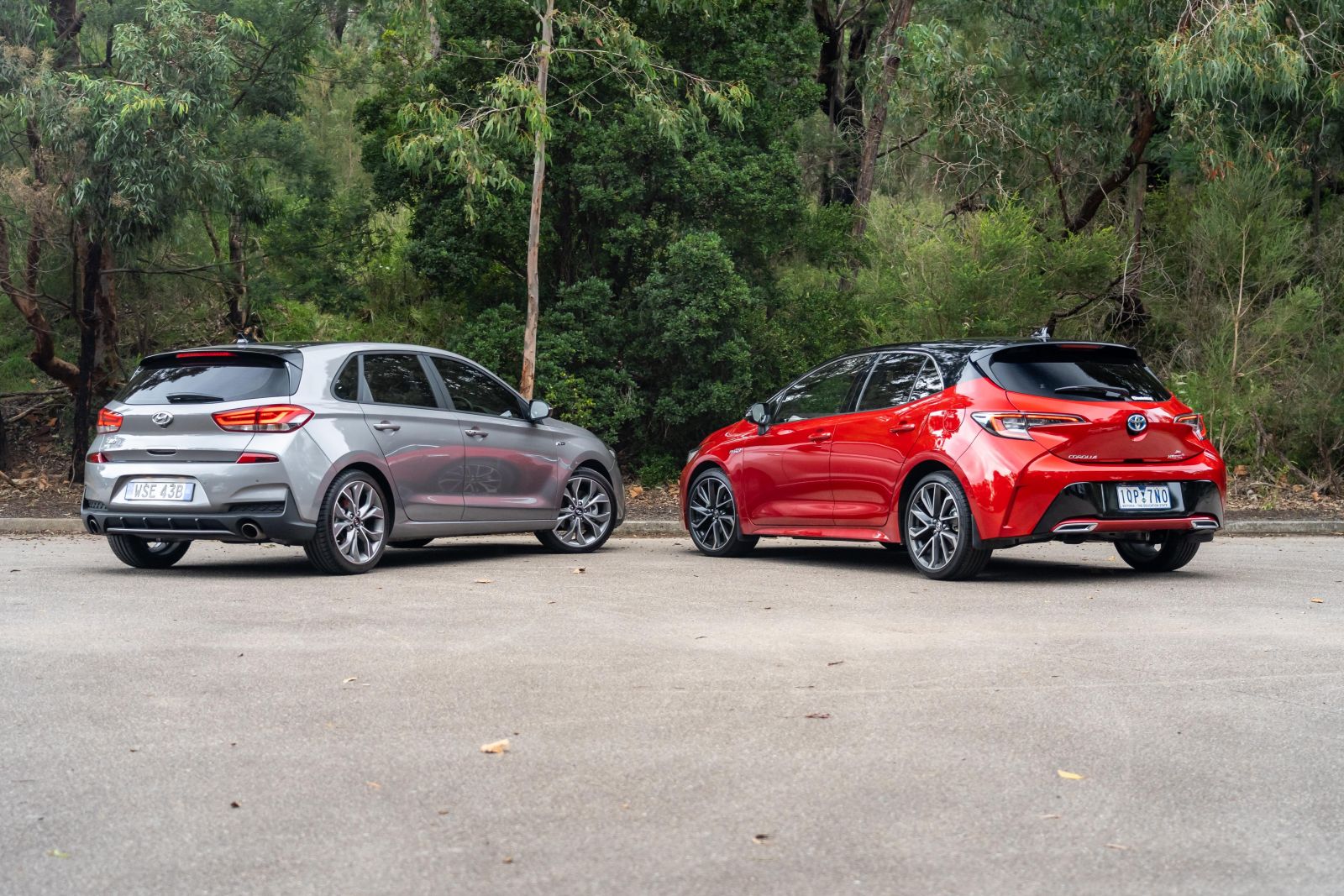 CarExpert's Pick
I know what you might be thinking: the differences are so stark in the way these cars drive, so why the comparison?
The take away here is that the top-grade Corolla and i30 (excluding the hardcore N with its manual gearbox) might offer similar prices and luxury features, but they each play on their own patch of turf.
The Hyundai's back seats and boot are bigger, so it's more practical. Its handling dynamics aren't necessarily snappier than the Toyota, but its engine sure is. And don't underestimate the role a massive sunroof plays in adding a premium feel.
On the other hand, the Corolla feels zippy in urban driving before losing steam at higher speeds, is surprisingly agile dynamically, and looks a million bucks. And while its cabin isn't as roomy, it's better-presented than the Hyundai's, and the list of driver-assist features is longer.
Add to that the preternaturally good fuel economy and bargain servicing prices, and there are a number of reasons to look towards your Toyota dealer for your next small car.
If you rarely carry four people and don't need traffic-light-drag winning acceleration, the Toyota's attributes make it a better bet. Keep the two cars' respective strengths in mind, and the choice becomes easy.