See prices tailored to you, select a variant and enter your postcode!
2023 Audi Q2
See prices tailored to you, select a variant and enter your postcode
About the Audi Q2
The Audi Q2 goes into 2023 with an unchanged range and equipment list, but a slightly higher price than before.
The compact SUV range kicks off at $45,200 before on-road costs, and extends to $66,900 before on-roads for the high-performance SQ2 after price hikes across the Audi range.
Audi gave the Q2 range an update in 2021. Externally you'll be able to distinguish the updated model with its revised LED daytime-running light signature and new bumpers.
The headlights are LED as standard, with new Matrix LED units available as an option.
The interior received only minor tweaks and retains the outgoing model's 8.3-inch infotainment screen, controlled solely via a rotary dial.
Audi Q2 Photo Gallery
CarExpert High Resolution Photos of the Audi Q2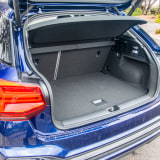 Compare
See Audi Q2 comparisons against similarly sized vehicles
Audi Q2
vs
CLICK HERE TO SEE MORE MODELS...
News
All the latest Audi Q2 news
Audi Q2 Range Guide
Which variant of the Audi Q2 range is best for you?
The Audi Q2 35 TFSI comes standard with the following equipment:
8.3-inch infotainment screen
Wired Android Auto and Apple CarPlay
Satellite navigation
DAB+ digital radio
LED headlights, tail lights and daytime running lights
Keyless entry and start
Leather upholstery
Leather-wrapped steering wheel
Eight-speaker sound system
Wireless phone charging (currently unavailable due to semiconductor shortage)
Automatic headlights
Rain-sensing wipers
Dual-zone climate control
18-inch alloy wheels
Electromechanical parking brake
Ambient lighting
The 40 TFSI adds:
Adjustable drive modes
Power tailgate
S line exterior package
Front sports seats
Paddle shifters
Standalone options include the 12.3-inch Virtual Cockpit digital instrument cluster and 14-speaker Bang & Olufsen sound system.
There are also two option packages available on the 35 TFSI and 40 TFSI.
The Style package adds:
19-inch alloy wheels
Matrix LED headlights
12.3-inch Virtual Cockpit digital instrument cluster
Extended black exterior trim
The Premium package adds:
Adaptive cruise control with stop/go
Lane-keep assist
Semi-autonomous parking assist
Hold assist
Heated, power-folding exterior mirrors
Rear privacy glass
10-speaker sound system
Heated front seats
Auto-dimming rear-view mirror
12.3-inch Virtual Cockpit digital instrument cluster
Over the 40 TFSI, the SQ2 adds:
19-inch alloy wheels
Sports suspension
Adaptive cruise control with stop/go
Lane-keep assist
Semi-autonomous parking assist
Hold assist
Nappa leather upholstery
Heated front seats
Colour-adjustable ambient lighting
Standalone options on all models include:
Rear privacy glass
Panoramic sunroof
Price & Specs
See comprehensive price and specification details for the Audi Q2
Interior
Photos and Images of the Audi Q2 Interior
Audi is culling buttons at a rapid rate across its range, but the Q2 bucks the trend.
It's based on the previous-generation A3, and features the same interior design. Usually an older interior would be a drawback, but the design in the Q2 still looks box fresh.
From the cool metal air vent surrounds to the satisfying click-clack of the climate controls and infotainment controller, it's tactile in a way touchscreen-heavy designs just can't be.
It does feel a bit cheap in places, though. The base door trims are plain black and rock hard, and there's no air vents or fold-down central armrest in the rear.
Exterior
Photos and Images of the Audi Q2 Exterior
A unique design in the Audi lineup, the Q2 almost feels like its from a different design language compared to some of Audi's other models. Nonetheless, it's arguably one of the best looking cars in the German brand's showrooms.
Cost of Ownership
What is the running, servicing and ownership costs of buying a Audi Q2?
A five-year service plan is available for the SQ2, priced at $2540, while the 35 and 40 TFSI are covered by a plan priced at $2280.
How it Drives
Our expert take on Audi Q2 drivability?
The 2023 Audi Q2 is available with a choice of three engines.
The 35 TFSI uses a turbocharged 1.5-litre four-cylinder that produces 110kW of power and 250Nm of torque. It's available only with front-wheel drive.
The 40 TFSI uses a turbocharged 2.0-litre four-cylinder engine with 140kW of power and 320Nm of torque, while the SQ2 also uses a turbo 2.0-litre albeit with 221kW of power and 400Nm of torque. Both models are all-wheel drive.
All models use a seven-speed dual-clutch automatic transmission.
0-100km/h times are 8.6 seconds for the 35 TFSI, 6.5 seconds for the 40 TFSI and 4.9 seconds for the SQ2.
Audi Q2 Safety Rating
ANCAP Safety Rating Australia
The 2023 Audi Q2 has a five-star rating from ANCAP based on testing conducted in 2016.
It received an adult occupant protection score of 93 per cent, a child occupant protection score of 86 per cent, a pedestrian protection score of 70 per cent and a safety assist score of 60 per cent.
The five-star rating doesn't apply to the SQ2, which remains untested by ANCAP.
All 2022 Audi Q2 and SQ2 models come standard with the following safety features:
Autonomous emergency braking with pedestrian and cyclist detection
Blind-spot monitoring
Front, front-side and curtain airbags
Reversing camera with front and rear parking sensors
Audi Q2 Warranty
What is the warranty period and kilometre limit for the Audi Q2?
The 2023 Audi Q2 and SQ2 are covered by a five-year, unlimited-kilometre warranty.
Audi Q2 Infotainment
What infotainment do you get within the range?
Infotainment is a mixed bag. On the one hand, the (optional) Virtual Cockpit sat where the speedo and rev counter usually would be is still the standard-setter for digital dials.
Like in more expensive models it can overlay critical information on a high-resolution satellite map, display fake analogue dials, show a simple trip computer, or give information about your media.
It makes the Q2 feel orders of magnitude more grown up, especially when you consider even the top-spec BMW X2 has old-fashioned analogue dials.
The central infotainment screen is a generation old, which means it isn't touch-operated nor is it running Audi's latest interface. Instead, it's run with a rotary controller on the transmission tunnel and a smattering of shortcut buttons.
Using CarPlay is also easier with touch than a rotary controller, which is worth keeping in mind.
Factory satellite navigation is standard, as is wireless phone charging.
Audi Q2 Boot Space
How much luggage or cargo capacity and boot space is there in the Audi Q2?
It has 355L of luggage space, expanding to 1000L with the rear seats folded.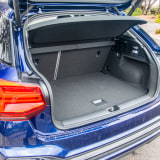 Audi Q2 Fuel Economy
How much fuel does the Audi Q2 use and what are its emissions?
The 2023 Audi Q2 uses 5.2L/100km on the combined cycle in the 35 TFSI, 7.0L/100km in the 40 TFSI and 7.7L/100km in the SQ2.
Depending on the variant, view the 2023 AUDI Q2 fuel usage below.
All Highway, City, and Combined figures below are litres per 100km
| Variant | Series | Style | Fuel Type | Highway | City | Combined | E10? |
| --- | --- | --- | --- | --- | --- | --- | --- |
| 35 TFSI | GA MY23 | 4D WAGON | PREMIUM UNLEADED PETROL | - | - | 5.2 | - |
| 35 TFSI DYNAMIC BLACK | GA MY23 | 4D WAGON | PREMIUM UNLEADED PETROL | - | - | 5.2 | - |
| 40 TFSI QUATTRO S LINE | GA MY23 | 4D WAGON | PREMIUM UNLEADED PETROL | - | - | 7.0 | - |
Audi Q2 Dimensions
The dimensions of the Audi Q2
The 2023 Audi Q2 measures 4208mm long, 1794mm wide (2009mm including the mirrors) and 1508mm tall.
The 2023 Audi SQ2 measures 4216mm long, 1802mm wide and 1495mm tall.
The 2023 AUDI Q2 measures 4191mm long, 1794mm wide and 1498mm tall, with a 2587mm tall wheelbase.
The 2023 AUDI Q2 has a braked towing capacity of 1500kg and an unbraked towing capacity from 670kg to 750kg depending on the variant.
Audi Q2 Market Fit
Where does it fit in the competitor segment?
The Audi Q2 is categorised as a Small SUV and has a price range of $46,000 to $53,300.
Should you buy the Audi Q2
Is this the right car for you? Our experts buy or not guide.
Does the Audi Q2 deserve to sell in better numbers? Probably.
It's the least expensive Audi, BMW, or Mercedes-Benz SUV you can buy in Australia, but it isn't cheap and nasty.
Although the entry-level model feels premium-ish, a extra smattering of special touches and more powerful, all-wheel drive powertrain make the 40 TFSI quattro feel like the smarter pick.
With a starting price below $50,000 it makes the BMW X2 look a bit expensive, provided you don't dive too deep into the options.
Start ticking boxes, though, and it's worth considering the more powerful SQ2.
Frequently Asked Questions
Variants from previous years