Mazda 3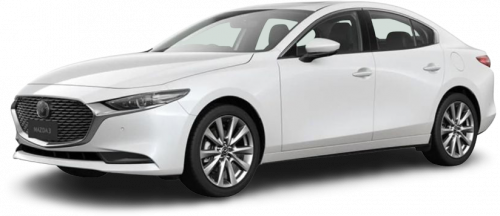 | | |
| --- | --- |
| Price | A$26,340 - A$42,390 |
| Fuel Efficiency | 5.5 - 6.6L/100km |
| ANCAP Rating | 5 / 5 |
| Latest CarExpert Rating | 8 / 10 |
Mazda 3
Ask most people to think of a Mazda, and chances are it's a Mazda 3 that springs to mind. 
Following in the footsteps of the 323, the Mazda 3 nameplate burst onto the scene in 2003 and is now into its fourth generation. 
Compared to its predecessors, the latest Mazda 3 hatchback and sedan have been given a sleeker makeover and a steeper starting price. The interior has been overhauled for a more premium feel, too. 
Along with the usual choice of 2.0- and 2.5-litre naturally-aspirated petrol engines, the latest Mazda 3 debuts a revolutionary new compression-ignition SkyActiv-X engine for the brand. It's also available with a turbocharged 2.5-litre engine overseas, but it hasn't been confirmed for Australia. 
Jump to:
Reviews
News
Variants
FAQs
Variants from Previous Years
Mazda 3 FAQs
How much does the 2021 Mazda 3 cost?
In which country is the Mazda 3 built?
The Mazda 3 is built in Japan and is then shipped to Australia.
What is the Mazda 3 towing capacity?
The 2021 Mazda 3 has a braked towing capacity of 1200kg and an unbraked towing capacity of 600kg.
What are the service intervals of the Mazda 3?
Mazda suggests that owners service their Mazda 3 every 12 months or 10,000km, whichever comes first.
How safe is the Mazda 3?
The Mazda 3 has a five star ANCAP safety rating out of five.
What type of fuel does the Mazda 3 use?
The variants of the 2021 Mazda 3 use Unleaded Petrol or Unleaded Petrol/electric.
How many doors does the Mazda 3 have?
The 2021 Mazda 3 comes in 4 or 5 door variants.
Is the Mazda 3 any good?
In our latest review the Mazda 3 scored 8 out of 10. Read the full Mazda 3 review here.
What is the warranty for the Mazda 3?
The 2021 Mazda 3 has a 5 year, unlimited km warranty.