Ford Mustang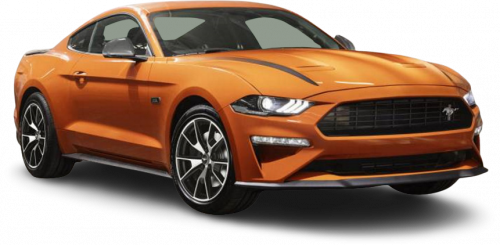 | | |
| --- | --- |
| Price | A$51,690 - A$83,365 |
| Fuel Efficiency | 8.5 - 13.9L/100km |
| ANCAP Rating | 3 / 5 |
| Latest CarExpert Rating | 8.3 / 10 |
Ford Mustang
While the Ford Mustang is an iconic name originally launched in the mid-1960s, it wasn't sold in Australia as a factory right-hand drive vehicle until it was in its sixth generation, which launched in 2015.
Since then, it has been a hit with Australia customers after a high-performance sports car. In Australia, the Ford Mustang is sold with a turbocharged four-cylinder petrol engine, a naturally-aspirated V8 engine, and finally with a supercharged V8 engine.
The Ford Mustang has four seats, and is offered with a choice of coupe or convertible body styles. 
It competes with cars like the (now discontinued) Chevrolet Camaro, the Lexus RC, BMW 4 Series, and Mercedes-Benz C-Class coupe.
Jump to:
Reviews
News
Variants
FAQs
Ford Mustang News & Articles
Variants from Previous Years
Ford Mustang FAQs
How much does the 2021 Ford Mustang cost?
The 2021 Ford Mustang range kicks off from A$51,690 (plus on-road costs) for the "Mustang 2.3 GTDi" variant and finishes at A$83,365 (plus on-road costs) for the "Mustang MACH 1" variant.
In which country is the Ford Mustang built?
The Ford Mustang is built in United States Of America and is then shipped to Australia.
What are the service intervals of the Ford Mustang?
Ford suggests that owners service their Ford Mustang every 12 months or 15,000km, whichever comes first.
How safe is the Ford Mustang?
The Ford Mustang has a three star ANCAP safety rating out of five.
What type of fuel does the Ford Mustang use?
The variants of the 2021 Ford Mustang use Unleaded Petrol or Premium Unleaded Petrol.
How many doors does the Ford Mustang have?
The 2021 Ford Mustang has 2 doors.
Is the Ford Mustang any good?
In our latest review the Ford Mustang scored 8.3 out of 10. Read the full Ford Mustang review here.
What is the warranty for the Ford Mustang?
The 2021 Ford Mustang has a 5 year, unlimited km warranty.