If you want to combine a V8 rumble and open-top experience, your options are seriously limited. Which is why the Ford Mustang GT Convertible remains relevant well into its life cycle.
At $75,000 before on-road costs, it's hardly budget motoring. However the next most-affordable V8 convertibles on sale are the $190,000 Mercedes-AMG C63 and $214,000 Lexus LC500.
Simply put, this throwback muscle car competes in a field of one today, and while the audience for this sort of car has whittled away, it leaves Ford with a captive market.
As you'll see, there are flaws to be found. But there's no doubting the 'Stang's presence on the road. I'm a bit young for a midlife crisis, but I still found joy here.
How does the Ford Mustang fare vs its competitors?
View a detailed breakdown of the Ford Mustang against similarly sized vehicles.
How much does the Ford Mustang GT Convertible cost?
The V8 Mustang GT Convertible costs $74,890 before on-road costs, equal to a drive-away price of roughly $82,500. The Mustang GT V8 coupe costs $66,690, meaning you pay $8200 for the privilege of a fabric roof.
When the Mustang GT Convertible launched in 2015, Ford charged $66,490. So the price has climbed a fair bit.
If you fancy saving a few bucks, the Mustang High Performance with its turbocharged four-cylinder EcoBoost engine costs $53,990 as a coupe and $60,290 as a convertible, both prices before on-road costs.
The only other large-ish displacement soft-top kicking about to consider is Nissan's elderly 370Z with its rev-happy six-cylinder, at $63,990 with an automatic to match the Pony Car.
Other options around the Mustang GT's price point are the entry level Audi A5 40 TFSI S line Cabriolet ($85,400) and BMW Z4 sDrive20i ($87,900). Both of these are modest wallflowers by contrast.
What do you get?
It's not short of luxury features, this Pony.
Outside there are automatic LED headlights with self-levelling, plus a proximity key entry system, rain-sensing wipers, bonnet vents, powered mirrors, quad exhaust tips with active valves, and 19-inch wheels.
Inside there's changeable ambient light colours, a 12.0-inch digital instrument cluster, Mustang scuff plates in the doors, heated and cooled leather seats, dual-zone climate control, and one-touch windows.
Infotainment is displayed on an 8.0-inch touchscreen, and includes factory satellite navigation with live traffic updates, plus wired Apple CarPlay and Android Auto, Bluetooth, and USB points. The 1000W 12-speaker sound system is supplied by B&O.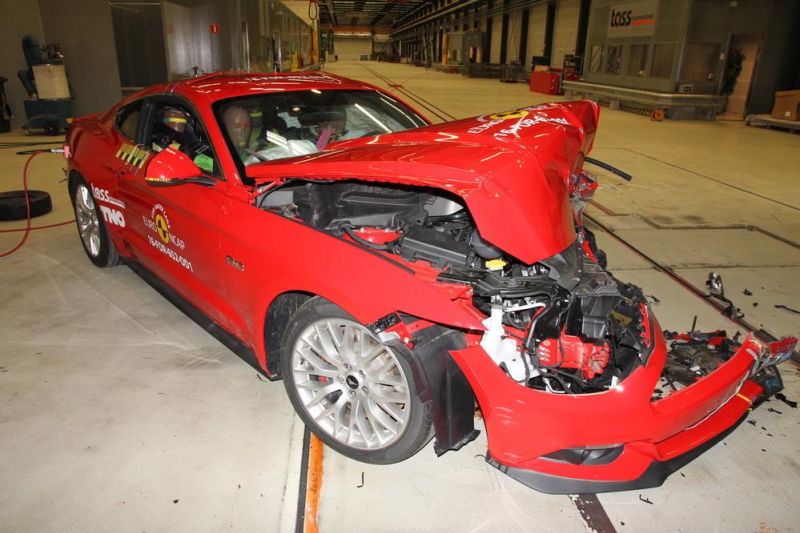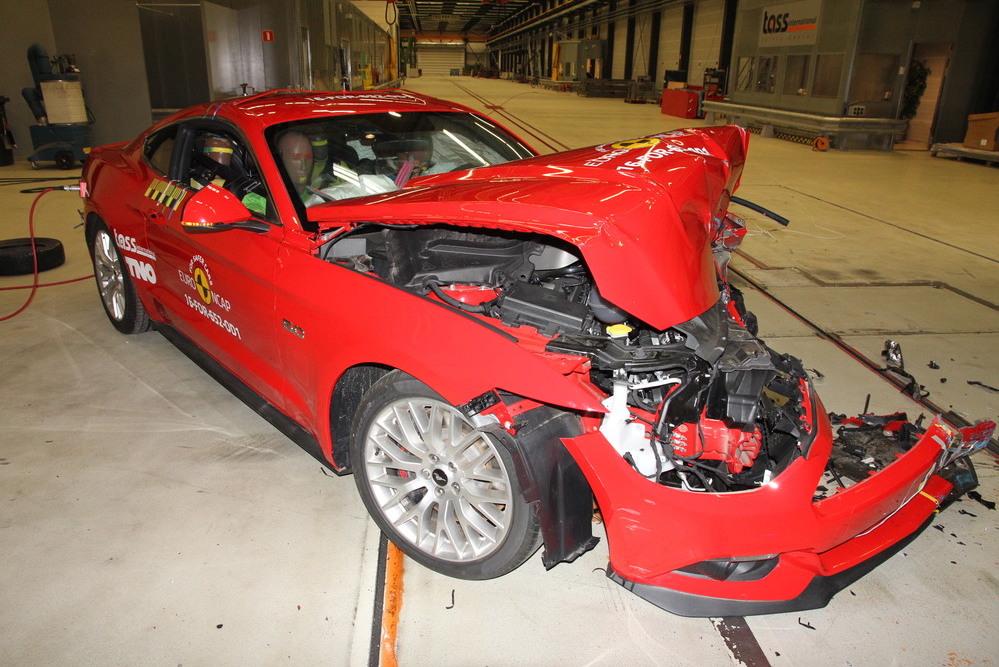 Is the Ford Mustang GT Convertible safe?
Safety features include eight airbags (front, front-side, side-curtain, and knee) and ISOFIX/top-tether anchor points.
Active safety functions include autonomous emergency braking (AEB) with pedestrian detection, lane-departure warning and lane-keeping assist, active cruise control, automatic high-beam shutoff. a programmable Ford MyKey, rear sensors, and a reversing camera.
The Mustang convertible has no ANCAP rating, though the stiffer coupe does. It carries a poor three-star ANCAP crash rating, with a 2017 date stamp. It managed a decent 72 per cent for adult occupant protection, 78 per cent for pedestrian protection (it has an active bonnet for impacts), and 61 per cent for safety assist functions.
But it only scored 32 per cent for child occupant protection, with ANCAP stating the following after analysing crash-test data:
"In the side barrier test, 'poor' protection was provided to the head of the 10 year [old] dummy. The head bottomed out through the side curtain airbag, making contact with the trim on the C-pillar. Consequently, all points were lost for the 10 year dummy."
More on all that here.
What is the Ford Mustang GT Convertible like on the inside?
Ford has definitely improved the interior feel since this generation of Mustang launched in 2015, but it's still clearly built to a price.
The silver dash trim has the feel of brushed aluminium, the stitched padding on the transmission tunnel is easy on the knees, and the leather-wrapped wheel is nice in the hand, albeit a little on the large side.
But the cheap plastic buttons and fascia rocker switches, wobbly console cover, el cheapo hardbrake, and creaky binnacle surround remind you that this is a mainstream vehicle Stateside.
It's ergonomically sound thanks to a telescopic wheel adjustment, and the leather seats are nicely padded and support people with more generous proportions. Chucking on the seat heaters/coolers with the roof open is a nice experience, too.
The digitised instrument cluster is eye-catching, and you can select various display modes. But the way you cycle through them using the steering wheel buttons isn't particularly intuitive. Still, you adapt.
Ford's infotainment system is one of the most intuitive on the market, with an extremely simple interface and easy to navigate menus. The maps aren't cutting-edge, but they're clear.
Those back seats are a pain to clamber into, since tilting and sliding the front-passenger seat forward requires more effort than it should. However they're pretty spacious – my girlfriend and her friend were comfy enough back there on a beach drive.
There's plenty of room in the boot for a suitcase or two, or some soft bags. The roof folds into a separate partitioned section too, so it won't crush your stuff.
That roof mechanism is a bit old hat though. It electrically opens and shuts via button, but you need to clip or unclip it where it joins the windscreen by hand. It also won't work if the car is rolling any quicker than car park speeds.
What's under the bonnet?
No downsized turbo here. Power comes from a 5.0-litre naturally-aspirated V8 with port and direct injection, making 339kW of power right up at 7000rpm, and 556Nm of torque at 4600rpm.
While the coupe can be ordered with a manual, the convertible is automatic-only. The transmission is a trick 10-speed torque-converter unit with paddle shifters.
Ford cites official combined-cycle fuel consumption of 12.7 litres per 100km, the tank stores 61L, and Ford recommends 98 RON.
It's obviously rear-wheel drive (RWD), and sports a limited-slip diff.
How does the Ford Mustang GT Convertible drive?
There's still nothing like a V8 rumble, be it the lumpy idle or guttural bark under a heavier application of your right foot.
There are also various drive modes that can either dial up the active exhaust sound, or dial it right back lest you wake the neighbours at 7am on your way to work. A bright green V8 hiding its obnoxiousness is a pleasant surprise.
The atmo engine requires some revs as the torque band shows, giving it plenty of character. It won't give you a heap down low, but it gets this big and heavy beast moving quickly.
That 10-speed 'box is a bit fussy though, hunting through its gears without always settling on an ideal ratio.
Engine
V8 rumble
The Mustang's defining feature is its rumbly engine, which is best experienced with the top down.
Dynamically it's not a mere straight-line hero like old Yankee muscle cars, though don't expect BMW levels of agility through corners. This car weighs 1840kg, after all.
The suspension comprises MacPherson struts up front and an integral link setup at the rear. The ride quality on the $2750 optional MagneRide suspension (adding a damper function to the drive-mode selector) feels impressively smooth despite the low-profile Michelin rubber.
The steering weight is ok, and while it's not the quickest from centre nor is it ponderous. Body control through corners is acceptable, and its rear-wheel bias (just a hint of tail-out if you stomp on the throttle near exit) makes it a real laugh.
There's no shortage of scuttle shake though, as watching the rear-view mirror over corrugated surfaces will show you.
Roof up, the wind deflector takes the edge off, and the pumping sound system and heated/cooled seats help. Roof up, and the NVH suppression is entirely reasonable on highways.
Stopping power comes from 380mm x 34mm six-piston ventilated Brembo front brakes, complemented by 330mm x 25mm single-piston rears.
How much does the Ford Mustang GT Convertible cost to run?
Ford Australia offers a five-year, unlimited-kilometre warranty.
Servicing prices are quite reasonable, at $299 a pop for each of the first four visits at intervals of 12 months or 15,000km.
CarExpert's Take on the Ford Mustang GT Convertible
At the end of the day, driving a lime green V8 convertible from the States makes you feel like you're living a '70s throwback.
Like all Mustangs before it, this is a flawed vehicle, but wins you over to its cause with sheer brute charm. Even when the weather turns cloudy.
It's a little hard to justify the price hike over its hard-top sibling though, considering it's not as good to drive.
Click the images for the full gallery
MORE: Ford Mustang news and reviews
MORE: Everything Ford