The Honda HR-V was a bit of a revolution when it swept onto the scene in 1999.
With a two-door option and an oversized roof spoiler, it managed to walk the line between looking cool (especially in gold) and packing in enough gear to enjoy all your favourite lifestyle activities.
After being retired in 2006, badge was brought back from the dead in 2015. Unlike its edgy predecessor, the modern HR-V is less of a Hi-rider Revolutionary Vehicle and more of a cookie-cutter crossover, aimed squarely at the Mazda CX-3 and Mitsubishi ASX.
There's no two-door option, nor anything as racy as a rear spoiler – although Honda has gone to the trouble of hiding the rear door handles, which is a nice touch. There's also something called Magic Seats, which sound like they were named by a committee of six-year olds but free up remarkable amounts of interior space.
New for 2019 was an RS model, designed to add a dose of sex appeal to what has always been a practical (but slightly dowdy) entrant in the booming compact SUV segment.
With a range of stylistic add-ons and a more attractive list of standard inclusions, does it represent a proper glow-up for the HR-V? Or is the RS all sizzle, no steak.
How much does the Honda HR-V RS cost?
The Honda HR-V range starts at $25,490 before on-road costs for the base VTi, and extends to $35,740 before on-roads for the VTi-LX.
Designed to offer a sportier, more highly-specced option to mid-range buyers, the HR-V RS on test is priced from $32,490 before on-road costs.
What does it compete with?
Core competitors include the top-selling Mitsubishi ASX Exceed, the equally roomy but higher-tech Kia Seltos Sport +, and the Subaru XV 2.0-L. There are a host of other small SUV rival too, but this trio are all solid bets.
What do you get?
Standard equipment in the RS is generous, although some of the sexier options from rivals such as the Kia Seltos aren't offered anywhere in the HR-V range.
As part of its attempt to make the RS a bit sexy, Honda has given it a set of sharp-looking 18-inch alloy wheels, black door mirrors, dark chrome body add-ons, and an orange 'RS' badge on the boot lid.
That's atop standard equipment from cheaper HR-V models, including roof rails, and a set of automatic LED headlights, daytime-running lights and fog lights.
The end result is definitely more handsome and assertive than lower-spec HR-V models, although calling it sexy would be a stretch.
As with the rest of the HR-V range, the RS comes standard with low-speed autonomous emergency braking, a reversing camera, and versatile Magic Seats. More on those to come.
It also follows the slightly cheaper VTi-S is offering rear parking sensors and a camera-based blind-spot monitoring system dubbed 'LaneWatch'.
Unlike most blind-spot systems, where a small orange light on the mirror flashes when there's something hidden in your blind spot, Honda fits a camera to the underside of the left-hand mirror and shows a feed from the camera when the indicator is engaged. It's a good idea that slightly falls down in practice.
Inside, there's keyless entry and start, leather trim for the steering wheel and gear knob, chrome and black trim for the dashboard, doors, and transmission tunnel, and single-zone climate control.
A 7.0-inch touchscreen infotainment system with Apple CarPlay and Android Auto is new for 2020 – but inbuilt factory navigation has been removed.
Extra kit inside the RS is limited to leather-trimmed seats with heating up front, and sports pedals.
Is the Honda HR-V safe?
The Honda HR-V has a five-star ANCAP rating on the back of testing conducted in 2015.
An update in 2019 made low-speed autonomous emergency braking standard across the range, but blind-spot monitoring is still reserved for high-grade models.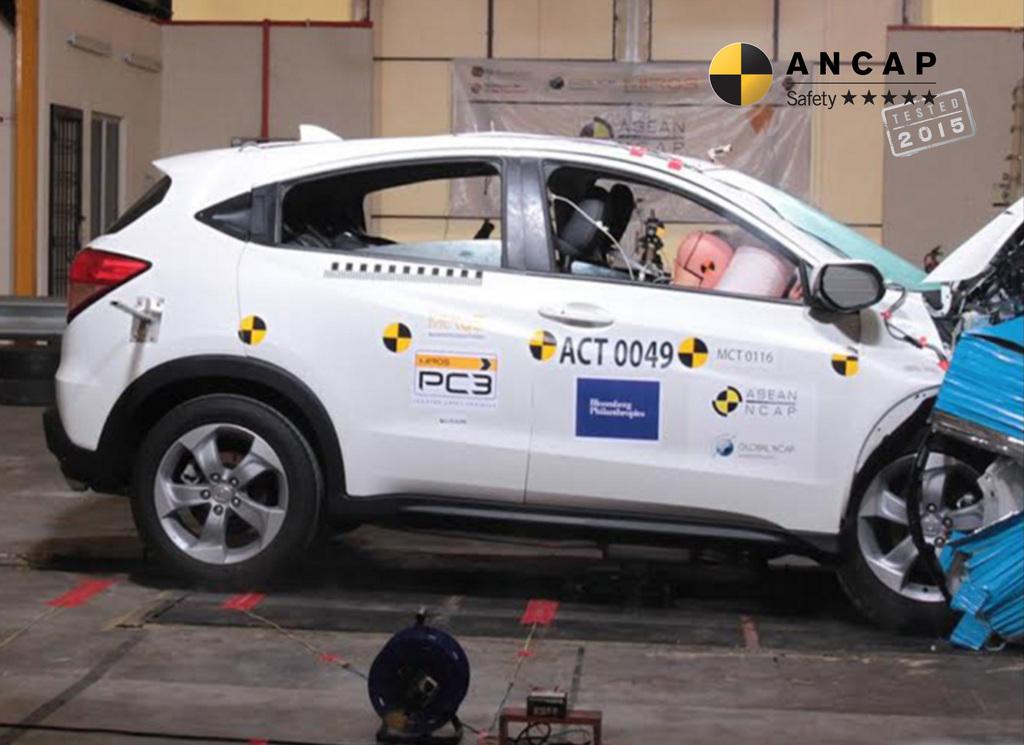 Also lacking are reverse and high-speed autonomous emergency braking, rear cross-traffic alert, adaptive cruise control, lane-keeping assist or lane-departure warning, and a conventional blind-spot monitoring system.
The fact Honda doesn't offer a competitive suite of driver aids on the Thai-built HR-V sold Australia is disappointing, given a broader selection is available overseas.
What is the Honda HR-V RS like on the inside?
Honda trades on practicality, and for the most part it delivers.
The driver and passenger sit quite high with a commanding view over the bonnet, and there's enough adjustment in the seats and steering wheel to accomodate a range of body styles. With that said, the ability to cant the seat slightly backwards would have been appreciated – the driver's pew is a bit flat.
There are some nice materials up front. The steering wheel is nice to hold, and the gloss black on the transmission tunnel looks slick. But even in the RS, which is priced comfortably beyond $30,000 before on-road costs, there are swathes of black plastic that look and feel cheap.
Although the climate control pod looks good, it doesn't match any other part of the cabin, and would be easier to operate if the touch-based controls were proper buttons with feedback.
The RS feels like a cheap car dressed up to look expensive, which isn't necessarily good enough when cars such as even the ageing Mazda CX-3 offer a better feel-good factor.
Speaking of ageing, the HR-V's infotainment system is terrible compared to what's on offer elsewhere. It bears no resemblance to the new-generation system from the Civic and CR-V, with archaic graphics and cheap, plasticky buttons.
The addition of Apple CarPlay and Android Auto is a win for tech-savvy buyers, but CarPlay was prone to dropouts in our experience. It's also strange that Honda has decided to remove the inbuilt navigation for 2020. Why not give customers the choice?
Also annoying? The fact there's no volume knob. Honda has brought knobs back to the Civic, maybe it's time to do the same in the HR-V.
Where the HR-V does shine is in the practicality stakes. There's plenty of storage up front, with clever two-tiered cupholders, a spacious area under the gear selector, decent door pockets, and a covered bin under the armrest.
The rear seats have ample space for tall-ish passengers, which can't be said of the Mazda CX-3, and headroom is good. There are no vents back there, but there is a central cup holder.
More impressive is what the HR-V is capable of when you need to fold those rear seats flat. Honda has fitted its littlest SUV with Magic Seats, which didn't once successfully pull a rabbit from a hat (disappointing) but free up remarkable amounts of space (impressive).
Over the course of our week with the HR-V we used it to carry everything from a dog to an XL Giant road bike with the wheels on, with the makings of an Italian dinner party for 13 thrown in for good measure. The little Honda swallowed it all without complaint.
Not only do the seats fold properly flat, you can lift the seat bases up with the backs in place to store odd-shaped items such as pot plants safely. They're impressive, no doubt about it.
Boot space is a claimed 437L with the rear seats in place, and 1437L with them folded. The boot floor is low and easy to access, but Honda hasn't fitted a proper lift-up luggage cover, instead opting for a cheap sunshade-style cover for your kit.
The fact it doesn't automatically lift with the tailgate like the covers on most hatches is annoying, and stinks of cost-cutting.
What's under the bonnet?
Honda only offers a naturally-aspirated 1.8-litre petrol engine in the HR-V, with 105kW of power and 172Nm of torque.
It's mated with a continuously-variable transmission (CVT) sending power exclusively to the front wheels. All-wheel drive is not available in the HR-V locally, nor is a manual transmission.
Claimed fuel economy is 6.7L/100km on the combined cycle, and the HR-V drinks 91RON regular unleaded.
We saw 7.5L/100km in a mix of city and highway driving, although have previously had an HR-V drink closer to 8.5L/100km in heavier traffic.
Overseas markets can have their HR-V with the 134kW turbo engine from the Civic and CR-V – and it's also available with a manual – but Honda Australia has ruled it out for our market.
How does the Honda HR-V RS drive?
Ignore the sporty connotations usually attached to the RS badge and the HR-V is fine. It's inoffensive, but gets the job done.
The engine is capable enough off the mark, and the CVT manages to avoid droning unless you really bury the throttle. With that said, it can be a bit slow to respond on the highway, necessitating a heavy-handed approach with the accelerator.
Although it's quiet at a cruise, the engine can be vocal (and surprisingly coarse) when really called to move. The whole powertrain is serviceable but nothing more, and feels underdone compared to the larger 2.0-litre on offer in the base Kia Seltos or the turbocharged 1.0-litre three-cylinder in the new Volkswagen T-Cross.
Wind and road noise are well suppressed at lower speeds, but road roar from Australian country highways can undermine the refinement on the highway.
The HR-V does its best work in the city, where its light steering, high driving position, and large glasshouse make it easy to place. It's well suited to small underground carparks and city laneways, which is where most HR-V buyers will spend their time.
Parking is a cinch despite a grainy reversing camera – thanks in part to the auto-dipping left-hand mirror, which means there are no excuses for scraping those handsome 18-inch alloy wheels.
Efficient
But not exciting
The engine in the Honda HR-V RS isn't a heavy drinker, but performance is average at best
Honda hasn't been sucked into making the RS ride too firmly, despite its sporty badge and bigger wheels. The suspension is tuned to isolate the driver, and does a good job soaking up minor imperfections, but bigger potholes make more of an impact than in cheaper HR-V models.
The RS actually has a more direct steering tune and slightly revised suspension compared to the rest of the HR-V range, but the changes are subtle. The nose is slightly keener to turn, and body roll is better contained than in other models in the line-up. It's not sporty, but it's well sorted.
How much does the Honda HR-V RS cost to run?
Maintenance is required every 12 months or 10,000km – whichever comes first. The first five years of scheduled servicing costs $1544.
As with the rest of the Honda range, the HR-V is backed by a five-year, unlimited-kilometre warranty.
CarExpert's take on the Honda HR-V RS
If you're all about practicality, there are few compact SUVs with the versatility of the HR-V.
The clever seats free up a remarkable amount of space, making the little Honda ideal for people who need to haul big things around but value a compact footprint. With that in mind, the HR-V makes the most sense at the bottom end of the range.
There's something charming about a (relatively) cheap, basic runabout. Unfortunately, the RS costs $32,490 before on-road costs.
Despite its steep sticker price the RS lacks a proper suite of active safety assists. The infotainment system simply isn't good enough in 2020, and the interior is dowdy compared to what's on offer in the Volkswagen T-Cross, base Kia Seltos, and the Hyundai Kona.
Throw in an uninspiring engine and transmission, and the HR-V RS is hard to recommend unless you can score a sharp price. Unless you desperately need to look sporty, there are better deals to be had elsewhere in the range.
Other vehicles to consider