The latest Jeep Wrangler has performed poorly in another standardised crash test.
Having returned a one-star Euro NCAP crash rating – which has since been upgraded to a three-star rating – the Wrangler this week tipped onto its side in the US Insurance Institute for Highway Safety (IIHS) small overlap test.
Despite the large off-roader rolling onto its side, the Wrangler avoided the lowest "poor" rating for the test, instead scoring a "marginal" rating because "the driver's space was maintained well, and the dummy's movement was well-controlled".
In Euro NCAP testing, the Wrangler scored just 50 per cent for adult occupant protection and 49 per cent for vulnerable road user protection, although the addition of autonomous emergency braking has since improved adult occupant protection to 60 per cent.
"Rollovers – even partial ones like those that occurred in the Wrangler tests – are especially dangerous crashes, in part due to the risk of complete or partial ejection," said the IIHS.
"This is a particular concern in the Wrangler, which has a roof and doors that can be removed. The Wrangler also lacks side curtain airbags designed to deploy in a rollover to keep occupants inside.
"It is not required by regulation to have side curtain airbags because of its removable roof."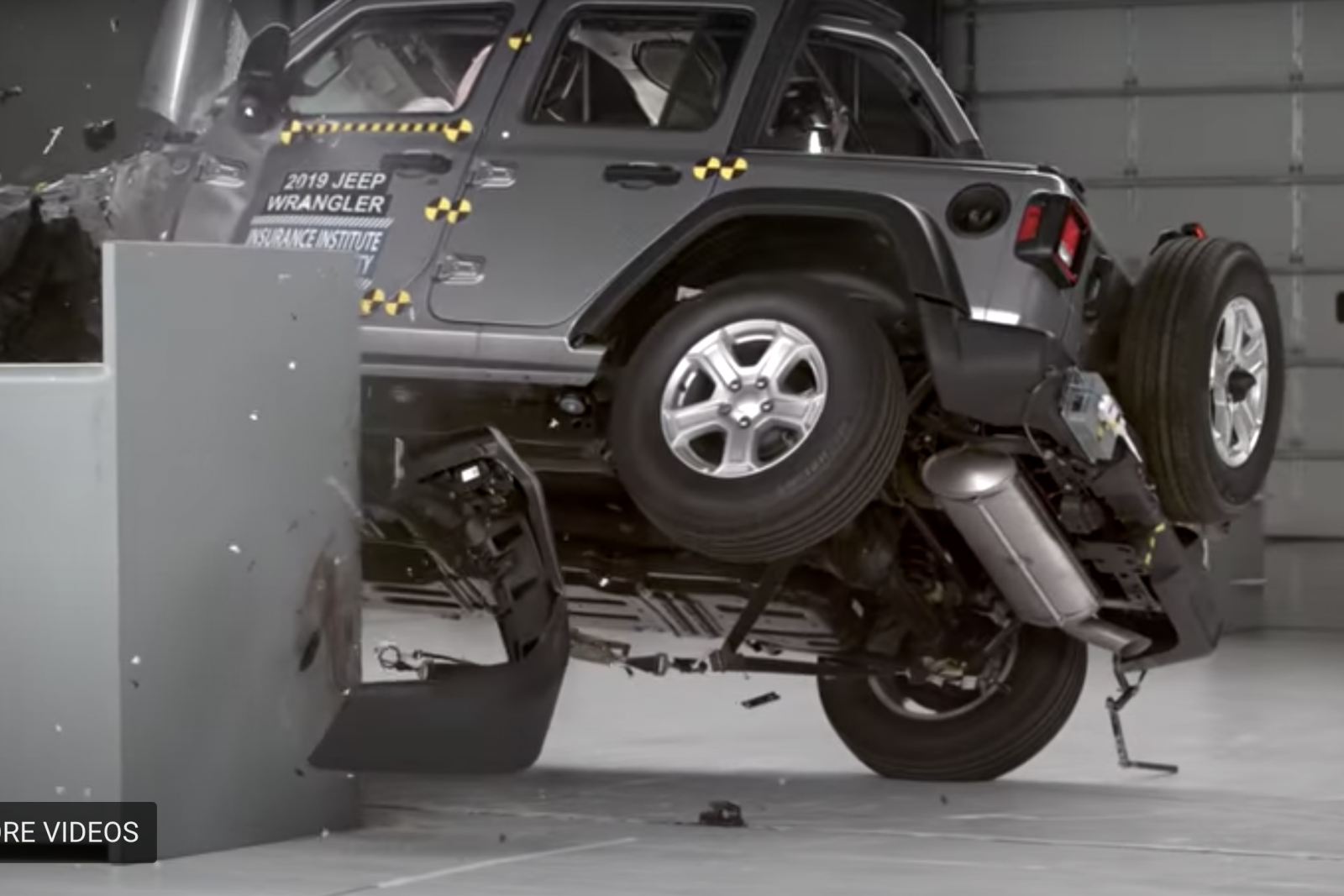 Fiat Chrysler today responded to the Wrangler's poor showing with the following statement:
"FCA has produced more than 500,000 of these vehicles. By conservative estimate, they have accounted for 6.7 billion miles of on-road driving.
"From this population, we are unaware of any incidents that correlate to the vehicle dynamic portion of the IIHS test result.
"With more than 75 available safety and security features, the Jeep Wrangler Unlimited meets or exceeds all federal safety standards and continues to win acclaim from news organisations and consumer groups.
"Since its 2017 introduction, the vehicle has earned one award nearly every eight weeks for attributes ranging from capability to residual value, and for achievements such as highest customer loyalty and SUV of the year.
"FCA routinely monitors third-party evaluations and factors such findings into our product-development process. We design our vehicles for real-world performance. And real-world data, along with continuing demand, indicate the Jeep Wrangler Unlimited meets or exceeds customer expectations."