See prices tailored to you, select a variant and enter your postcode!
2023 Renault Arkana
See prices tailored to you, select a variant and enter your postcode
About the Renault Arkana
The Renault Arkana offers what plenty of buyers want – a European coupe SUV – on a budget. It sits between the Captur and Kadjar in the Renault range, and takes on the Mazda CX-30.
Summary
Our expert's shortest summary
Hit
Handsome exterior design
Slick-looking interior
Punchy turbocharged engine
Miss
Sloping roof eats into headroom
Infotainment is a step off the pace
Dual-clutch auto can be jerky
Video Review
Renault Arkana Video Review
Skip to chapter
Intro
Exterior
Interior
Infotainment
Safety Tech
Practicality
On the Road
0 - 100 km/h
Verdict
2023 Renault Arkana (inc. 0-100) detailed review
Like the Renault Captur, but want something bigger? Well, that's where the Renault Arkana steps in! Paul Maric gets behind the wheel of the 2023 Renault Arkana RS Line - the F1-inspired SUV that sits on the Captur platform. Is it any good?
Renault Arkana Photo Gallery
CarExpert High Resolution Photos of the Renault Arkana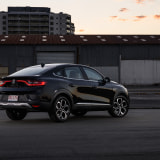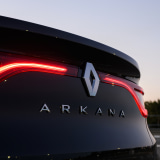 News
All the latest Renault Arkana news
Renault Arkana Range Guide
Which variant of the Renault Arkana range is best for you?
The base Arkana Zen has:
Adaptive cruise control
Semi-automatic parking assist
Front, rear, side parking sensors
Blind-spot monitoring
LED headlights
7.0-inch infotainment touchscreen
Apple CarPlay and Android Auto
4.2-inch digital driver's display
Heated leather steering wheel
Black leatherette seat trim
Climate control
17-inch two-tone wheels
Moving to the Arkana Intens brings:
Rear cross-traffic alert
Auto brake hold
9.3-inch infotainment touchscreen with satellite navigation
7.0-inch driver display
Changeable drive modes
Adjustable ambient lighting
Leather and suede seat trim
Heated, ventilated, electrically-adjustable front seats
18-inch two-tone alloy wheels
The range-topping Arkana R.S. Line gets:
Opening sunroof
Heated, perforated leather steering wheel
Frameless auto-dimming interior mirror
Wireless phone charging
Red interior stitching
Carbon-style interior trim
Unique R.S. Line exterior
18-inch two-tone alloy wheels with red accents
Price & Specs
See comprehensive price and specification details for the Renault Arkana
Interior
Photos and Images of the Renault Arkana Interior
Renault has a clear formula for its latest interior designs, and the Arkana doesn't deviate far from it. That's a good thing.
The dashboard is dominated by a vertical touchscreen, and the combination of silver trim and soft-feeling leather makes the cabin feel more upmarket than you might otherwise expect of a sub-$40,000 crossover.
It's very similar to the Captur, although it's not quite identical. The transmission tunnel on the Arkana is a bit simpler, without the wing-shaped, dual-tier storage space you see on the Captur.
It doesn't look as fancy, but the Arkana's conventional gear shifter is easier to use than the fiddly one in its little brother.
The leather-wrapped steering wheel feels great in your hands, and the partially-digital instruments are easy to read at a glance – a fully-digital instrument binnacle is an $800 option.
The driver and passenger sit in well-padded, heated and ventilated seats that are just accomodating enough for leggy drivers.
Short people are likely to enjoy the commanding feeling of being sat up high, but headroom is tight for taller drivers, and the central rear-view mirror sits close to your head because of how the windscreen slopes.
Renault's infotainment system is a mixed bag. It's pretty to look at and fully-featured, with a Tesla-ish vibe because of its vertical orientation, but it's not the fastest system out there.
It's easy to navigate, but the graphics are a bit blocky and it's not as quick to respond as maybe you'd expect in the iPad age.
Although it's not far off the mark it doesn't quite have the substance to match its style, which is a shame.
There's plenty of storage space up front, although the lack of wireless phone charging or USB-C connectivity is a bit disappointing. There are two USB-A ports under the dash.
With a long body and long wheelbase, the Arkana has plenty of legroom in the back for average-sized adults sitting behind average-sized adults. Headroom is tight though, as you'd expect of a car with such an aggressively-sloped roof.
Tall teenagers will have their hair brushing the headlining, although kids and shorter adults will be fine.
With air vents, dual USB-A ports, a fold-down central armrest, and reasonably large windows, the Arkana isn't short on amenities. There's also bottle-sized pockets in the doors.
Claimed boot space is 353L with the rear seats in place and the boot floor in its highest position, 485L with the floor lowered, and 1268L with the rear seats folded.
It's a long, flat area with the floor raised, and a surprisingly deep one with it lowered, although the shape of the tailgate does limit its practicality compared to a more conventional crossover.
Exterior
Photos and Images of the Renault Arkana Exterior
The base Renault Arkana Zen rides on 17-inch alloy wheels, while the Intens gets two-tone 18-inch units.
Both models have a distinctive sloping roofline, while the RS Line builds on the sporty look with black accents and wheels.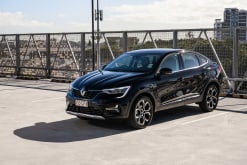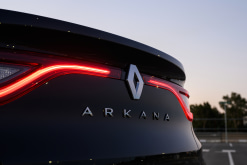 Renault Arkana Colours
What colours are available for the Renault Arkana?
Cost of Ownership
What is the running, servicing and ownership costs of buying a Renault Arkana?
The Arkana is backed by a five-year/unlimited-kilometre warranty.
Maintenance is required every 12 months or 30,000km, and there's capped-price servicing for five years.
Four of its first five services prices at $399, and one priced at $789, under the Renault capped-price program.
How it Drives
Our expert take on Renault Arkana drivability?
The Arkana drives like a slightly bigger Captur, which is mostly a good thing.
Unlike the related Nissan Juke, the Arkana has the Renault-Nissan-Mitsubishi Alliance's more powerful 1.3-litre engine.
With 115kW of power and 262Nm of torque, it's not a firecracker. But the Arkana packs a decent punch, with enough get-up-and-go to give you a nice little shove in the back.
Noise and vibrations are well suppressed in the cabin, although the engine has a gruff bark when you floor the accelerator.
It's hooked up to a dual-clutch transmission that, although not quite as smooth as an old-fashioned torque converter, is relatively smooth around town.
If you're gentle on the accelerator off the mark it hooks up nicely, but it can be a bit jerky if you aren't. Ramps and driveways are dealt with smoothly, and the transmission is nice and snappy on the move.
Sticking with a conventional gear shifter instead of the funky joystick in the Captur was a good move, too. In the Captur you're never quite sure if you're in drive or reverse, in the Arkana there's never any doubt.
Although it's bigger than the Captur, the Arkana handles with the same agile feeling as its little brother.
The steering is light, and the Kumho tyres have plenty of grip if you're in the mood to get racy. They're a bit noisy on the highway, unfortunately, but that's often the trade-off you need to make for quality rubber.
With a tall driving position and light steering, the Arkana is a breeze to drive in the city.
Its biggest issue is visibility, given it combines a sloping C-pillar with a slim rear window, but the parking sensors and (decent, not standout) reversing camera mean there's no excuse for dinged bumpers or kerbed wheels.
Even the ride is good, which isn't always the case when it comes to small-ish SUVs on big wheels. Occasionally a sharp-edged bump will make its presence felt, but for the most part it's very refined.
Unlike the Captur, the Arkana comes standard with adaptive cruise control. It's a smooth system, and generally does a good job staying at your set speed on hills.
Renault's lane-keeping system is also (generally) very good, only intervening if you're actually drifting across a white line.
It's less heavy-handed than some rival systems, but comes in when you need it.
Renault Arkana Safety Rating
ANCAP Safety Rating Australia
The Arkana has a five-star ANCAP safety rating, based on testing carried out by Euro NCAP in 2019.
It scored 96 per cent for adult occupant protection, 83 per cent for child occupant protection, 75 per cent for vulnerable road user protection, and 72 per cent for safety assist.
Standard safety equipment in Australia includes:
Autonomous emergency braking with pedestrian/cyclist detection
Lane departure warning
Lane-keep assist
Traffic sign recognition
Safe distance warning
Moving to the Intens adds rear cross-traffic alert.
75%
pedestrians & cyclists
Renault Arkana Lifecycle
How old is the current generation and when will there be a new or updated Renault Arkana?
The current generation Renault Arkana was launched in August 2021 and is currently 68 percent through its lifecycle. The last update was a new variant that was launched in March 2022 with the next model expected in 2025.
Renault Arkana Options
Options list for the Renault Arkana
Options on the Arkana include:
10.25-inch digital instrument binnacle: $800
Black roof and door mirrors: $600
Panoramic sunroof: $1500
Renault Arkana Warranty
What is the warranty period and kilometre limit for the Renault Arkana?
RENAULT suggests that owners service their 2023 RENAULT ARKANA every 12 months or 30,000km, whichever comes first.
The 2023 RENAULT ARKANA has a 5 year, unlimited km warranty.
Renault Arkana Stock Availability
Is the Renault Arkana available to buy now and what are stock levels and how long are wait times?
There is stock in the country, however current demand exceeds forecasted production so some variants may require longer lead times.
Renault Arkana Boot Space
How much luggage or cargo capacity and boot space is there in the Renault Arkana?
Claimed boot space is 353L with the rear seats in place and the boot floor in its highest position, 485L with the floor lowered, and 1268L with the rear seats folded.
Renault Arkana Fuel Economy
How much fuel does the Renault Arkana use and what are its emissions?
Claimed fuel economy for the Arkana is 6.0L/100km on the combined cycle. It has a 50L fuel tank.
The 2023 RENAULT ARKANA is Combined (6.0) and E10 Compatible (-).
Renault Arkana Dimensions
The dimensions of the Renault Arkana
The 2022 Renault Arkana measures up at 4568mm long, 1821mm wide and 1571mm tall, riding on a 2720mm wheelbase.
That makes it 341mm longer than the related Captur, on an 81mm longer wheelbase.
The 2023 RENAULT ARKANA measures 4568mm long, 1802mm wide and 1571mm tall, with a 2720mm tall wheelbase.
The 2023 RENAULT ARKANA has a braked towing capacity of 900kg and an unbraked towing capacity of 715kg.
Renault Arkana Market Fit
Where does it fit in the competitor segment?
The Arkana is a small SUV, going head-to-head with the likes of the Mazda CX-30 and Volkswagen T-Roc.
Renault Arkana Sales Data
How well has the Renault Arkana been selling?
Renault sold 299 examples of the Arkana in 2021, putting it behind all its small SUV rivals except the Citroen C4.
It was the slowest-selling SUV in the Renault range, although it outsold the Megane hatchback.
Should you buy the Renault Arkana
Is this the right car for you? Our experts buy or not guide.
Like the Captur, the Renault Arkana offers a compelling alternative to its better-known SUV rivals.
The price is right, and its handsome exterior is backed by a stylish cabin withjustenough practicality.
Renault has also corrected some of the mistakes it made with the Captur on the spec sheet, which shows the brand's new Australian distributor means business.
It's not going to suit everyone, but the Arkana confidently carves a niche for itself in one of the hottest segments of Australia's new car market.
Competitor Analysis
What other cars should you look at?
The Arkana is aimed directly at the Volkswagen T-Roc and Mazda CX-30. It's a more interesting shape than either, and packs a fairly generous list of standard equipment.
The Mazda has a more luxurious interior, however, while the Volkswagen is a slightly more polished drive.
Renault Arkana Interesting Facts
Did you know?
The Arkana might wear a French badge, but it's actually built in Korea.
Frequently Asked Questions
Variants from previous years