See prices tailored to you, select a variant and enter your postcode!
2023 MG3
See prices tailored to you, select a variant and enter your postcode
About the MG3
The MG3 is a light hatchback that serves as the entry point into MG Motor's range in Australia.
Priced from $18,490 drive-away, it's one of Australia's cheapest new cars on sale and is similar in size to the Kia Rio and Suzuki Swift.
Like the rest of MG's range, the MG3 is sourced from China.
Summary
Our expert's shortest summary
Hit
Hard to fault for the asking price
Decent infotainment technology
Drivetrain is reasonable for urban environments
Miss
Non-existent safety rating
Lacking modern active safety features
Ride can be firm on average roads
MG3 Photo Gallery
CarExpert High Resolution Photos of the MG3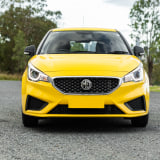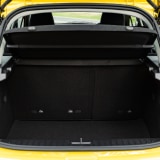 Compare
See MG3 comparisons against similarly sized vehicles
News
All the latest MG3 news
MG3 Range Guide
Which variant of the MG3 range is best for you?
MG3 Core highlights:
Reversing camera
Rear parking sensors
8.0-inch touchscreen infotainment system
Wired Apple CarPlay
Cruise control
Four-speaker sound system
Leather-wrapped steering wheel and shift knob
15-inch alloy wheels
LED daytime running lights
Tartan fabric trim
Satellite navigation is a $500 option on the MG3 Core.
MG3 Excite adds:
Leatherette and tartan fabric trim
16-inch alloy wheels
Six-speaker sound system
Satellite navigation
Price & Specs
See comprehensive price and specification details for the MG3
Interior
Photos and Images of the MG3 Interior
It feels very much like an $18,490 car on the inside. Although the MG3 surprises with some modern features like its high-resolution 8.0-inch touchscreen with wired Apple CarPlay, and an actual leather-wrapped steering wheel (take note Toyota), it by no means exudes any form of luxury or premium feel.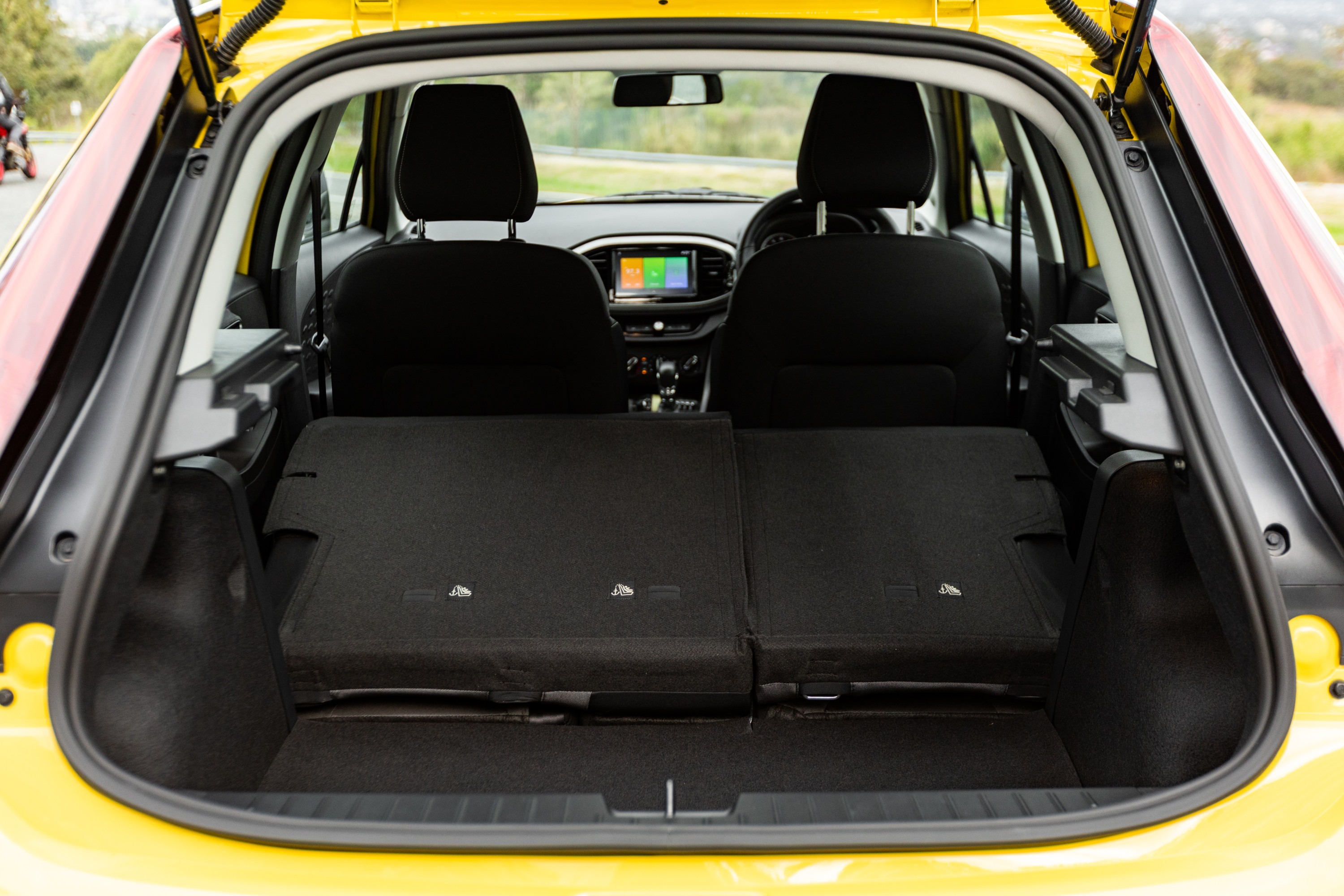 Considering the base model Toyota Corolla has a plastic steering wheel and looks not all that much better inside (in fact, the MG3 has more soft touch plastics), it's hard to really criticise the MG3's interior given the price.
We would go so far as to say, the front seats are actually comfortable, and you would have no issue sitting there for extended periods of time. The four-speaker stereo is decent, as is the reversing camera.
The rear seats are also pretty decent and given the MG3 is a much larger car inside than the Mirage and Picanto, it can be a more comfortable place for those looking to utilise the rear seats more frequently.
The MG3's quoted luggage capacity is 307L, increasing to a maximum of 1081L with the rear seats folded.
You really don't need to pay the extra $500 for satellite navigation if you have an iPhone, given it will mirror its significantly better navigation system to the MG3's large screen via Apple CarPlay.
Exterior
Photos and Images of the MG3 Exterior
All models get LED daytime running lights and alloy wheels as standard, with the Core scoring 15-inch rims and the Excite getting more upmarket 16-inch wheels in machined finish.
Not much else distinguishes the two trim levels externally.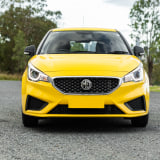 MG3 Colours
What colours are available for the MG3?
The following colours are available:
Tudor Yellow
Dover White
Pebble Black
Skye Silver metallic
Metallic paint is a $500 option.
Cost of Ownership
What is the running, servicing and ownership costs of buying a MG3?
The MG3 is covered by a seven-year, unlimited-kilometre warranty.
During 2021 the company introduced capped-price servicing for the MG3, with intervals quoted at 12 months/10,000km – whichever comes first.
Pricing is as follows:
12 mths / 10,000km: $243
24 mths / 20,000km: $285
36 mths / 30,000km: $279
48 mths / 40,000km: $330
60 mths / 50,000km: $243
72 mths / 60,000km: $321
84 mths / 70,000km: $243
How it Drives
Our expert take on MG3 drivability?
Look, it's pretty slow. You wouldn't expect it to be a rocket ship anyway, but it really needs you to flatten the accelerator to get any kind of overtaking done on the highway. Even then, that's not something you want to do all that often.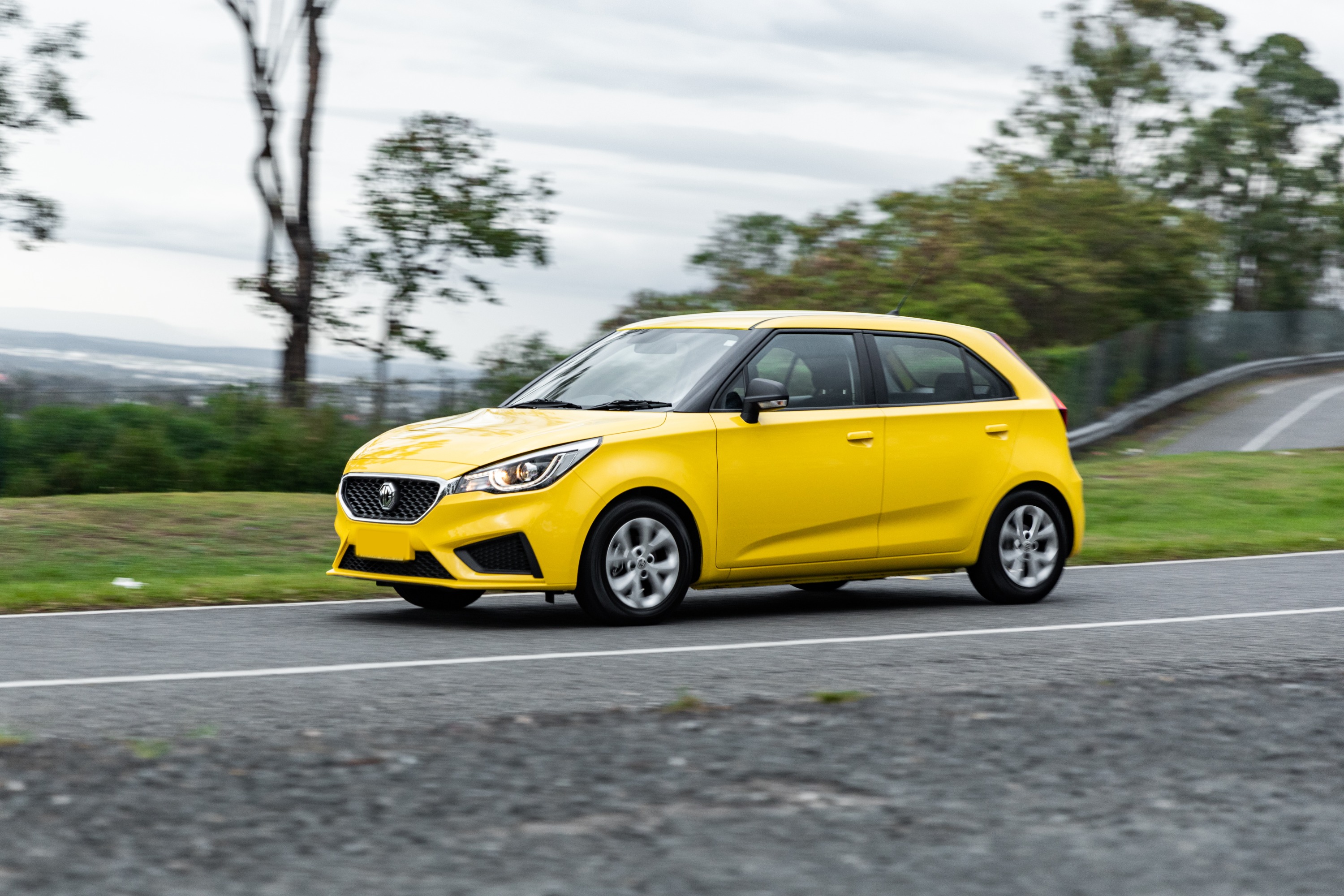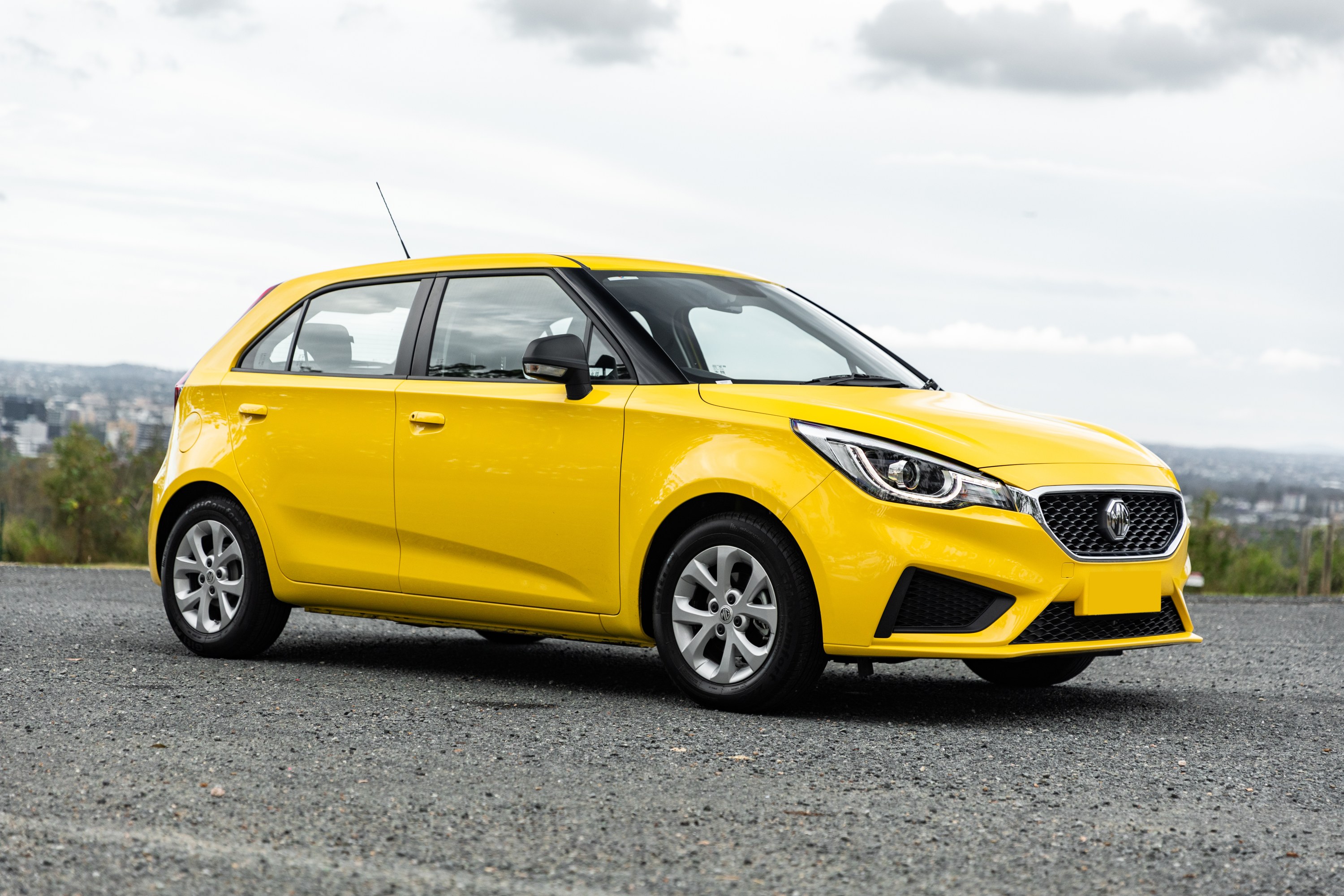 It will absolutely get the job done as an inner-city commuter, but if you intend to do lots of driving on highways in the country where overtaking trucks is a regular requirement, we would probably recommend something with a little more power.
The MG3 isn't not slow enough to be painful though, and the decision to go for a four-speed automatic transmission in lieu of a CVT makes the driving experience less droney, and more engaging.
We found the transmission at times hesitant to drop down a gear to get going, but if you drive it often and get used to its character you will better understand how to extract its (limited) power.
We found the ride of the MG3 to be on the firmer side. It tends to absorb a fair bit of poorly-surfaced roads and pass that vibration and harshness through the cabin.
You do feel a lot through the seat and steering wheel. Although this is probably unnoticeable to most drivers who are jumping into perhaps their first car or coming out of an old car, it's sub-par compared to competitors like the Picanto.
Overall, we rate the MG3's on-road manner as decent for inner-city and urban driving where the roads are smooth and the highways are infrequent, but outside of that we suggest an alternative choice.
MG3 Safety Rating
ANCAP Safety Rating Australia
There is no ANCAP safety rating for the MG3. Not only that, it misses out on autonomous emergency braking (AEB), lane-keep assist, and driver attention monitoring.
Despite lack of local crash testing (which is somewhat bizarre given ANCAP's own website simply says untested, despite the car's popularity), there is an Euro NCAP safety rating of the pre-facelift model from 2014, which rates the car at three stars – though this rating has now 'expired' in 2021.
It's important to point out that a 2014 safety rating score is very different to a 2022 score and the criteria for getting even that three-star rating is now substantially more difficult than before.
The lack of a modern safety rating is the main question mark hanging over the MG3's head, especially compared to cars like the Kia Picanto that managed a four-star ANCAP safety rating in 2017, or the Mitsubishi Mirage and its five-star ANCAP rating from 2013.
All 2022 MG3 models come standard with anti-lock brakes and front, front-side and curtain airbags.
MG3 Lifecycle
How old is the current generation and when will there be a new or updated MG3?
The current generation MG3 was launched in February 2017 and is currently 89 percent through its lifecycle. The last update was a limited edition release that was launched in August 2019 with the next model expected in 2024.
MG3 Options
Options list for the MG3
Other than metallic paint, the only other option available for the MG3 is inbuilt satellite navigation on the entry-level Core, which costs $500.
MG3 Warranty
What is the warranty period and kilometre limit for the MG3?
MG suggests that owners service their 2023 MG MG3 AUTO every 12 months or 10,000km, whichever comes first.
The 2023 MG MG3 AUTO has a 7 year, unlimited km warranty.
MG3 Stock Availability
Is the MG3 available to buy now and what are stock levels and how long are wait times?
MG has better stock of the MG3 than most of its rivals.
The brand earlier this year welcomed its own shipload of cars Down Under, and hasn't been hit by the same supply crunch as other carmakers due to its different supply chains.
MG3 Boot Space
How much luggage or cargo capacity and boot space is there in the MG3?
The MG3's total luggage space is 307L, increasing to 1081L with the rear seats folded.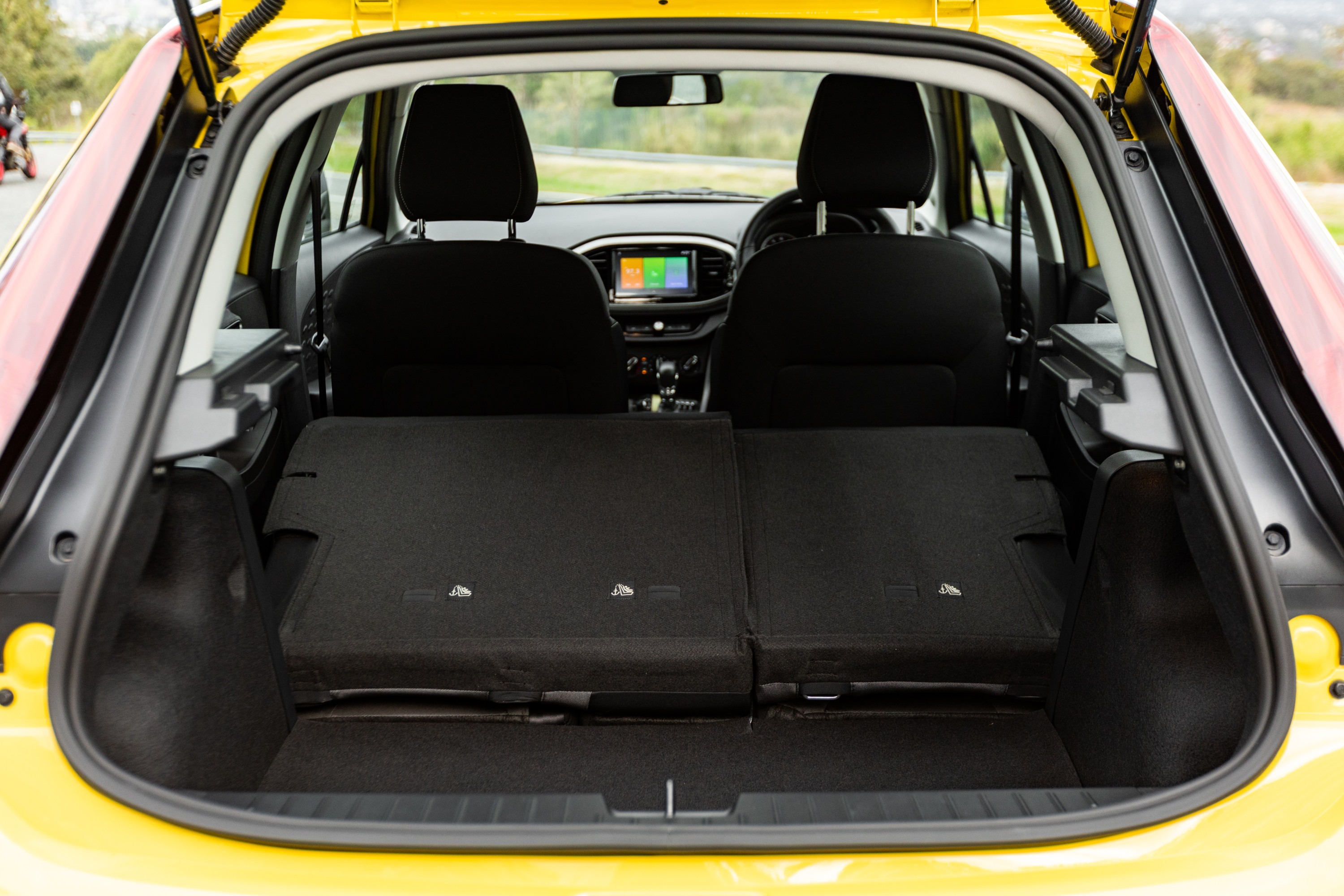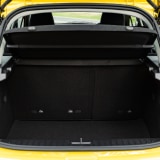 MG3 Fuel Economy
How much fuel does the MG3 use and what are its emissions?
The MG3 returns a claimed combined fuel economy figure of 6.7L/100km. MG's naturally aspirated 1.5-litre engine can use 91RON fuel, but given Australia's notoriously poor fuel quality, 95RON would be a better bet.
Fuel tank capacity is rated at 45 litres.
The 2023 MG MG3 AUTO is Combined (6.7) and E10 Compatible (-).
MG3 Dimensions
The dimensions of the MG3
The 2022 MG3 measures 4055mm long, 1504mm tall and 1729mm wide, with a 2520mm wheelbase.
The 2023 MG MG3 AUTO measures 4055mm long, 1729mm wide and 1504mm tall, with a 2520mm tall wheelbase.
The 2023 MG MG3 AUTO has a braked towing capacity of 200kg and an unbraked towing capacity of 200kg.
MG3 Market Fit
Where does it fit in the competitor segment?
The MG3 goes head-to-head with the Kia Picanto and Mitsubishi Mirage, chasing buyers after a small car on a budget.
MG3 Sales Data
How well has the MG3 been selling?
The MG3 finished 2021 as Australia's favourite Light Passenger vehicle.
With 13,774 sales for the calendar year, the MG3 accounted for 1 in 3 Light Passenger sales (32.0 per cent share) and outsold #2 seller, the Kia Rio, by more than 2 to 1.
The MG3 also posted yearly growth of 92.4 per cent in 2021.
Should you buy the MG3
Is this the right car for you? Our experts buy or not guide.
In the current market of high used car prices, never before has an MG3 made more sense for so many first-car buyers on a tight budget.
With a seven-year warranty, decent infotainment technology, and reasonable servicing costs, the MG3 is popular for a reason.
If the car had a five-star safety rating we would have no hesitation to recommend the city car as a great cost-conscious offering.
But as it stands, it really comes down to what a safety rating means to you, and whether you're amenable to the idea of buying a five, six, or seven year-old used car without warranty with an older ANCAP rating, or if you'd prefer a modern car with warranty that lacks that surety.
Competitor Analysis
What other cars should you look at?
The MG3 is classed as a Light Passenger vehicle according to VFACTS, meaning it competes with the likes of the Kia Rio, Mazda 2, Skoda Fabia, Suzuki Swift, Toyota Yaris and Volkswagen Polo in terms of size.
However, its sub-$20,000 positioning means it undercuts said rivals by some margin, instead competing in a price bracket with smaller Micro Passenger vehicles such as the Kia Picanto and Mitsubishi Mirage.
MG3 Interesting Facts
Did you know?
MG's parent company SAIC Motor built 4.6 million cars for markets around the world in 2021.
The MG3's front three-quarter window cut-outs are a stylistic nod to the first-ever four-door MG built in 1924 – a four-door saloon built on a Morris Oxford chassis.
Frequently Asked Questions