Mazda CX-90 Comparison
Mazda's all-new CX-90 flagship SUV is big, bold, and gunning for the premium players. Fully optioned, you're looking at over $100,000.
The 2024 Mazda CX-90 will start arriving in local showrooms from August this year, with pre-orders now open for the brand's biggest, most luxurious model.
Powered exclusively by 48V electrified inline-six engines at launch, the CX-90 will not only compete with the likes of the Hyundai Palisade and Nissan Pathfinder, but also entry-level versions of the Audi Q7 and Volvo XC90.
As with the smaller Mazda CX-60, which rides on the same rear-drive platform, the CX-90 will be offered in Australia with three trim levels. The inline sixes (one petrol, one diesel) are the only options available at launch, though a 2.5-litre plug-in hybrid is expected to be offered sometime next year.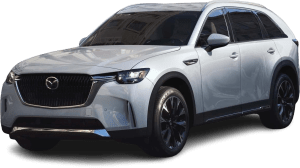 Mazda CX-90
Select from the models below
Compare side by side the Mazda CX-90 to other cars in its category by clicking any of the cars below