Everybody thinks BMW 3 Series, Mercedes-Benz C-Class or Lexus IS when shopping for a luxury sedan that won't break the budget.
But the latest entrant from Volvo, the 2020 Volvo S60 T5 Momentum now offers value for money, a punchy turbocharged four-cylinder petrol engine, and all-wheel drive. It has to tools to set a cat amongst the pigeons.
Volvo has a great reputation on the safety front, but the brand was often let down in Australia by expensive servicing costs and a three-year warranty. Both of those things have now changed.
So, does the latest Volvo S60 offer enough of an incentive to part ways with the German and Japanese establishment?
How does the Volvo S60 fare vs its competitors?
View a detailed breakdown of the Volvo S60 against similarly sized vehicles.
How much does the Volvo S60 T5 Momentum cost?
The Volvo S60 range kicks off from $55,990 before on-road costs in Australia with the S60 T5 Momentum tested here, and tops out at $84,990 before on-roads for the top-specification T8 R-Design plug-in hybrid.
As opposed to its competitors, the entire Volvo S60 range now uses an on-demand all-wheel drive system. It's slightly more complex than a conventional rear-wheel drive arrangement like you'd find in the entry-level BMW 3 Series or Mercedes-Benz C-Class, but it offers more surety and better traction on wet roads.
There are nine colours available, and all but solid white cost an additional $1154.
What do you get?
Given the S60 T5 Momentum sits at the bottom of the S60 range, you'd expect the feature list to be fairly minimal.
But Volvo offers an impressive level of standard equipment for the asking price. On the outside you'll find full adaptive LED headlights and tail lights, with LED daytime running lights, 17-inch diamond-cut alloy wheels, automatic headlights and windscreen wipers, proximity entry and start, front and rear parking sensors, and a reverse-view camera.
Inside the cabin there are leather-accented seats, electric windows with auto up/down, AM/FM and DAB+ radio, dual-zone automatic climate control, TFT driver display, 9-inch portrait infotainment display, power folding door mirrors, and Apple CarPlay and Android Auto integration.
While the standard specification is pretty generous, there are a number of options and option packages available to be added on. Some of the additions should probably be standard, or available individually as opposed to part of a package, but they're thankfully not overly expensive.
Some examples are the $846 Climate Pack that adds steering wheel heating and seat heating for the both rows, a $769 360-degree reverse-view camera, a $231 wireless phone charger, or a $1462 head-up display. They're not expensive, but they add up if you start ticking boxes.
Is the Volvo S60 T5 Momentum safe?
It's a Volvo, so yes! The Volvo S60 range scored five stars when assessed by ANCAP. You can read more about the test results and how it performed on the ANCAP website.
In terms of individual scores, the S60 returned 96 per cent for adult occupant protection, 88 per cent for child occupant protection, 74 per cent for vulnerable road user protection, and 77 per cent for the safety assist score.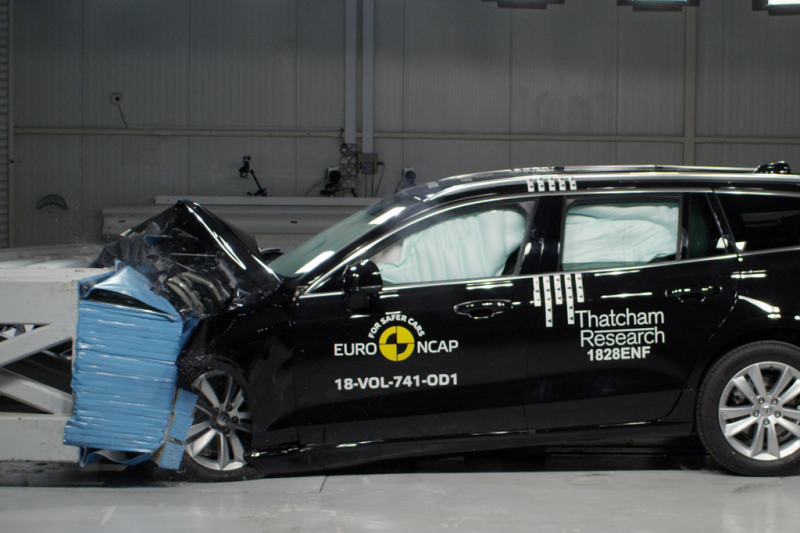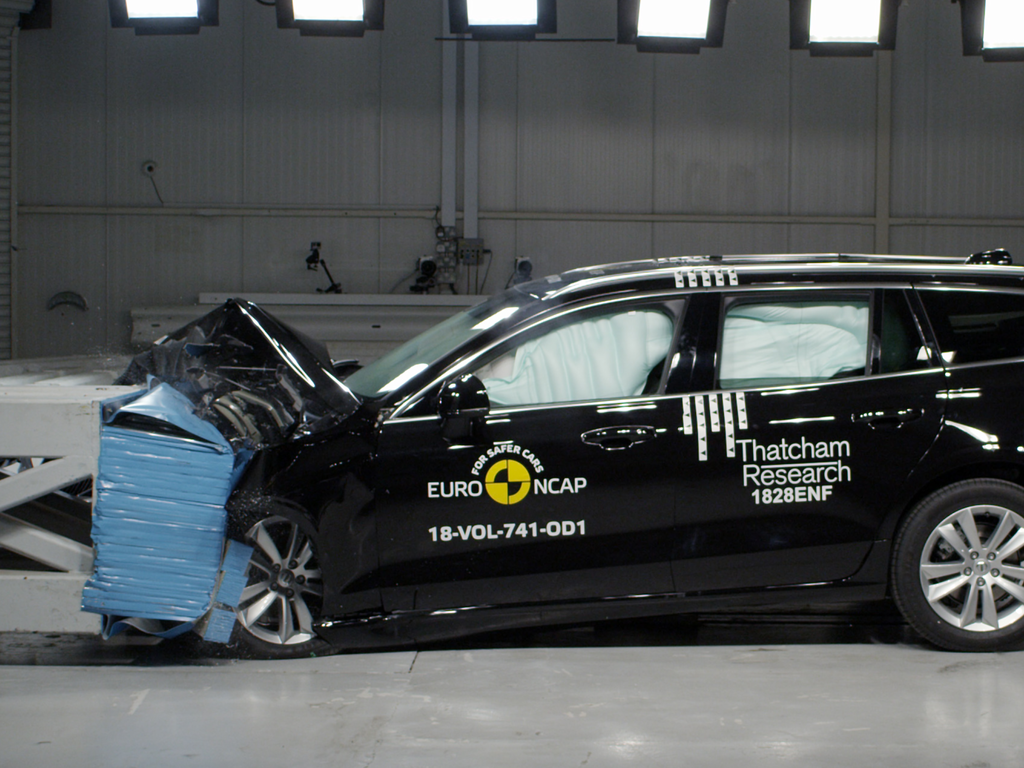 The Volvo S60 range comes standard with low- and high-speed autonomous emergency braking (AEB), reverse AEB, blind-spot monitoring, lane-keeping assist, along with eight airbags with coverage for all occupants.
What is the Volvo S60 T5 Momentum like on the inside?
The interior is beautifully presented with a defined, flowing dashboard that blends into the centre stack, where you'll find the infotainment system and a minimalistic set of controls. The centre stack sits high and offers plenty of storage, while also featuring a padded centre armrest.
Much of the interior is finished in soft-touch materials that increase the premium feel.
In terms of fit and finish, well, that's where the S60 isn't as impressive. We found the centre console would creak and there were a few other parts of the cabin that didn't feel as well finished as they could be. The S60 is built in the United States and for the most part feels similarly built to Volvo's Swedish and Chinese manufactured cars, but this one was the exception to the rule.
The screen ahead of the driver is a full LCD display that replaces traditional analogue gauges. It looks good but feels a little dated. It's not as sharp or responsive as Audi's Virtual Cockpit, and feels a generation behind the rest in the segment.
On the infotainment front, the 9.0-inch portrait infotainment display is a welcome inclusion with responsive menu hopping and easy to use controls. It can be fiddly to use while on the move, but for the most part it does the job.
It comes with integrated Apple CarPlay and Android Auto, both requiring a cable to connect. It's a shame the integration is in a small box on the screen, it doesn't really stretch to take advantage of the portrait display.
There's a voice control system that works well and can interact both with the connected phone or the inbuilt satellite navigation system. The infotainment system also allows applications to be installed for extra functionality via a 4G connection.
The standard sound system is good, but our vehicle was fitted with the optional 14 speaker harman/kardon sound system ($1346) that includes a subwoofer. It's a cracking system and does a great job in a cabin this size – we were really impressed.
Outside of that, we loved the inclusion of automatic up/down on all four windows, plus the ability to child lock the doors and restrict window use for the second row from the front seat.
Leg- and headroom in the first row is good and it's a similar story in the second row. I had plenty of headroom, knee room was generous with the front seat in my regular driving position, but I did find toe room compromised by the low base of the driver's seat.
In the second row you'll find a centre arm rest with cup holders, access to the boot, air vents mounted to the B-pillar, a 12V outlet, and ISOFIX points on the two outboard seats. All seats in the car are incredibly comfortable. They wrap you in nicely and you sink into them, they are really great.
Cargo capacity comes in at 442 litres with a space saver spare tyre located under the cargo floor.
What's under the bonnet?
The S60 T5 Momentum powered by a 2.0-litre four-cylinder turbocharged petrol engine producing 187kW of power and 350Nm of torque.
It's mated to an eight-speed torque converter automatic transmission and requires 95RON premium unleaded fuel.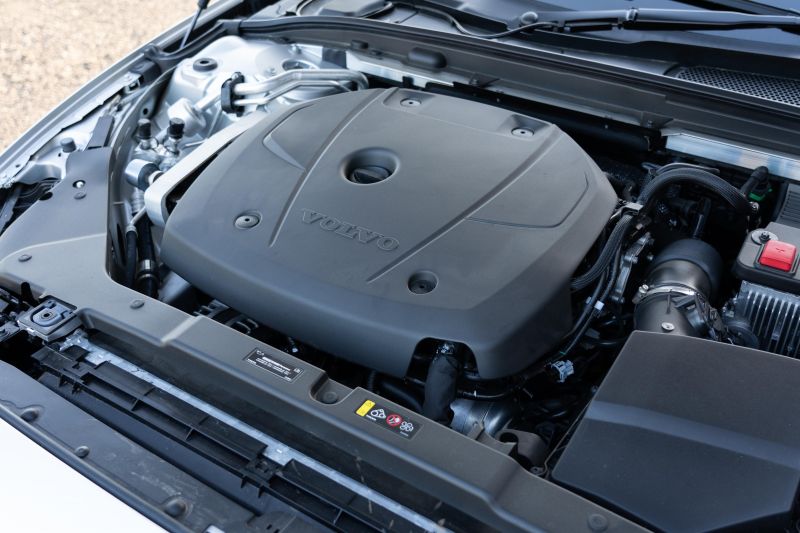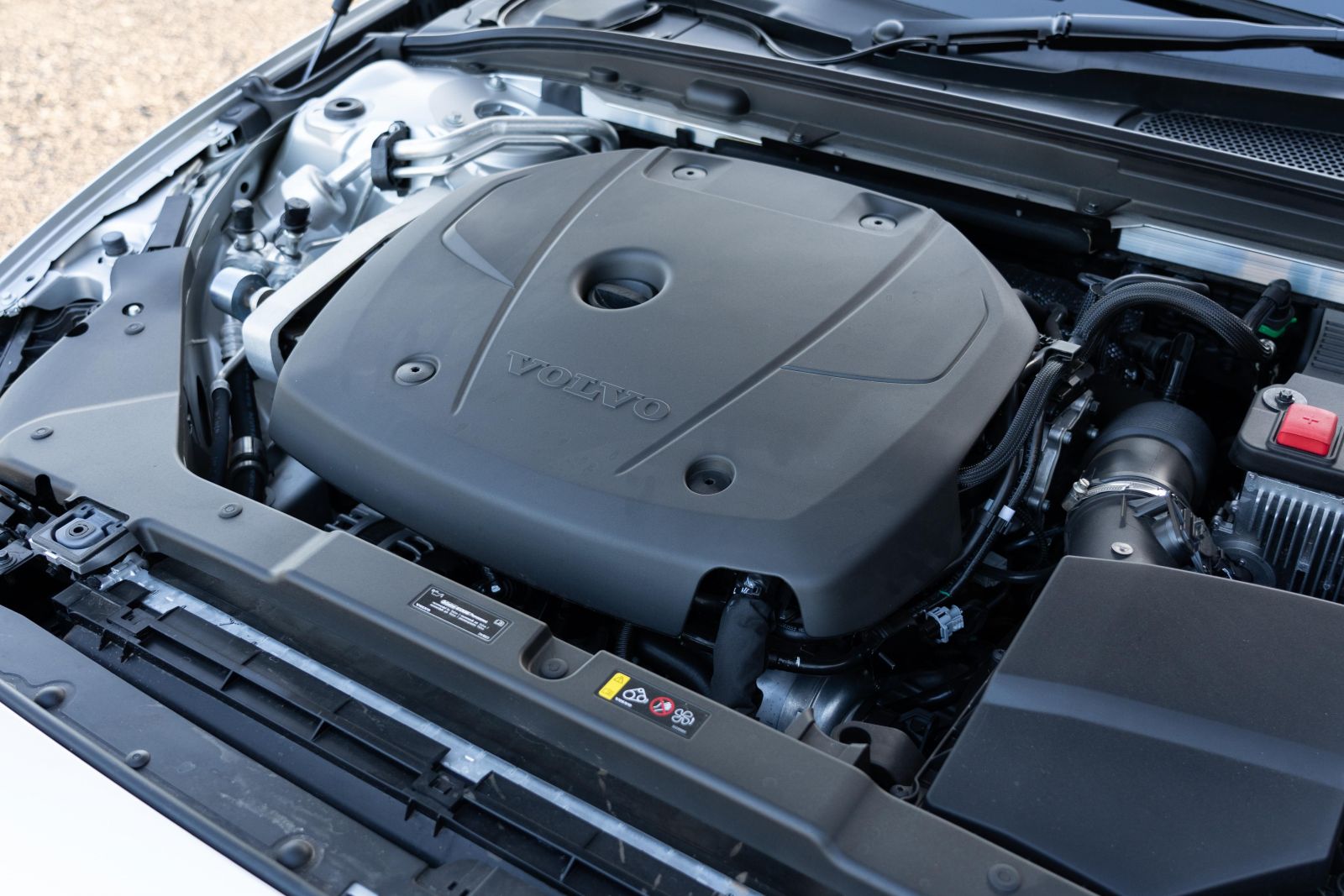 On the combined cycle it consumes 7.3 litres of fuel per 100km, with our testing settling at around 8.5L/100km after a week of driving over a mix of city, highway and country roads.
According to Volvo it does the 0-100km/h sprint in just 6.4 seconds, which is pretty impressive for an entry-level sedan like this.
How does the Volvo S60 drive?
The engine is arguably the real highlights of this package. The 2.0-litre turbocharged four-cylinder engine is incredibly eager and works well with the eight-speed automatic transmission.
It produces its peak torque of 350Nm between a broad rev range (1500rpm – 4800rpm), which makes it incredibly versatile and means that you don't have to rifle back through gears constantly, the engine can lean on the torque band to get the most from the package.
The eight-speed automatic transmission is also impressive, with smooth shifts and the ability to be manually overridden if you're feeling racy.
There are also drive modes to select using the knurled central drive selector. It's the standard fare – eco, normal and sport, with the sport mode going back through the gears, and increasing steering weighting.
You can get adaptive dampers for an additional $1250 or sport suspension for an additional $750. We found the standard suspension to be pretty good.
Normally Volvos without air suspension or adaptive damping and low-profile wheels tend to ride quite poorly. With standard 17-inch alloy wheels, this tends to do well on its own without needing to tick suspension option boxes.
It soaks up bumps and corrugations nicely, and doesn't transmit a great deal of that feeling through to the cabin or via the steering wheel. It copes well with speed humps and settles quickly if you hit a consecutive set of potholes or imperfections.
Build
Global Manufacturing
The Volvo S60 is built in the USA, but Volvo also manufactures cars in Sweden and China depending on the model range.
The on-demand all-wheel drive system works well. It's predominantly a front-wheel drive car with the rear axle engaged during dynamic driving or when the front axle loses traction. It's a Haldex coupling, for those of you playing at home.
Dynamically the S60 doesn't feel as spritely as a BMW 3 Series, but it feels more engaging to drive than a C-Class. It's slightly held back by its weight – tipping the scales at 1767kg (tare). To put that into context, the rear-wheel drive BMW 330i weighs just 1433kg (tare).
Despite its weight, the S60 T5 will accelerate from 0-100km/h in 6.4 seconds, which is around 0.6 seconds slower than the entry-level BMW 330i and 1.3 seconds quicker than the Mercedes-Benz C200.
The body sits fairly flat through corners and while steering feel is good, it's not quite as sharp as the sportier 3 Series. With that said it can be fun to drive and the 2.0-litre engine sounds sonorous once you get stuck into it.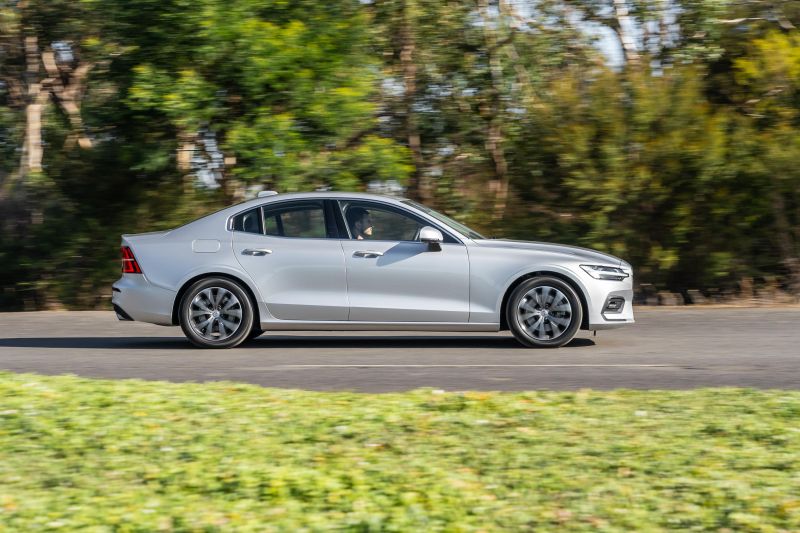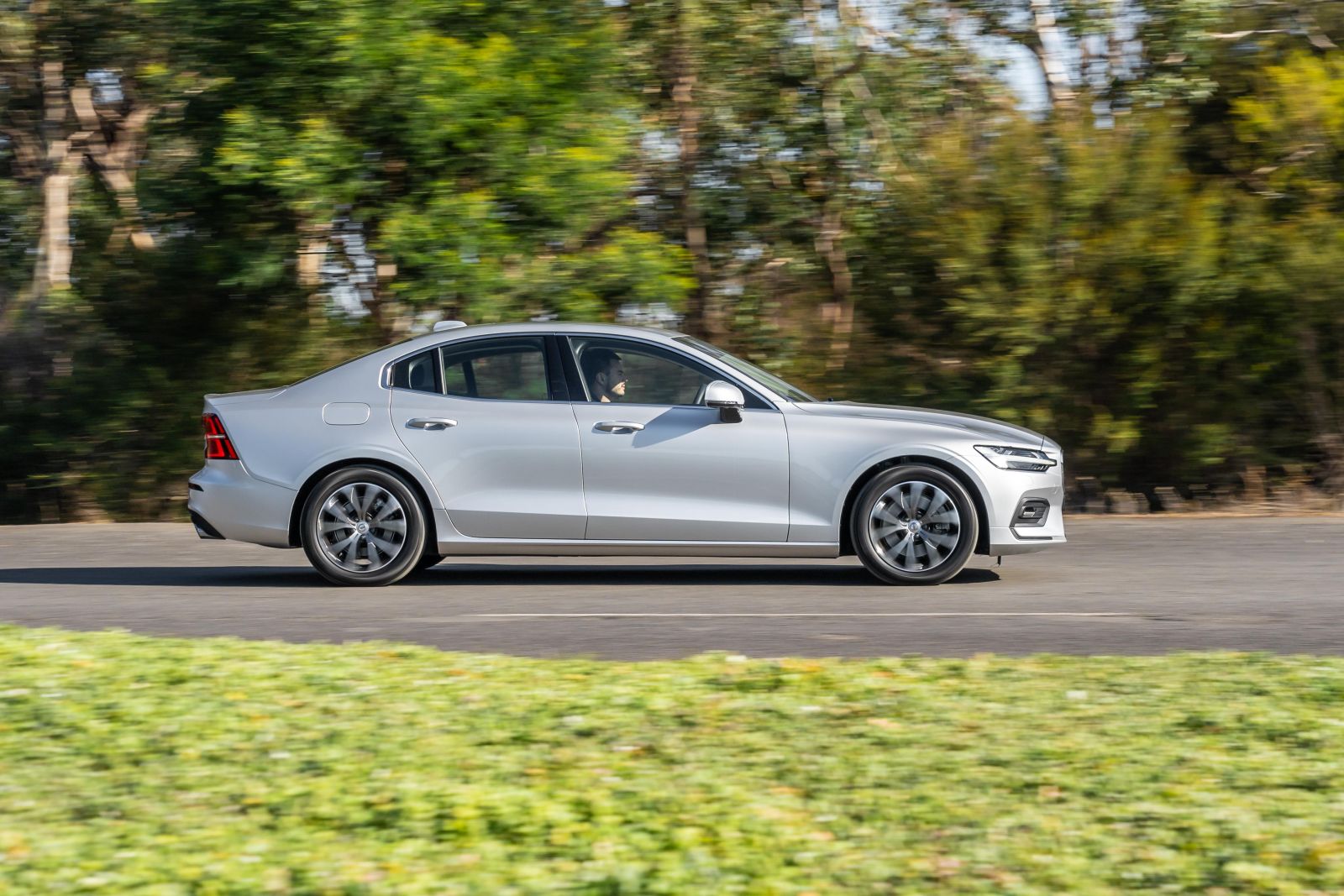 Hit some country roads and cabin noise is fairly minimal, as is tyre noise. Those larger 50 profile tyres do a great job of isolating road noise even on coarser sections of country road.
Visibility out of the cabin is great with clear vision out the front and sides. The blind spot monitoring system is built into the wing mirrors and is signalled via a long, thing strip of light as a vehicle approaches. Visibility out the rear is good too, with a clever system that drops the rear headrests at the push of a button to improve visibility.
The vehicle's assistance systems, such as radar cruise control and lane-keeping assistant, generally work well but we found the lane keeping function to be slightly inconsistent.
How much does the Volvo S60 cost to run?
Volvo now offers a five-year, unlimited-kilometre warranty and has introduced capped price servicing.
Over a three-year period, the Volvo S60 T5 Momentum costs $1595 to service, with intervals every 15,000km or 12 months (whichever occurs first).
That comes out to an average service cost of $532 per service. Volvo also includes five years of roadside assistance with each purchase.
CarExpert's take on the Volvo S60 T5 Momentum
Normally we'd recommend thinking twice about a Volvo with a limited warranty period and expensive servicing. But Volvo has listened to customers and increased warranty coverage to five years, and also made servicing a less bitter pill to swallow.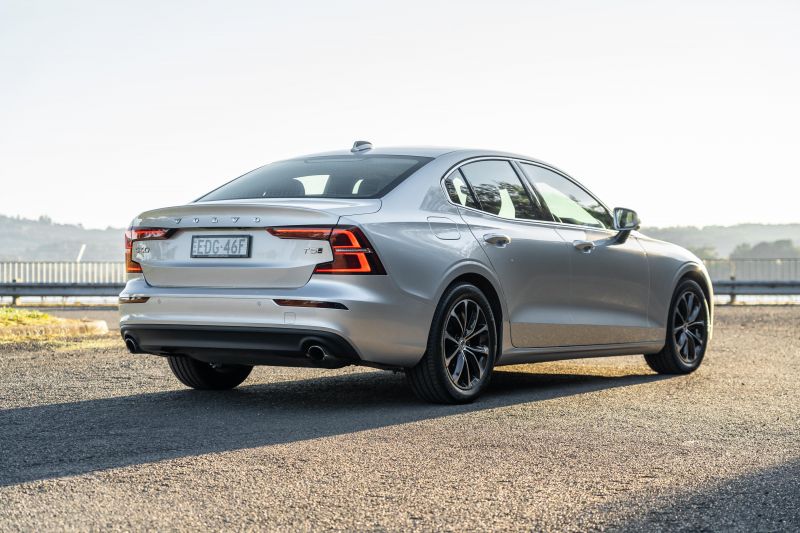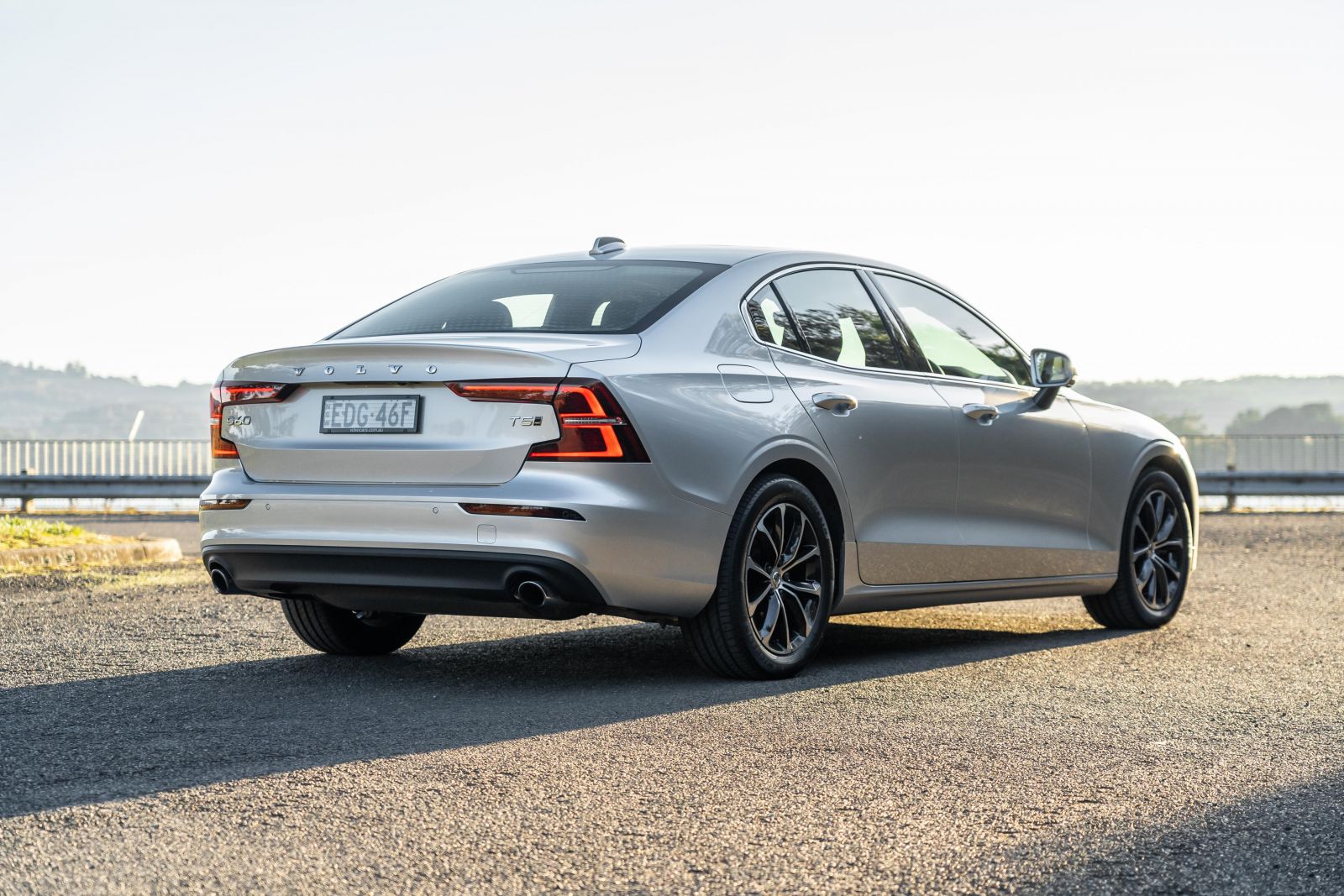 The Volvo S60 is the perfect mix between luxury and performance – it doesn't feel too much like a Mercedes-Benz or likewise a BMW, it sits nicely in between those two.
It presents well on paper and that translates to the feel behind the wheel. The Volvo S60 really is hard to fault and we're keen to see more of these hitting the roads.
Just be careful of options pricing and not getting too sidetracked with spending money on things you don't need. Outside of wireless phone charging, heated seats and a 360-degree camera, it has pretty much everything you need.