Utes are some of the most popular vehicles sold in Australia.
It's easy to see why. Today's models can act as a rugged workhorse, with the flexibility to be a relatively safe and practical family car that can tow a boat or caravan during those weekend getaways.
The cargo bed is key to the versatility of these vehicles, and in turn, bed liners and bed mats are an essential item that can help protect the tub's underlying metal and paintwork from damage, regardless of what type of goods are being carried or loaded.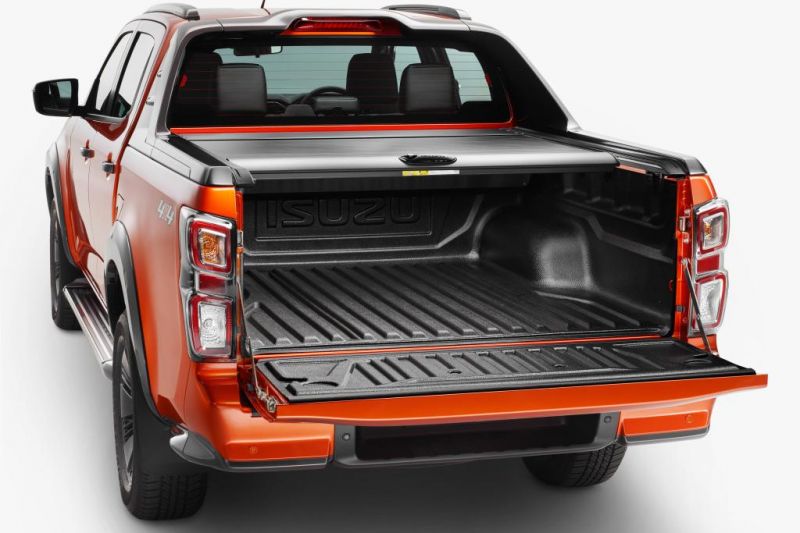 Many new utes sold in Australia in a pickup configuration (as opposed to a cab-chassis) come equipped from the factory with some type of liner. Depending on the type, these can also be added relatively easily in the aftermarket as an accessory or through a DIY installation.  
The primary difference between a bed liner and a bed mat is that the former aims to cover the entire inside of the tub, whilst the latter covers only the floor (and not the sides). These are not mutually exclusive, however, and a popular option is to install a bed mat over a liner. 
There are two key types of bed liners, namely spray-on or drop-in.
Bed liners: Spray-on 
Per its name, a spray-on bed liner is applied much like an aftermarket paint job, and consists of a special type of resin. The specific formulation of this varies by brand, but is generally made from an elastomer such as polyurea or polyurethane. 
Applying a spray-on bed liner may involve a specialist installer masking off the rest of the ute to prevent overspray, and then sanding down the inside surfaces of the tub, to create a rough surface to which the coating can cling to whilst it cures. Alternatively, some types of bed liners can also be applied in a DIY fashion using a roller, much like painting a wall.
Note that once applied, a spray-on coating is permanent and thereby difficult, if not impossible, to reverse.
When deciding which brand of coating to apply, it may be useful to find out whether the compounds used are aromatic or aliphatic in nature.
An aliphatic compound is not UV light sensitive, and therefore more fade resistant than its aromatic counterpart, which may lose its colour or become dull or grey over time. Having said that, aromatic coatings are generally cheaper and easier to find, and can also become similarly fade resistant if a UV resistant clear coat is applied on top afterwards. 
Both aromatic and aliphatic spray-on bedliners offer numerous benefits. The nature of their application means that there is no risk of moisture or water seeping in and corroding the bedliner or creating rust issues.
As the entire inside of the bed is sprayed, excellent coverage is also guaranteed, without risk of the liner being the wrong size or not covering the edges or top of the tub. Additionally, once cured, most spray-on coatings are thick enough to offer good abrasion and scratch resistance together with a grippy texture that helps keep cargo in place.
Bed liners: Drop-in
In contrast, a drop-in bed liner, as the name suggests, is a shell that fits within an already painted tub. Drop-in bed liners are typically made from rubber or plastic, and available as a universal fit or tailored to the bed of your specific ute.
These can easily be done as a DIY installation, and unlike spray-on bed liners, do not require professional equipment or specialist skills. 
When choosing a drop in liner, make sure to pay close attention to how the liner is structured.
Many models come as a 'one-piece' solution. As this needs to be folded in during the fitting process, there is a risk that the sidewalls of the liner may have significant flex, causing a looser fit. Other models come as a separate 'five-piece' panel solution that can clip in to each side of the tub, ensuring a snug fit.
Apart from making sure that a drop in bed liner appropriately fits your vehicle, another consideration is whether to choose an under-rail or over rail design.
An under-rail design sits under the lip at the top edge of the bed, and is ideal if you intend to add a tonneau cover or canopy over the top of the tub, and helps create a more seamless look when these accessories are added.
An over-rail design wraps over the top edge, and provides greater protection by ensuing that these edges of the bed are also protected, which may come in handy when unloading or loading bulky items that could otherwise scratch these surfaces. An over-rail drop in liner is ideal if you intend to leave the tub open (as opposed to adding a canopy). 
Regardless of the type of drop-in liner chosen, their primary benefits include their inexpensive nature compared to spray-on alternatives, as well as easy replaceability in case you are selling or upgrading to a new ute.
Moreover, there is also the chance that the thick rubber or plastic used to make these liners (which may depend on the model) could offer better dent and abrasion protection than a spray-on coating.
The key drawbacks of these liners stem from fitment issues. A drop-in liner cannot achieve the same precise fit as its spray-on counterpart. If a liner is particularly badly fitted, moisture could seep underneath and be stored between the liner and the tub, potentially causing corrosion or rust issues.
An improperly fitted liner may also move within the tub, potentially scratching the bed or causing further damage by itself. 
Bed mats
Bed mats are a cheaper option than either the spray-on or drop-in liners described above. Made from plastic or a rubber type material such as Nyracord, these only cover the floor of the tub.
Bed mats are ideal if your ute will only be used to carry smaller items that are unlikely to scratch the sides of the tub, and generally have a grippy texture to help prevent these items from sliding around. In many cases, bed mats can also be placed on top of a liner for an added layer of protection.          
MORE: We have pages of these technical explainer articles, all located here