Nissan has unveiled the production-ready Ariya, its first battery-electric SUV. The reveal comes a smidgen under nine months after the concept car's premiere at the 2019 Tokyo motor show. 
The Ariya, which could be fairly dubbed the Leaf hatchback's big sibling, will go head-to-head with mid-sized crossover EVs such as the Ford Mustang Mach-E, Tesla Model Y, and Volkswagen ID.4 in key electric vehicle (EV) markets across Asia, Europe, and the US. 
In short: It's built on a ground-up electric car platform rather than a repurposed internal-combustion one, will offer the choice of 65kWh or 90kWh battery packs, and premieres Nissan's twin-motor e-4ORCE (don't blame us, that's what it's called) all-wheel drive system. 
Nissan Australia is very keen to get its hands on the car as soon as possible, but don't expect to see it locally before 2022.
Japan, China, the USA and Europe are considered key regions and will get the first production slots, regardless of how much it's wanted here. More on all that further down.
Looks and size
Credit where it's due, Nissan's production Ariya looks very similar to the wider and lower concept, though admittedly the show car was unusually production-ready, given it was fitted with sensible wheels and side mirrors. 
The road-ready Ariya has the same aerodynamic shape – the sloping bonnet and tapered roofline – as the concept, interesting five-spoke alloy wheels, sleek LED headlights with four 20mm projectors per unit, a 'grille' insert incorporating "traditional Japanese kumiko patterns", and full-width rear combination lights.
A press release wouldn't be a press release without some designer-speak. Nissan calls the look 'Timeless Japanese Futurism', and says the two-tone paint job is billed 'Akatsuki'. The copper colouring is meant to reference "conductivity and the dawn of a new automotive era". 
The Ariya is about 100mm shorter and lower than an X-Trail, but slightly wider. Its wheelbase is also longer, freeing up cabin space and sexing up the proportions. 
| Length | 4595mm |
| --- | --- |
| Width | 1850mm |
| Height | 1655mm |
| Wheelbase | 2775mm |
| Weight | 1900-2200kg |
| Boot | 408L – 466L |
Power, range and charging
Nissan plans to make the Ariya with two- and four-wheel drive, short- and long-range floor-mounted battery pack options with respective capacities of 65kWh and 90kWh, and four different motor outputs.
Single-motor Ariya models appear to be front-wheel drive (FWD) given that's where the motor sits. Motor outputs with the smaller-capacity battery are 160kW of power and 300Nm of torque, while with the larger-capacity battery these figures are 178kW/300Nm.
The Ariya e-4ORCE AWD models have front and rear electric motors in lieu of a mechanical linkage, and the car's control unit is designed to alter the torque split, and amount of regenerative braking resistance, between the two drive units to improve cornering and smooth pitching and diving.
This system augments individual-wheel brake-torque-vectoring, and there are three driving modes from Sport to Eco that change the throttle calibration, steering resistance and presumably the way the two motors collaborate, Nissan cites a near 50:50 weight split front to rear.
The twin-motor AWD system features a combined output of 250kW/560Nm (65kWh battery) or 290kW/600Nm (90kWh battery), with the latter offering a claimed 5.1 second 0-100km/h time.
"There is often talk about EVs and their 0-to-100-km/h time, but actually it's easy for EVs to achieve good acceleration times," said senior Nissan engineer Makoto Fukuda.
"The Ariya is also fast in a straight line, but it provides maximum, usable performance in a wide range of driving conditions such as on a snowy mountain road or on wet city streets."
The brake-energy recuperation system manifests as what Nissan calls the e-Pedal, which allows potential one-pedal driving by slowing the car when you lift off, with g-forces equivalent to mid-level braking. This system already lives in the Leaf.
Crucially, Nissan also confirmed the Ariya comes with liquid thermal cooling, meaning the battery can handle fast charging without overheating. The company cites a 130kW charging capability using Japan's CHAdeMO system that can add up to 375km of range in 30 minutes.
Figures for European and American DC charge cycles are yet to be disclosed.
Key specs – swipe to view on mobile:
| | 2WD | 2WD | AWD | AWD |
| --- | --- | --- | --- | --- |
| Battery | 65kWh | 90kWh | 65kWh | 90kWh |
| Power | 160kW | 178kW | 250kW | 290kW |
| Torque | 300Nm | 300Nm | 560Nm | 560Nm |
| 0-100km/h | 7.5s | 7.6s | 5.4s | 5.1s |
| Max range* | 450km | 610km | 430km | 580km |
*Estimated WLTC Japan cycle figures, yet to be homologated. They seem ambitious.
Interior and tech
Nissan reckons the interior is "more akin to a sleek cafe lounge on a starship, evoking performance and intrigue, than to a traditional automotive cabin". Hmm. It's certainly speccier than a Leaf's, we'll give it that.
The mixture of plastic and suede materials looks top-notch, as do the minimalist climate control bank, and copper accents. The flat floor up front comes in lieu of a transmission tunnel, while the high-mounted centre console/armrest sports a slick shifter for the single-speed transmission.
Infotainment is handled through a 12.3-inch centre screen and matching digital instrument cluster behind the two-spoke wheel with new Nissan logo, above which sits a large projecting head-up display.
Nissan says the 'andon' lighting treatment "echoes a Japanese artisan character". After all occupants are seated and doors shut, the interior lighting fades away, prompting the driver to push the start switch with a pulsing effect.
The Ariya also has a voice controlled "personal assistant" a la Mercedes-Benz's MBUX to handle audio and navigation functions. This human-machine interface is designed to be conversational, and with WiFi can access data to process requests quicker. It's also get cloud updates, so it's always learning.
The summoning phrases are "Hey Nissan" and "Hello Nissan".
Beyond this, the Ariya is the first Nissan model capable of taking firmware updates over the air. The car automatically updates various software inside the vehicle – specifically, software controlling the multimedia system, electric and electronic architecture, chassis, climate system and EV settings – without having to take the vehicle to a dealer.
A dual-bank memory system also allows for updates to be received and held behind the scenes while on the go, by being downloaded and stored. When the system has confirmed the download, it switches to the updated memory bank.
"Updates are applied quickly and easily, making updates and new feature integration a seamless experience," Nissan claims.
Naturally, a smartphone app will let you remotely monitor you car's location, charge status, and ventilation setup. The seat memory presets are synced to the key fob, so when you hop in the car sets itself as you left it.
The back-seat images show a flat floor there too, and rear temperature control, seat heating, and connection points. It's hard to get a gauge without context, but the long wheelbase appears to give generous legroom.
"Rear-seat passengers are treated to an abundance of headroom and legroom, with the flat cabin floor allowing them to easily cross their legs and relax… The thin front seats are positioned to obscure the B-pillar, offering occupants an outward panoramic view," Nissan says.
Active safety
Nissan makes a range of driver-assist features that it bundles into a suite called ProPILOT, with software using data inputs supplied by seven cameras, five millimetre-wave radars, and 12 ultrasonic sonar sensors.
It is designed to keep the Ariya centred in between road lines through steering intervention, can stop-and-go in congestion autonomously, and lock onto the car ahead on highways.
It can also handle lane changes using the blind-spot monitoring system. Its links to the 3D maps and road-view cameras mean it can theoretically adjust the car's speed for bad road surfaces, ahead of turns, or to match speed-limit changes. It can also do remote parking.
Of course, the efficacy of these system depends on infrastructure, connectivity, and weather. Not to mention what legislation allows it to do.
Launch timing and price
The Ariya is scheduled to go on sale at home in Japan from mid-2021, where Nissan plans to price it around 5 million yen ($67,000 AUD) before a circa-$A5000 subsidy. For context, an entry Leaf+ model with the bigger 62kWh battery costs 4.4 million yen. 
From there, the Ariya is intended to go on sale across Europe, North America and China "by the end of 2021", according to Nissan. 
Australia is further down the global priority list for the majority of electric vehicle-makers given the low market penetration of zero-emission vehicles, although Nissan's local division itself says it is very keen to get the car as soon as it can secure supply. The fact it already sells the Leaf bodes well.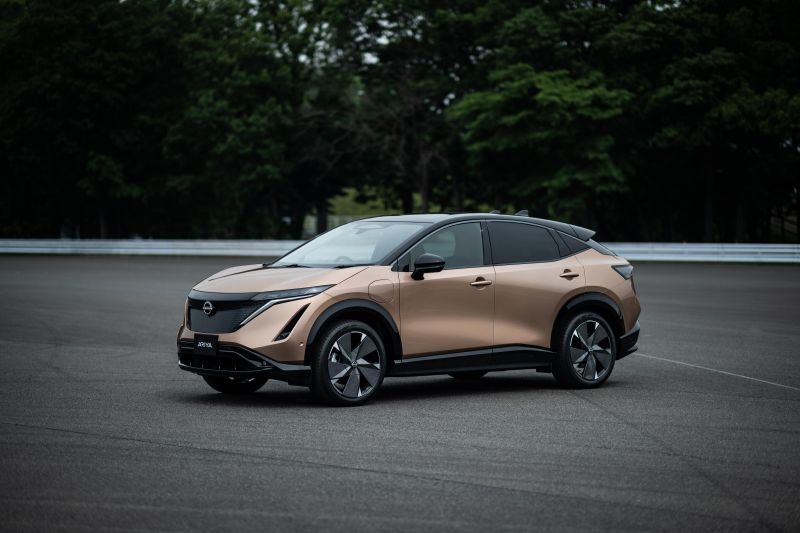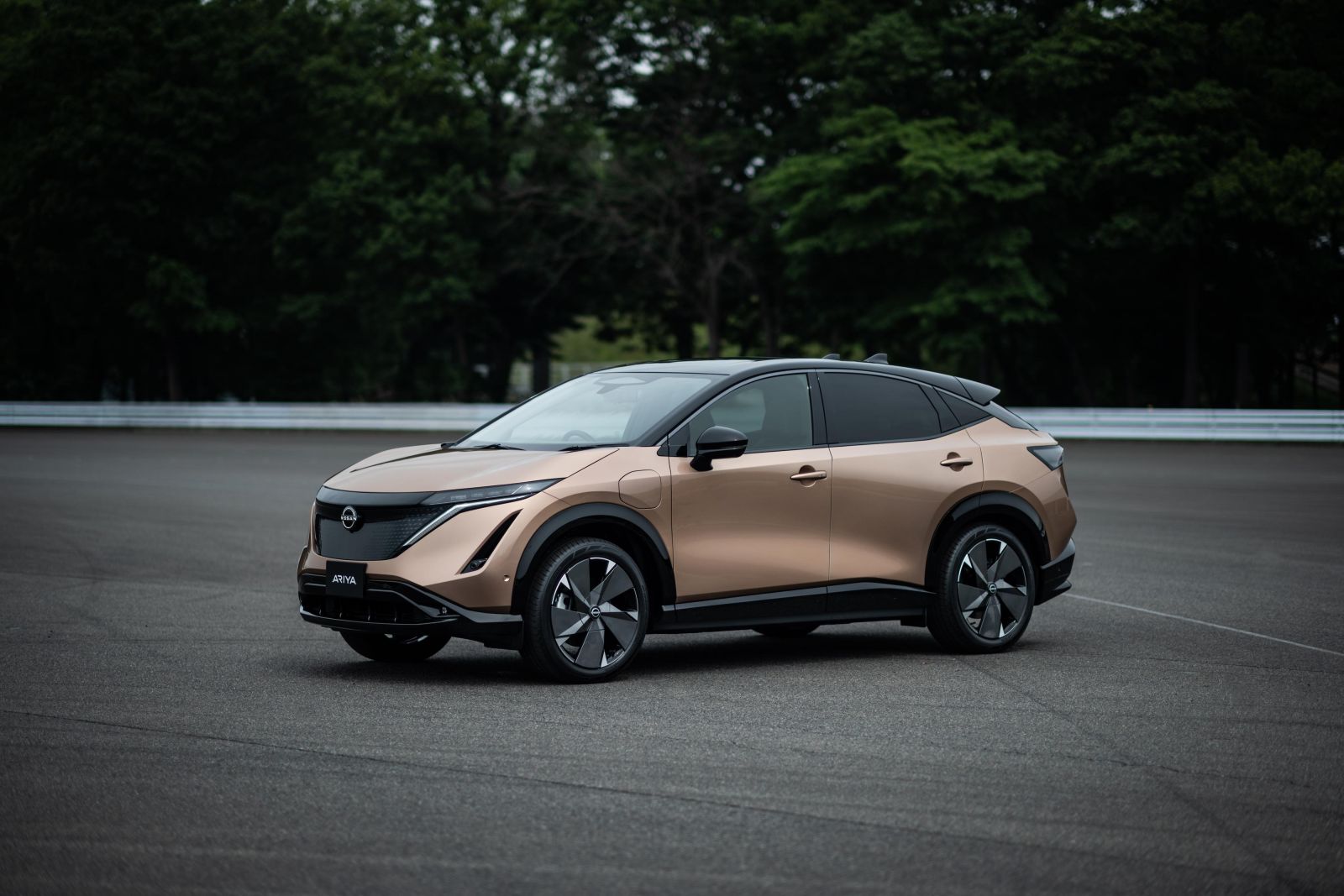 "Our strategy is to accelerate the adoption rate of EVs in every market we operate in. Production and shipment, market by market, takes time and is based on market readiness, as well as homologation timelines," says its statement.
Reading between the lines, a 2022 arrival to coincide with the Volkswagen ID.4's expected launch seems like the best-case scenario. 
Existing non-premium-branded electric SUVs on sale here already are limited to the smaller Hyundai Kona Electric and MG eZS.
When speaking to Nissan Australia managing director Stephen Lester recently, he said the company was "fairly vocal on the fact that a third of our range will be electrified by 2022, and we're on track with that". That includes EVs but also e-Power range-extender hybrids.